Spring is upon us and it's time to golf! Bushnell golf is always trying to stay on top of their innovation game. As we have seen from them first hand last year with the Tour X rangefinder they have a new offering for the 2017 season. Bushnell claims their new Pro X2 is the World's ultimate golf laser rangefinder for the avid golfer. Bushnell has again asked Busted Wallet to lend our opinion on the all new Pro X2 rangefinder. Now that the Busted Wallet crew has a dozen or so rounds with the Pro X2 we can give you our thoughts on it. So let's dive in.
Key Features:
Slope switch technology
Rubber armored metal housing
IPX7 fully waterproof
Pinseeker with JOLT technology
Dual display technology
6x magnification
2nd generation E.S.P. (Extreme, Speed, Precision)
Stable grip technology
Bushnell Pro X2 Laser Rangefinder
Design:
The Pro X2 feels solidly built and very comfortable in your hand. The contour on the bottom really conforms to your thumb wrapping around and holding the Pro X2. The size of the Pro X2 is perfect for my average sized hands. I wouldn't want it any bigger or smaller. The rubber armored metal housing feels like it could take a minor drop and keep on ticking. So we dropped it a couple times from waist height onto the paved cart path. Aside from a minor scratch or scuff on the rubber it did just fine. Bushnell claims the Pro X2 is "fully waterproof." So is it? We were curious so we held it under the faucet for a minute. Pouring water directly into the eye piece, battery door, and optics. Then filled the sink with water and let it sit fully submerged for five minutes. We pulled it out, dried it off, and bam it still works! So, yep, it's fully waterproof. Good job Bushnell, you didn't lie. So if you leave your Pro X2 in your bag outside overnight and it rains (this has happened to me, maybe beers were involved) it will still work. I know that was a huge concern of yours.
The dual display technology is not new but still allows you to switch between bright red display or black depending on the lighting of the day. The slope switch technology is super nice to determine exactly how that shot up or downhill will play. If you want to conform to USGA rules you can turn the slope feature off with the flick of a switch on the side. So you're covered either way. The 6x magnification is a great feature that allows you to really focus in on your intended target. In my opinion, the best feature of the Pro X2 and what makes Bushnell the best rangefinder on the market is the pinseeker with JOLT technology. In my experience, using cheaper rangefinders without this you may think you are focused on the flag but you then fly the green by 10 yards and realize you were focused on the tree behind the pin, annoying. And now you're hitting out of the junk to get back to the green. The pinseeker with JOLT ensures you are looking at the pin.
Overall, we agree Bushnell makes the best rangefinders on the market every year and the Pro X2 is at the top of our list. One thing about Bushnell golf that we really like is their trade-in program. Bushnell realizes you always want the best technology and technology is always changing. It's also expensive to always have the latest. So Bushnell offers you at least a little bit back for your upgrade.
Ease of Use:
Much like Bushnell's other rangefinders the Pro X2 is what I would call fool proof to use. Point it at what you want a distance on, look through the eye piece (very important step), and press and hold the power button on top. Boom, that's it, you get a distance.  Wanna use the dual display function? That is also easy. Just press the Bushnell logo on the side of the unit to toggle between the red and black graphic displays to best suit the lighting situation you are in. Something out of focus? Use the dial in front of the eye piece to utilize the 6x magnification if you need it. How long does the battery last? We are not sure. We've used it on over 12 rounds of golf this year and it still shows a full battery. Just in case maybe throw an extra battery in your bag so you don't get stuck on the course with a dead battery (not included).
The pinseeker with JOLT really locks onto the flag quickly. Much quicker than other off-brands we have used in the past. The JOLT vibration tells you it is locked on the flag and not some other object. In summary, I would say the Pro X2 is very easy to use.
Accuracy:
The Pro X2 promises to be accurate to within +/- half a yard at a range of 5-1300 yards. I was able to get a reading at 3 yards away inside my house. Not sure why you would do that on the course but I did it just to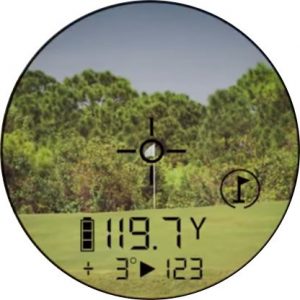 see. The farthest I could get a reading on something was a light pole across the river I live on at 940 yards away. I don't know any golf holes that you would need that kind of distance but it's there if you need it. Maybe moon golf, not sure. As far as being accurate to within the a half yard. I can say that we compared the Pro X2 readings to the Tour X they were always within a yard of each other. When using the slope function it did seem to add or subtract the appropriate yardage. For instance we played a par 3 with a listed 101 yard range playing downhill about 50 feet. The Pro X2 told me it played at 85 yards and boom that won me a closest to the pin bet!
Value:
The Bushnell Pro X2 is priced at the top of the market at $499.00. Is it worth it? Well, you get what you pay for and the Pro X2 is at the top of the market performance wise. If you're not a serious golfer it's not worth it. Although if you are a serious or aspiring to be serious golfer we think it is. Getting an accurate distance reading really helps you be honest with yourself with how far you really hit your clubs. This helps you select the right club to begin with which makes you golf like a boss. That is worth more than $499 to me. Go check it out for yourself, we highly recommend!
Buy Now $499.00 or to learn more. go to: BushnellGolf.com
Bushnell Pro X2 Rangefinder - Range Review
If you are looking for the best golf laser rangefinder on the market for 2017 look no farther than the Bushnell Pro X2!
The Good
Easy to Use
Waterproof
Locks on Flag Quickly
The Not So Good
Nice things are not always cheap