The struggle is real. Finding a legitimately warm winter jacket that protects from winter's elements but won't make you look like a puffy marshmallow. The Burton Bryce Jacket's innovative design combines its DRYRIDE Ultrashell™ technology to keep you dry on top of its DRYRIDE Thermex base layer to keep the warm in and the cold out. From the fitted, ribbed wrist cuffs to the removable faux fur hood lining, every feature of this jacket keeps warmth and comfort in mind. Burton doesn't forget about style either. With it's classic vintage fit, The Bryce can be worn to keep you warm hitting the slopes or to any casual winter event.
Key Features:
DRYRIDE Ultrashell™ 65% Cotton, 35% Nylon Fabric with DWR Coating [3,000MM, 3,000G]
Cotton Blend Chambray Lining
DRYRIDE Thermex™ Lightweight Polyester Insulation [60G Throughout]
Critically Taped Seams
Removable Faux Fur Hood Trim
Zippered High Handwarmer Pockets with Brushed Tricot Lining
Stormflap™ Center Front Closure with Zipper and Exposed Buttons
Inner Rib Cuffs
Internal Waist Cinch
Zippered Sleeve Pocket
Internal Media Pocket with Headphone Cable Port
Classic Fit
Burton Bryce Jacket Breakdown
Comfort:
This jacket is extremely comfortable. Throughout testing it was able to keep me warm without weighing me down. Upon showing this jacket to friends, the first question was, "What is the inside layer made of? It's so soft!" The lightweight polyester insulation gives the jacket an overall down-like feel. The warm yet lightweight technology is hard to part with when going indoors.
Design/Style:
I hate swimming in winter clothes but this jacket fits like a glove. Unlike most heavy duty winter jackets, I am still able to maintain somewhat of a form and shape and not look and feel bulky. The jacket's warm, inner thermal layer stays close to my body to keep me warm but also comfortable, without being too form fitting.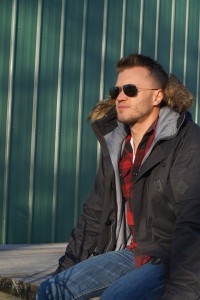 I've never worn fur but dug the vintage and "utilitarian" look. However, I also like the option of removing this feature when desired. The fur lining is good when being pummeled by freezing wind and sleet but easy to take off when taking a quick trip to the gym.  The only drawback to the faux fur is that it is easy to remove but not the easiest to put back on. Since putting it back on requires taking the jacket off and a little bit of effort, once it's removed, I will most likely keep it off for awhile.
Speaking of the hood, it is DEEP. If the hood is fully on, it covers most of my face. Again, great feature if I am standing and waiting outside in the subzero temperatures of February but a little "overkill' when driving in the winter snow. There is an adjustable strap to make the hood more shallow which helps but does not entirely fix the problem.
I love the front zip and button combination. The zipper keeps the warm in and the buttons add to the overall vintage look. Other style features include the side zip pockets (higher on the jacket that also keeps a nice form when keep your hands warm), front button pockets, and a utility arm pocket. There are inside zips as well for safe keeping. I love the inside pocket with the headphone cable port. This is perfect for holding my cellphone and listening to music.
Warmth:
The thermal layer inside really keeps my core warm. The inner layer is comprised of a lightweight polyester blend that is fitted without feeling too tight. The inside strings also allow for me to synch the waist of the coat to keep the cold wind out.
This jacket is very warm. It is not a transitional jacket whatsoever. This jacket is designed for cold, winter temperatures. Upon receiving this jacket, I wanted to wear it immediately. I jumped the gun and wore it in the upper 40s, low 50s. These temperatures were way too warm for this coat.
Value:
What you would get out of this jacket matches the price. At the retail price of $249.95, I would expect a warm, quality jacket with a few limits. It is able to withstand cold temperatures but may not be designed for more intense winter activities.  Overall, I love the design of this jacket. It holds up in wintery climates. When the hood is up, the fur lining keeps the blowing snow out of my face. After only a few wears, I received more compliments on the style of this jacket than any other jacket that I have owned before.
Buy now: $249.95 or Burton.com
Burton Bryce Jacket - Style Review
The Burton Bryce Jacket gives you warmth, comfort, and style to face the winter months. This jacket is for the style conscience man who doesn't want to give up on warmth. Good for light winter activity as well as wearing to any casual winter event.
The Good
Dry outershell
Warm inner layer
Classic vintage look
The Not So Good
The fur hood lining can be difficult to reattach