November tends to find us at a weird place musically. Between the remnants of Halloween music, the introduction of Christmas music (even though some people start entirely too early!) and lists of the year's best music, it's a hard time to find a place for a new music. But November 2017 came through with our favorite stars finding time for collaborations that blew us away – in particular, anything with Beyoncé in it. We also got a full and fun Christmas album from Sia on Everyday is Christmas, a new album from Noel Gallagher's High Flying Birds, and short EPs from Miguel, Empire of the Sun, and Jidenna.
Every month gives us a new crop of new songs, and every month we are up for the challenge. We get our supply from Spotify's New Music Friday playlist, and just for fun, we rank our favorites in the order of impact. Follow along in playlist form right here.
10. Be Careful What You Wish For – Noel Gallagher's High Flying Birds
2017 was the year of brothers Liam and Noel revival, with each brother expanding on their own and completely separate projects. It proved to be a smart move, as the releases garnered enough respect as to earn the 37th spot on Rolling Stone's list of best albums of 2017. Be Careful What You Wish For is a standout, that starts with a twist of the Beatles' Come Together, and from there on out it's all Gallagher.
---
9. Pineapple Skies – Miguel
It's nothing but clear skies and sunshine on Miguel's latest, as the R&B singer adapts a Marvin Gaye vibe straight off of Sexual Healing. His new album War & Leisure just dropped, and with that comes innovative marketing, allowing you to listen and watch the video for Pineapple Skies simultaneously in the Spotify app (in fact the video was created with the intention of watching it on a smartphone). The effect is a fully immersive experience.

---
8. On Our Way Home – Empire of the Sun
Maybe it's because they originate from Australia, but we always get eternally summertime feel from their releases, even when on the precipice of a (Northern Hemisphere) winter. On Our Way Way Home makes you feel like you're headed straight home, ready to relax into the weekend, and we can't find a single thing wrong with that.

---
7. My Way by One Bit, Noah Cyrus
There's only one word that keeps coming up while listening to My Way, and that is CATCHY. From go, on your first listen, you will find yourself shaking your shoulders and bopping right along. It's an easy fusion between the electropop of One Bit, and emerging vocals from Cyrus. Noah, who at 17 is steadily and quietly making a name for herself, is attracting that all important market of youth born in 2000 and beyond, particularly with tracks like this one.

---
6. Boy by Willow
It's no secret that Willow is most famous for her hit Whip My Hair, and even seven years later the track remains as infectious as ever. But for the star herself, at 17 she was just 10 (!) at the time, and with that comes natural change between projects. On her latest album, The 1st, the musicality is completely stripped down, and she sings with the full earnestness of a deeply introspective teen. On Boy, she brilliantly questions if a boy likes her and combines it with existential questions, and we are completely here for it.

---
5. Candy Cane Lane by Sia
Your 2017 Christmas jam has arrived! Nestled between track titles like Santa Is Coming For Us and Puppies Are Forever, is a spirited and upbeat track with Sia's signature joie de vivre. It inspires you to find your inner child this Christmas, and complimenting it is a claymation video that already feels like a Christmas tradition.
---
4. Lemon by N.E.R.D., Rihanna
The truth will set you free, but first you will wonder why it has taken so long for a N.E.R.D. single to be released. The one thing that's undeniable (besides the track's ability to be 'bouncin' around' at all times) is that the highlight here is most definitely Rihanna's rapping. She makes herself right at home, taking her time with all the zeal and zest of a 90s rapper. Your go-to track for when you need a little pep in your step.

---
3. Mic Drop (feat. Desiigner) [Steve Aoki Remix| by BTS, Steve Aoki
Never has a seemingly unlikely union between artists has come off so seamlessly. As the Bangtan Boys continue to become more of a household name in the United States, Steve Aoki's supplied his signature beat makeover, and Desiigner with his unique Brra Brra, creating a sound that fits in so naturally, it's a wonder why both weren't on the original. Best bet is to get familiar with BTS's catalog before they completely take over the world.

---
2. Perfect Duet by Ed Sheeran and Beyoncé
One rule that is fail proof in music is that if you're in need of enhancing a track, sprinkle a little Beyoncé on it. Not that Perfect was in need of a boost, sitting right now at well over a 400 million plays on Spotify, but adding Bey here was more of something for fans to go crazy over. The song keeps its sappiness intact, but with two strong competing vocals, it's the type of sappy you'll be completely okay with.

---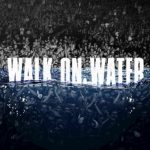 1. Walk on Water (feat. Beyoncé) by Eminem
At this month's top track, we find another unlikely duo that ended up giving something we didn't even know we wanted. The song theme tackles the idolization of pop stars, a topic both artists know a thing or two about. Its overall tone is melancholy, as Beyoncé harmonizes "I don't think you should believe in me, the way that you do/ Because I'm terrified to let you down" – giving you a sobering realization that our idols are just as every bit as human as we are.