The BeoPlay A9 by Bang & Olufsen is a powerful sound system first and foremost, but was designed with the appearance of a stylish, yet simplistic addition to your home decor. The A9 features a fine-tuned DSP (digital signal processor) algorithm that delivers surprisingly rich bass with help from the 2.1 bass reflex loudspeaker system that combines five dedicated speakers in-all. The audio experts at B&O have also fitted A9 with Bluetooth and AirPlay wireless connectivity making it compatible with the latest iPhone, iPad and Android devices, which allows for easy manipulation of music and volume all from the palm of your hand.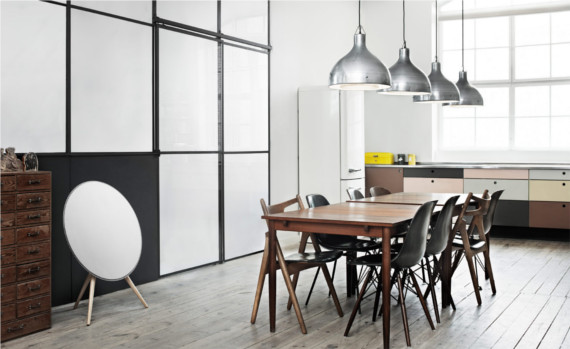 We asked Oivind Slaatto, a young designer who also has a strong interest in music, to create a design that is as free of visual noise as possible, and then had our engineers empower it with truly amazing sound. The result is a liberating take on acoustic performance with a cleanly graphic look that is intuitively easy to use. -Henrik Taudorf Lorensen, VP at B&O PLAY
Key Features:
Fine-tuned DSP (digital signal processor)
Wireless connectivity
Touch sensor to control volume
Designed with a floor stand, but can also be wall mounted
Available in five colors – silver, white, black, red, green, and brown.
Three pre-set sound modes
Tech Specs:
Two ¾-inch tweeters
Two 3-inch midrange speakers
Four 80-watt class D amplifiers
8-inch subwoofer, powered by a 160 watt class D amplifier
Integrated USB socket
In-line AUX support
    Buy Now: $2,999 or go to: Bang-Olufsen.com   Intrigued bythe BeoPlay A9? Want to see what goes into the production of this wildly stylish and expensive sound system? Then make sure to check out the embedded video below where you'll get to see the nuts and bolts of this unit… quite literally!