BagBoy is a company that is consistently finding new ways to make existing golf products, even better. Their previous release of the Revolver cart bag allows golfers to access any club by simply rotating the top 360 degrees, featuring their own Clip-Lok technology. That is just the tip of the ice burg with BagBoy as now they have released their new Chiller Hybrid Stand Bag . This golf bag is an excellent way to carry your drinks featuring a cooler bag that holds up to four 12-oz. cans.
Finally, a bag that caters to the idea that we don't want to pay clubhouse prices for tasting cold ones on the golf course, regardless of what their rules say! Just because it holds beer doesn't automatically Chiller Hybrid Bag great, but it sure does help. We hit the range and the course with this new bag and put it to the test. Here's what we discovered…
Key Features:
14-way organizer top with full-length individual dividers
Chiller pocket with removable insulated cooler bag holds four 12-ounce cans
Oversized putter well fits larger grips
Ergonomic single shoulder strap with strap holder
Slide resistant stand feet offer stability
Umbrella holder and matching rainhood included
Featuring Top-Lok™ Technology
10 total pockets
BagBoy Chiller Hybrid Stand Bag Chiller Hybrid Stand Bag
Design:
The BagBoy Chiller Hybrid Stand Bag features a 14- way organizer allowing you to have an individual home for each one of your clubs. The individual compartments allow you to layout your clubs in a way that makes sense for you. This way you don't waste time searching for that 5-iron that is hidden behind everything. The fun new component of the bag is the chiller pocket that features a removable insulated cooler bag and holds four 12-ounce cans. You can also sneak some other treats in there with some extra room (i.e. pocket shots of fireball).
Overall, the bag features 10 pockets, with eight being specialized zippered pockets. The bag features two over sized apparel pockets and a fleece lined valuables pockets which helps protect personal electronics. The bag also features their patented TOP-LOK Technology. TOP-LOK is an innovative bag to cart attachment system designed to securely lock a Bag Boy bag onto a Bag Boy push cart. This patented design prevents the bag from twisting or turning, eliminating the need for cart straps.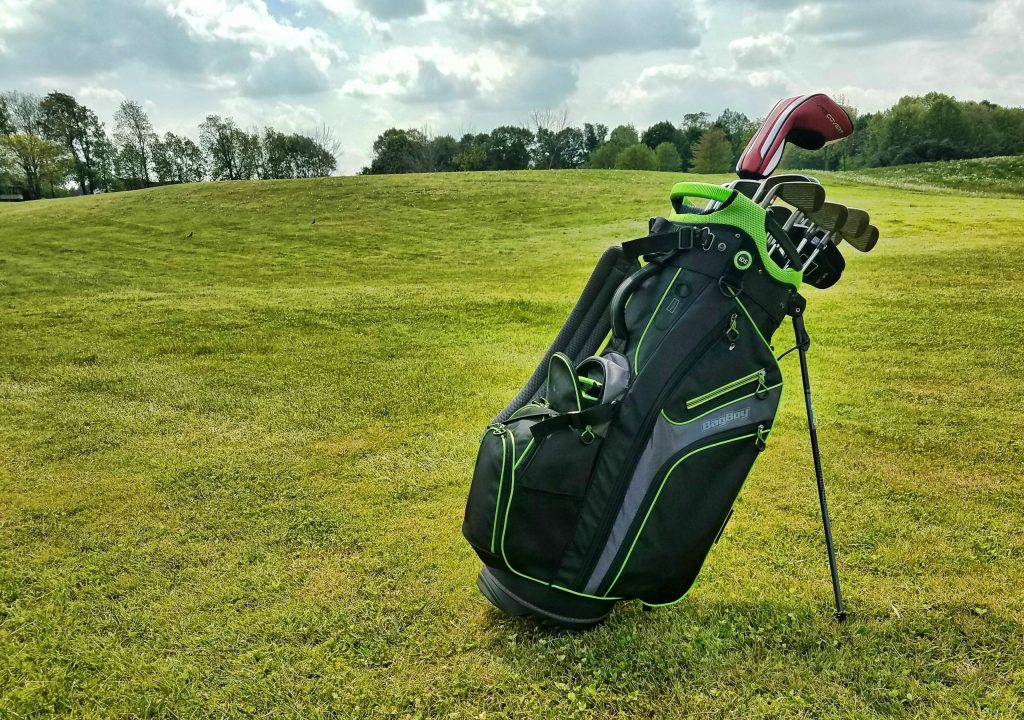 Storage:
In the previous section, we mentioned the 10 total pockets. As always not all pockets are created equal but what the BagBoy Chiller offers is versatility and functionality. First, the ability to keep your beverages cold is a huge space saver. It would be nice if the chiller held 8 cans, but let's not get greedy….or too drunk. The other pockets allow you to stack up on your golf supplies. In the larger pocket, we could store some pullovers for when the weather was iffy and we needed more to pack.
The bag also has an umbrella holder and matching rainhood included which does not cut into your storage space. Overall, the BagBoy Chiller offers great storage that will hold all your necessary golf essentials.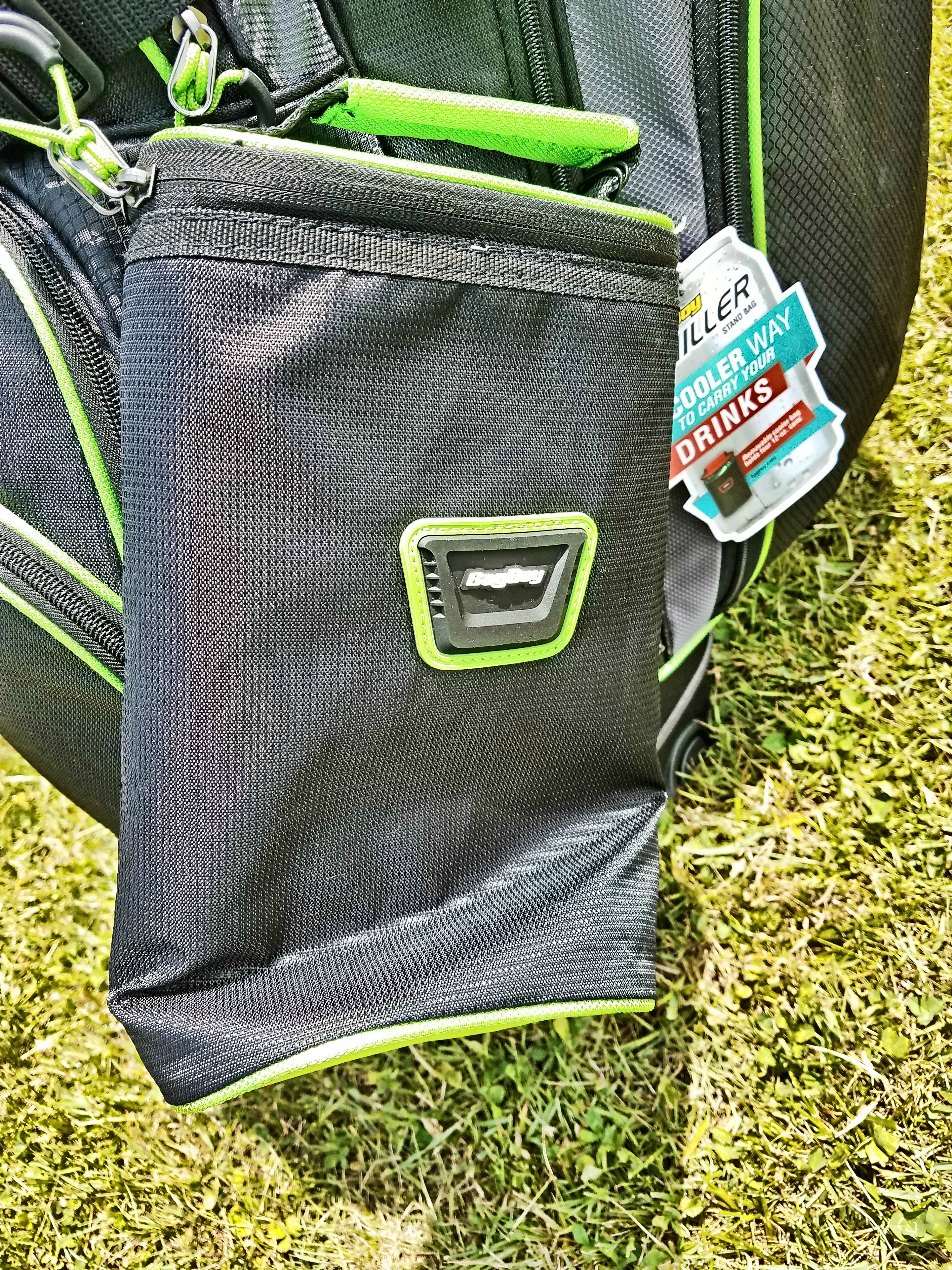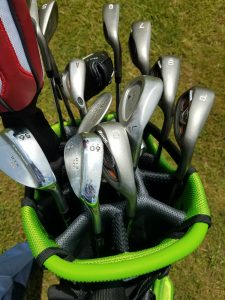 Durability:
The bag is built to be very lightweight but quality was not sacrificed. The zippers, after quite a few rounds, are showing no sign of wear and tear. The seams are holding up as well. The stand is where you can usually see some issues early on with a golf bag and we have yet to have any complications. We did see some fraying on the fabric around the club wells but this is to be expected if you are dragging your grips over the fabric. Overall, we believe the Chiller Bag will hold up for your all your golf adventures.
Value:
Priced at $179.95, the BagBoy Chiller Stand Bag offers great value. It is not the most expensive bag on the market and it is not the cheapest. The chiller bags come in at nice price point for its market. BagBoy also offers a lot of storage for everything a golfer would want to carry. The cooler pack is a nice addition and you will definitely find yourself using it. If you are in the market for a new golf bag, then we suggest you take a look at this one.
Buy Now: $179.95 or visit BagBoyCompany.com for more information.
BagBoy Chiller Hybrid - Range Review
The BagBoy Hybrid Chiller Stand Bag is an impressive offering from the folks at BagBoy. It offers tons of storage for the pack rat golfer and features a removable chiller to keep your beer...er your water cold! With a good price point this bag would make a fine addition to the golf supply of any avid golfer.
The Good:
Affodable
Plenty of storage
Chiller pack keeps your drinks COLD
The Not So Good:
Wish the cooler pack held more drinks and different sizes
The fabric in the club wells gets frayed easily