Sitting in bed one night, I decided that I wanted to cross a big thing off my bucket list;  Hike the John Muir Trail (JMT), and go solo.  On a whim, I submitted for a permit, already late in the game, and was awarded an October start date.  I wasn't keen on going quite that late in the year, so after a few days of obsessively watching for released permits I managed to snag an early September start date.  In total shock that this was actually happening, I quickly started planning and prepping.  Soon realizing I needed to upgrade some gear if I was going to successfully complete this alone.  Below are a few pieces of gear that helped me complete the JMT solo.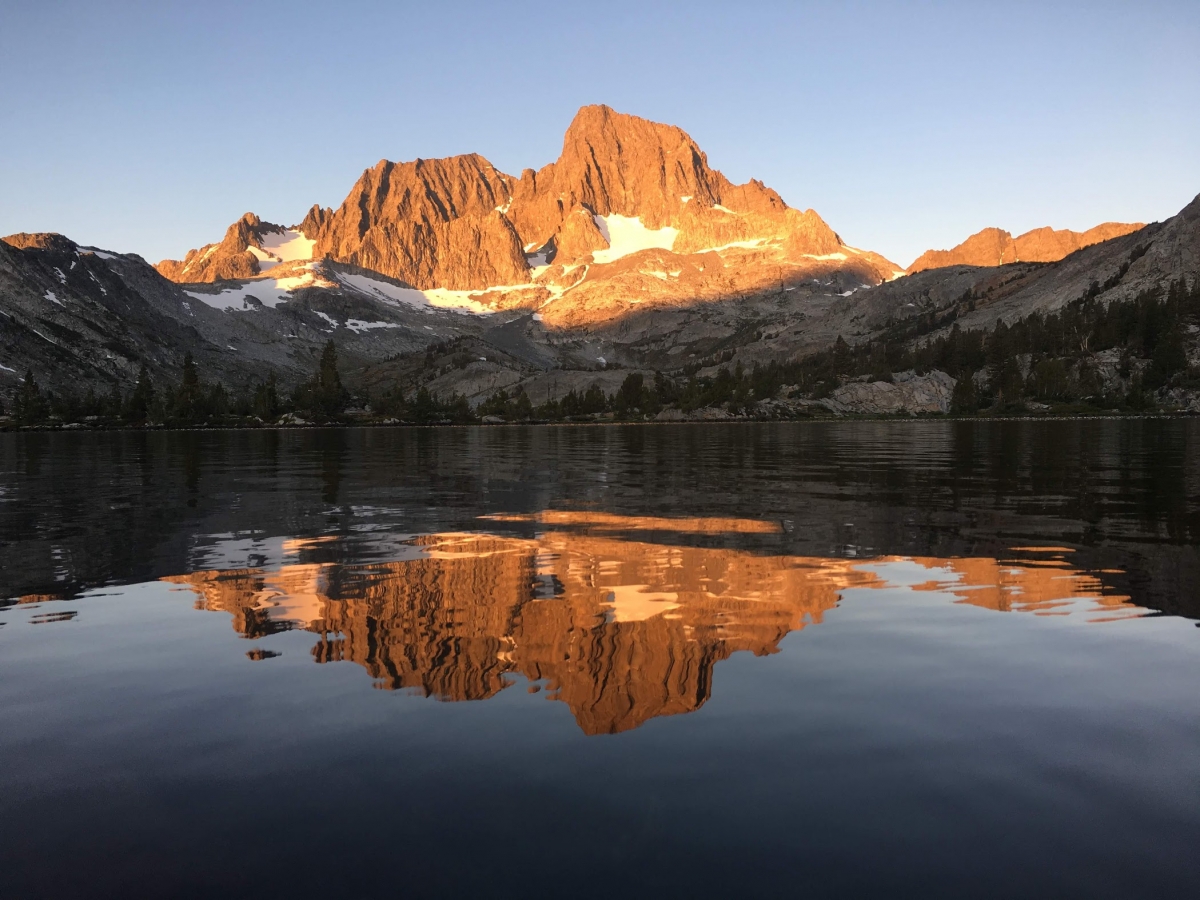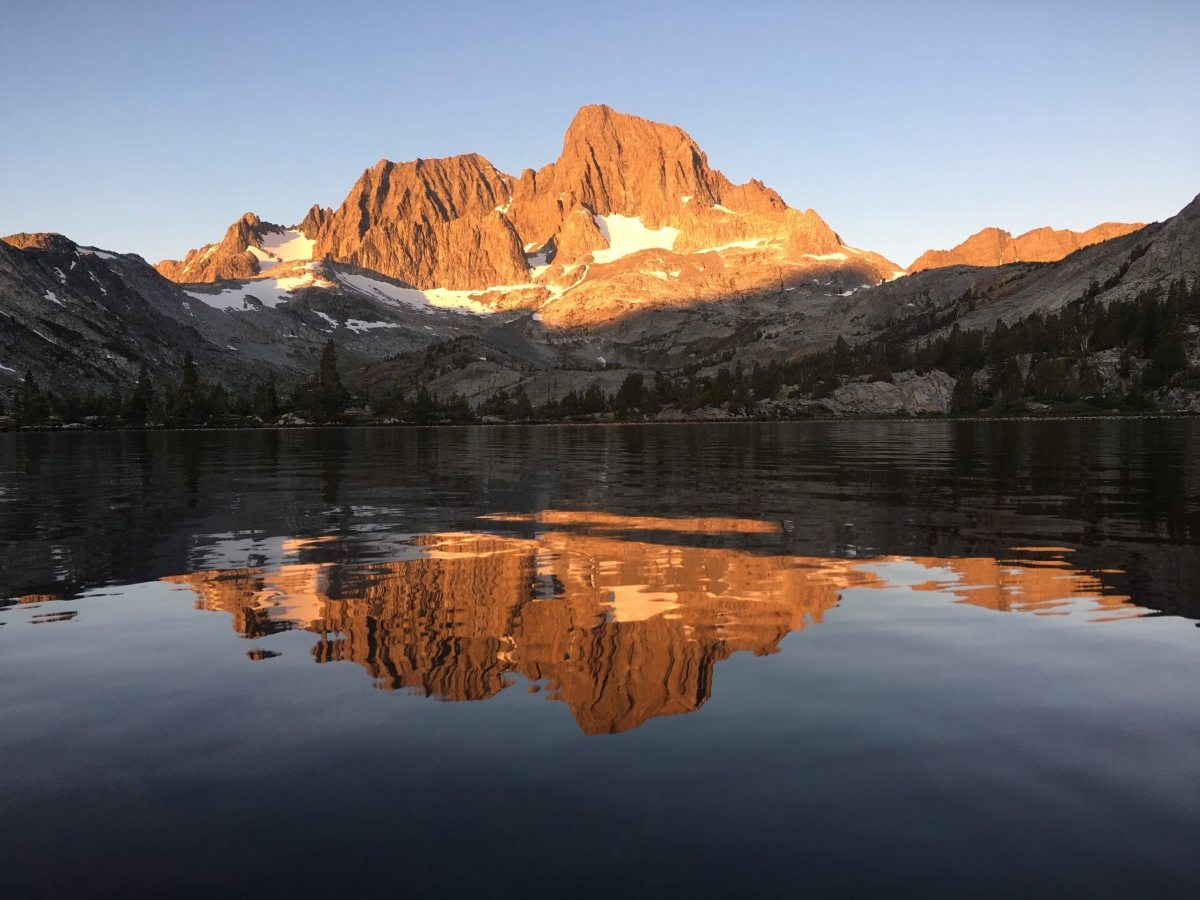 Big Agnes Copper Spur UL1
Key Features:
NEW awning-style vestibule with double-zippers provide multiple access options.
Features one door and one vestibule
NEW 3-D bin 'mezzanine' at the foot provides elevated storage, oversized ceiling pocket at the head provides additional storage; media pockets provide cord-routing for electronics.
Dual low-vent vestibule doors and high fly vent to maximize active and passive airflow.
Smooth-closing, dual-zipper doors with easy-grip pulls.
Quick Stash door-keeper makes stowing unzipped doors quick and easy.
Velcro tabs connect fly to pole structure providing perfect pitch and extra stability; pre-cut guylines and tensioners attached to fly; reflective guylines and webbing on tent corners.
Vestibule zippers protected with storm flap.
Multiple interior loops for attaching gear lofts, accessories and mtnGLO® Tent & Camp Lights.
Compatible with 2020 model year HV UL1 footprint featuring TipLok Tent Buckles
Fast-fly setup available with footprint.
Finding a tent that is lightweight yet durable enough to hold up in whatever mother nature throws at you, is not the easiest task to do.  I tried to keep my pack base weight as low as possible and one of the main items that usually adds on a bulk of weight is the tent.  There are a lot of tents out there on the market that are durable or lightweight, but finding one that meets both of those requirements can be challenging.  The Big Agnes Copper Spur UL1, at first look, fit the lightweight category.  It was so lightweight that I was concerned it wouldn't hold up.  Luckily for me though, it outperformed my expectations on the durability side as well.  In the 21 days I was out on the trail, the temps went from 60ºF nights to 20ºF nights.  One night even had wind gusts that reached 60mph.  There was rain, and many were dewy and frosty.  One night even had a little bit of snow.  It handled all the elements like a champ.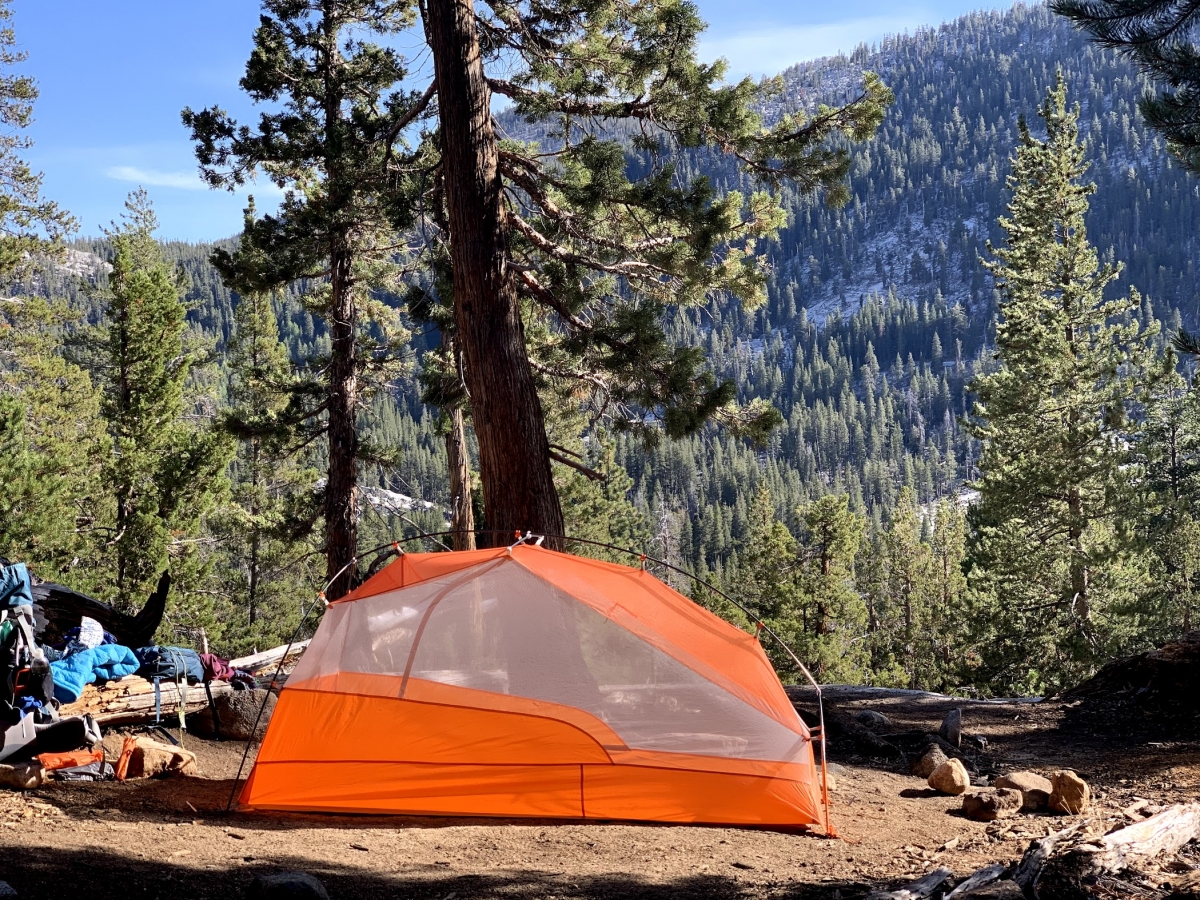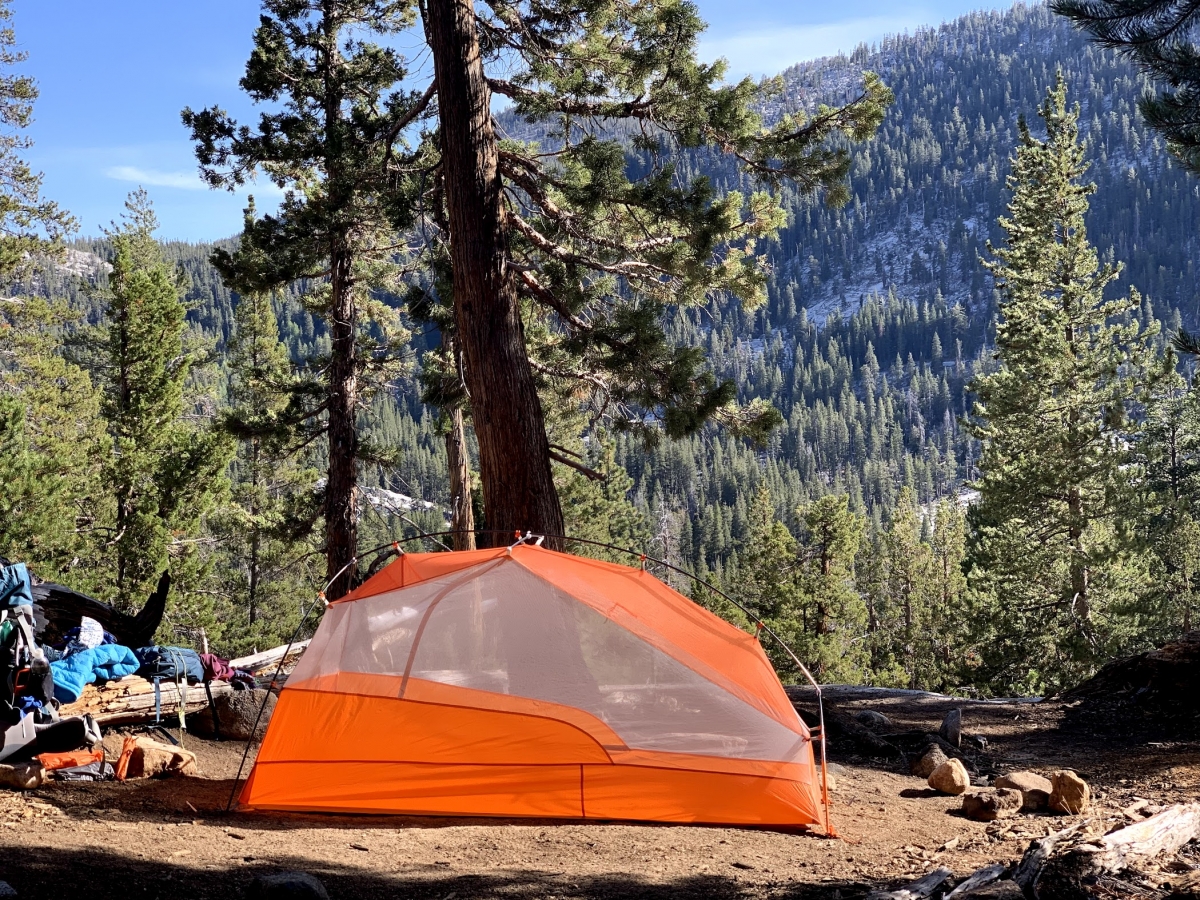 Setting up and tearing down was simple.  The poles are all connected as one piece and use shock cord, making it easy to work with for one person.  Questioning whether you have the rain fly on the right way was never an issue with all the straps and clips being color coded.  It was easy to secure everything down, even in questionable weather.
The zippers are easy to grip but I still had to use two hands to start the process though.  The storm flap over the vestibule zipper kept getting caught and became a little frustrating at times.  There are plenty of mesh storage pockets to hold anything you want quick access to, and even a media pocket on the ceiling.  The mesh door has a tie back and the rain fly has tie backs for both sides of the vestibule.  Cold hands or gloves made using the tiebacks a little troublesome, but overall they are a basic concept and nice to have.
There is one fly vent that really helped keep the moisture buildup non-existent or to a minimum.  I only had one issue with dampness in the tent, and that was from a rainy night, when the winds were blowing fairy hard and the rain was getting splashed up under the rain fly.  The reflective guy lines on the fly made it easier to avoid any accidental tripping in the dark and were all ready to go with tensioners pre attached.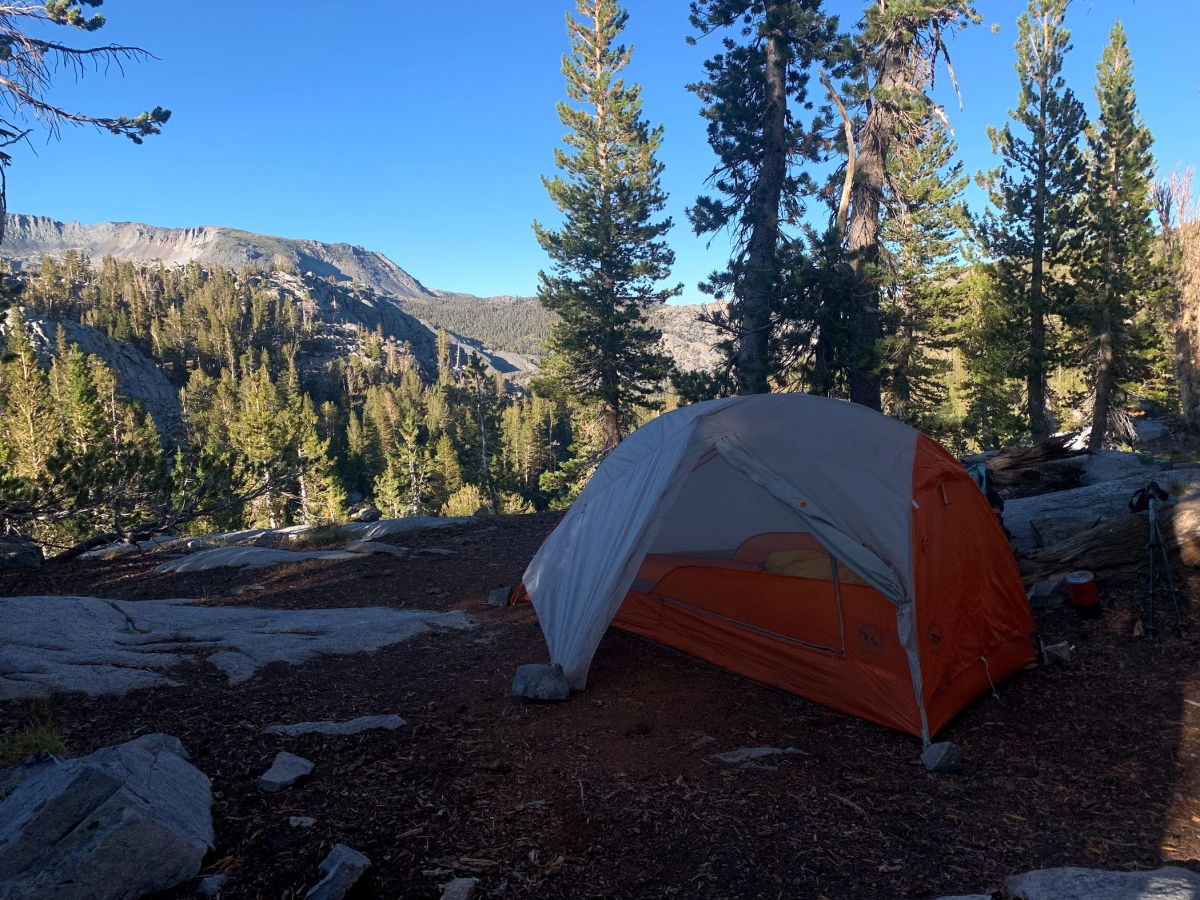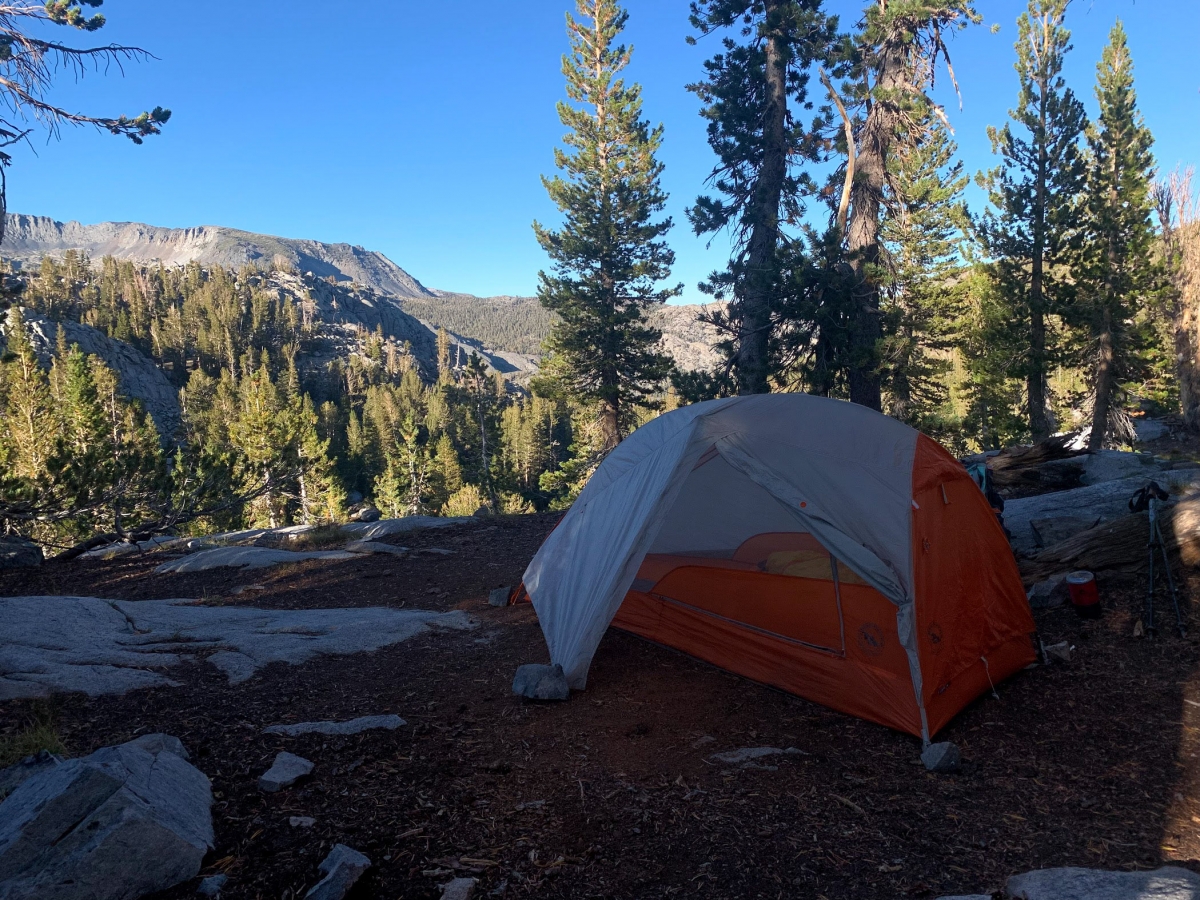 I highly recommend the additional footprint.  It is extremely lightweight and can fit right into the bag with the tent, but adds an extra layer of protection, helping to avoid any punctures or tears from ground debris.
Overall, the Copper Spur UL1 is a great little 3 season tent for anyone, especially those who need to lighten their gear.
Thermarest Oberon 0º Sleeping Bag
Key Features:
800-fill

Nikwax Hydrophobic Down™

SynergyLink™ Connectors

Zoned Insulation

Toe-asis™ Foot Warmer Pocket

Quilt and Blanket Loops

Responsible Down Standard Certified

Additional features: Heat-trapping draft collars, full-length zipper draft tubes, differential cut, snag-free zipper, cinchable hood and external zip pocket.
The Thermarest Oberon 0º sleeping bag was much needed out on the trail.  I thought I was going a little overboard bringing a 0º bag, but I was so glad I did.  The nights started to get colder and colder as the days went on, down to the 20's, and I like to stay warm and cozy.  I'm one of those people that seems to always be cold, so I didn't want to chance it with a higher temp rated bag.  I wasn't sure I was a firm believer in the Nikwax Hydrophobic Down.  Thermarest claims that it dries 3 times faster than untreated down and maintains its warmth and loft even while wet.  After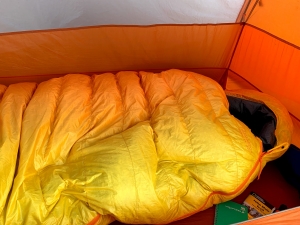 waking to a little dampness at the base of the tent from blowing rain, which then soaked through onto the sleeping bag, I was pleasantly surprised to find the bag still warm and still fluffy.  It didn't take long for the moisture to dry from the bag and I became a solid believer in the hydrophobic down.  A feature I appreciate is the toe-asis foot warmer pocket.  It actually allowed me to sleep without socks on and not get cold feet.   The snag free zipper is a fantastic addition, but I was a little disappointed that the zipper was so smooth moving that it unzipped whenever I sat up, causing all the warm air to escape.  The bag is lightweight for being a 0º and packs down fairly small.
Patagonia Macro Puff Hoody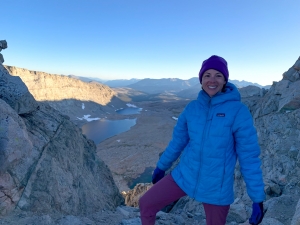 Key Features:
Ultralight Shell
Revolutionary Insulation
Innovative Quilting Construction
Alpine Helmet Compatible Hood
Two-Way Center Front Zipper
Pocket Features
Sealed-In Warmth
Lightweight, warm, water resistant, windproof.  What more could you want? A hood? You got it! A stuff sack? Sure!  The Patagonia Macro Puff Hoody is a great lightweight warm jacket that can pack down into a small stuff sack for travel.  The outer shell is made of recycled nylon and the insulation is a synthetic highloft plumafill that replicates the structure of down.  This jacket was just what was needed for those cold mornings and nights, and even for the top of each mountain pass.  I loved how light it was and it was so easy to pack it into my backpack.  This jacket took a beating during those three weeks on the trail and it held up well.  I didn't have much rain to deal with but I did get to spend a day hiking in a snowstorm.  The jacket seemed to dry quickly and it never lost its warmth.  The only issue I had was how easily it got marked up from dirt but the lighter color will obviously show more.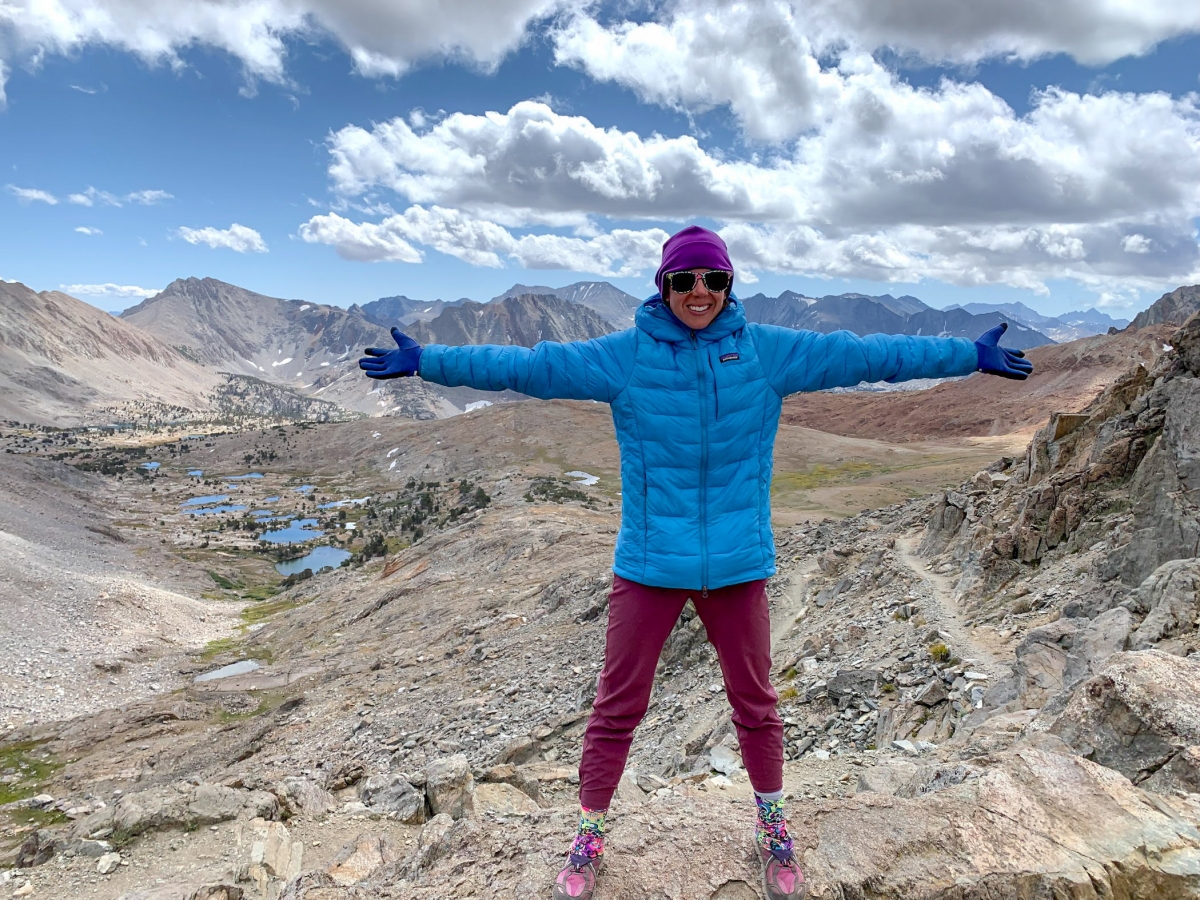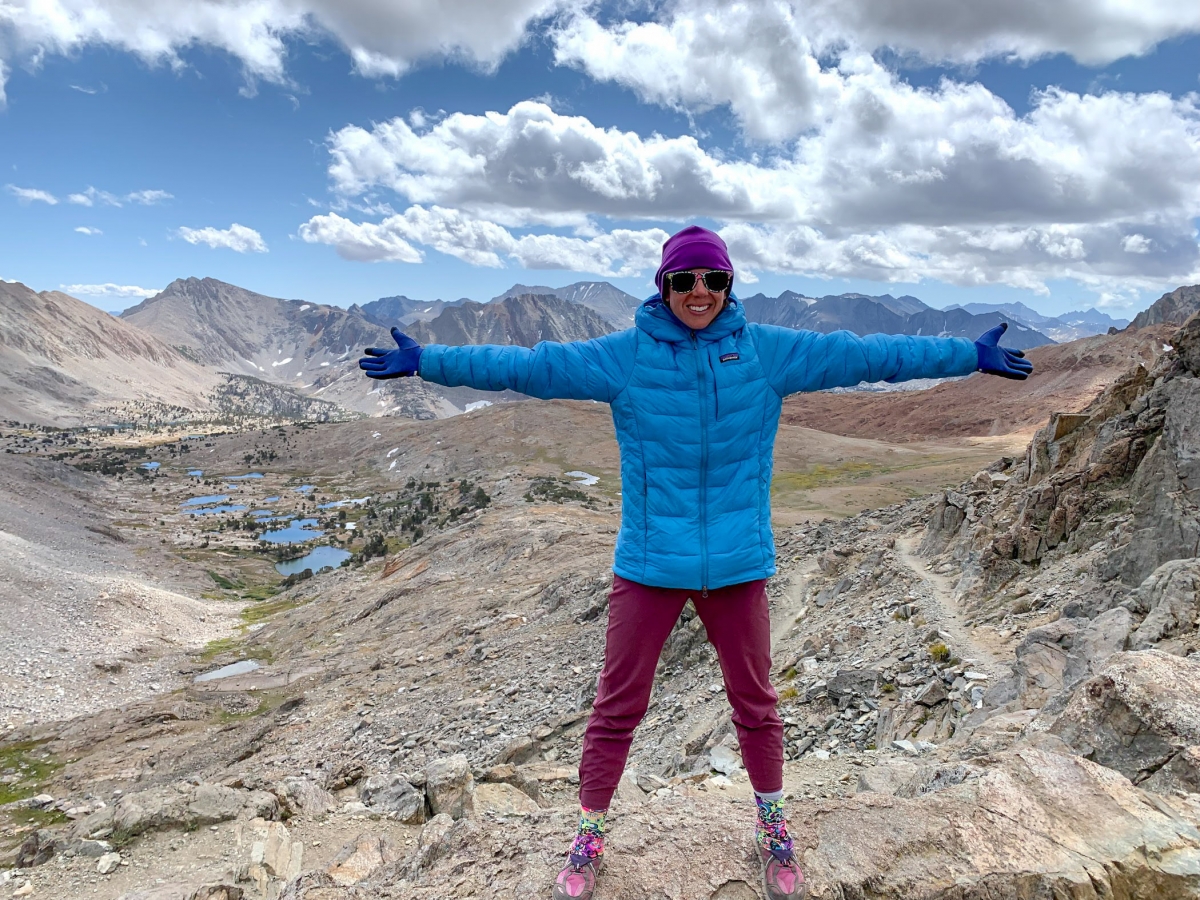 Key Features:
Ultra-Efficient: Windproof radiant burner and pressure regulator maintain stove performance in windy and cold conditions; faster boil times & more fuel efficiency than conventional stoves.
Compact Nesting: System perfectly nests components inside the 1.0 L pot, with extra full-sized bowl snapping onto the outside.
Compatible: Fits 1.0 Personal Pot, optional 1.8 Duo pot & other compatible WindBurner cookware.
Secure: 1.0 L pot with handheld design locks onto stove and canister.
Radiant burner with boil-to-simmer control
Pressure regulator for consistent performance
1.0 L hard-anodized aluminum pot with integrated heat exchanger & insulated cozy with handle
BPA-free drinking/straining lid
0.5 L integrated bowl
Room to nest optional 4-oz MSR® IsoPro™ fuel canister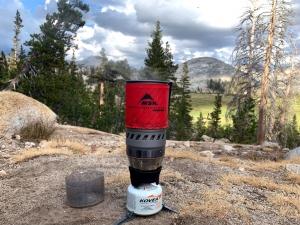 Boils water so fast that I was tempted to use it at home instead of my kitchen stove.  The MSR Windburner worked like a charm.  It was easy to start, used very little fuel and heated the water before I even had my food bag ready.  The changes in the altitude never affected its function, and the wind gusts were no match for this stove.  At first I thought I wasn't going to like not having a push button igniter like other stoves, but I met some folks on the trail that had those versions and they all complained about the buttons breaking too easy, and they all ended up lighting theirs just like I did with this one.  The MSR Windburner packs up nice and neatly into itself for easy storage.  This stove will be going with me everywhere.
Key Features:
Unrivaled ease, speed and versatility — simply Fill. Press. Drink™
OnePress™ Global Protection empowers travelers, adventurers and survivalists to make the world's sketchiest water sources safe
Removes waterborne pathogens (viruses, bacteria, protozoan cysts), including Rotavirus, Hepatitis A, Norovirus, Giardiasis, Cryptosporidium, E. Coli, Cholera, Salmonella, Dysentery and more
Filters: particulates (sediment, microplastics) and many chemicals, pesticides, and heavy metals
Improves taste, smell and clarity
Virtually no setup time, and fastest performance: purifies and filters contaminated water in 8 seconds (5 liters per minute)
SimpleVent™ Drink Cap performs three functions:

vents air while purifying
protects against cross contamination, grime, and dirt
allows one-handed hydration through fast-flow drink spout

SoftPress™ ergonomic comfort pads for non-slip, anti-fatigued pressing
TopoGrip™ non-slip TPE placed on all heavy use surfaces
Saves money and waste; travel sustainably and never buy single-use bottled water again
When you need 24oz of purified water in as little as 8 seconds, the Grayl GeoPress Purifier water bottle is the way to go.  With the Grayl GeoPress, all you do is fill the outer "dirty" container up with unfiltered water, then press the center filter down slowly into the dirty water. This probably isn't the best visual, but don't worry, there are videos on their website that show the process better than I can explain it.  Overall it is simple and functional.  This bottle is full of thoughtful features like the non slip sides on the bottle, and the soft non slip pressing pads on the top.  You can get roughly 350 presses out of one filter before having to replace your cartridge.  The GeoPress protects from global waterborne pathogens (virus, bacteria, protozoan cysts), pesticides, chemicals, heavy metals, and even microplastics.  It even helps eliminate some of the bad odors in that really questionable water.  I'm a fan of this bottle for most of my adventures.  My only issue is that it is on the heavy side, but it is a durable solid water filtering bottle so it's understandable.  If you are looking to go lightweight on your next trip, you may want to check out their smaller 16oz ultralight compact version.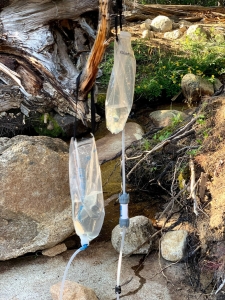 Key Features:
No pumping
Fast
Effective
Light & Compact
Group-ready
Field-cleanable
Hollow Fiber Advantage
Easy collecting & dispensing
If you don't want to sit there and squeeze water through a filter for long periods of time, a gravity filter is the way to go.  The Platypus Gravity filter is great for filtering larger amounts of water at a time.  It was easy to use and easy to backflush and clean.  At first impression, the ziplock top on the "dirty" bag looked like it wasn't going to seal tight.  It took a little adjusting but once it zipped up, the seal was solid and there were no leaks when flipped upside down.  You could attach the filter line directly to a water bottle, or simply fill the "clean" bag up for later use.  It comes in its own storage bag that has mesh on one side for easy drying.   I loved this filter, but the size and weight of the 4.0L weren't suitable for me for hiking the JMT solo.  For larger groups it was great as it can fill multiple bottles up fairly quickly, but for a single person, one of their smaller options is probably best.  I do like to use it on shorter hikes where I don't need to carry as much food and can sacrifice the little added weight.  Overall, the filtration was great, it was easy to use, and easy to pack away when not in use.  I had no issues with my water and will gladly use this filter on other adventures when I'm not trying to go ultra light.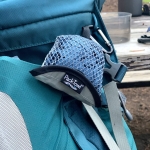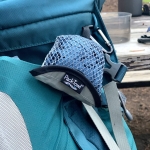 Key Features:
Ultra-compact
2x Absorbency
Ultrafast-drying
Carabiner clip and mesh storage pouch
You always need a towel on the trail; whether it be for wiping the sweat off your face, cooling yourself off, or just for basic dish cleanup, a towel always comes in handy. The PackTowel was so lightweight and easily storable that it will be my go to towel for all my hikes.  It comes in its own mesh pouch that clips onto your pack.  The towel itself also has a clip on it that attaches it to the inside of the mesh pouch.  This is a great feature to have when you need to let it hang to dry.  The material is soft microfiber, dries quickly and packs down really small.
So there you have it.  These were just a few key items that helped me on this epic 235+ mile journey through the beautiful Sierra's.  Each one outperformed expectations and are now happy additions to my gear collection.  I would highly recommend each one, some for slightly different situations.