GPS technology on the golf course is nothing new but what the folks at Arccos Golf are doing is taking GPS on the course to a whole new level.  By combining advanced GPS distances, fully-automatic shot tracking, and an analytics platform better than anything on tour, Arccos uncovers your strengths and weaknesses to help you connect to your game.  Founded by childhood friends Sal Syed and Ammad Faisal, Arccos was built on the realization that golf was lacking a high-performing, comprehensive tool to track and analyze a golfer's game and improve decision-making on the course.
Arccos Golf comes in with 13 lightweight sensors and 1 putter sensor that attach to the end of each club grip and track each shot that you hit during your round.  When you tee off and then hit your second shot you will get to see how far your drive was and the distance remaining to the green.  After each hole, you will get real-time analytics that show you how far you hit each shot, and if you hit the green in regulation, how many putts you hit and other useful metrics.  Arccos also delivers round by round summaries and the ability to compare and monitor your improvement.  How did the Arccos Golf system perform on the course? Here's what we discovered throughout our testing…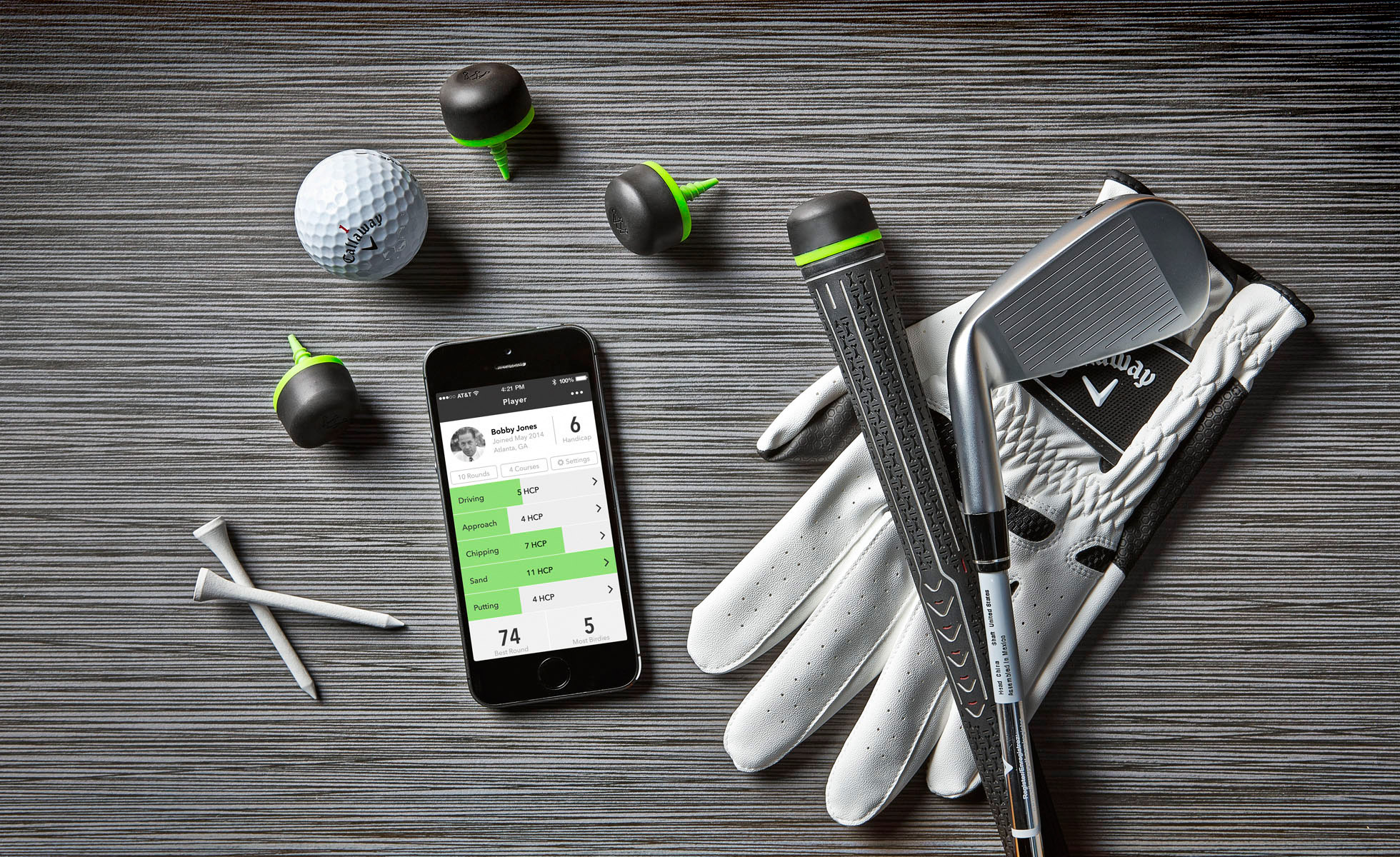 Arccos Golf System Review Breakdown
Setup:
Upon receiving your Arccos Golf system you will unbox and find 13 normal sensors and 1 larger sensor.  The larger sensor is for the putter and the rest are for all your other clubs.  Each Arccos sensors screws into the pre-existing hole of your club's grip. All standard grips these days have this small hole and are compatible with Arccos, so nobody should have issues installing the sensors on their clubs.
To get started you will need to download the Arccos Golf App on either Android or iOS.  When you download the app it will guide you through the setup of installing each sensor on your clubs and then syncing them to the app.  Essentially, each sensor has its own mini-computer inside and you simply press down to sync via Bluetooth to the app.  This allows each sensor to be uniquely synced to each club so the app can determine what club you are using to track your stats.
Overall setup took about 30 minutes.  We do recommend making sure you have enough time to sync everything in the first sitting as we stopped midway through our first round and had to start all over again when we wanted to add some more clubs.  Once you pair the Arccos sensors you won't need to worry about doing it again as they will be remembered on the app.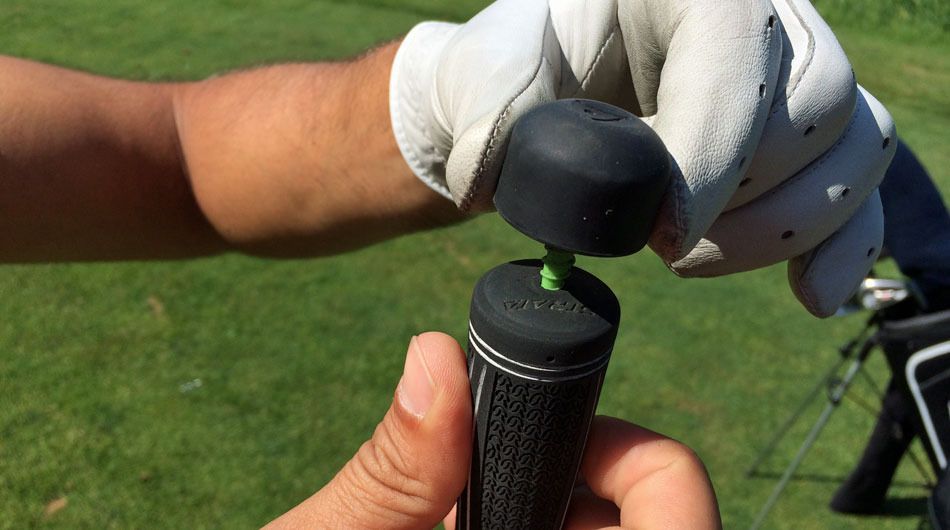 Ease of Use:
Once you set up and sync the sensors you will open the app and press "start a round".  The app has thousands of courses stored on it and once I brought it up the app instantly knew which course I was about to tee off on.  From there, the system really shines with how easy it is use.  Simply grip it and rip it.  At first, you will want to check your stats right away to make sure everything is syncing correctly, and rest assured it does.  You are probably asking how does it detect practice swings versus real shots? Well, the sensor knows when you make contact with the ball and when you don't, so it tracks only the correct shot.  What about if you didn't like the first shot and want to take a mulligan? It will automatically record the last shot with contact and delete the first one.  The GPS distances for each shot were pretty spot-on.  Throughout testing we only encountered variances of 1-3 yards, which is fantastic.
When you finally reach the green you will notice the putter sensor has a different shape as the other sensors, this is because it is sensitive than the others.  This sensor does a great job of addressing the correct putts versus the practice putters.  However, you need to be cognizant of those "gimme" putts as the sensor will have no idea you picked up your ball and needs to add another shot.  For the sensor to detect a putt you need to address the ball and hit it like a normal putt.  Sound like a potential waste of time? Well, rest assured, your round is fully editable so you can add or reduce shots at any time.
The App:
Be warned, once you get engrossed in the app it will be hard to put it down.  Most regular golfers don't get caught up in the analytics of the PGA tour golfers of greens in regulation, fairways hit, average distance to the pin, putts per hole, putts after greens in regulation, etc.  However, because the stats are so readily available you will become addicted to them.  This is where the value of the system really shines and helps you improve.  By tracking your stats it gives you a goal and helps you focus on the course.  Instead of setting a goal of breaking 80, this system will give you the analytics to show you how that is done.  Instead of saying to yourself "I left a lot of shots out there", you will be able to look at those shots in real time and make adjustments immediately.
We tested the app on both iOS and Android and found the iOS version to perform better overall. We expect that to improve as the Android app is still fairly new, but we lost some completed rounds in our history and had to do more score corrections on the Android than the iOS.  Overall, we were impressed by the real-time stats and the ease of use for each of the apps.
Battery Life:
Battery life is measured in two different categories.  The first is your cell phone battery, which you will use since you are constantly connected via Bluetooth to the club sensors for the round.  We do recommend that you start the round with a full battery as you will drain quite a bit.  We used anywhere from 50 percent to 75 percent.  The iPhone performed better on battery life versus the Android.  The second category is the sensor battery life.  Arccos states you should get about 50 rounds of battery life out of each sensor and after 30 rounds we are still showing good battery life in the sensors.  You can check the sensor battery life on each club via the app to know if you need to replace them.  The sensors take little watch batteries that you can get at every corner store and are very easy to replace.
Value:
Priced at $299.99, the Arccos Golf system definitely hits the wallet but if you are serious about improving your game, then the cost is definitely worth it.  For the price of a new driver, you can get a system that will help you work on your game.  While it is not a coach, you can read the analytics to tell you where your game is going well and where you really need to pick it up.  For example, during a recent round the front nine was a disaster, and after making the turn I noticed my driving distance was below 215 yards and thus making it hard for me to hit the green in regulation.  I decided to make some changes and focus on my driving distance.  On the back nine, I  was able to get an average of 245, which was reducing my average approach shot distance and getting on the greens faster.  The system allows you to focus on the area of your game that needs attention.  The bad thing about the system is it is very honest so if you don't like seeing bad things about your game, then you might not want to look until the end of the around. Overall, if you want a system that is like your own personal caddie and will hold you accountable while helping you improve, then the Arccos Golf system deserve your attention.
Buy now for $299.99 or visit ArccosGolf.com for more information.
Arccos Golf System - Range Review
The Arccos golf system is an incredible addition to your golf game. Whether you are an experienced player or someone just starting out, there is value for everyone in the system. Arccos gives you real-time analytics of your game to help you improve where you need it.
The Good:
Easy to setup and use
Accurate analytics
GPS distances were spot on
The Not so Good:
Price point will turn some away
no way of registering those "gimme" putts without manually adjusting
Android apps deleted some round history and has some kinks to work out