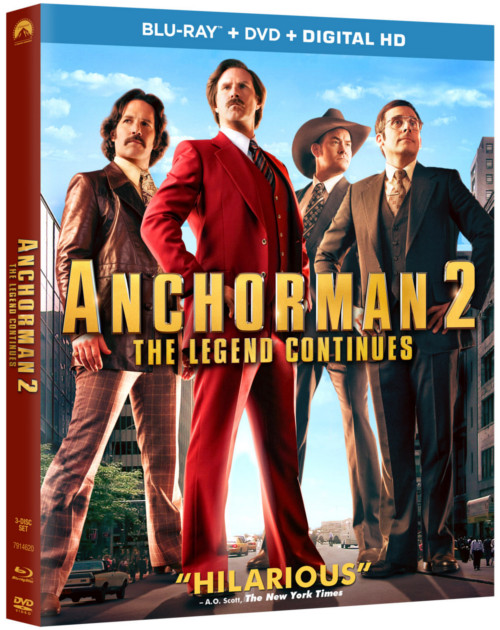 Available beginning April 1st, Anchorman 2 is getting its official release on Blu-ray Combo Pack, DVD and VOD. Already laughed your ass off to the delightfully dumb antics of Ron Burgundy, Brick Tamland, Brian Fantana and Champ Kind in theaters? Weeeell, gooooood fooor yooooooou… but guess what wasn't playing in theaters… The Unrated Version or the Super-Sized R-Rated Version with 763 new jokes. That's right, Anchorman 2 is now packed with more content than you can shake a stick at! This three-disc set features over four hours of bonus content including commentary by Adam McKay, Judd Apatow, Will Ferrell, Steve Carell, Paul Rudd and David Koechner, gag reels, more than 90 minutes of deleted, extended and alternate scenes, five behind-the-scenes featurettes, table reads, cast auditions and much, much more.
Just last week we received a pre-release copy of the combo pack and I have to say it was almost overwhelming to review, but over the past week we finally made it through every last clip, commentary and bonus scene – and we're glad we did!
For a quick reminder why Anchorman 2 should be on your comedy radar check out the new Blu-ray trailer and bonus clips in the gallery below. If you can't find something to laugh at here – you're a better human than I OR you're dead inside…
Anchorman 2: Bonus Clips!
To explain everything there is to see on this combo pack would take forever, so instead we're going to break it down into some quick – easy to digest bullet points.  Here we go!
Blu-ray Disc 1:
Feature film in high definition (Unrated Version)
Commentary by Adam McKay, Judd Apatow, Will Ferrell, Steve Carell, Paul Rudd & David Koechner
Feature film in high definition (Theatrical Version)
Behind-the-Scenes: Newsroom—Inside the making of the film
Gag Reel, Parts 1 & 2
Line-O-Rama, Parts 1 & 2—Non-stop alternate lines from the film
Welcome to the Dolphin Show—Ron Burgundy takes on the crowd
Catfight—Christina Applegate vs. Meagan Good with hilarious one-liners
News-O-Rama—Ron and the News Team bring you the headlines
Kench-O-Rama—Mashup of Kench Allenby's most Australian moments
Cast Table Read
Blu-ray Disc 2:
Feature film in high definition (Super-Sized R-Rated Version)
Behind-the-Scenes
Anchorman 2: The Musical—A look at the musical sequel that almost was
RV—Dissecting the RV tumble
Baxter & Doby—The lovable animals of Anchorman 2
News Fight—Inside the biggest, baddest all-star celebrity brawl
Deleted Scenes
Extended & Alternate Scenes
Previsualizations—RV, Shark Attack and News Fight sequences
Auditions—Featuring Meagan Good, Dylan Baker and Amy Poehler
Benefit for 826LA: "Spoiler Alert"—A special tribute to Anchorman 2
Trailers
DVD:
Feature film in standard definition (Theatrical Version)
To say we enjoyed this movie would be an understatement! The original Anchorman is a piece of American comedy lore. In the beginning we were skeptical that a squeal could be pulled off, but in the end we were happily surprised with the plot and the studio's ability to get all the key players back together again. While we can't quite put Anchorman 2 on the same pedestal as the original, it is a hilarious laugh fest from start to finish and has some seriously great bonus features that will keep any die hard Burgundy fan busy for hours and hours.
Anchorman 2: The Legend Continues - Blu-Ray
If you're a fan of the original Anchorman or just a fan of comedy in general this movie is a solid choice for purchase or rental. It's hard to say Anchorman 2 is as good as the first iteration, but at the end of the day it's still Will Ferrel at his finest and in our book it's comedy gold! And when you add up all the bonus features, hilarious commentary and new content this is a combo pack you'll really want to watch through and through.