Since the dawn of the iPod and streaming music devices, many have been faced with the uneasy decision of what playlist to listen to when setting out on a jog, or a 'run' as you super athletes call it. Should I include a list of all new hip hop tracks with heavy bass? But what if they turn out to be not so good? Should I include Rocky's theme song for novelty sake? What happens when I realize how cheesy that is to actually run to? It seems that Adidas has tapped into this frame of mind with their new fitness App – Adidas Go. Capitalizing off of iPhone's built in accelerometer, the Adidas Go App intuitively creates a listening experience that takes into account how your workout is going.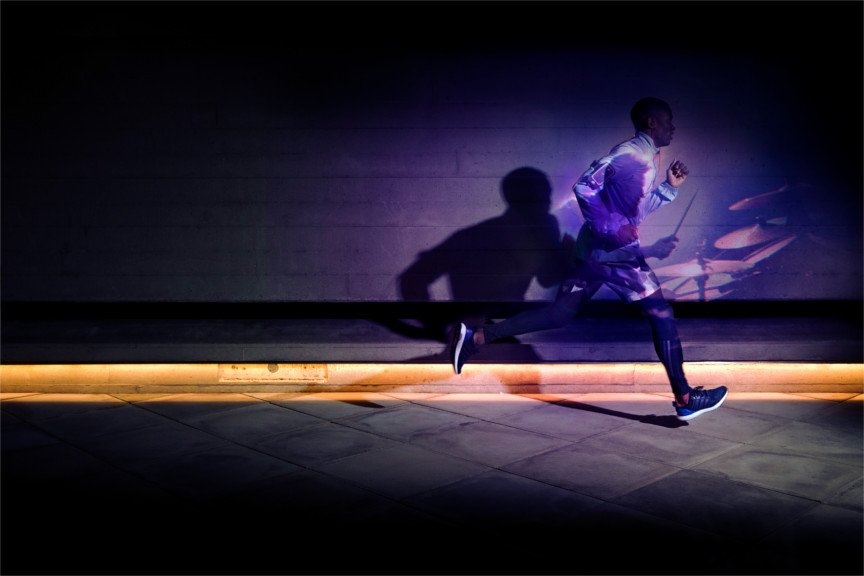 How it Works:
The iPhone's accelerometer calculates user's stride rate to automatically identify and play tracks that have matching beats per minute pulled from Spotify's extensive music library.
"For many people having the right music playing while you run can provide the perfect boost of energy to enhance your running experience, Adidas Go lets your energy level control the music that plays during your run, so you're always in control. For the first time, instead of runners listening to music, music will listen to runners." -Adrian Leek, GM of Adidas Running.
Limitations:
Adidas GO is available on iOS iPhones, supporting devices from iPhone 4S or later. When opening the app for the first time, users enter a 7-day Spotify Premium trial. Users can either pick workout playlists from their existing 'preferences' or select from a number of proposed playlists that Adidas provides. After the trial expires there is a choice between upgrading to Spotify Premium and using their local music library.
The Gist:
One thing I didn't fully grasp until I was out in the field stopping and starting running is that the songs pooled from Spotify are NOT the ones on your existing personal playlists. While setting up the app I chose 7 playlists I had constructed myself, and 3 that the adidas app 'suggested,' including broad genres such as 'pump up songs!' 'hip hop' and 'running classics.' After your music is set up, it's time to get moving.
Hitting the 'GO' button in the middle of the screen, the app will buzz to life with a sound (hint: this is not a part of the first song you'll be listening to), and shortly a song that matches your current pace will begin. Once moving, the screen will feature two buttons: a skip song button, and an add song button, so if you really like something you can save it to your music.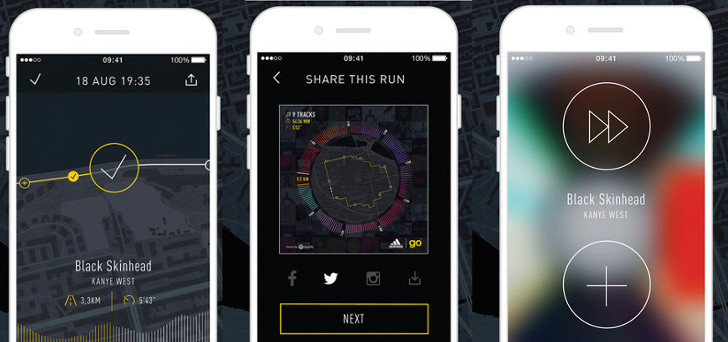 My favorite tracking feature was that after your run is over they give you all the details including time, distance, and pace. The full list of songs that were played will be available once you hit end session, with the option to save them for future use/reference. You can even share the details of your workout socially across Facebook, Twitter and Instagram to prove you're better at fitness than all of your friends.
First Impressions:
Once I initially downloaded the app, I held back my full excitement, as the few reviews in the app store were polarized; one side touted it as 'the greatest thing ever' and the other couldn't even seem to get it to work. I had no troubles with my download, and although the first listen consisted of me walking around inside, I was pleasantly impressed by the songs chosen for me — I had never heard them before, and enjoyed the experience. The feeling was that initial joy felt when downloading an app for the first time — this is the cleverest, most ingenious app ever! I'm going to use it every day! I can't wait to use it next! By the time I actually used the app again my reaction to it cooled considerably, as I used it while walking my dog (not ideal). With the dog fully engrossed in Spring fever and insisting on stopping every five seconds for a sniff around, the app had a hard time picking up on my pace and I couldn't get into the groove of the songs selected for me. I don't recommend the app for such purposes, actually I don't recommend music of any sort while walking your pet. Too aggravating.
The Test Run:
I took the app for a workout spin, which included a 10 minute walking warm up, 20 minutes of running, and a 15 minute walking cool down. I switched from walking to running mid song to see if it would switch the song as well (it didn't.) It was during this time that I realized that the songs don't include any from your existing playlists, but rather use your playlists as 'preferences' and construct them from there. This was the big disappointment of the app, as it would be nice to have a harmonious blend of new songs to inspire per your pace, as well as some familiar favorites. For example, if I'm huffing and puffing towards the end of my running session, being able to hear my favorite Rupaul song 'Sissy That Walk' may not have helped me finished any faster, but perhaps helped finish with a little more panache and moxie. And while I did enjoy the new songs selected for me (the person responsible for the song selections has great taste in music) out of the 30 songs I've played via the app so far, I only recognized, as in 'ever heard before,' two songs. Not to beat a dead horse, but I thought that was the reason that I was choosing my own playlists in the first place, but I suspect there could be copyright issues behind it. The final thing I noticed was that the app absolutely tore UP my battery life (therefore my data as well). It would be hard for a long distance runner to sustain everyday, and it seems, unfortunately, that would be the target demographic for use of this app.
In-App Screenshots:
Ideal For:
Existing Premium Spotify Users
Long Distance Runners/Casual Runners with Great Taste In Music
Runners Looking for Something New When It Comes to Their Music Regimen
Download:  iTunes
Adidas Go - App Review
Overall I was very pleased with my experience using the app – unlike many free 'radio' style features, like Pandora, the Adidas GO app provided an in-depth selection of songs from all genres and you didn't have to worry about reaching your number of skips. I will be using the app again, and consider it something of a motivation to test the breadth of its songs, and how well match to what I'm intuitively looking for.
Pros
Easy to Set Up
Huge Song Library
In Depth Tracking Features
Cons
Doesn't Play Actual Songs From Your Playlists
After 7 Day Trial, It's Only For Spotify Premium Users
Uses Battery Very Quickly & No Android App Yet