Ah the Chromebook. The misunderstood, misrepresented notebook genre most people are curious about but confused by. With prices generally sub $300 they are hard to completely overlook, but the variety of options and the lack of familiarity with Chrome OS has caused many to form negative impressions of the genre.
The negative impressions aren't exactly unfounded either. First there were the woefully underpowered early models from Google, Samsung, and Acer. Then came the gorgeous but overpriced Chromebook Pixel from Google. Chrome OS left people confused about how they could work with the device offline. Battery life was less than stellar. It seemed like the mark had been completely missed for the devices ideal use case – an affordable yet capable netbook for the cloud age.
This year however, the hardware and the operating system are coming of age. Over the past month, I've tested the latest offering from Acer, the Chromebook c720. Can it shine where other devices before it could not? Let's find out in the Busted Wallet tech review of the Acer c720.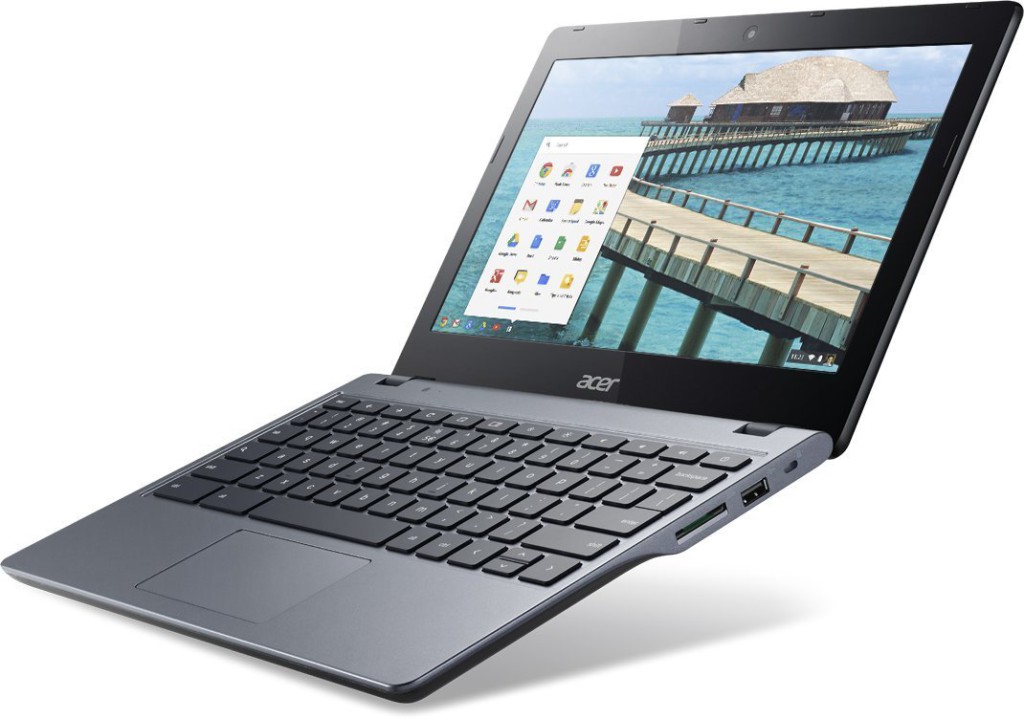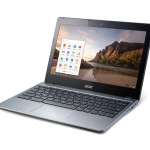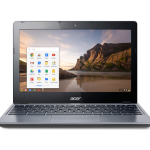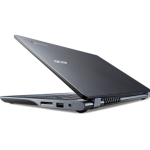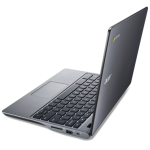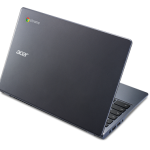 Overview
The Acer c720 is the most recent Chromebook in their lineup. It follows roughly the same design as its predecessor, the c710, but with some key improvements that make all the difference. It's an unassuming 11.6″ gray slab that's just 2.8 pounds and quite slim. It's got a drastically redesigned keyboard, top tier battery life, and the latest Haswell series processor from Intel.
Specs
| | |
| --- | --- |
| Screen Size | 11.6 inches |
| Screen Resolution | 1366×768 |
| Max Screen Resolution | 720 pixels |
| Processor | 1.4 GHz Intel Celeron |
| RAM | 2 GB DDR3L SDRAM |
| Memory Speed | 1333.00 |
| Hard Drive | 16 GB SSD |
| Graphics Coprocessor | Intel HD Graphics |
| Chipset Brand | Intel |
| Graphics Card Ram Size | 128 MB |
| Wireless Type | 802.11abg |
| Number of USB 2.0 Ports | 1 |
| Number of USB 3.0 Ports | 1 |
| Average Battery Life (in hours) | 8.5 hours |
| Weight | 2.8 pounds |
The Device
As you're reading this review you should understand that a laptop for $199 was basically science fiction just a few years ago. Today, while prices have fallen considerably across the board, you should still expect some compromise out of a device at this price point. What Acer has been able to pull off in the c720 is remarkable. The combination of equipment that has been selected in the laptop provides a very satisfying experience all around. Its few shortcomings are quickly dismissed when you remind yourself what you paid for it.
It doesn't feel like an expensive device. The build quality is average leaning on low. I often felt the device flex or cave when opening the lid which is a little disconcerting. This is one of the larger areas of cost savings for manufacturers however. Using cheaper plastics and composites in the chassis allowed Acer to spend more where it really counts. The laptop doesn't feel bad when you're typing on it however. Actually, the keyboard is quite good for its size. The device is also very lightweight, thin, and easy to carry around. So while you're not getting a unibody aluminum case here, you're getting a decent – if unremarkable – enclosure.
The keyboard has been completely redesigned since the terrible and overcrowded c710. The endless, tiny, and impossible to press buttons have been removed in favor of a minimal set of keys which are comfortably sized. Notably absent is the caps lock key on the c720, though you should hardly miss it. If you do end up needing it there is a keyboard combination to enable it anyway (alt+search icon). The c720 is pleasant to type on. The chiclet keys are macbook-esq and accurate. It may be slightly more narrow than you're used to but you shouldn't have any complaints after a little time with it.
Performance
Older Chromebooks were based commonly on the Intel Atom line of processors or Intel Celeron processors with old architectures (all the way back to Single Core Penryn for Celeron). While the c720 is also powered by a Celeron processor, it's using the current generation Haswell architecture and is multi-core. The Haswell architecture is a major leap forward, even from it's recent predecessor Sandy Bridge when it comes to mobile devices. Not only has the processing power of the chip improved, but the energy efficiency has become so good that battery life has literally doubled since the c710.
Chromebooks are also known for being light on storage since the focus is on using the cloud instead. That being the case, the c720 is paired with a speedy but small 16GB SSD drive. This is enough storage to keep you going on most tasks but won't hold your music or picture collection locally. The drive itself is very quick, and paired with Chrome OS and the 1.4 GHz dual core processor, most actions are instant. Boot time is particularly quick, usually loading from a full power down to a working system in under 8 seconds.
Wireless is great, it has a solid A/B/G antenna capable of obtaining a quality signal where weaker devices might struggle. Wireless-N would have been nice but it's definitely not a deal breaker. It's also got Bluetooth built in which works equally well. Unlike previous models, cooling has been improved too. Even playing video I never noticed or heard the fan. Compare that with the whiny, loud, and persistent fan on the c710 and you've got a welcomed improvement for sure.
Overall it's likely that you'll be surprised and impressed by the responsiveness of the c720. Scrolling even heavy web sites is fast and fluid, opening Chrome Apps is instantaneous, and sub 8 second boots are awesome. You'll have no issues watching HD YouTube videos, streaming Spotify, browsing photos, or performing any other task typical of a notebook.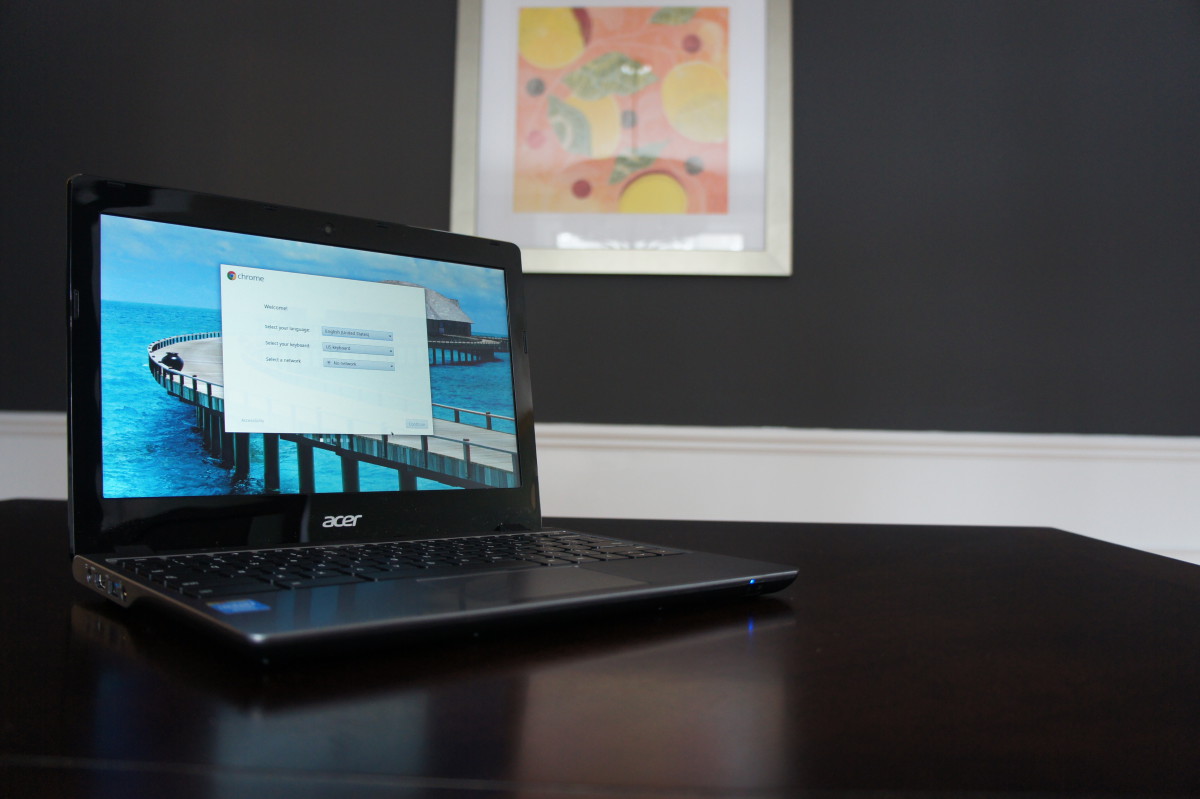 Display Quality
The 11.6″, 1366×768 display on the c720 is average. When you're viewing it straight on at the proper angle, it produces a satisfying image. Change the angle, especially vertically, and you immediately get a washed out and basically unreadable screen. Like the build quality of the enclosure, this is another major area of cost savings for manufacturers. To me it's worth having a less versatile screen as long as it performs well in the proper circumstance over the alternative, like the Chromebook Pixel, which has arguable the best laptop screen going but costs $1,300.
The size of the screen can be pretty cramped. I'm frequently longing for more vertical resolution but that's what you get in an unltra-portable. To help with this there is a hot-key that makes what you're viewing full screen – hiding the tabs, address bar, and application toolbar. That doesn't sound like a lot but it's significant. It gives you something like 20% more screen real estate so I'd get to know it.
The screen is nothing to write home about but it's not a big enough negative to greatly influence a purchasing decision. It's best described as serviceable.
Battery Life
Perhaps the crown jewel of the Acer c720 is its battery life. They claim a whopping 8.5 hours on a single charge and I'm here to attest to that statement. It's remarkable and awesome. Having 8+ hour battery life is a luxury you may not know you need until you've had it. It's the reason I bought my wife a Macbook Air (8+ hour battery life) and it's one of the main reasons I enjoy the c720 so much (You can also buy 5 Acer c720's for the price of a Macbook Air). Acer also employs a rapid charging technology that can take the battery from 0% to 100% in under 2 hours, another major bonus.
Taking advantage of the updated processor architecture, the lower resolution / sized display, and the efficient SSD drive has taken battery life to a whole new level. Real world 8+ hour battery life in a $199 laptop? Are you kidding me?!
Chrome OS
Chrome OS is the great equalizer across the Chromebook category. You need to know what you're getting into with it before making the leap. If your expectations are in line with what the OS offers, you're going to be happy. If you're expecting to run Windows desktop apps, or think you'll have a similar file system to Mac OS, you're going to be angry.
Chrome OS has made feature improvements as updates have rolled out. You now have a local file system and the capability to work offline. The "desktop" is a little more traditional and now has a task bar and an app start menu. At its core though, you're still doing everything via the Chrome web browser. "Apps" are just Chrome extensions or links to web applications.
I don't want to put a ton of focus on the OS for this review as I'm really reviewing the hardware, not Google's software. If you use Google services a lot (gmail, google docs, youtube, google+, music, maps, etc.) you're going to find the system pretty convineient as all of your stuff will be there waiting for you. If you don't, you'll have to consider starting to do so. Regardless, the hardware in the Acer c720 makes Chrome OS fly.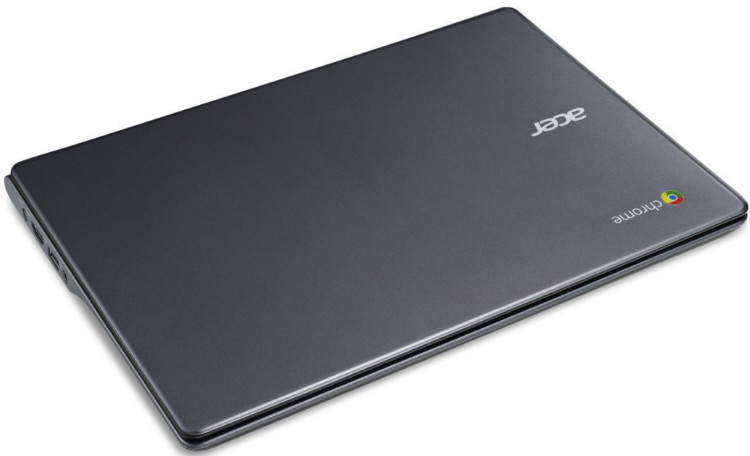 Overall
Let me start off my conclusion by saying that am the sad owner of an Acer c710 Chromebook. Going into this review I was already jaded because there are so many problems with the c710. Aside from the minor display and the build quality observations, literally every gripe I have with the c710 has been made right in the c720. It is such an improvement and a genuinely good device that I purchased one for my dad on his birthday a couple of weeks ago.
These days, I find myself reaching for my Chromebook more often than my iPad. They are similar in size and battery life, but the c720 is a far more capable computing device which costs less than 50% of what an iPad does to boot. This may finally be the low cost netbook the average person has been waiting for. For everything you normally do with your computer the Chromebook has a lightweight answer for. Likely, you check your email, browse the web, listen to music, watch YouTube, surf social networks, and maybe edit documents the vast majority of the time you use a computer. The Acer c720 is perfect for all of those things. If you've got deeper computing needs, you probably have a desktop, and that's where the Chromebook falls. It's short of a business or gaming machine, but it's basically everything else. At $199, it's a complete steal and the c720 is the first Chromebook I actually recommend people spend their money on.
Acer c720 Chromebook - Tech Review
What a netbook should be. Finally, a Chromebook I can recommend. In fact, I'd recommend it over any laptop for the average person.
The Good:
Affordable
Great performance
Amazing battery life
The Not so Good:
Mediocre display
Unremarkable build quality
Chrome OS takes getting used to