Get the performance you want and the warmth you need for an adventurous season of destroying the park, backcountry, and everything in between. The 686 GLCR GORE-TEX Smarty 3-In-1 Weapon Jacket is ideal for frigid winter days. And just when your local weather doesn't quite call for every stitch of clothing you own, unzip and still be the perfect temperature.  No matter what the elements hold, the gear junkies at 686 have you covered, here is what we thought about the new 686 GLCR GORE-TEX Smarty 3-In-1 Weapon Jacket.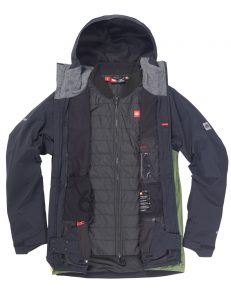 Key Features:
GORE-TEX 2L Waterproof / Breathable + DWR
Removable SMARTY Primaloft Eco Polyfill
Internal Jacquard Mesh Storage Pocket
Removable Adjustable Full Stretch Powder Skirt
Merino Wool Inner Mouth flap
Helmet Compatible One Cinch Hood Adjustment
Fully Taped GORE-TEX® SEAMS
YKK AquaGuard Water-Resistant Zippers
Air-Flo Under Arm Vents
Pant Jacket Connect System
Inner Lycra Horseshoe Thumb Wrist Gaiters
Zippered Sleeve Pass Pocket
GLCR GORE-TEX SMARTY 3-in-1 Weapon Jacket Review Breakdown
Design:
It's GORE-TEX… This is really all you need to read.  Super lightweight, breathable, water-resistant, magic outer jacket that is made for all elements. GORE-TEX is a fabric that contains billions of microscopic pores.  Each square inch of the fabric is 20,000 times smaller than a raindrop but about 700 times larger than a molecule of water vapor. Thus water can't slip through the fabric while allowing perspiration to escape. If I'm really being picky about it, this jacket has some design flaws. Sometimes, when I'm taking the jacket off, the inner sleeve tends to pull out, while the shell remains. However, this is easily remedied once you learn the trick. Apparently, the seams are fully taped which means that it provides the most effective waterproofing. I can attest to this as it has never leaked. The problem I did find was that of the "zip up".  I had multiple times where I spent 5 minutes fidgeting with the main zipper before I was able to actually get it to budge.  More of a random annoyance but enough to make it be mentioned.
The Primaloft Eco inner liner is made up of recycled materials that provide warmth without the puffiness of other coats. Superfine fibers mimic the compressibility of goose down and are breathable, allowing moisture vapor to be transported through the fibers and away from your skin.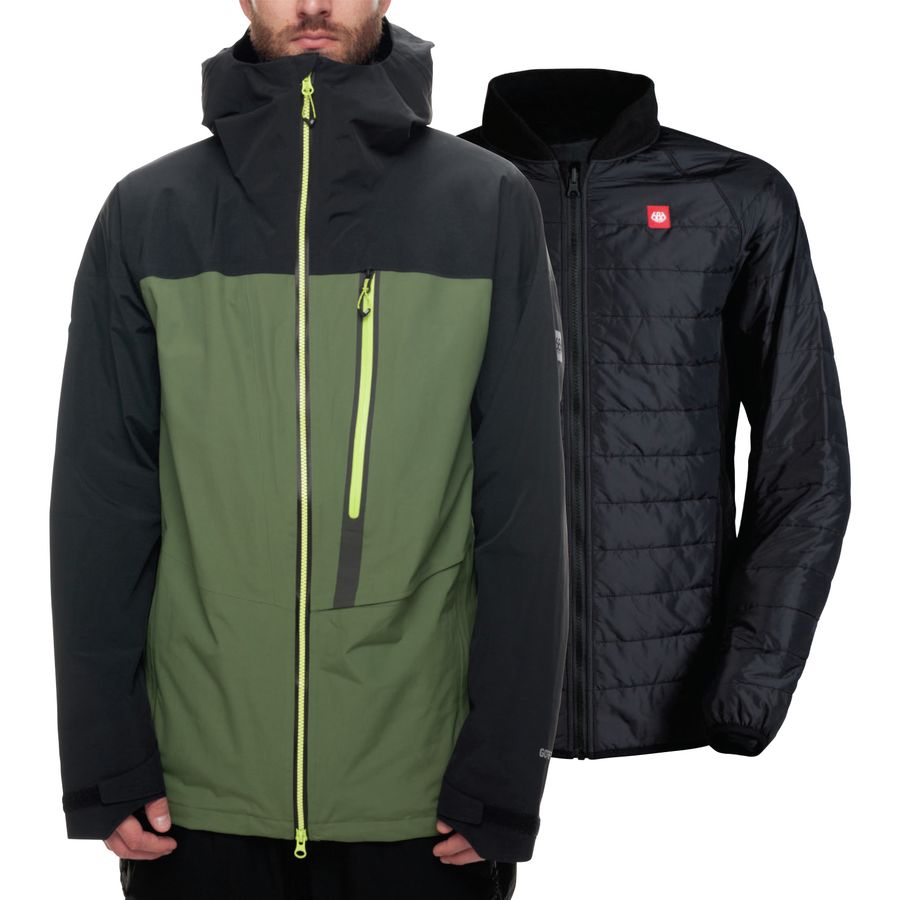 This jacket is also outfitted with the Recco Rescue System, which is becoming a hugely popular device for good reason. RECCO reflectors are worn by skiers, snowboarders, and other adventure seekers. How does it work? Glad you asked… RECCO reflectors send out signals that bounce back a directional signal towards rescue teams. To make it simple, the RECCO Rescue System is a highly sophisticated radar technology, but for us, it is extremely easy to use.  All one has to do is wear it. Organized rescue teams use a hand-held detector from the ground or a helicopter. This allows for fast searching of large, dangerous areas. RECCO reflectors do not guarantee the survival of a buried or lost persons but give the rescuers a huge advantage in finding. However, when someone needs more help than their friends can provide, RECCO reflectors do provide another chance. Unlike other technologies, multiple RECCO reflectors on a person can improve detection, so the more the merrier.
Comfort:
I took an eight-hour car ride in this jacket and forgot I was wearing it. Never did I find myself struggling with it nor that feeling of being too hot or too cold. I wasn't fighting with it or adjusting it during the drive.  This coat doesn't tend to squeeze the life out of you but also doesn't drown you in an obscene amount of fabric. It's more along the lines of comfortable cuddling. The ergonomically articulated fit is designed to work with every inch of your body while exploring the backcountry, sending it off your favorite park jump, or just ripping around the resort.  For me, it was being stuck in a cramped car for what seemed like an eternity. The other overlooked part, which many coats do not offer, is the merino wool mouth flap. This amazing feature removes the "chin burn" factor that some lackluster jackets may cause. My chin has never been so grateful.
Durability:
686 gives this jacket a thermo rating 9, which is meant for temperatures of -10 to 20 degrees Fahrenheit or – 23 to 7 degrees Celcius. And that's pretty freakin' cold, so you should be all set in the backcountry. Having outerwear with fully taped seams means the jacket will provide the most effective waterproofing. It can be considered a key feature if you live in a wet climate or are planning on wearing the jacket during heavy rains or wet snowfall. The downside is that due to the full taping there is less breathability than you'd experience with critically taped seams. Fear not, however, GORE-TEX remains incredibly durable, waterproof, breathable, and totally windproof so we didn't notice the difference.
Style:
The outer shell won't have friends begging to know where you bought it, but that's not really the point. This coat is designed for the elements and not to be flashy. The simple design works perfectly for me. The lack of color choices is a bit disappointing, but like I said, if you're not too chuffed about the way it looks, it's perfect.  The pockets and zippers can be found in odd places, so your secret stash will still go undiscovered. The inner coat is actually where the style of the jacket comes out. It has the warmth and comfort of a puffy coat, but it's not puffy. Which seems to be the current trend that many lighter jackets offer.  You can rock the jacket all day boarding, go home, get cleaned up, unzip, and have a night on the town.  Name another coat that can do that… there aren't many!
Value:
With an eye-popping price tag of $500, many of you might back away from this jacket right off the bat, but that's until you really look at everything you are getting.  Not only do most GORE-TEX jackets fall right at this price point, most only offer a solid shell.  With the GLCR you get three for the price of one. Not to mention, taking them apart and zipping them back together is easy. Style and versatility plus a jacket that could essentially save your life (thanks RECCO), you can't put a price on.  Still, if the MSRP seems a little high there is an option to make monthly installments for those who would prefer not to shell out the cash all at once.  Breaking it down into 4 monthly installments makes this so much more affordable. Well worth the money if you ask us.
Buy Now: $500 or to learn more, head over to: 686.com
GLCR GORE-TEX SMARTY 3-in-1 Weapon Jacket
This jacket is a true triple threat! It is tough to beat any Gore-Tex jacket, let alone 3 for the price of one. We fell in love with the simplistic design and the comfort level. If you're looking for a new jacket to combat the cold and take you on adventures this one comes highly recommended by us.
The Good:
Gore-Tex and all that goes with it
3 in 1 Jacket
The Recco System
The Not So Good:
Zipper Problems
Lacking better colors