If we're not indoors, we're outdoors, and in Michigan that means being prepared for every weather system that nature can throw at you. Rain, snow, and sun in the same day, or all at once. We learn the importance of layering, and the top layer is as important as any other.
686 was founded in 1992 by Michael Akira West, a Southern California native who enjoys being outdoors on a snowboard, and building clothing for others who enjoy similar activities. They let us give the 686 GLCR Ether Down Thermagraph Jacket a run down the slopes and here's what we discovered about this exciting brand:
Key Features:
Vader Vents
Water Resistant Zippers
Air-Flo Mesh lined under arm vents
Internal Mesh Storage
Internal Smart Phone Pocket
Thumb wrist gaiters
Helmet compatible adjustable hood
Removable/adjustable powder skirt
Zippered Sleeve pass pocket
Adjustable Welded Cuffs with Internal Death Grip
Self-Fabric Lift Ticket Loop
686 GLCR Jacket Gear Review Breakdown
Design: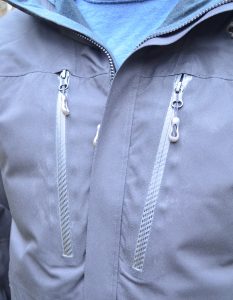 It's a Jacket for being outdoors. The 686 GLCR  Ether Down Thermagraph Jacket has an overload of pockets; 2 on the chest, 2 deep hand pockets, and 1 on the left sleeve for quick access. The zipper pulls are easy to grab. When closed, all zippers look sealed against the weather. We never even used all of the pockets at one time. With the exception of the sleeve pocket, everything about this jacket is set up for a left handed or right handed user. Inside left is a media/phone pocket, inside right is a mesh goggle pocket.
The GLCR Ether Down Thermagraph is waterproofed and breathable. It includes 2 underarm vents and a unique 'Vader' Vent which is exactly what it sounds like. As a glasses wearer, I was particularly fond of this. It allows your breath to pass through the jacket instead of being forced up towards your glasses. It doesn't fully stop fogging up, but it did greatly reduce it. Other manufactures can learn from how 686 put that together, while still keeping the bitter wind at bay.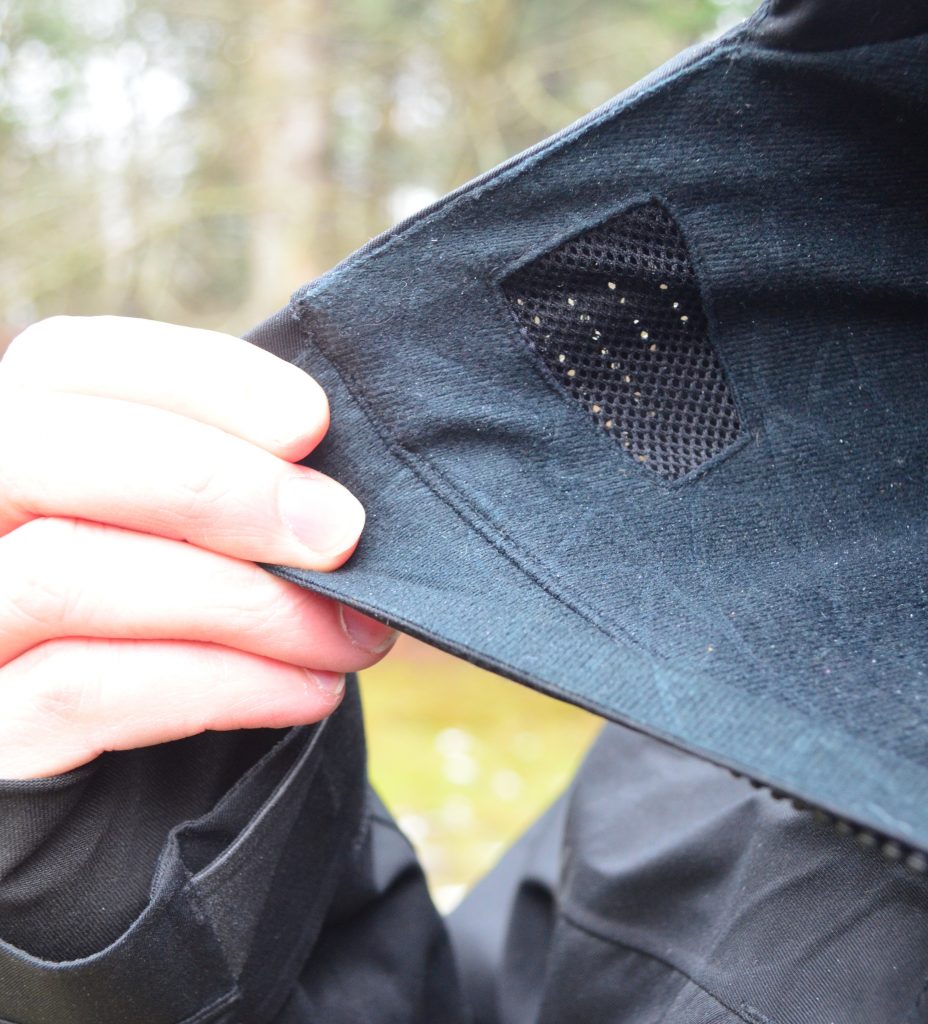 The sleeves, as expected, include thumb wrist gaiters and adjustable hook and loop straps for tightening down over wrists. Unexpected, but appreciated is the Internal Death Grip, which is a piece of stretchy material sewn in the wrist that keeps the jacket just tight enough to the wrist to keep out the cold, but not so tight as to be bothersome. Also underappreciated are the lengths of the thumb wrist gaiters, it was the first thing I noticed putting on the jacket. They are really long. There allow for a lot of movement independent of the jacket sleeve. They've gone to great lengths to keep out the wind and elements. The removable/adjustable powder skirt can hook to a pair of snow pants, but on its own is useful in keeping out drafts. Its inside edge has an almost 'sticky feel that grips to your legs outer layer. My only complaint is the bottom main zipper. It has a habit of popping up a notch and then not releasing when you unzip the front. More often than not I got to the bottom of the zipper and it locked up. It's such a subtle thing, but it was a constant annoyance. Otherwise, great marks for design and structure to the GLCR Ether Down Thermagraph Jacket. They really took into account how the jacket would be used with the pocketing, the hood design, and the vents.
Performance:
Ratings:
20k Waterproof
15k Breathable
Thermal Rating 6, 10-32 degrees Fahrenheit with a 'warm' rating
At 10 degrees we wouldn't describe this jacket as 'warm' all by itself, but as top layer it does the job. It keeps moisture out, and lets you breath and move. The chest and back of the GLCR Jacket is filled with 80% down and 20% feather, surrounding your core with insulation.  The arm fabric is durable, but not insulated. as mentioned above, the wrists, legs and neck are all protected from wind and elements. Keeping out the cold is just as important as keeping in the warm. If you are caught in a rain storm, this is the jacket you'll want with you. High marks for performance, if your outdoor performance jacket doesn't perform what good is it?
Comfort:
While the core is surrounded by insulation, the arms are not. This isn't a stand alone jacket for most of winter. You'll need layers. The problem is the jacket is also slim fitting and layers add up quickly. This is not a loose or bulky jacket by any standard. You'll need to choose thinner under layers to stay warm on the coldest of days. Movement is great however. I never felt hampered in this jacket, or like I was asking it to do something that it wasn't made for.  I'm measured for a large, and I'd say it fit me as expected. For movement, and feel this jacket gets great marks, for great body insulation coupled with the lack of arm insulation, it gets a point off. I see what they were trying to do with that, but it's hard to make up for that with layering.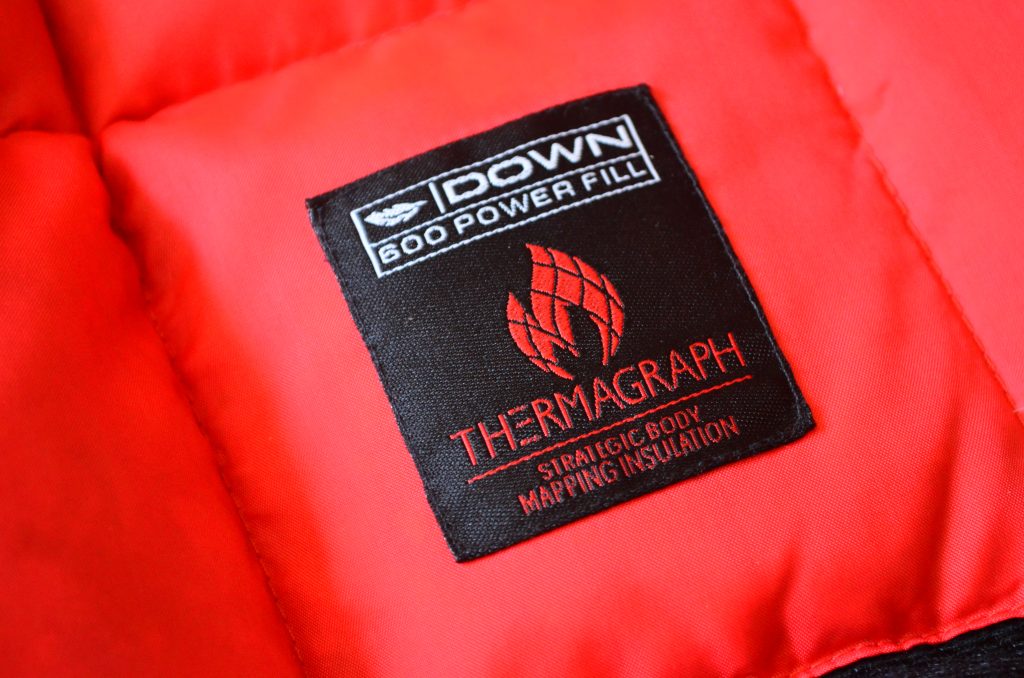 Style:
I was told I looked slim MORE than once while wearing this jacket, so right there this jacket gets a 10 from me. This goes back to the fact that it's made to be slimming. It's conforms to your body and holds everything close. This isn't to say the jacket is tight. At no point did I ever think the jacket to be uncomfortable. In the past 2 years I've lost 45lbs and I'm trying to embrace clothing that fits my body better. This jacket did that quite well, even if it took me getting used to that mentally.
Durability:
A day on the slopes using a tow rope shows no wear on the jacket. The seams are strong and reinforced where expected. Elbows don't feel like they are pulling on the fabric, bending and twisting aren't hindered by the fit of the jacket. The zippers, seams, and materials are quality and built to last. This isn't just a 1 season jacket, but something that'll be used for years to come. It's well thought out for outdoor use. There's no worry of coming out of a yard-sale on the slopes and having to duct tape up a seam to make it through your day.

Value:
It comes down to fit vs function vs cost. The Jacket is well thought out, fits well, and functions as expected. It's also not $500+. The only real concern I've had were cold arms and having to adjust layers accordingly. Most of my under-layers can be thicker because all of my other jackets are bulky. It's hard to insulate just your arms. Eventually though I've gotten that figured out and am satisfied with the jacket. I'm really looking forward to spring and fall camping in this jacket, which isn't even its intended use. The durability of the material, the pockets, the waterproofing and ability to keep out the wind, really makes this a great jacket for everyday wear too. If you can get it for sale, it's an even better value.
Buy Now for $300 (On Sale right now for $240!) or learn more at 686.com
686 GLCR Ether Down Thermagraph - Gear Review
All around great jacket for every day wear and shredding the slopes. Always looks great and fits well. Highly recommended.
The Good:
People acutally said I looked slim
Waterproof and keeps out the wind
Durable
The Not So Good:
lack of arm insulation to go with body insulation
The bottom zipper, maybe it's just me.