"You're picking your head up!" How many times have you heard this phrase muttered by a fellow golfer who's trying to give a piece of advice after you just shanked one? It happens to me all the time, but I'm willing to bet there's more to an effective golf swing than merely keeping your eye on the ball. Today, we hit the driving range with the Zepp Sensor Golf Swing Analyzer.
For some visual insight on how this new swing analyzer from Zepp operates, check out the embedded video below…
What's in the Box:
Sensor- 1.1" x 1.1" (.2 oz / 6g) golf swing sensor with rubber exterior and multi-channel button
Glove Mount- 1.5" x 1.2" (.1 oz / 4g) sensor enclosure with clip, made to attach to any golf glove
Charger- USB charger. No wall mount charger included.
Free mobile apps via iOS or Android.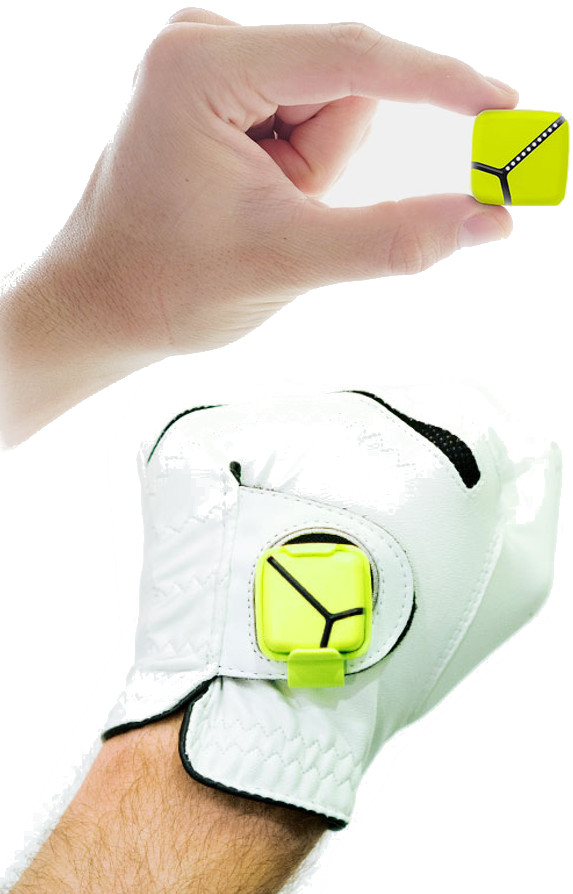 Specs:
Sensors
Dual accelerometers
3-Axis gyroscope
Memory
Flash Storage (holds up to 2,000 swings)
Battery
Built-in rechargeable Lithium Ion battery
2.5 hour full charge cycle (50% charge after 30 minutes)
Up to 8 hours continuous swing recording (varies by use)
Connectivity
Bluetooth 2.1
Saves swings wirelessly to you iPhone, iPad, iPod Touch of Android device.
Languages
English, Chinese (Simplified), Chinese (Traditional), French, German, Italian, Japanese, Korean, and Spanish
Supports both imperial and metric units of measurement
Zepp Golf Swing Analyzer Review Breakdown
Installation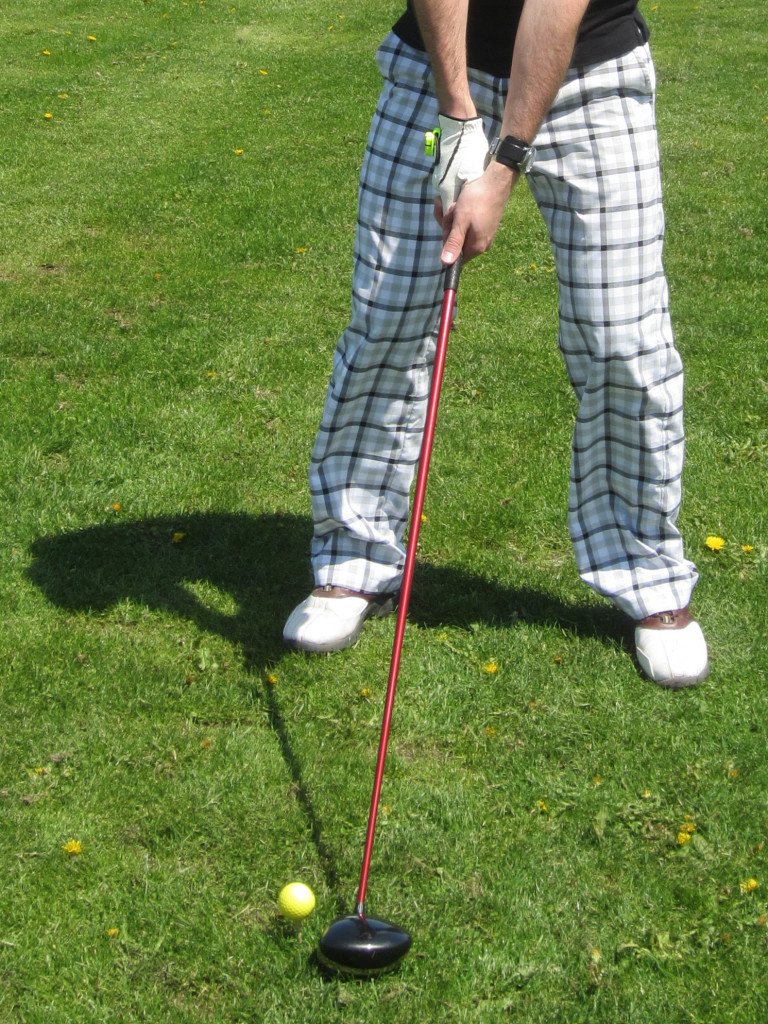 I know what you're thinking. "I'm not the most tech-savvy person, and I find all of these apps, Bluetooth connections, and sensor technologies intimidating." If you're anything like my Dad, and you'll forever hold on to the flip phone you bought a decade ago, you are not equipped to use this little gizmo. However, if you've made that leap into the world of smartphone technology, it's time to suit up because installation is mostly a really easy process with the Zepp Golf Swing Analyzer.
The app is free via Apple and Android devices, which I appreciate. I'm an android guy, and it burns me up when I'm researching a product and it's only compatible with the iPhone, so I appreciate that Zepp! Once the app is downloaded, you need to create a profile on Zepp's website by entering some basic information, including your height, grip style, and whether you are right or left handed. Up until this point, things were a breeze, but then I ran into some nitpicky issues.
Any excitement you may have when you discover your clubs can be entered by make and model may be shattered when you discover they don't exist in the Zepp's database. I have a Callaway driver, and there were only 4 options of model to choose from. Sadly, the club I was holding in my hands did not make that short list. I know that Callaway has made more drivers than this over the years, but because my club wasn't an option, I had to go through the misery of entering my driver as a "generic" club along with the model, loft, length, shaft makeup, and flex. Most of this information isn't labeled on the club itself, so the process became a bit confusing and a bit of a headache in a quick hurry. Have you ever measured your golf club or even know how too? Me neither, so a few web searches later, I actually learned how to do this. In the end, none of my clubs were pre-entered in Zepp's database, so what could have been an easy setup became a lot of extra work.
Aside from club entry, installation was no big deal.
Tip: On your device, create a Bluetooth widget right next to your Zepp Golf app. It makes the initial setup really efficient when you begin making swings.
Design
Small and lightweight, the Zepp sensor clips right on to the back of your golf glove. Honestly, between its impressive lightness, and the fact you never look at your hands (I hope) during your golf swing, you will never notice it there. The sensor is also encased in a hard rubber material, so drop it, bounce it off the wall, or whatever. It's a durable little piece of technology. There is only one button on the sensor for all of its functions, and it is extremely accessible to your non-gloved hand.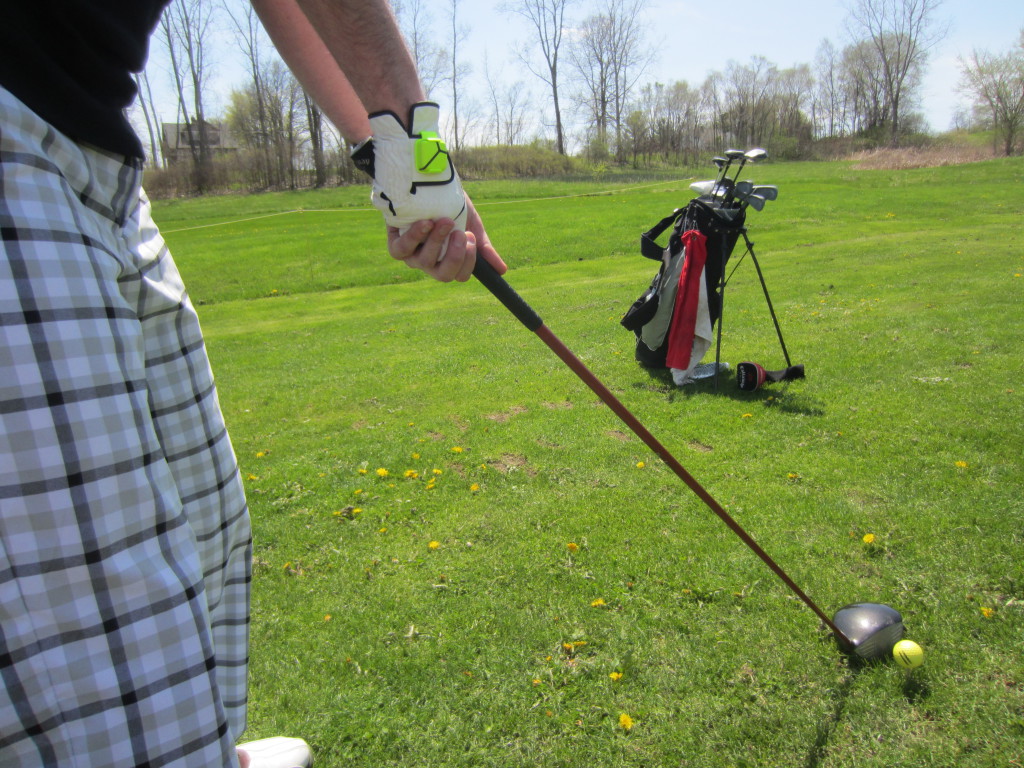 The App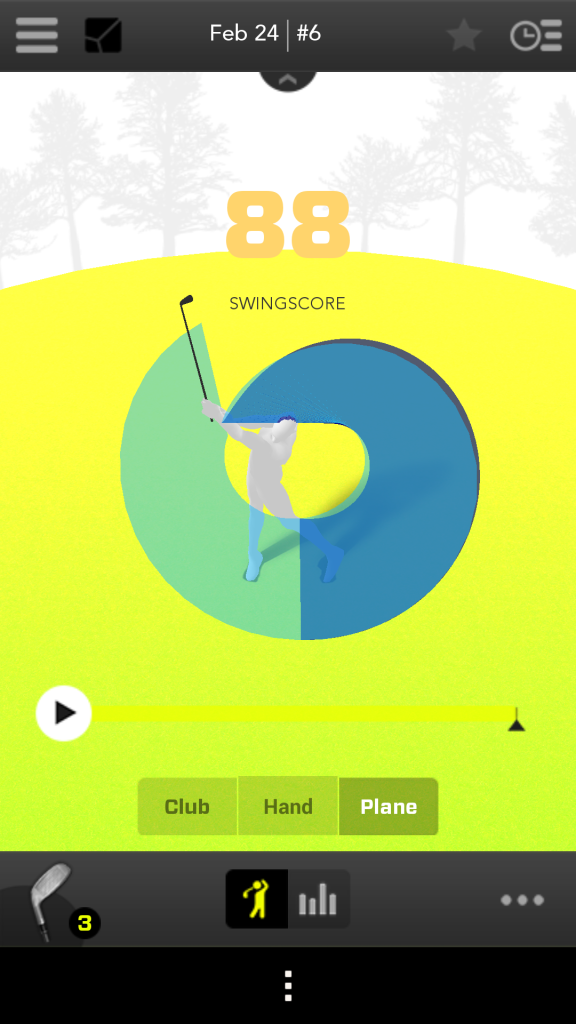 The Zepp sensor app comes with very impressive array of features. Upon your initial setup, the app will provide you with set goals for your golf swing based on the information you have entered. The goals are also customizable in case you want to take baby steps or push yourself harder in the different elements of your swing. As you use the device over time, the app will take all of your swing statistics, and bundle them up on the app as lab reports. You can also follow your swing history on the built in calendar. Each swing is kept in the data log, and can be looked back over at any time. The data of each swing is viewable as either an animation or statistics screen.
The animation screen can be viewed from 5 basic angles showing club head, hand, and the plane of the club shaft as a fluent golf swing on screen. You can also compare each of these elements of the swing with other data from your swing library, or a pre-loaded swing by a professional golfer.
The statistics screen provides 7 separate pieces of data that make up the golf swing: Club Speed, Club Plane, Hand Plane, Tempo, Backswing (in degrees), hand speed, and Hip Rotation. These swing elements are color coded in the display based on the goals you've entered in the app, so you can immediately see what parts of your golf swing could use the most work. By clicking on any of the points of data, the information is compared to your goals, and an information button is provided that includes definitions, standards, and tips for the swing element you're monitoring.
In-App Screenshots: (click to enlarge)
Ease of Use
To get started, you need to turn on the Zepp sensor by holding down the button for four seconds. The sensor has LED lights to indicate it's been activated. After turning on your device's Bluetooth, the app will provide a voice prompt to let you know you are connected. When you're ready to start swinging, all you need to do is push the button on the Zepp sensor to activate a 10 second window to take your swing.
There are a few different options here when it comes to devices. The first is to use your phone and keep it in your pocket while making your swings. The issue I had with this method is that if I wanted to check my data, I would have to remove the phone from my pocket over and over. It's a bit irritating, especially while wearing a golf glove with a small sensor attached to the back. You can also use your tablet and set it up alongside your swing area. It might be risky leaving and expensive tablet lying around at the driving range though, and you definitely don't want to have to deal with that during an actual 18 hole round.
Also, don't count on the ion battery still being charged the next time you want to use it. The Zepp sensor is easy to forget to turn off, and I've come back to a dead battery a few times. It would be nice if there was an LED light that tells you specifically whether the sensor is on or off.
My Experience
I've never been much of a golfer. Don't get me wrong, I love the game! I've just never been very good at it. For that reason, I'm probably the perfect candidate to put this product to the test. I've been golfing for a few decades now, and in all those years I've met my share of club pros, and semi-professional golfers who were happy to take a look at my swing and throw me some tips here and there. I must admit, there have been some breakthroughs along the way, but I've never quite zeroed in on that special thing that made golf swing work for me every time. After my first use of the Zepp sensor, the stored data told me that my club head speed was ridiculously slow. I tried a few things I thought would help speed things up, but all I did was slice every time. After a second review of my swing statistics, I realized that my backswing was consistently about 30 degrees short of what it should be. On top of that, according to the information provided by the app, a short backswing will significantly decrease club head speed. It does make sense that with less range of motion, a golfer would have less time to increase the speed of the swing in the follow through. So I went ahead and took a couple tries at increasing my backswing, but every attempt felt strained. It was at this point that I used the animated comparison between my swings and the pre-loaded professional swing in the app. The one obvious difference that I noticed was that I was bringing my club up at too high of an angle in my backswing. In all of my years on the golf course, nobody has ever notified me of this minor issue in my swing. It took me a few swings and some concentration to bring my club further back, but I was able to increase the range of my backswing. After that minor adjustment, my club head speed has definitely increased. I'm still working on it, but I'm happy to say my drive has become longer and straighter with more consistency.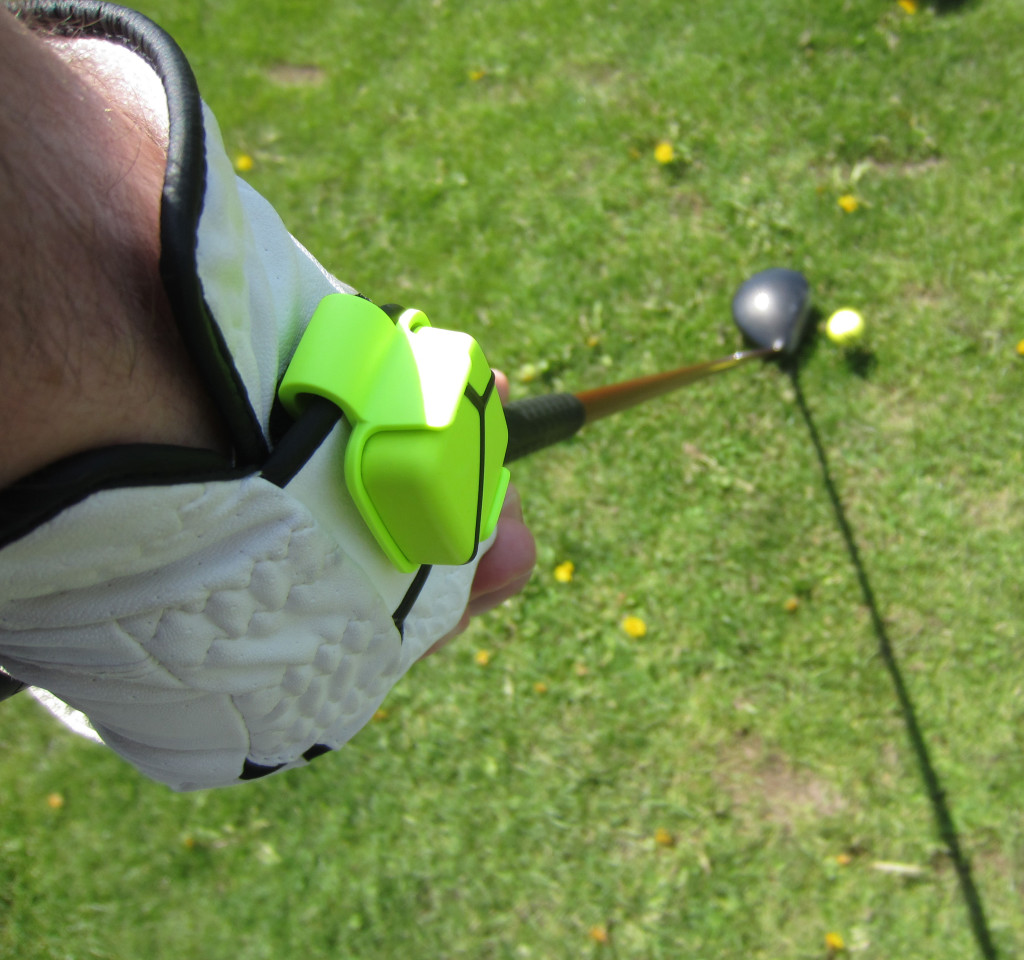 Value
There are a few things to consider when determining if a golf swing analyzer is what you're in the market for. If you know you need some help with your swing, you should consider the cost of a golf lesson. According to my research, lessons can average out around $100, but that price can fluctuate greatly depending on the quality of the establishment and teacher you're going to. Also, while you're taking your lesson, all you get is feedback and, at the same time, you're too busy taking swings to be writing down notes. At the end of the day, you may have improved some, but all you have to rely on are some tips and any residual muscle memory you can hold onto before the next time you go out to the range.
On the other hand, with the Zepp sensor retailing at $149.99, the majority of your important data is available to monitor at any time for up to 2000 swings. The data is stored in a way that is easy to access and read, and much more accurate than what one other human can observe. Another nice aspect of the Zepp sensor is that it's transferable to anyone else you know with a device the app can run on. I was able to run it on my android, and pass it on to my brother who connected to it with his iPhone and was taking swings within seconds. For the amount of information and ease of use, this product is well worth the money you pay if you want to at all improve your golf game.
Zepp Golf Swing Analyzer - Range Review
By using the Zepp golf sensor, I've learned that a good golf swing is like a puzzle, and all of the pieces have to fit together right if you're looking for any real results. Just to be clear, when using this sort of product your golf swing is going to become lousy before it gets any better. If you pay attention to the details though, you will have an increased chance making your swing work the way you want it too. You can get tips from friends or professionals, but what do they know? Based on my experience…most likely not nearly as much as the Zepp Sensor Golf Swing Analyzer.
The Good:
Works with both Apple and Android
Light & Durable Construction
Easy to Operate and Improve Your Swing with a Little Persistance and Practice
The Not so Good:
Pre-loaded Club Selection is rather Limited
Hard to tell when the sensor is Off