You wake up, get ready for work, and walk out the door to find your driveway buried in snow. Just enough to get your car stuck… ah yes, winter is here… are you ready? Luckily we were ready this year with the Yardmax 26" 2-Stage Snowblower. In fact, we were just waiting for the snow to come so we could see what this bad boy could do. With a driveway that is roughly 120 feet long and Lake Effect snow that never seems to stop, digging out by shovel can be brutal. This season however, we were ready.
Key Features:
Dashboard with headlight and convenient controls
Heated hand grips
Self-propelled drive
Comes with both pull start and push button start
26" snow-clearing width with 21" Intake Depth
Dual-stage operation
6 Speeds forward and 2 speeds reverse
Powerful 208cc Engine
Yardmax 2-Stage Snowblower Review Breakdown
Design:
The Yardmax Snowblower (YB6770) looks like it can handle just about any snowy situation just by looking at it. From the beefy 26" snow-clearing width and 12" Auger and Impeller Diameter to the convenient dashboard with heated hand grips, speed control, and LED headlight, I couldn't wait for the first heavy snowfall. Compared to some 2-stage snow blowers on the market, the Yardmax has a wider snow-clearing width and big intake depth that can handle a variety of snow conditions.  The Yardmax sports some beefy mechanics as well as some luxury features such as heated handgrips and a cup holder. The days of adding hand warmers in your gloves and duct-taping your coffee to the shovel are over my friends. We are moving up in this world, and the Yardmax snowblower is clearing the way for us. Although, if I had to choose between the space used for the cup holder or having the chute control on the dashboard, I'd vote for the latter.

Assembly:
The Assembly wasn't terrible. However, since the truck it arrived on didn't have a lift gate or ramp, we had to take it out of the box in pieces, a little at a time, so we could lift it out of the back of the semi. Hopefully your experience is different based on where you purchase from and the company that delivers.  Once I had everything in the garage, I was able to lay all the parts out and follow the instructions for a pretty easy installation. Everything went smooth for the most part, however, maybe it was the cold temperature at the time that made me rush through some of the steps, but I had to jump back to an early step by taking the wheel back off so I could feed the throttle wire around the inside of the handle bars versus the outside. Whoops! I guess having this part emphasized in the manual would have saved me some time and frustration, but that can also be blamed on myself as user error.  Besides that little hiccup, the rest of the assembly was straight forward.  I would suggest you take care on the amount of tightening you apply to the Chute and Crank bolts, as the harder you tighten, the harder it will be to crank and control during operation. Finding a good balance of a secure amount of tension and room for maneuvering is important.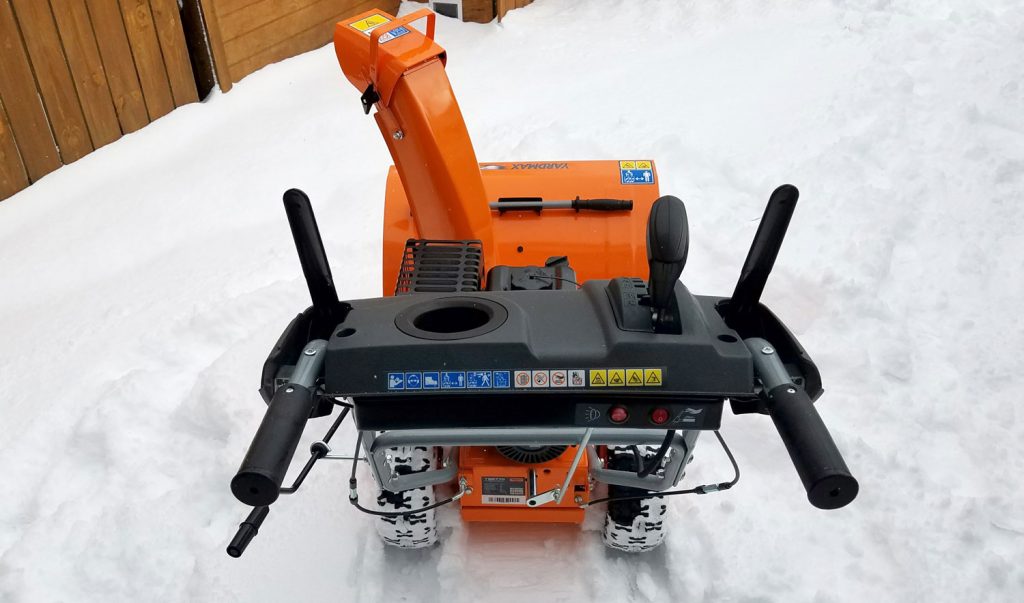 Start Up: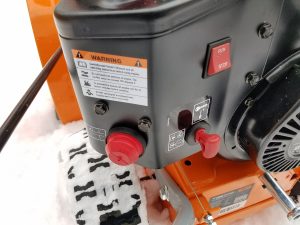 Once everything was assembled, I added the 5w30 oil and regular (un-mixed) gas, then it fired up after 2 pulls of the pull start. While the pull start is usually reliable, this model also comes with a push button start, which makes starting this bad boy up in the cold a little easier on your body. You'll need to take out an extension cord to hook it up before you can push the start button, but it is a little less hassle then throwing your shoulder or back out. Granted, the pull start is not hard for most people, but for those who have back issues, the push button start it is a very nice option to have. One feature that would make this much better would be having a small battery on-board for the push button start, versus having to dig out the extension cord, but hey, the extension cord still works nicely.
Operation & Power:
What it all comes down to… operation.  We can talk about all the great specs and bonus features, but if it doesn't do the job with ease, what's the point, right? Luckily, the Yardmax proved it could handle just about any mix of snow that hit us in Michigan, yes, even the Lake effect snow as well. With the 21" intake depth and 12" two-stage auger and impeller diameter, the snow didn't stand a chance. The whole point of having a snowblower is so you don't have to forcefully shovel. So having a self-propelled drive is a must. The Yardmax self-propelled drive is not only powerful, but it has 6 different speed options as well as 2 different reverse speeds for optimal control.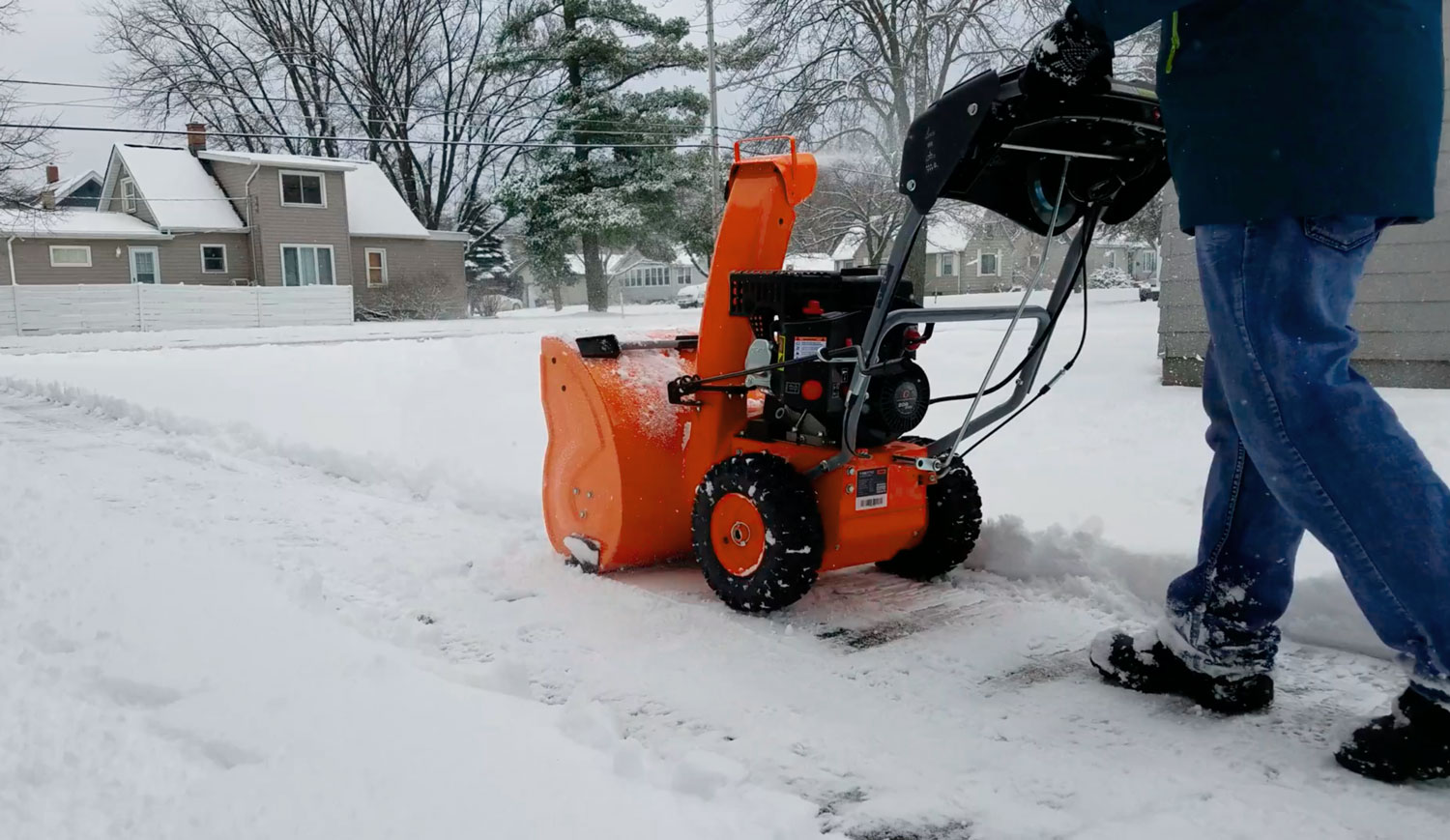 Value:
For the size, power, and control options this Yardmax snowblower offers, the price tag of $649 isn't bad. It has a wider base and bigger intake depth than many other makes and models on the market with a higher price tag than the Yardmax (even some that we've reviewed in the past). When you factor in the convenience of having a powerful self-propelled snowblower that can handle a variety of snow conditions with ease, it's easy to spend the money on something that will make your life easier.
By Now: $649 or to learn more, check out: Yardmax.com
Yardmax 26" Two-Stage Snowblower Review
For the size, power, and control options this Yardmax offers, we feel it's one of the top 26" 2-Stage Snowblower for the price.
The Good
Easy Assembly
Simple Controls
Powerful
The Not So Good
Wheels could have better treads