Created specifically for the bitter extremes mountaineering can dish out, the titanium-handled Ueli Steck Special Edition Knife by Wenger was designed in collaboration with professional mountaineer Ueli Steck himself and Wenger. The company that brought you the iconic Swiss Army Knife. The Ueli Steck Knife not only looks completely awesome it also weighs in at a feathery 100g and features a partially serrated blade offering two cutting options. The wide blade design also integrates three hexagonal keys which are perfect for adjusting crampons. The functions this knife serves are ideal for climbing, but you don't need to be a mountaineer to get good use out of it. It's metal saw, screwdriver bits, and can opener are all welcome implements for any weekend adventurer on the trails, back country or otherwise.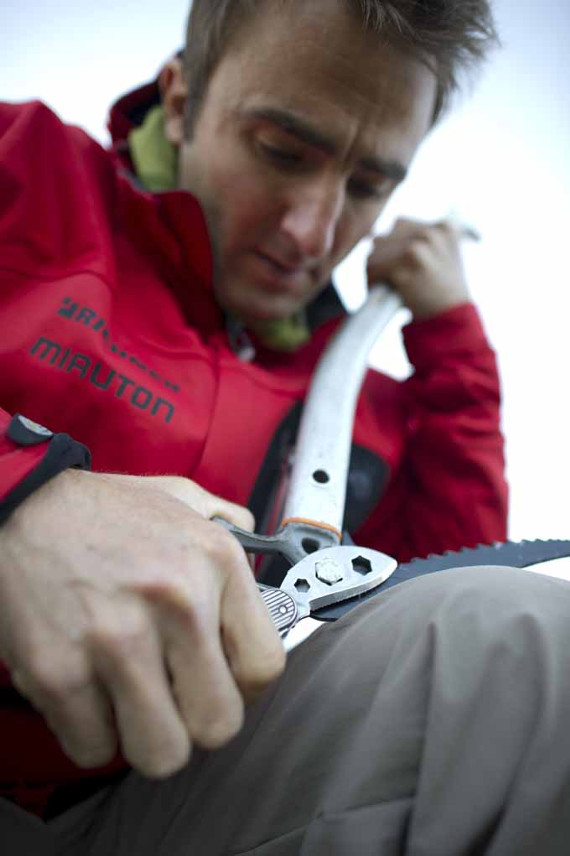 This superb knife is suitable for a range of challenging outdoor activities. Each of these requires a different suite of tools so some of the knife's tools, such as the screwdriver bits, can be removed or added depending on whether they're needed or not. Whether I am climbing the North Face of the Matterhorn or backcountry skiing in Switzerland I have a different set of requirements so I wanted a knife which could adapt to different situations. -Ueli Steck
Ueli Steck Climbing Records:
Ueli holds a number of climbing speed records including the North Face of the Matterhorn (4,477m Schmidt Route in 1 hour 56 minutes, 40 seconds); the North Face of the Eiger (3,970m Heckmari Route in 2 hours 47 minutes, 33 seconds); and the North Face of the Grandes Jorasses (4,208m MacIntyre Route in 2 hours, 21 minutes, 28 seconds).  
Key Features:
Can opener
Flat screwdriver with safety lock
Cap lifter
Wire bender
Metal saw
Key ring
Phillips screwdriver bit
Flat screwdriver bit
Part serrated blade
Large flat screwdriver with safety lock
Hexagonal keys – 7mm, 10mm & 13mm
Flat screwdriver
¼ inch hex bit integrated holder
Buy Now: $122 or go to: Wenger.ch
The Ueli Steck Knife also comes with a lightweight carrying pouch and DVD documentary accounting the Ueli Steck story, which also features useful tips on how to get the most out of the Ueli Steck Knife. Make sure to check out the embedded video below to see Ueli and his special edition kinfe in action on the North Face of the Eiger as he sets the world speed record.