The Turtle Shell Boombox is the latest innovative solution from the mad scientists over at Outdoor Tech to keep your favorite jams pumpin' 24/7 no matter where your active lifestyle may take you. The Turtle Shell has a number of patents pending including the first ever camera threaded speaker mounting system, which allows users to attach to any standard camera accessory (mini tripod, stands, etc..) with ease. It also features wireless Bluetooth connectivity and has been rugged-ized to handle dirt and water to keep the party going when things get wild! Currently the Turtle Shell is a Kickstarter project and can be yours before the general public with a pledge of just $99.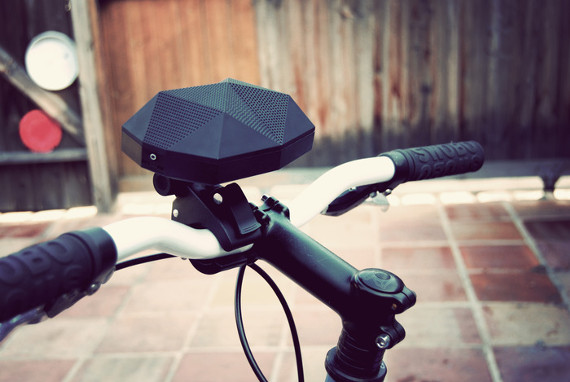 At Outdoor Tech, our mantra is about using design and creation to bring you stuff you probably want. The Shell is a wireless audio breakthrough that taps the full potential of your mobile device whether you're a bike messenger, a mom on the go, hitting the beach or just want the best sounding and looking mobile wireless speaker.  We're excited to bring this epic, game changing, action oriented speaker to the Kickstarter community. -Caro Krissman,  Co-Founder and CEO
Key Features:
Available in 6 colorways
10 hr battery life
Bluetooth wireless connection
Built-in microphone
rechargeable lithium-ion battery
Easy-to-use integrated controls
Meets IP5X dust and waterproof standard
  Pre-order: $99 or go to: OutdoorTechnology.com   Not fully satisfied with just telling you about their shiny new product, the creators of the Turtle Shell produced an infomercial with the help of Professional Thrill Seeker John Ennis. To see John in all his glory make sure to click the embedded video below. If you didn't already want to get your hands on the Turtle Shell, we think you will after seeing this hysterical commercial!