That all too critical moment of the year is upon us to put the outdoor gear into storage and find ways to entertain ourselves within the walls of our warm and cozy homes. It can be a bit of a drag for us outdoorsy types at times, but it doesn't have to be. No sir! Thanks to recent advancements in technology and radical innovations in the entertainment industry, our living rooms have become a spectacle for the senses. We've spent this last month testing out the Turtle Beach Stealth 520 Headset with the hopes that our living room experiences could be made that much more realistic and epic in their presentation.
Key Features:
100% fully wireless game and chat audio on PlayStation®4
DTS™ Headphone:X 7.1 Surround Sound –Pinpoint the exact location of every sound with immersive 7.1 surround sound
Superhuman Hearing – Hear every single thing around you from enemy footsteps to distant vehicles to weapon reloads
DTS Surround Sound Modes – Personalize your audio preferences with a variety of audio presets and sound modes.
High Quality 50mm speakers – Hear every crisp high and thundering low with these large 50mm speakers
Dynamic Chat Boost™- Communicate game-winning plays clearly thanks to automatically boosted team chat audio
Adaptive Mic Performance
Mic Monitoring- Say it, don't shout it thanks to the ability to hear the volume of your own voice
High-sensitivity adjustable boom mic – For clear in-game and online chat, and then remove it when listening to music and watching movies
Independent game and chat audio controls
Built-in hour rechargeable battery – With up to 15 hours of gaming per charge, you'll always be ready to play
Lightweight over-ear design – Play for hours (or days) in complete comfort with supple, perforated synthetic leather-wrapped ear-cushions that provide superior comfort, deeper bass response and noise isolation
Audible voice prompts from the headset
Simple setup using USB and optical connections
Mobile cable – included for taking calls, mobile gaming, listening to music and watching movies on any mobile/tablet device.
Turtle Beach® Stealth 520 Headset – Review Breakdown
Design:
Designed for use with the PS3 and PS4, the Stealth 520 Headset is visually pretty easy on the eye and also consistent with the design of these platforms…flat black with blue highlights. When turned on, the logos on the earpieces will illuminate a bright blue, which could potentially be distracting to other people in your entertainment area, but the glow isn't quite to the point of being annoyingly overpowering either. At first the fit is quite tight on the head, but over prolonged use we've discovered that the hard plastic top tends to become more conformed to the shape of the wearer's head. The ear pieces swivel approximately 110 degrees, so getting the right fit is pretty effortless for anyone, no matter how oddly shaped their head may be.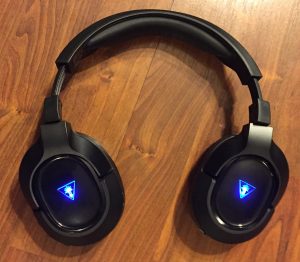 The mouthpiece on the Stealth 520 Headset can be formed and maneuvered to whatever position works best, so adjusting it to the right angle for optimal sound is a breeze, and if you need to move it to take a quick sip of your favorite herbal tea in the middle of a game that's no big deal. However, not all gamers participate in games that involve chatting and Turtle Beach was good enough to make the mouthpiece removable.
Setup is a breeze as well. We had the inputs installed and connected in less than 5 minutes, and we were ready to play. Buyer beware though, the connection requires the use of one of the systems USB ports at all times, so if you have them all filled up for any reason you're going to need to disconnect something.
The battery life is also very impressive, lasting a total of 15 hours of game play. We've been going for a good long time and multiple game sessions with no need for a recharge which is great not to have to worry about.
Sound:
The biggest draw and most important feature on any gaming headset is it's sound quality, and we are thrilled to report that Turtle Beach has delivered well in this aspect. It's one thing to have clear sound, but with this headset there are a wide range of options available to get the best experience possible depending on the wearer's needs, including Natural, Bass Boost, Base + Treble Boost, and Vocal Boost. Really it depends on what kind of experience you're looking for. On top of that though, the Stealth 520 Headset provides an immersive experience with full 360 degree surround sound. This makes first and third person games all the more real, and sounds can be detected by the wearer from all angles, which provides a much more realistic experience!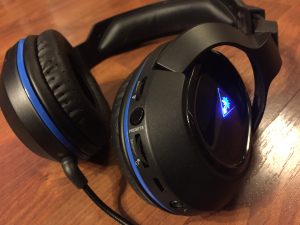 While testing, we were able to pan the third person perspective to stop right alongside other characters in our games, and it was as though they were speaking right into our ear from that side. Of course, this will differ from game to game depending on the sound quality that's been engineered into the software, but we've been  testing the Stealth 520 Headset with some pretty high end games and we were quite satisfied with what we were hearing.
On top of all that we've already mentioned, Turtle Beach has provided on extra added bonus to their sound options that they're calling "Superhuman Hearing". The whole idea of this feature is to hear the smallest of movements from any angle, and giving the wearer of the Stealth 520 Headset an extra edge in their gaming universe. Based on our experiences using this feature, we've determined that its a filter designed to cancel out the natural hums and echoes within the virtual environment of the game, making the sounds around us more crisp and noticeable. It works great for it's intended purposes, but the feature doesn't cancel out a lot of the other sounds that are a distraction, and having such a clearly defined version of anything and everything within the game environment is more than we prefer for the full duration of an average session. While the enemies footsteps 3o yards to our 6:00 may be more noticeable using the Superhuman Hearing function, you'll also be well aware of the running water of a river to your 2:00, a bird chirping to your 11:00, as well as everything else in whatever highly rendered world you happen to be in, and it can be a bit much. But we have good news! the Superhuman Hearing can be turned on and off by simply clicking the power button once during game play. If you enjoy a more realistic gaming experience, but 20% of your game requires stealth, the Superhuman Hearing can be turned on and off with ease for just those moments when it's needed.
We've had no problems with the sound through the mic either. Our voices have come through crisp and clean in our testing and we couldn't give higher marks for voice sound quality. If you're in involved in an intense shoot 'em up game and having trouble hearing your comrades in arms, the Vocal Boost setting does a pretty great job of bringing the voices to the forefront of the game.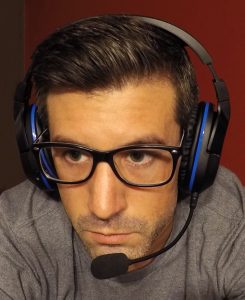 The internal mic monitoring system also does a great job of adjusting your output, so if you happen to start hollering with excitement the sound of your voice will be automatically adjusted for volume so you won't be blasting out your friends ears.
Comfort:
As we've mentioned, The fit may be a bit tight, even uncomfortably tight at first, but it will conform to it's wearer's head over time. The earpieces of the Stealth 520 Headset themselves are made with perforated synthetic leather-wrapped ear-cushions. They do a fantastic job of encasing the ears and directing the sounds as they should be while isolating and blocking external sounds. However, while the perforations in the leather do help with temperature regulation, the wearer is essentially wearing leather earmuffs and it does tend to get a bit warm in there. We have experienced some over-heating, but definitely not to the point where it became unbearable.
Value:
Landing somewhere in the middle to high pricing range as far as gaming headsets go, we have to say we are very much satisfied with the available sound options and range of uses the Stealth 520 Headset. Remember, if you can stream it from your game system, it can be heard through this headset, so movies and music can be made a more immersive experience as well. With this and the highly crisp and realistic sound quality provided in this headset, the price tag is more than agreeable in our opinion.
Buy Now: $129.95 or to learn more, head over to: TurtleBeach.com
Turtle Beach Stealth 520 Headset : Tech Review
The Turtle Beach® Stealth 520 Headset is highly adjustable for comfort and sound quality, and it is sure to bring the home entertainment experience to the next level.
The Good
Wide Range of Sound Options
Long Lasting Battery Life
Superhuman Hearing
The Not-So-Good
Leather Ear Pads Get Warm
Can Fit Tight at First