This travel review is geared towards those who want to know what to expect, how to plan and pack, and vacationers who are cruising on a budget. My husband and I recently took a cruise aboard the Norwegian Star through the Western Caribbean for our (belated) honeymoon. It was our first cruise so we had no clue what to expect. Below I rate and go into detail on various topics, as well as a day-by-day break down of our cruise experience in hopes that you can book your cruise knowing a bit more than we did!
In an attempt to make this article comprehensive yet digestible, we broke our review down into two sections. The first is a categorical, where I rate each of the following items: Dining, Accommodations, Activities/Entertainment, Nightlife, Itineraries, Staff. The second section is a day-by-day breakdown of our experience with tips I picked up along the way. So let's get started!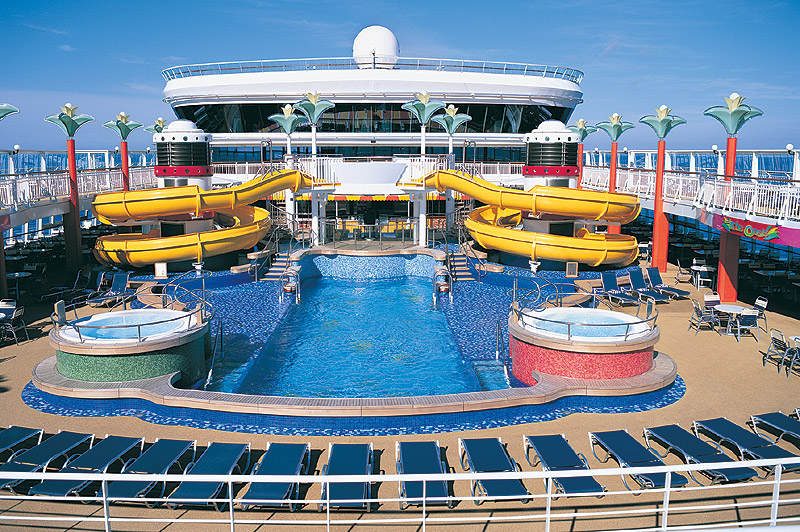 Dining:
The Norwegian cruise line theme is "Cruise Like a Norwegian" and is all about freestlye cruising – doing what you want when you want! This was a HUGE selling point for us because we didn't have to book a time that we would sit down and eat each night, and we could choose to eat at a table with just the two of us if we wanted to. Some other cruise lines force you to pick either an early or late dining time, and you are stuck at a table with other cruisers . . . for better or worse.
We had dinner at Versailles the first night, one of the many restaurants outside of the cafeteria. This brings me to the main reason we chose Norwegian cruise line – Free Style Cruising. We had the option of when we wanted to eat, if we wanted to eat just the two of us, or join a group of people – no being forced to eat at a certain time or with a group of people you may or may not be able tolerate. The first night there was a big line and we had to wait, but this was likely because it was steak and lobster night – and yes, many people would order both meals . . . gluttony runs rampant on these cruises! To compensate for the wait (which was comparable to Applebee's on a Friday at 6:00) we were given a buzzer and a complimentary drink pass. We took both to the lounge around the corner and had a drink and enjoyed some downtime until it was our turn – this was the norm for this restaurant if they were busy, very nice!
We had our Anniversary dinner at La Bistro, which was an additional per person charge ($25) that was TOTALLY worth it. We tried the escargot and it was delicious — but it was literally floating in butter and covered in cheese, so hard not to be good! I had duck and my husband had a seafood dish in a pastry — lots of lobster in it, he loved it.
We had breakfast out by the pool each day — there is a buffet and it is CONSIDERABLY quieter and less stressful/chaotic as the main dining area inside. Inside buffet was loud and crowded almost all the time. The food inside was average buffet food, and there was a great selection, I just couldn't handle the crowds and noise early in the morning! The pool area was much more enjoyable — there was an omelet/egg station and other breakfast basics in that area, as well as some not-so-basic foods, don't be afraid to try it all! They also had a BBQ here for lunch which was very good.
There was NEVER an end to the food.  You could get pizza delivered to your room 24/7, which I vowed to do when we boarded the ship but since I was overly full 90% of the time I was on board we never did!  There was an ice cream bar that was open for a majority of the day, and on one of the days there was a chocolate bar – the chefs all made chocolate sculptures that were very elaborate and beautiful, and there were loads of different chocolate dishes to try.
Accommodations: 
We had a cabin in the center of the ship with a picture window (ocean view). A balcony would have been nice in retrospect, but we were not uncomfortable. There is a surprising amount of space when compared with how it looked from the pictures and diagram online. The closet space is very well designed to hold a lot of gear in an organized fashion. There was also a safe that you set the combination to, a clothes line in the shower, TV with a movie station and tracking the route, table, refrigerator, and lamps by each side of the bed.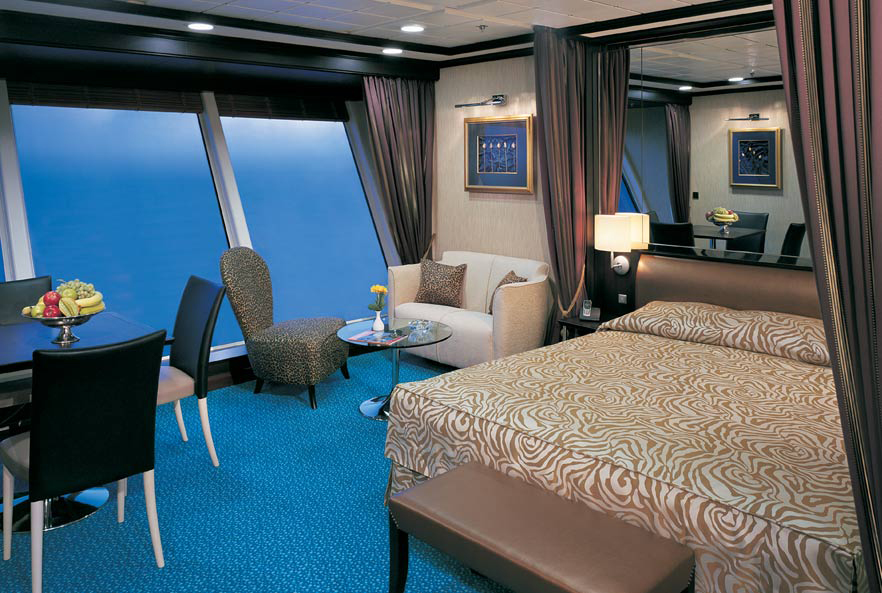 I thought the beds were very comfortable and slept like a log! My husband had pillow issues, however, so if you need a certain pillow to sleep, might want to bring one. The mattress was good and we had a down comforter and very soft sheets.  There was a dial outside of each room where you could request the type of service you wanted – i.e. make up room, no service, turn down service, etc.  There was also some sort of new towel animal on the bed to greet when we returned to our cabin – and the stewards are SO FAST at servicing a room, and they did a fantastic job!  We tipped our steward at the end of the week and he totally earned it!
The gym was sufficient, and was usually fairly busy in the morning . . . at the beginning of the cruise, it tapered off towards the end! Many of the treadmills were not working, but I still never had a problem finding an open one. There were classes you could participate in, but they were an additional charge of about $12 each and you had to sign up for them.  If you are interested in a class, sign up on the first day as these filled up very quickly.
Activities & Entertainment: 
On the ship there was a main stage and then a lounge were various interactive events took place.  Additionally, there were shops, a casino, many bars, deck games (golf net, shuffle board, giant chess, track, etc.), pool, and hot tubs.  We are not gamblers so did not participate in that at all (although bingo was tempting!), but we did partake in the deck games, hot tub, performances, and the bars. One note about the deck games is that during peak times they were full – the golf especially.  I'm not sure if there was a waiting list or anything, we were not so concerned with trying it that we felt the need to investigate.
Aboard the Norwegian Star they had a nice variety of bars, from the dance club like scene to an open air Bier Garten, and an English Style pub with live music each night.  The first day at sea you can pay to go on a pub crawl (an additional $25 per person) where you get a drink at each stop (5 in all) and there were staff lead games which were entertaining to watch.  The picture below is of me on the pub crawl with DJ Orlando, one of the staff that assisted with the event.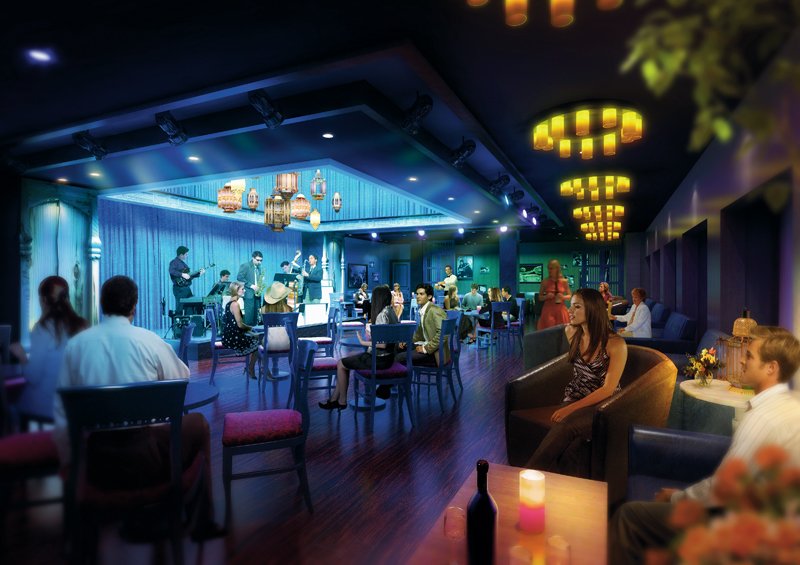 The performances were very impressive.  We went to the Second City show (comedy, improve), Elements (similar to Cirque du Soleil), the crew talent show (very impressive, I think it must have been prescreened!), Angles (2 person acrobatic show) and the last day variety show.  There were others, but none that really peaked our interests from the descriptions.
I should mention that there was a whole youth area (teen room, younger kids pools, etc.) and program.  However, we do not have children so did not investigate any of these options.  There were not a lot of children on this cruise from what we could tell.
Nightlife: 
As I mentioned above there are a variety of bars – eight in-all, plus a java bar and a juice bar.  These were always busy, and many had live entertainment in one form or another.  The Spinnaker Lounge, for example, always had some sort of performance, whether it was a DJ getting people to do some crazy games or just playing music, to a variety of interactive shows.  One such show was similar to let's make a deal where people had to bring up crazy objects provided by people in the audience.  Another ended with a bunch of men in their underwear and women's bras . . . I'm really not sure what happened there.
The reason I only give this a 3 of 5 is that outside of these shows, if you didn't feel like gambling or spending $7 a beer at the bars, there was not a lot to do.  We would have been happy to sit at the bars and drink, but had already spent so much on the trip and excursions that we didn't want to drop that much money on drinks too.  Additionally, we were told by the staff – the median age of which was right around our ages (mid 20's – mid 30's) that this line is known for having an older crowd, and that the week were sailing it was exceptionally older.  The majority of the people were 50+ with a high amount 60+.  That makes for a quieter evening . . . although that is not to say you can't make your own fun, but atmosphere does have something to do with it.
Itinerary: 
We choose to sail a Western Caribbean cruise, stopping at Honduras, Belize, Costa Maya and Cozumel Mexico.  There were always excursions to be book and in a wide variety of price ranges.  If you wanted to taste tequila with a group in Mexico, there was an excursion for that; if you wanted to swim with dolphins or see Mayan ruins, there was an excursion for that; you could go diving or snorkeling in almost every place we visited.
We signed up online and in advance for each of our excursions (discussed in detail in the "Day-by-Day" breakdown below).  I had been warned by friends that had been on cruises before that if you wait until you are on the ship to sign up you might not get to do the ones you wanted.  I'm not sure if this is true as I never checked to see how full they were when we boarded.  The sign up process was very easy (online) and gave some great descriptions of the events, including how strenuous it would be, age restrictions, and if food was included.
If you signed up for an excursion the transportation was included.  This is important because if you book your own on-land trip and are not back to the ship in time, the ship will leave without you.  If you are running late on a cruise-sponsored excursion, the ship will wait for you.  This was very important in Belize as we booked an all day excursion to the Lamania Ruins – on our bus ride back when we reached the city there was what appeared to be an impromptu political parade weaving through the Belize City streets . . . diverting our bus and stopping traffic for blocks.  We were on the last tender to the ship!  The picture below is of our tend from the ship to the mainland.  There was another ship in port that day.
The other excursion we booked was in Honduras; we tried SNUBA (nope, not SCUBA) and it was awesome – this was by far our favorite activity.  Again, transportation was provided to and from the ship, and when our SNUBA was over we could hang out at the beach club.  There was beach space, but also a pool, bar, restrooms, and a concession stand.
In Mexico, as I discuss below, I had researched on Cruise Critic, Yelp, and Trip Advisor different things to do as none of the excursions really appealed to us.  Actually, drinking on a beach was very appealing, we just didn't want to pay $60+ per person to do it!  We were able to find a great beach spot in Costa Maya with fantastic service, great ceviche, and beautiful views – I think we spent maybe $50 total that day including cab fare, food, and drinks.  In Cozumel we had asked some staff members where to go to hang out and were directed to a great little spot where all the staff from the ship seemed to be partying!  I'm not going to spill the beans here and will let you hear it from the staff on your own – but it was an amazing spot!
Staff: 
The staff and crew were AMAZING!!  Everyone seemed happy and cheerful – our favorites were the women standing at the entry ways to the main cafeteria with spray bottles of hand sanitizer (there were hand sanitizer stations through the ship too) who greeted you with "washy washy happy happy!!" and sprayed sanitizer into your hands!  Pretty much anywhere you went there were smiling staff cleaning, working, etc., if they weren't happy then they were fantastic at putting on a show that they were.
The crew that assisted with getting on and off the ship in port were very friendly and accommodating.  All were willing to share their stories (where they came from, etc.) and information about the specific ports we were in.  We were able to meet the captain and check out the bridge and again, everyone was so nice and willing to answer what I have to imagine were the same questions over and over again!
Most impressive was how clean the ship was at all times. We saw people cleaning around the clock, and it showed.  With over 2,000 people on board, I was so amazed how clean this ship was all the time.