Helmets have come a long way in 10 years . . . I know, I know, it's not surprising. I had a good helmet and it seemed to do its job so I didn't look at or think about it much . . . until now!  It's like never having a good beer or high quality wine – you don't know what you're missing out on until you have the best, then there is no turning back.
You might argue that a helmet is a helmet is a helmet.  In a way, that is true – as long as it protects your brain, it's a helmet . . . but if you want more than just a helmet, if you want it to look good and feel good too, like many things in life you get what you pay for!  The Smith Voyage is the Cadillac of helmets!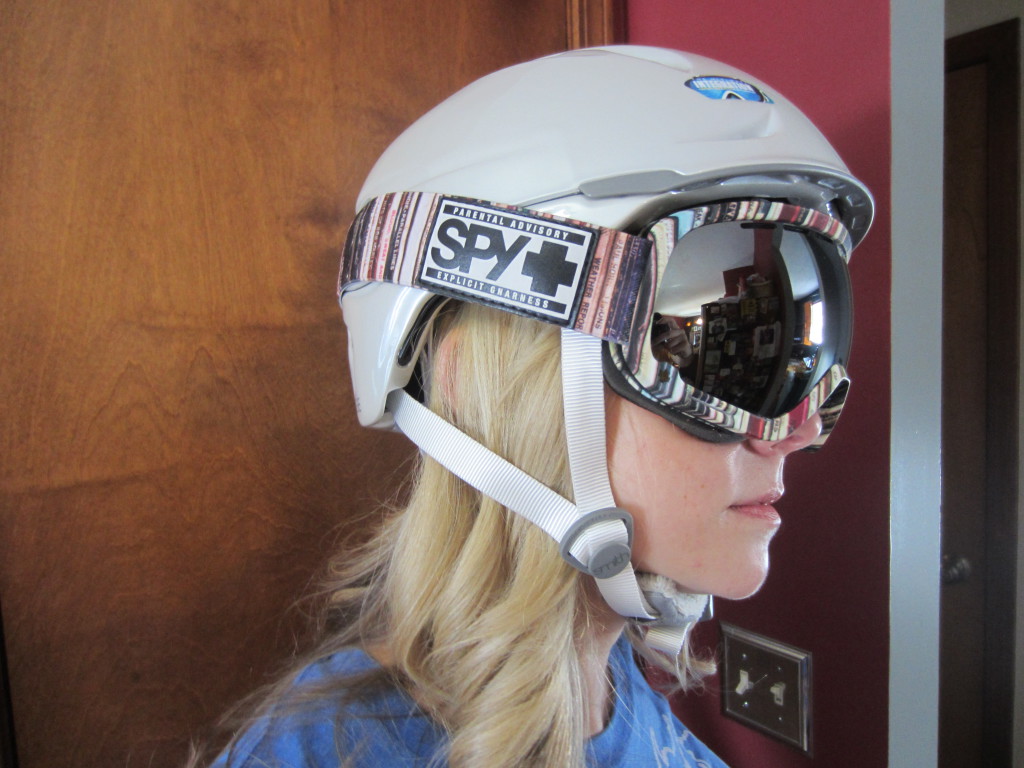 Key Features:
Adjustable Smith X BOA Fit System
Fleece tricot lining
Removable goggle Lock
16 VENTS!!
Low-Profile Regulator Adjustable Climate Control
Weight: 16 oz / 450 grams
Smith Voyage Women's Helmet Review Breakdown
Design: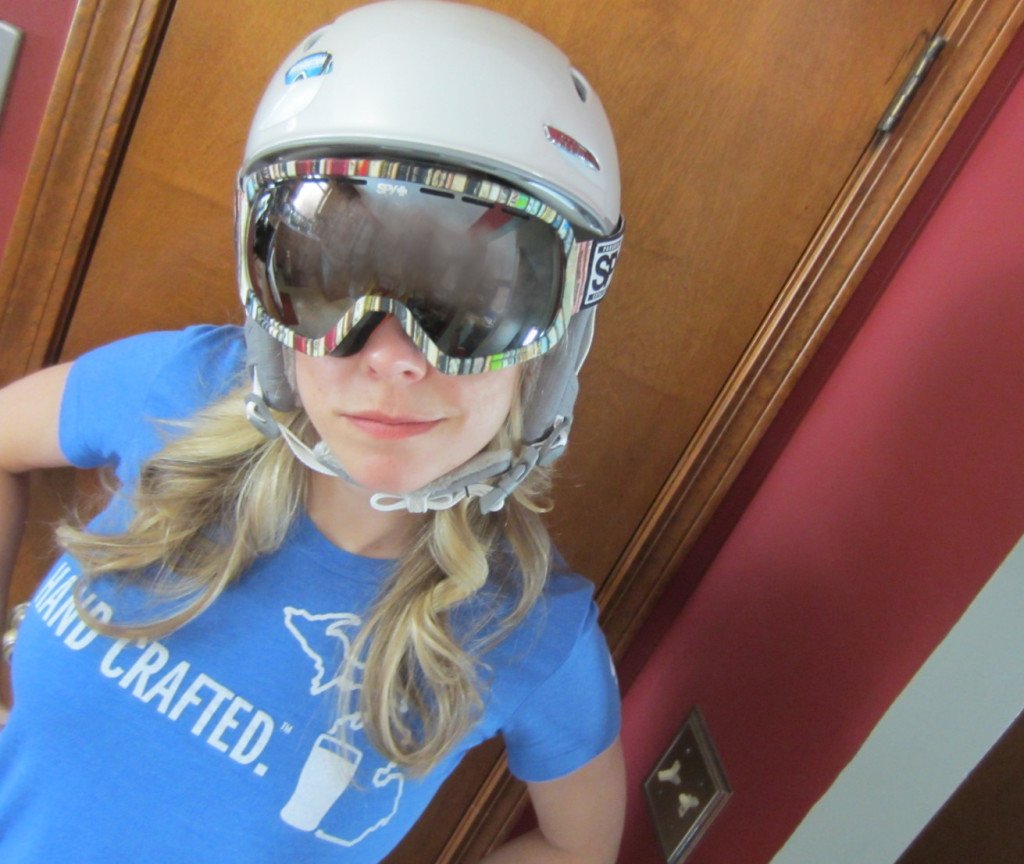 Being a chick, I like to have some level of cuteness if I going to drop some serious money on something.  Helmets are not really "cute" – ever – but the Voyage has about the best level of cute you can attain with a ginormous piece of plastic that protects your brain!  There are a variety of colors to choose from, and the ear covers and lining come in some cool accent colors.  I also like the little bits of bling here and there – the metal "Smith" tag on the strap, the accents on the removable goggle strap, and the metal Smith tag on the brow.  Adds a fun little flare!
I do love that you can take the goggle strap off if you just plan to sport some sunglasses.  If you plan to do some tree skiing, you don't want anything hanging off your helmet that could snag a branch, so it's nice that you can remove it.  I also like that the vent open/close slide is big and textured – you can operate it with gloves on!  There is also an option to get an audio system, which I did not get.  However, the version without still has the ability to work headphones into it –  the ear/back piece has a zipper opening and the foam on the inside is shaped to hold headphones . . .pretty slick!
My hang up with the design is the in the removable padding – it's all or nothing, the whole back piece comes off with the ear covers.  It would be nice if I could just take the ear parts off, but you can't.  The other issue I have is that the chin strap has a lot of extra slack that you basically just have to roll up and then you end up with a big loop under your chin – I think it looks kinda silly.
Comfort: 
Holy hell this thing is awesomely comfortable.  I kinda just want to wear it around all the time in winter – it's warm, is soft, and if I drink too much and fall down I'm prepared!
The Fleeced Tricot Lining is so super soft, it's like wearing a rabbit (and yes, I know because I've worn a rabbit on my head . . . or its fur at least).  This lining is also across the forehead area, which is nice so you have something other than just plastic on your noggin, and the chin strap has the same fuzzy treatment.  Like I said – feels like you're wearing a rabbit.
The amount of adjustments you can make also helps.  You can adjust the chin strap, of course, but also where the straps hit the ear pieces.  The best is that there is a dial (X BOA Fit System) on the back of the helmet, similar to a bike helmet, which allows you to tighten it down at the back of your head so that there is no movement and it fits securely.
Hands-on Images:
Ventilation:
This is the biggest selling point for me.  If you love spring skiing like I do, and if you sweat like I do, you will fully appreciate the 16 VENTS that the Voyage has to offer!!  The vents are all on one slide so they can be fully opened, or you can open them just a little – it's not all or nothing, which is nice.  I also like that there are vents at the back of the head too, not just across the top.  Finally, the lining is not a full fleece – the fleece is just around the crown and a strip up the middle, the rest is a more breathable fabric.
Spring skiing or dead of winter, the ventilation is going to be perfect!
Protection: 
So this is the certification: ASTM F 2040, CE EN 1077:2007 CLASS B
If you're like I was when I looked at that, you're eyes have glazed over and you move onto the next thing.  Just because I love you all, I've done the research and here is WTF all those letters and numbers mean!
ASTM = American Society of Testing Materials
CEN = Central European Norm
The Voyage meets both of these group's certifications – yay! So why the "Class B" rating?  Because of all the vents – doesn't mean it won't protect as well, just means it's not a full hard-shell with ears.  Class A protects more of your head and provides more – I quote – "protection from penetration."  Not my words . . . found them here.
Durability: 
Well, I didn't go head first into any trees to test its durability, but I can tell you that the construction seems solid, the material feels high quality, and it comes with a shnazzy little bag to store it in and keep it from getting scratched!  In all seriousness, like I said, you can feel the quality when you handle the helmet.  Not to mention that this is a product made by a great brand . . . I don't think durability is going to be an issue!
Value: 
It's listed on the Smith website for a $130.  Considering I paid $60 for my last helmet at a ski swap, I'd probably shop around and try to get a deal, but I would be willing to pay $100 for this helmet.  You get what you pay for, and the Voyage has a lot of options, adjustable, tons of vents, meets the cute test, and is super comfy – you can pay less and get less, but if you're looking for more, here it is!
Smith Voyage Women's Helmet - Gear Review
The Voyage is pretty damn awesome. If you live in a place with awesome spring skiing, this is going to be a great helmet for you – if you don't, but you sweat a lot, same thing!! The 16 vents, removable ear pieces, breathable lining will provide plenty of cool air when you need it – close those vents, put the ear pieces on and you're covered when the temps dip and the wind picks up. Combine that with all the adjustable features, and the ability to add in an audio system, and there is not much more you could ask for in a helmet!
The Good:
Serious Ventilation
Surprisingly Adjustable
Comfortable like you wouldn't believe!