The Smith Rover with MIPS is a mountain bike helmet from Smith that is made for those looking for a balance of a great design, excellent protection and lightweight comfort.  For me, I love to get on my mountain bike and head to the trails for a full day of riding.  The Smith Rover with MIPS gave me the confidence to bomb over rocks and fly through trees without worrying about what would happen if one of those trees got in my way.  When you are miles from civilization and flying high on adrenalin, the comfort and protection from the Smith Rover with MIPS is just what you need to stay focused on your riding so that in the end, you'll live to ride another day.
Key +Features:
Lightweight Aerocore™ In-Mold Construction
Zonal Ventilated Protection Featuring Patented Koroyd™ Material
MIPS system available in all colors
VaporFit™ Adjustable Fit System
18 Optimized Vents
X-Static with Reactive Cooling Performance Lining
Ultra-Light Single Layer Webbing
AirEvac Ventilation
Integrated Visor
7 Different Color Options
Smith Rover Helmet with MIPS: Review Breakdown
Design: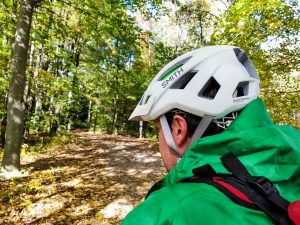 Helmets can be big, bulky and unappealing but even though you are alone in the middle of the woods, it always helps to know you look good.  I reviewed the matte white color pattern and I have to say that I absolutely love it.  The overall design of the ventilation ports combined with the impact protection zones gives this helmet a classic mountain bike look without looking dated or too futuristic.
The matte properties of the helmet are just enough to still be smooth to the touch, but not have that shiny property that is so prone to scratches.  Even though the white does like to pick up dirt stains, I found it still easy to clean.  The neon green honeycomb accents of the Koroyd™ material are also a really nice touch and give a little extra 'pop' to the look.
The big visor on the Rover works well to protect from extra sun, but I really wished that it was a little adjustable.  It is fixed in place and it did tend to pop into my view.  Nothing major, but comparable to wearing a baseball hat.
Comfort: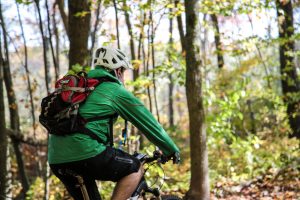 The Rover touts itself as being "for the wanderer in everyone." The name alone implies that this helmet is made for those of us who will spend the entire day in the helmet and really push to get out past the beaten path.  This means that comfort has to be key.  All the protection in the world doesn't help if you are uncomfortable in your helmet.
Thanks to the VaporFit system that implements a rotary dial at the rear to snug the helmet in place, you can get a perfectly custom fit every time.  The VaporFit system can even be moved up, down, forward and backward to really dial in the fit.
Comfortable, yet thin padding all around also helps maintain a high level of comfort without getting overly bulky.
I took this helmet for several sessions through the woods, some up to 4 hours and the comfort is absolutely perfect.  I didn't feel any hard spots, I didn't feel any wiggling around, I didn't feel any chafing from the strap.    At the end of the ride, I only felt like I could keep wearing the helmet longer.
Ventilation:
Part of the comfort of the Rover comes from the great ventilation that helps to always keep you cool and let the airflow activate the cooling powers of your sweat.  The Smith AirEvac ventilation design means that the vents will let out warm air and draw in cool air, even at slower speeds.  This bit of science helps to again amplify the natural evaporative cooling process of sweat.
At slower speeds and on extra warm days where there isn't quite enough airflow to evaporate all the sweat, the padding in the X-Static with reactive cooling performance lining does get fully saturated and you can find yourself with a sudden rush of sweat when the padding is compressed.  This happens in most helmets I've found, but the padding in the Smith Rover seemed extra absorbent.  This is a great feature as long as a periodic 'squish' was performed.  Remembering that little tip when I had a chance to catch my breath really helped avoid the sudden, unexpected sweat rush and actually improved the cooling process.
Protection:
Not much was held back when it comes to protection on the Rover.  Smith used its Aerocore™ construction which features a material called Koroyd® and is also outfitted with MIPS.  That is a lot of buzzwords that means a lot of protection.
Koroyd® is the green honeycomb material you see in the photos that allows for a huge amount of airflow without sacrificing any protection.  In fact, the Koroyd® material actually improves protection by absorbing up to 30% more energy in a crash.  And it's also fully recyclable.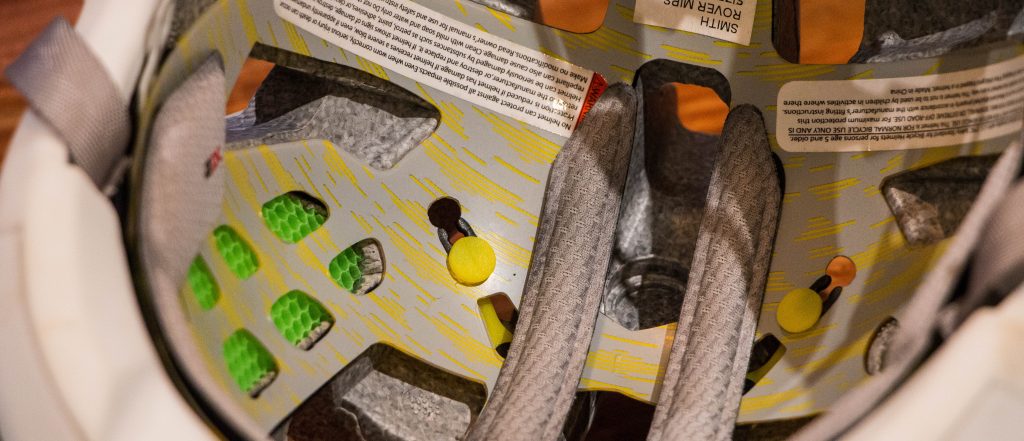 If you have not yet heard of MIPS, you should look into it as it becomes a new standard.  It stands for "Multi-directional Impact Protection System" and its job is to protect your brain from forces other than just blunt impact that can cause seriously traumatic brain injuries.  Most of these forces are due to rotational movements on impact and those are the movements that MIPS is designed to protect against.  When you look inside the helmet, there is a yellow film with some rubber bumpers on it.  It doesn't look like much, but that little bit will keep your head from violently twisting during an impact.  It costs a little extra but when the unmentionable crash eventually happens you will be thankful it is there.
Thankfully for me, I did not need to test any of these safety features because I did not crash and hopefully you never will either.  But knowing what each piece does will leave you with a comfortable, confident feeling that when the worst happens, your brain is safe.
Value:
Helmet buying can be a personal experience based on what your needs are and how much you are willing to spend.  Many helmets look the same to an untrained eye so it can be hard to justify a high purchase price.  But after using this helmet a lot and really understanding the amount of technology and research that went into building a helmet that has this balance of comfort and protection, I found that it isn't at the top of the price range and it's not at the bottom either.
At $180 I feel that it is worth every cent and if you are looking for a helmet to protect you on long trail rides, the Smith Rover MIPS is a fantastic choice.
Buy Now: Smith.com Rover with MIPS ($180) or without MIPS ($150)
Smith Rover Helmet with MIPS - Gear Review
The Good
Super comfortable
Very customizable fitting
Top of the line protection
The Not So Good
Visor could be more adjustable
Padding can cause sweat rush
MIPS costs a little extra