Being the adventurous types we are, we accept a lot of risks during our fun seeking. Shifting weather patterns, tidal shifts, freak fly hatches…You name it, and it's bound to happen eventually. However, when you spend a lot of time in the northern territories of the USA, brutally cold nights don't come unexpectedly. They can be counted on. This season we took the Slumberjack Sojourn -20 sleeping bag on our travels, intent on a good night's sleep and well rested winter mornings.
What's in the Box: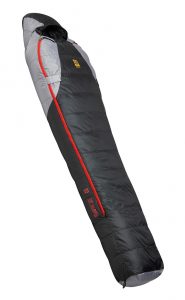 Sojourn -20 sleeping bag.
Stuff-sack.
Mesh storage sack.
Specs:

Temp Rating: -20° F
Weight: 4 lbs 6 oz
Fill Weight: 2 lb 9 oz
Fill Power: 550 Fill Power gray duck down
Length: 82″
Shoulder Girth: 63″
Hip Girth: 58″
Footbox Girth: 46″
Stuff Sack Size: 17″ x 10″
Fits To: 6′
Dual Zippers: Durable #8 non-locking coil zippers
Slumberjack Sojourn -20° Sleeping Bag – Gear Review
Design:
You'd think that there's nothing simpler than a sleeping bag. You zip in, and you stay warm. But when it comes to protection against the harsher elements, a variety of issues begin to arise. Thankfully, Slumberjack has put a lot of thought into making your time at rest as warm, comfortable, and efficient as possible. The most important feature here is the guts of the sleeping bag. Slumberjack has cracked the code for down when it comes to warmth. Their Dri-Down™ hydrophobic finish on each individual down plume within the bag is designed to stay dry longer, plume better, and dry faster than other untreated downs on the market. This not only makes for a warmer night's sleep, but reduces the bulk you'll more than likely find in other bags rated for the same conditions.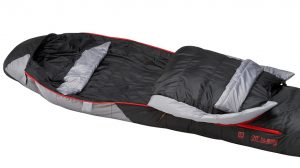 When it comes to the external construction of the Sojourn -20, Slumberjack has added a few design elements that not only provide warmth during slumber, but also provide protection while preparing for sleep and waking up in the morning. The Sojourn deviates from the classic one-sided zipper design in just about every other sleeping bag we've ever seen, and instead incorporates a 57″ zipper on both sides, so you have a few choices for access. Not only that, but the zippers open from both ends, providing increased options for ventilation if the nights become a bit too warm. Alongside the zippers, Slumberjack has added velcro tabs at the very top of the bag as well as just under the arm. It seems like a simple feature, but we've found it to be one of the most effective for mobility while resting in the Sojourn -20. Suppose you want to read a book before bed, or you need to grab a flashlight in the night. By unzipping at the shoulder and leaving the velcro tabs secured, you have full use of your arms outside the bag without loosing all of built up warmth within in the process.
The pull chords around the head do only pull from one side leaving 2 long chords right in the face of the occupant when tightened, which can be an irritation for those who move around a lot during their sleeping patterns. Otherwise though, the design of the Sojourn -20 is more or less free of flaws with a few additional perks we didn't expect.
Comfort: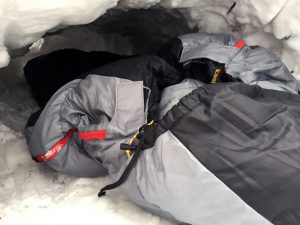 The go-to for optimal comfort for years has been the mummy bag design, which makes good sense. By keeping the body tightly insulated, more warmth can be held in. However, a bag that's too tight can be restrictive, disrupting mobility and making for an uncomfortable night. We are adults after all, and we don't necessarily care to be swaddled. With the Sojourn -20 however, we're happy to report that the tightness was just about perfect. We had little difficulty making the movements we needed to from within, and we had very little issue with escaping heat or dealing with cold spots. The Dri-Down™ is well dispersed throughout the bag's innards and didn't move around on us over time, so our contained warmth stayed consistent and reliable. We know this for a fact, because for good measure we went old-school and dug in a snow cave during the dead of winter. Sleep was no trouble, but we do recommend a good insulated mat while doing this. Direct contact with snow will intrude on the delivered warmth of the Sojourn -20. It's an efficient bag, but not a miracle worker, and we won't hold this against it.
Containment:
Let's be honest, packing in for a winter outing is a tricky business! The gear required to keep warm has to go somewhere and space runs out quickly. The Sojourn -20 comes with a stuff sack and a mesh bag, so you have options. We were a bit disappointed that the stuff sack doesn't come equipped with additional compression straps, but admittedly we don't see this sleeping bag compressing much tighter than the size of the bag that is included. The mesh bag is nice to have along too though, providing aeration while the bag is contained if needed, or doubling as a laundry bag if you so chose.
Weight:
It's simple math. A warmer bag requires more down, and weight tends to increase. We've taken the Sojourn -20 on a few journeys, and we are pleased to say that the added weight is nothing to get upset over. Perhaps even a little lighter than one would expect at 2 lb 9 oz, we find the few extra lbs worth it's weight in gold as we enjoy a cozy nights sleep.
Value:
The equation can be tricky when determining the worth of a cold weather sleeping bag. The added size and weight is a necessary drawback for a solid nights sleep. However, making such a comparison with the Sojourn -20 is a no brainer. Between the innovative Dri-Down™ finish, ventilation options, the arms-out feature, and ease of containment, this is a cold weather bag we've found well worth the bucks it goes for.
Buy Now: $149.98 or find out more at: Slumberjack.com
SJK Sojourn -20 Sleeping Bag – Gear Review
With the optimized warmth and comfort of the Dri-Down™ finish and design options that give some of the best performance on the market, the SJK Sojourn -20 sleeping bag delivers what any cold weather adventurer needs. This is a bag that's given us our fair share of a good night's sleep time and again and then some.
The Good
Dri-Down™ For Optimal Heat Regulation
Arms-Out and Ventilation Zipper Features
Light and Packable
The Not-So-Good
Pull Chords at Face Level
No Compression Sack