If you own a lot of land, or have a big yard, odds are you have (or really need) a riding mower. If you're like us you are sick of driving grandpa's old hand-me-down 1985 lawn tractor that always breaks down and never cuts level. Yard work CAN be fun, but it takes the right equipment.
That's where the Poulan Pro PP24VH54 Riding Mower steps in. Features a powerful 24 HP Briggs & Stratton engine with Ready Start Starting System, 54 in. reinforced vented deck, Automatic Hydrostatic Transmission, 6 position height adjustment for multiple mowing options, and an oscillating front axle – this riding mower pretty much has it all.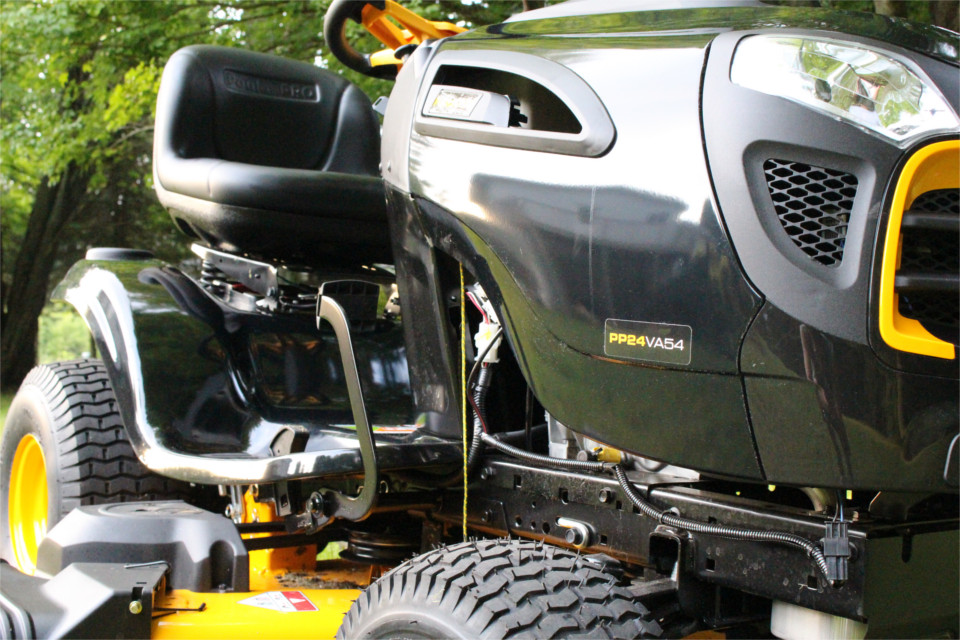 Recently we spent a month testing the PP24VH54 ourselves. We tested it in the rain, on steep hills and over bumpy terrain. After an onslaught of testing that clocked more then 35 hours of cutting time today we're happy to share our opinions with you. So, without further adieu, here we go…
Key Features:
Briggs & Stratton ReadyStart Engine: Powerful twin cylinder Intek engine with no prime no choke easy starting, cool-running OHV engine design, cross flow cylinder head for better cooling, steady power for higher quality of cut, reduced vibration, and quieter operation.
Maintenance Minder: An hour meter with service minder indicates when it's time to service your tractor.
Electric Blade Engagement: To engage the cutting blades, you only need to pull the lever on the control panel.
Convenient Cup Holder: Safely carry your favorite beverage with you on the tractor while you mow.
Deck wash port
Built-in headlights
Hour meter
Specs:
24hp Briggs & Stratton engine
2.5 gallon gas tank
Hydrostatic transmission
54 inch cutting deck
Six cutting heights
Weight: 488 lbs
Dimensions: 69″ x 59″ x 51″
Turning radius: 6 inches
Poulan Pro PP24VH54 Riding Mower Review Breakdown
Design:
Like a bumblebee searching for nectar, the Poulan Pro PP24VH54 is not only black and yellow, but is quick and nimble as well. This riding mower looks sporty and has very attractive lines. We really like the hood scoop, headlights and grill cutouts. A mower doesn't have too resemble a race car to get the job done, but it sure does look awesome sitting in your garage, especially when the neighbors walk by.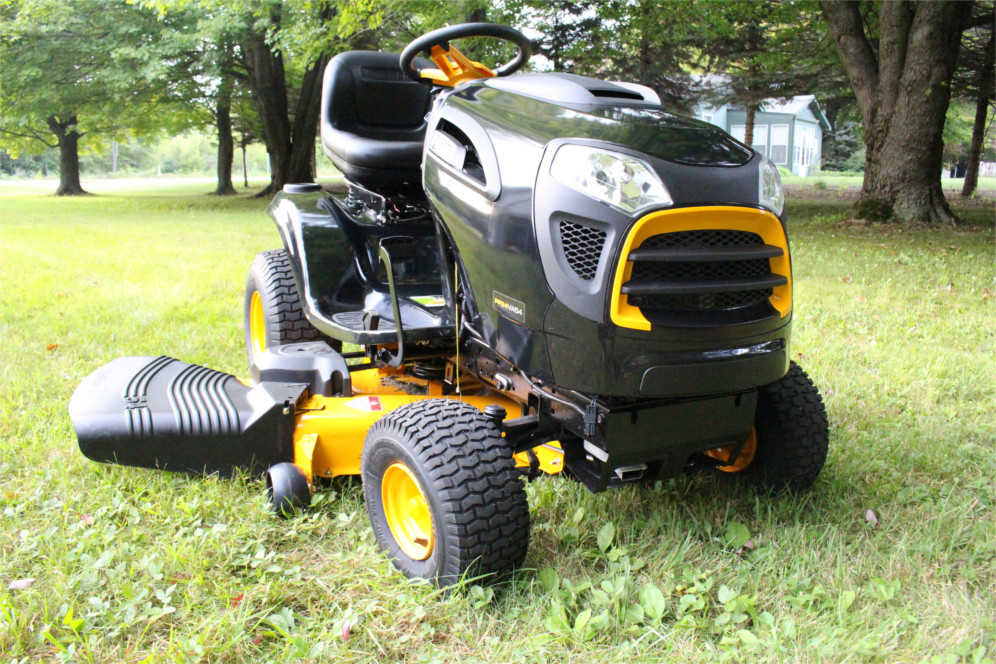 Beyond its handsome lines, this riding mower comes standard with a lot of features we really love. One of the best is the 54 inch cutting deck. If you're not familiar with deck sizes 54 inches is huge! This deck makes cutting your lawn go fast. Recommended for larger lawns (1 acre or bigger), this three blade cutting deck gets a lot of work done quick. It took us some time to get used to the large deck but after a few passes we were cutting the lawn in about 40% less time than with our old 42 inch deck.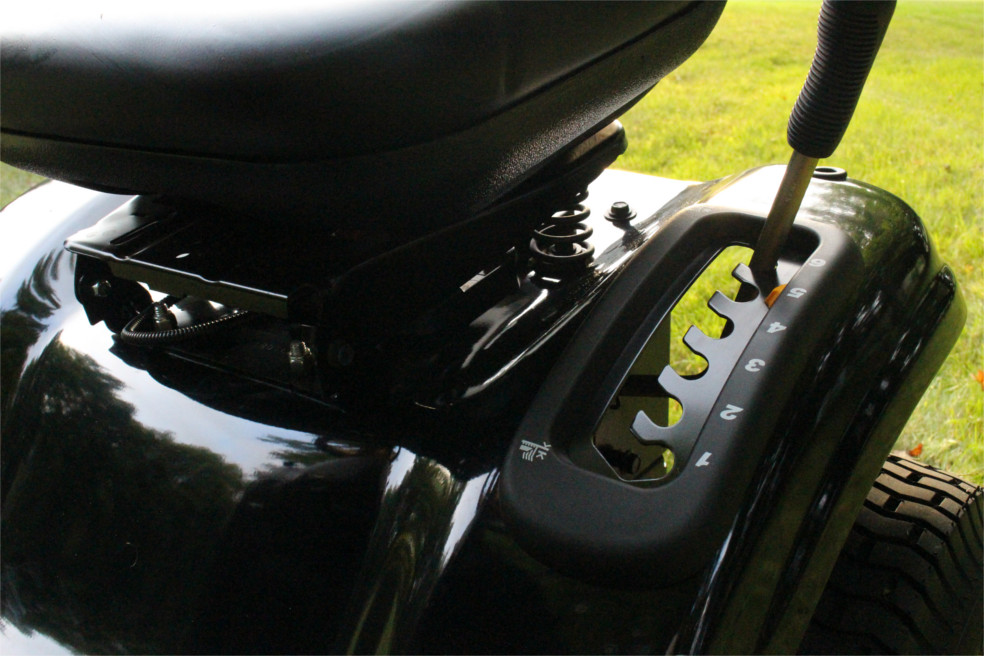 We should also mention the seat. This seat is large and comfy. No numb butt syndrome from mowing the lawn with this rider.
Another feature we really liked was the built-in cup holder. Typically it takes me about 1.5 hours to mow the lawn. Having a beverage near by is a necessity. PRO TIP: the cup holder is nice, but it won't keep your drink from jumping around and spilling while you're cutting over rough terrain. We highly recommend putting you beverage in a covered cup. The Yeti Rambler and Bubba Mug are perfect options.
One more design feature that is wonderful is the deck setting indicator. This simple little sliding tab allows you to remind yourself and others what your preferred cutting height is. In the summer we cut high to keep our grass healthy, especially when it's dry. For us the setting 5 or 6 is perfect.
Oh, and before I forget, I should also mention the quick oil change system. On this Briggs & Stratton engine they make is super simple to drain the oil. Simply take off the yellow plastic oil cap near the bottom of the engine, connect the (included) clear plastic tube, and then twist the quick release valve and oil starts pouting out. The clear plastic tube allows you to direct the used oil into a container. Most riding mower engines we've ever changed oil on make this process a mess. Not the case with this riding mower.
Operation: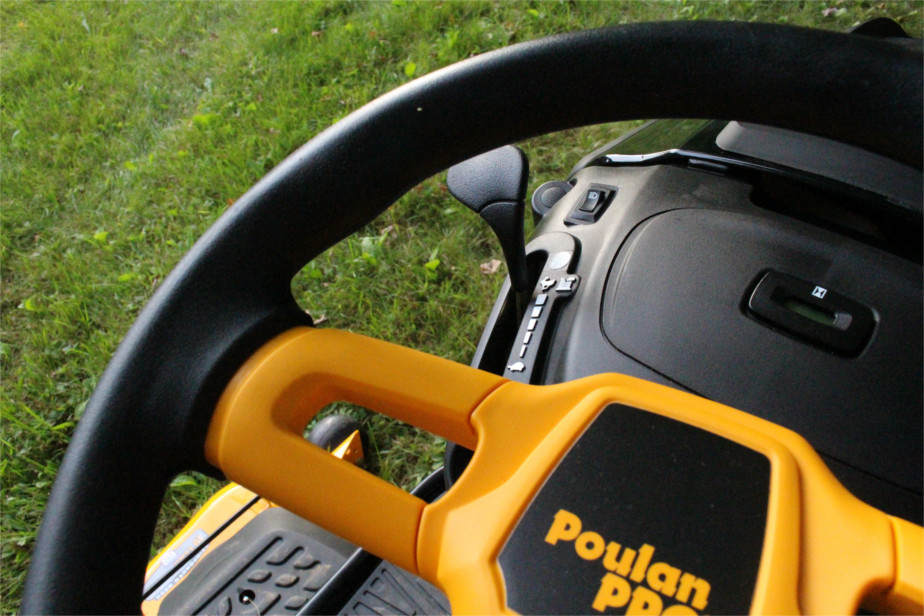 Starting the PP24VH54 is truly simple. With your left foot push in the clutch pedal, and then push the throttle lever to the "choke" position (indicated by a snowflake) and turn the key all the way over to the start position and wha-la! When you let go of the throttle lever it will automatically take itself out of choke and you're ready to go!
Once the mower is running you can go forward and backward using your right foot on the gas pedal. Push with your toes to go forward or use your heal to go backwards. The controls are very intuitive and easy to learn. Letting off the gas automatically stops your movement. If you're used to operating older riding mowers, you maybe used to having to push the clutch to stop every time you need to slow down or stop. With this riding mower that is a thing of the past!
To start the cutting deck there is one button (no levers!) and it is super simple. Pull up on the cutting deck button to engage the cutting blades. You'll hear the engine idle-up and at this point you're ready to start mowing. To stop the cutting deck simply push the cutting deck button back down. If you're used to a riding mower with a lever system for engaging the deck this button will take a few sessions of cutting the lawn to get acquainted with, but becomes second nature fairly quickly.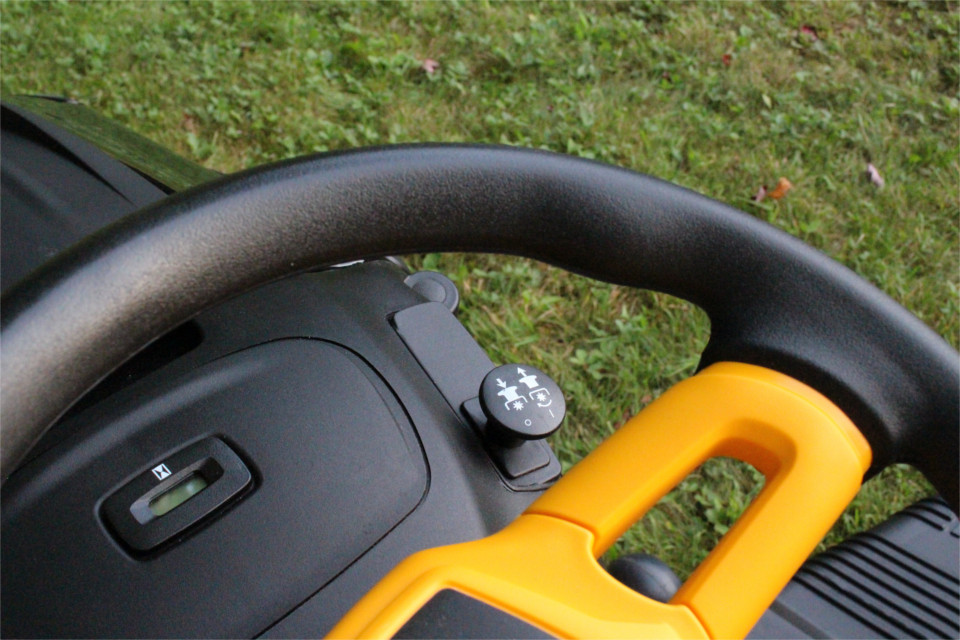 One thing this mower is missing that seems pretty common in other riding mowers is a cruise control setting. This might not be a big to-do on your list, but if you have a very large lawn cruise control is nice relief for you right foot. Like I said, not a huge deal, but something worth pointing out.
Safety Features:
As you might expect the Poulan Pro PP24VH54 comes standard with a few safety features. The smartest safety feature being the rider activated seat. If there is no one in the seat the mower will not start. And if you are on the mower and hop off it will automatically shut off. The mower will also not turn on when the blades are engaged. If you want to mow in reverse you need to turn the key to the reverse operating system. This gives you time to think about you surroundings. Reverse is also very slow. The parking brake is also a nice safety feature for transporting the mower.  Safety is big deal and Poulan takes it seriously, which is nice to see.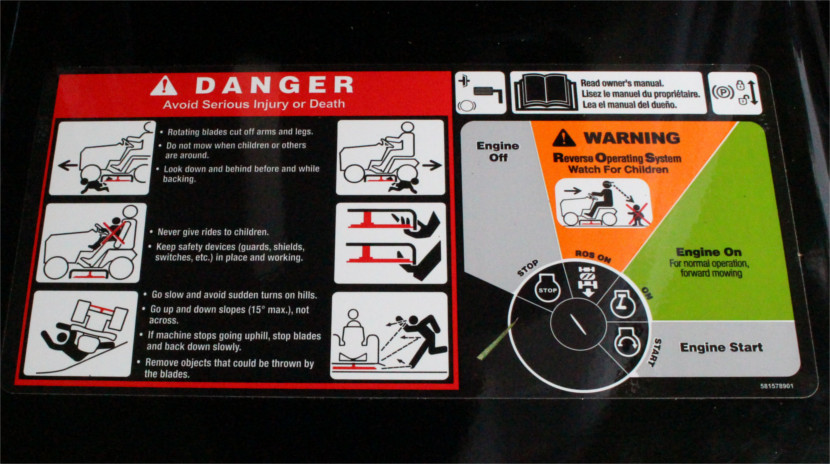 Performance: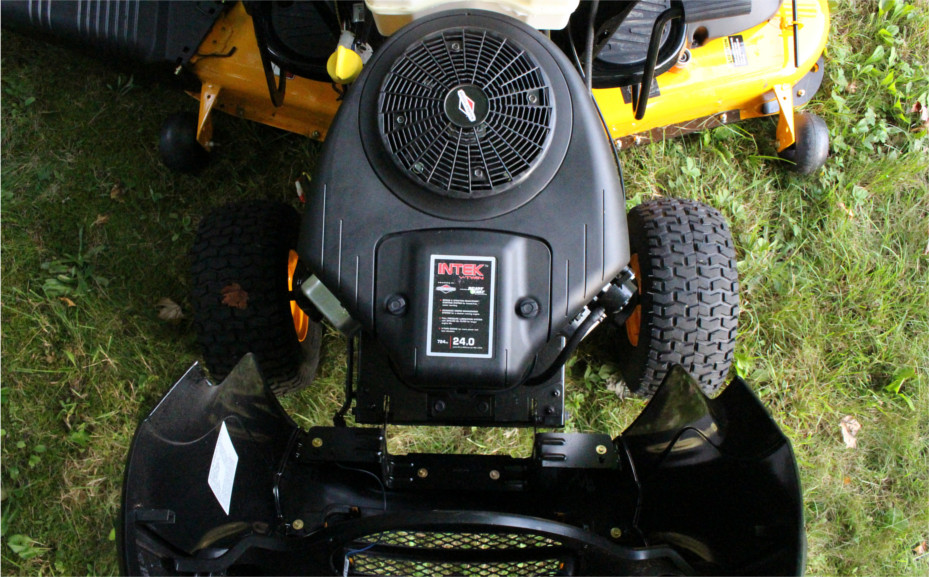 Throughout our time testing this riding mower we have been really impressed with the performance. The 24hp Briggs & Stratton engine is truly powerful and one of the largest in its class. The PP24VH54 is able to handle tall grass (6 – 8 inches) with ease. Also, this thing is quick! To cut your lawn effectively you'll need to mow at a slower pace, but if you're using this tractor for darting around the lawn and doing chores it is great.
Testing this riding mower against a similar model with a 42 inch deck was laughable. The 54 inch deck of the PP24VH54 is truly awesome. It mulches nicely and discharges the clipping about 4 – 5 feet. Because the discharge goes so far you don't get any clumping of grass. Everyone has their own theories about bagging vs. mulching. I'm on the mulching team. With this riding mower we never had clumping issues and our grass is looking good as ever.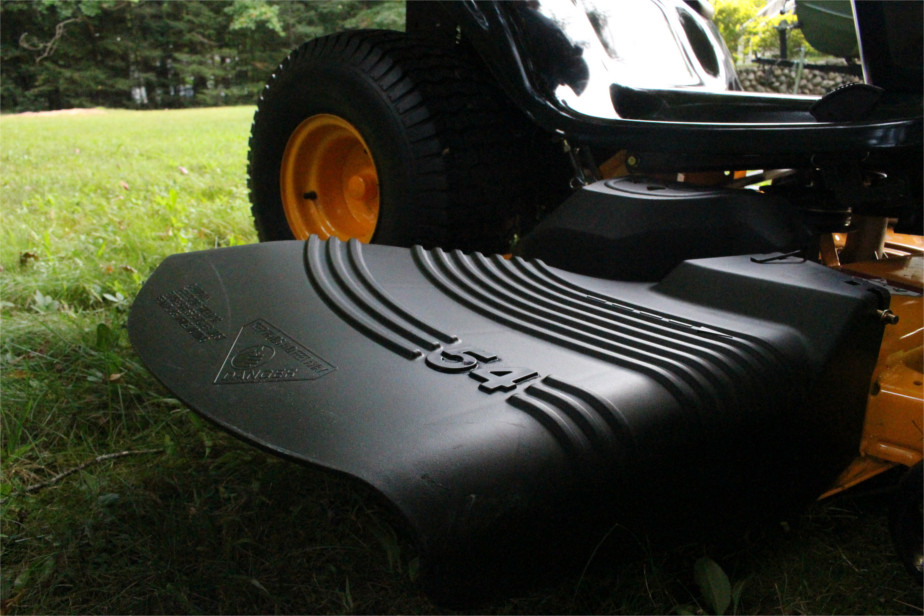 Maneuverability:
The turning radius on this mowers is outstanding as well. It isn't a zero-turn, but its 6 inch radius is great for quick turns and cutting close around trees and other object.
Value:
Available right now on Amazon for $1,999.99 (w/ free shipping for Prime Members!) this riding mower is a truly good value. It has all the power you'll ever need, a huge cutting deck, nice turning radius and a cup holder! Never under estimate the power of the cup holder.
If you're in the market for a new riding mower that gets the job done efficiently, has a few bells and whistles and looks damn good too. We highly recommend checking out the Poulan Pro PP24VH54 yourself. We've seen them at Home Depot, stop in and take a look for yourself.
Buy Now: $1,999.99 or to learn more, go to: PoulanPro.com
Poulan Pro PP24VH54 Riding Mower
Affordable, durable and seriously powerful, the Poulan Pro PP24VH54 is great riding mower. If you're in the market for a new riding mower we highly recommend this one.
The Good:
Comfy seat, powerful engine and the cup holder!
Quick and easy oil change spout
The 54 inch deck is outstanding
The Not so Good;
Cup holder can spill your drink
No cruise control setting
Black finish gets hot in the sun