The warmth of the summer season is fast approaching, and with all that sunshine, you'll likely want to switch up those winter galoshes for some shoes that'll match the scene. In preparation for the time of year when stepping up our fashion sense matters most, we've taken to the streets wearing the Pikolinos Liverpool summer sneaker.
A Spanish shoe company dating back to 1984, Pikolinos is a brand that has dedicated itself to making shoes with personality, identified mostly with the Mediterranean way of life. The company's focus is to design footwear that is high in quality and comfort, but at the same time embodies the laid back nature of the region's lifestyle instead of worrying itself over the trends that come and go.
Composition:
Synthetic outsole
Lining 75% leather 25% textil
Adjustable velcro strap
Calf leather
Hand Sewn
Removable insole
Gel and foam padded collar
Pikolinos Liverpool Review Breakdown
Style:
Describing Pikolinos shoes can be a bit tricky. We've discovered while scrolling through the many shoes available on their website, that mostly everything is some sort of hybrid, and interesting splashes of color are quite typical. In our case, we chose the dark grey Liverpools. We can best describe this shoe as a mix between an indoor soccer shoe and casual loafer. A summer shoe by design, this is a great option for any man with an athletic lifestyle who prefers to dress it down to the the casual side when he's out on the town.
The color option we went with is listed as "dark grey", however these shoes are more of a desaturated brown. We have no complaints though, as we've found them quite wearable in the majority of social situations we've found ourselves in. If you enjoy adding a little extra "something", Pikolinos offers a variety of color options for this particular shoe.
For the "meat and potatoes" kinda guy with a sock drawer filled with nothing but whites and blacks, we recommend taking a look at some patterned or off colored socks to wear with the Liverpool on those chillier days out. These shoes go best with jeans, but it's safe to say that the individuality of the Liverpool makes a flat black or white sock just look tacky. They look great sock-less too though, and some no-show socks would also be good to have on hand for these leather shoes on the potentially hotter days of summer. Needless to say, this shoe encourages the typical male to be a little more bold in his fashion choices, and in our experience the ladies show real appreciation for that move.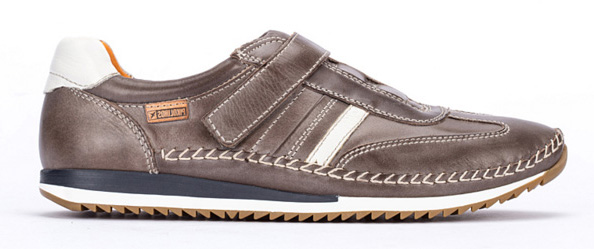 Design:
As we've addressed already, there are a lot of design aspects that are sort of a mashed together combination from across the board with Pikolinos shoes. It's the toes and heels of the Pikolinos Liverpool sneakers that remind us most of oldschool indoor soccer shoes of the mid-1990s. Combined with a moccasin style stitching around the side, the hand sewn upper, and leather material, this is a shoe that melds well to the form of the foot over time.
For the guys out there with little interest of keeping track of a shoehorn in hopes of making these puppies last, the Liverpool sneaker is equipped with an adjustable velcro strap. This makes the shoe easily accessible like a slip-on, and highly adjustable to fit the foot at the same time. If you're worried about any stigma that velcro has gained in the shoe wearing community as being only for old men or little kids, in this case it actually blends into the profile of the shoe, lending to the design element.

The insoles on the Liverpools are also removable, so if you need a specialized insole or you happen to get them exceptionally wet and have to air them out more quickly, this is a nice little added bonus feature in comparison to some of the competition.
Comfort:
For a shoe that functions mostly as a casual dress shoe, the Pikolinos Liverpool gets high marks for comfort! With an adjustable upper, a leather build capable of conforming over time, and the general build of a sport shoe, the Liverpool performs as a comfortable dress sneaker, and it only seams to be getting with wear. Don't be afraid to wear these for all day outings or on the job if you work in a mobile environment. It'll do just fine!
A small word of warning, if you intend to go sock-less with these shoes for extended periods of time, be prepared for slight irritation from rubbing on the upper foot and around the ankle. We haven't discovered any major blistering yet, but there was some slight irritation while wearing the Liverpools in this fashion.

Durability:
We've done our research on the Pikolinos brand, and they take great pride in the quality of leather they use. Their leather is treated naturally, and the end product is soft and incredibly durable. We've put these shoes through plenty of wear over the past few months, a lot of times in extremely "non-summer" conditions, and we are blown away at the condition the exterior leather is still in. There is a small amount of wear, yes, but minimally in comparison to other leather shoes we've worn in the past.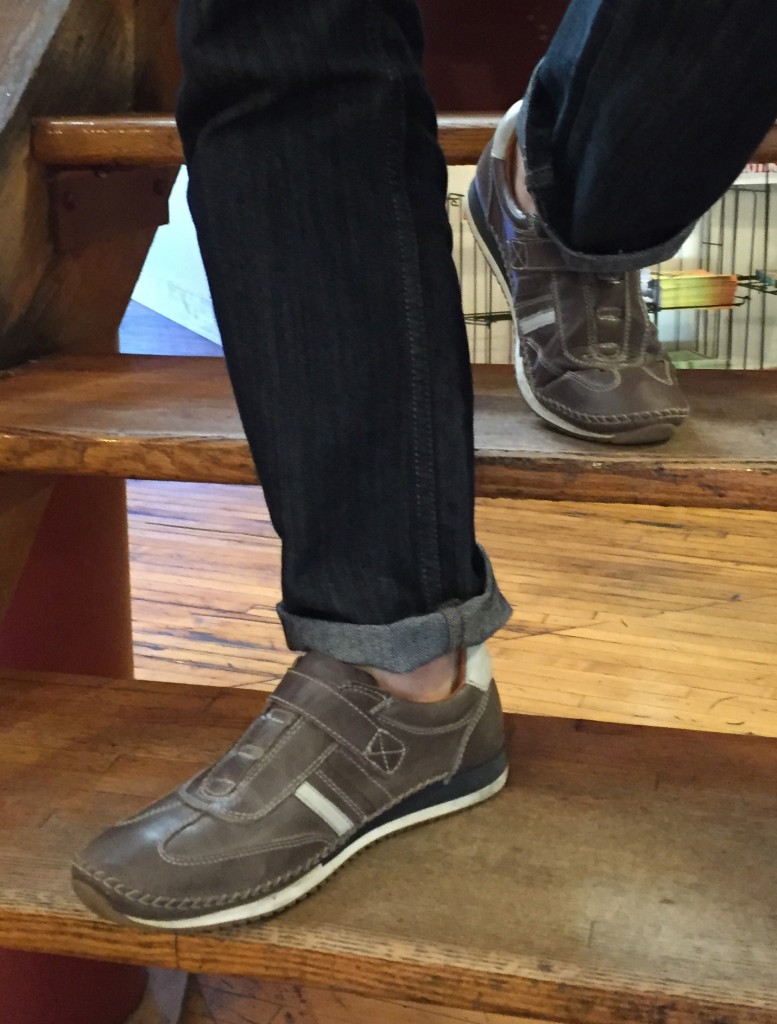 With regards to construction, we are more than satisfied with how the stitching has held up, and the tread is showing a very small amount of wear. We have noticed that on the inside of the foot, the glue has begun to pull slightly between the leather and the rubber sole. All in all, the Liverpools are holding up more than reasonably.
Value:
They say you pay for what you get…but dang! Yes, the Pikolinos Liverpools are built to last with the finest of materials. They are certainly comfortable and worthy to be worn in a wide variety of social situations. If you're interested in a great pair of casual shoes with that little bit of Mediterranean flair, these may be just the shoes for you. Not to mention the fact that Pikolinos is not trying to follow specific trends of the "now", these shoes will more than likely remain reasonably fashionable for a long time. We have nothing but good things to say about the performance and style of these shoes, but be prepared to cough up some serious coin to wear them.
Buy Now: $185.00 or to learn more, go to: Pikolinos.com
Pikolinos Liverpool - Style Review
A stylish mash-up of sport and casual, the Pikolinos Liverpool will add a nice touch of Mediterranean flavor to any man's ensemble. These shoes are not only made to last with the highest quality of materials, but they are entirely comfortable for the entire day, and will look great at almost any casual social gathering!
The Good
Good Blend of Sport and Casual
Very Comfortable
Made with high-Grade Materials and Built to Last
The Not-So-Good
The use of Velcro is Subject to Opinion
Quite Expensive For a Casual Shoe