The fine folks at Ninja tout that their new Ninja Coffee Bar brewer will change the game of home coffee brewing.  Designed to bring rich flavor to your home and turn your favorite ground coffee into anything-but-basic black coffee, this little coffee machine has a lot going on.  The Ninja Coffee Bar is promoted by Sofia Vergara who shares Ninja's passion for the perfect cup.
For those of you new to the Ninja suite of products, you should know that Ninja is one of the several house-care brands developed by SharkNinja, a pioneer in small household appliances and cleaning solutions that fit the lifestyles of busy people. Their goal is to provide highly functional, innovative products, and SharkNinja has rapidly carved out a significant niche in the housewares industry, becoming one of the leading companies in this sector. From cutting-edge, chemical-free steam mops to state-of-the-art blender systems, SharkNinja products positively impact people's lives every day in every home around the world.  We were very happy to have our good friends at Ninja send us the new Ninja Coffee Bar for testing and review recently.  Will it replace it your regular trips to the local coffee shop? After a month daily coffee doses here's what we discovered…
Key Features:
Permanent Filter (optional)- Reusable filter that preserves the natural coffee oils and small coffee particles to provide a robust flavor
Drip Stop- Stops the flow of coffee from the brew basket, allowing you to pour a cup mid-brew
Multi-Serve Cup Platform- Easily pulls down so you can brew directly into your favorite mug or cup
Glass Carafe & Precise Temp Warming Plate- Automatically adjusts the temperature of the warming plate to keep your coffee at the ideal drinking temperature
Easy-Fill Brew Basket- Slide out to quickly and easily fill with your favorite coffee grounds or fully remove for effortless cleaning
Removable Water Reservoir with Auto-Metering- No need to measure or constantly refill
Programmable Delay Brew- Preset to brew automatically up to 24 hours in advance
Multi-Serve Capability- Select from a cup, travel mug, half carafe, or full carafe. Auto-iQ™ measures the correct amount of water for each size.
Brew Types- Classic brew, rich brew, specialty brew, over the ice brew
Ninja Coffee Bar Review Breakdown
Design:
To compete with coffee shops and other home brew systems, Ninja really needed something to separate themselves from the pack.  To compete, Ninja developed their patent-pending Thermal Flavor Extraction technology that is designed to deliver better, richer-tasting coffee with variable richness levels that are never bitter. The Ninja Coffee Bar brewer has Auto-iQ, the One Touch Intelligence technology, which draws just the right amount of water needed from the reservoir, based on the brew size you choose (cup, travel mug, half carafe, or full carafe) and brew type you select.
For our testing purposes, we choose to review the Ninja Coffee Bar with the 43 oz glass carafe.  The glass carafe features a brew-through lid which is designed to circulate coffee throughout the brew cycle for even consistency. With this package you will also receive a reusable filter that is designed to preserve the natural coffee oils and small coffee particles to provide a robust flavor.  Ninja touts that this flavor should be similar to what you would experience when using a French press. Using the permanent filter that will provide a more robust flavor over paper filters, but that will produce a natural sediment. If you prefer a cleaner cup, you can also use paper filters in the brew basket.  For those of you looking to make specialty drinks, you will notice the unit includes The Ninja Easy Frother which features Press Froth Technology.  The glass is microwave-safe allowing you to heat, pump, and transform everyday milk into perfect microfoam, which will allow you to create those coffeehouse specialty beverages in your own kitchen.
A nice addition included in the box is the Ninja Hot & Cold 18 oz. Insulated Tumbler that features a double-walled Tritan design with crystal-like clarity that is designed keeps iced coffee cold longer and hot coffee hot longer.  Also included in the box is the recipe book which contains over 100 hot, iced and specialty brew recipes.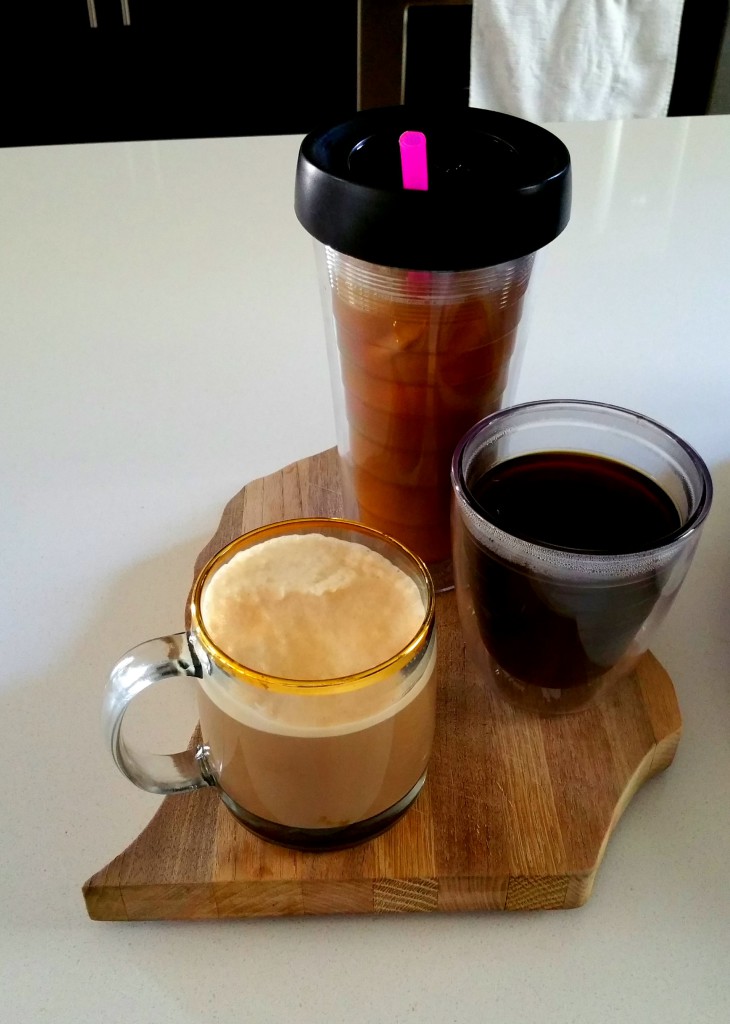 Brew Quality:
One of the great things about the Ninja Coffee Bar is how adjustable it is for your lifestyle.  During the week maybe you stick with a regular pot of coffee but on the weekends, you want to treat yourself to a little vanilla latte.  By having the Ninja, you are able to accommodate all of your drink choices.  The Ninja features four different brew styles (classic, rich, over ice, and specialty). The classic brew will remind you of most regular units.  Your coffee will be smooth, rich, and have balanced flavor from whatever ground coffee you choose.  The rich style features slightly more intense flavor richness than the classic brew. If you have some high-quality beans then the rich style is the better choice as it will really extract the extra flavor from the grounds.  The over ice brew option jumps the concentration levels two times the flavor richness of Classic Brew to account for ice.  As the ice melts it won't dilute your coffee and melt away the flavor in the process.  The specialty brew setting features super-rich concentrate that is about three times the flavor richness of classic brew, but yielding significantly less volume.  You will use this feature often when you are making your lattes or macchiatos.
Testing all four brew styles truly do yield different flavor profiles.  Initially, we thought the settings might be a gimmick but you really do experience variances of flavor richness based on each setting.  We do however wish that the over the ice brew would be a cold brew to help keep the ice from melting.  While the extra concentrate does help keep the coffee from getting watered down, it is best if you brew it, refrigerate, and then serve over ice for best taste.  Regardless of the settings, the Ninja produces great flavor and did a great job of getting full flavor from the coffee grounds.
Specialty Drink Quality:
If you are looking for a regular drip coffee machine and no frills, then look elsewhere.  The Ninja Coffee bar is suited for those coffee lovers who want every ounce of flavor out of their coffee beans.  The Ninja also allows you to play barista at home and bring the coffee shop to your kitchen.  A big selling point of the Ninja is to avoid paying $5 for a latte and making it at home for yourself.  We cracked the Ninja recipe book and put on our aprons and started whipping up drinks.  A lot of the specialty drinks will use the specialty brew feature to extract the full concentration out of the coffee grounds.  This will yield less volume of coffee but will be an extremely stronger brew.  For simple testing purposes, we decide to make a non-fat vanilla latte. This did require a purchase of skim milk, coffee grounds, and vanilla syrup.  You will brew a cup of specialty brew which gives you about 5oz of coffee.  While that is brewing you will heat up your milk for about a minute in the frother.  Once the milk is nice and warm you will froth it and you are ready to pour into the coffee.  You will take a spoon to get the foam out and boom! You got yourself a latte.  How does it taste? Pretty darn good.  Is it as good as Starbucks non-fat vanilla latte? No, but it is close.  We could really never get the foam to match what those expert baristas could do, but it was fun trying. We experimented with a variety of the specialty drinks and we found them mostly easy to make and very tasty. It is fun to experiment with drink types and form your own versions of recipes.  Letting your inner barista come out and play is a lot of fun and soon you will be a master!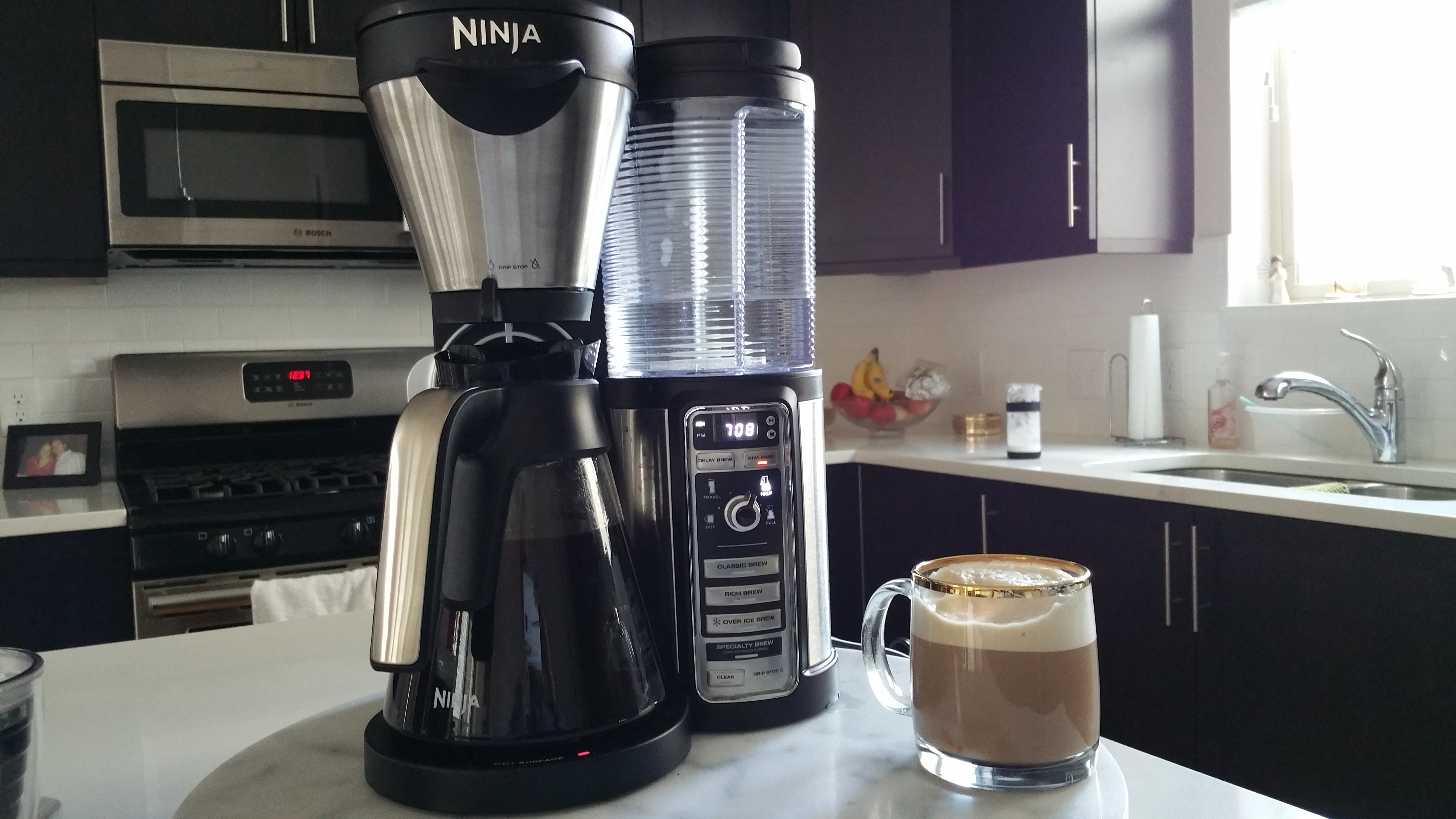 Value:
Priced at $179.80 we found the Ninja Coffee Bar to have tremendous value.  There are many coffee machines that cost more and offer way less in terms of flavor and versatility.  The Coffee Bar will keep things fun in the kitchen and challenge you to make the perfect drink.  If you like the specialty drinks you will find yourself spending more money on flavors, milk, toppings and other items.  These extra costs can add up significantly if you are making specialty drinks more often but it is still extremely cheaper than getting a latte from the coffee shop ever day.  While you can buy regular ground coffee from the store we do recommend buying a home grinder and purchasing whole bean coffee.  This will allow you the freshest and most flavor in your morning cup.  Overall, the Ninja Coffee Bar is a great addition to any kitchen and any coffee lover looking to step up their game.
Buy Now: $179.80 or visit NinjaKitchen.com
Ninja Coffee Bar - Appliance Review
The Ninja Coffee Bar brewer is a game changer for your kitchen and is looking to break up your relationship with your favorite coffee shop. The Ninja brings rich flavor home and turns your favorite ground coffee into anything-but-basic black. The Ninja is extremely versatile and can make any type of coffee drink you can imagine- and some you haven't!
Specialty Drink Quality
8.5
The Good
Very versatile and has 4 different brew options
Coffee flavors are rich, bold, and are great tasting
Cost of the unit is cheaper then some higher end product that have less features
The Not-So-Good
Buying the extras to make specialty drinks can get pricey
Can't match coffee house favorites - but it is close!