As you may already know – each season we enjoy teaming up with exciting brands and putting together collections of clothing that are ideal for mother nature's ever-changing temperatures.  This Spring is no different!  That's why we hooked up with our good pals over at Nike Golf to test, review and showcase some of their latest and most popular Spring apparel designed specifically with golfers in mind.
Depending on your location, you're going to be heading out to the golf course this week in shorts and a polo or you'll be bundling up (like us in the Midwest) in trousers, a sweater and jacket. How ever you plan to attack the course we've got you covered with some excellent options to get you noticed on the links.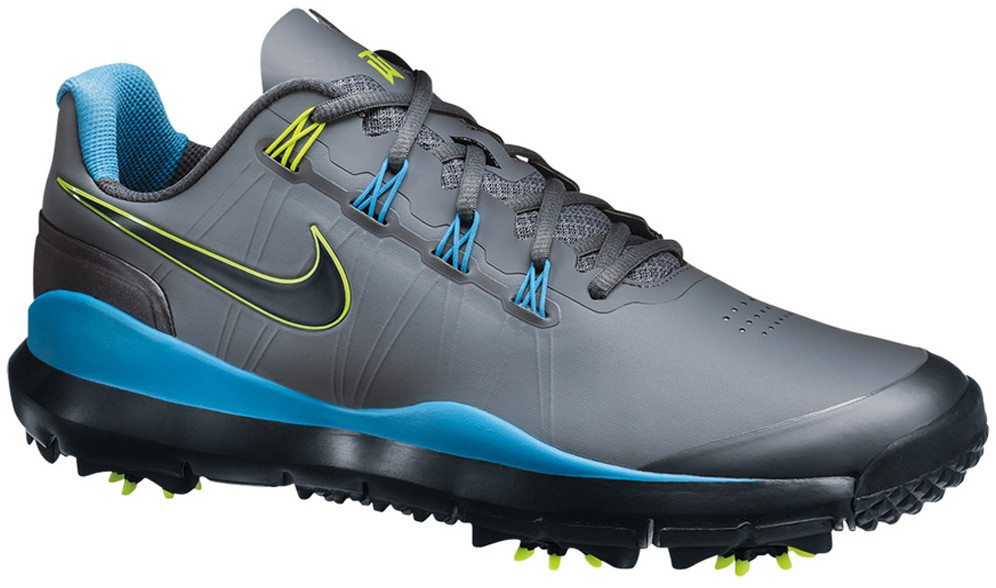 Designed for world #1 Tiger Woods himself, Nike's TW '14 golf shoes were engineered to help golfers unleash the full power of their swing utilizing an innovative Nike-Free inspired outsole that offers incredible flexibility from the ground up while allowing athletes to keep contact with the ground longer, better harnessing the energy of the foot to the shoe and, therefore, the shoe to the ground. Sound wonderful? Well, they are!
Key Features:
Increased Flexibility

Redesigned Ventilation

Dynamic Flywire Technology

Nike Power Transfer Zone Midsole

Water Proof Micorfiber Synthetic Leather

Tri-LOK spikes
Review Breakdown:
Comfort………….…..9.2

Design…………….….9

Durability……………8.5

Value……..………….8.7
Overall:  (35.4 out of 40) I have to say, these are some of the most comfortable golf shoes we've ever laced up. Nike truly has a winner on their hands here! Straight out of the box the TW '14's are ready for the course – no break-in period required. The FlyWire tech is simply outstanding, hugging your feet. These shoes give you a superb feeling of stability on every type of terrain you can imagine. Overall, we were extremely impressed. I guess when the man you're making the shoes for is Tiger Woods the end product is something truly special.

Crafted from transparent nylon and stretch panels, the Hyper Adapt Wind Jacket is a half-zip pullover built for protection against the elements with the ability to maintain natural range of motion through all 18 holes. What may look like a fairly straight forward wind jacket at first glance is actually anything but. This little ditty comes with a few creature comforts as well, including a mesh panel in back that delivers that breathability, while an adjustable hem creates a customized fit. And that's not all… as we found out.

Key Features:
Mock neck that zips up to the chin for warmth
Mesh panel in back for ventilation
Translucent fabric and contrast panels for style
Adjustable hem and stretch cuffs for enhanced fit
Bonded seams for reduced irritation and extra protection from the element.
Stretch panels for wide range of motion
Side zip pockets
Review Breakdown:
Comfort………….…..8
Design…………….….8.5
Durability……………7.5
Value……..………….8.5
Overall:  (32.5 out of 40) By far the most unique piece of apparel we tested in this collection, the Hyper Adapt Wind Jacket is all about protection from the elements without the bulk of heavy materials. In fact this jacket is fairly see-through. It's frankly not the most comfy or durable jacket we've ever tried on, but what it lacks in comfort and rugged build quality it more than makes up for in pure performance guarding against rain and wind allowing you to concentrate on your ball and the cup instead of mother nature's distractions. If you're looking for an ultra lightweight wind jacket you won't find anything easier to pack in your golf bag – the Hyper Adapt weights next to nothing!

The TW Adaptive Fit Men's Golf Pants are cut to move freely with every swing, featuring mesh panels at the back waist and inseam for nonrestrictive, breathable comfort on the course.
Key Features:
Dri-FIT fabric to wick away sweat and help keep you dry and comfortable
Snap waist and zip fly for a snug, comfortable fit,
Mesh inseam panel for natural range of motion and strategic ventilation
Perforated panel with stretch mesh lining at back waist for enhanced breathability
Laser-cut side and back pockets for storage and a streamlined look
Review Breakdown:
Comfort………….…..9.5
Design…………….….9
Durability……………8
Value……..………….8
Overall:  (34.5 out of 40) These are not your traditional golf pants – not by a long shot! The TW Adaptive Fit pants are truly a joy to wear around the golf course. They are super light, breathable, stretchy and excessively comfortable. I've always wondered how Tour Pros do it… you know, wear pants on the course even in scorching 95 degree weather? Well, after trying on these pants I now know. They're breathable, light and comfy. They may look like dress pants, but the definitely do not feel like dress pants!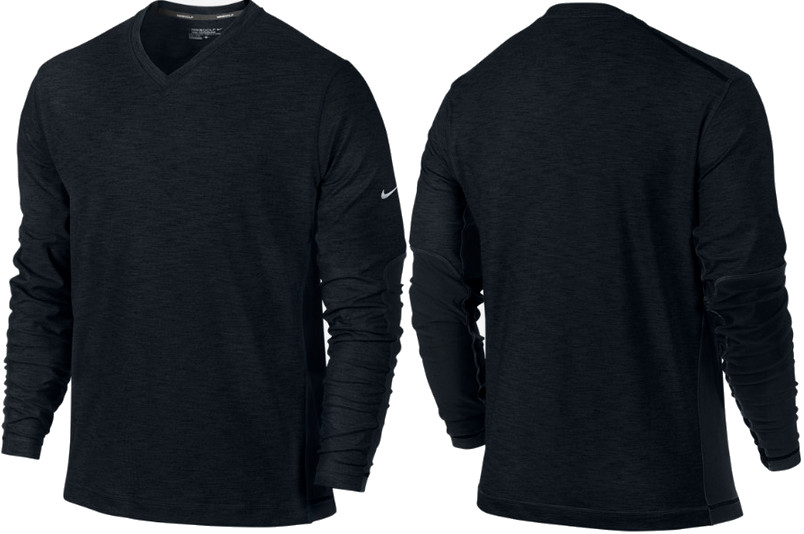 The Nike Tech Golf Sweater features sweat-wicking fabric and stretchy side panels to help keep you dry and comfortable without restricting natural range of motion.
Key Features:
Dri-FIT fabric to wick away sweat and help keep you dry and comfortable
Rib V-neck with interior taping for comfort, Side panels for enhanced range of motion
Side panels for enhanced range of motion
Review Breakdown:
Comfort………….…..10
Design…………….….9.5
Durability……………8.5
Value……..………….9
Overall:  (37 out of 40) Absolutely love this sweater! With the bitter weather this Spring has brought to the Midwest I personally have found myself wearing this v-neck off the course more than expected. It's extremely comfy and down right handsome. Nike's Tech Sweater is warm and delivers excellent range of motion. As of today, there's not another sweater I would recommend for both on and off the course.
When the heat ramps-up and pants aren't a viable option you need a trusty pair of shorts to keep you cool. Luckily to boys at Nike developed a new pair utilizing stretch Dri-FIT fabric with crisp seams for performance, comfort and a modern look.  Say hello to the Tech Gold Shorts.
Key Features:
Button waist and zip fly for a classic
comfortable fit, Stretch fabric and notched hems for wide range of motion
Pockets at sides and back for storage
Fabric: Dri-FIT 90% polyester/10% spandex
Review Breakdown:
Comfort………….…..9
Design…………….….8
Durability……………9
Value……..………….9
Overall:  (35 out of 40) The Tech Golf Shorts from Nike are exactly what shorts should be. They are comfy, stylish and best of all keep you cool even on the hottest of days. We found these shorts to be excellent for golf in every way. The Dri-FIT fabric is comfy and vents well. If you look closley on tour you'll even find big name caddies sporting the Tech Shorts as they traverse the course lugging those gigantic staff bags!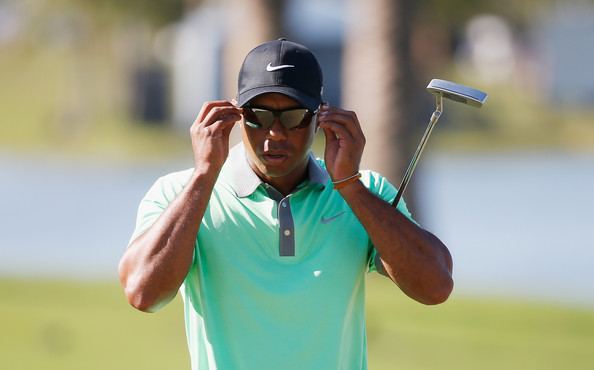 Worn by the man himself in competition, Nike's new Show X2 Sunglasses are ideal for multi-sport training due to their lightweight frames and textured rubber at the temples. Not only do they look good… these sunglasses offer protection, comfort and a fit that stays in place.
Key Features:
Nike Max Optics for precise vision from every angle
Interchangeable lenses for maximum sport performance in all light conditions
Adjustable secure-wrap temples for stability and comfort
Rubber grip texture on temples for a secure fit
Ventilated nose bridge for improved airflow, reduced fogging and better grip
Review Breakdown:
Comfort………….…..8.5
Design…………….….8.5
Durability……………9
Value……..………….8.5
Overall:  (34.5 out of 40) Forget golf, these sunglasses are ideal for almost any athletic activity. Why? Because they simply stay put! The rubberized nose and ear grips plant the Show X2's firmly to your noggin leaving you with one less thing to worry about as you stand over that knee-knocker for birdie from 5 feet away. Not to mention the optics are fantastic and the fit is quite comfy, even for hours of use. The Show X2's from Nike are stylish enough for on and off the course activities – we give them a strong recommendation for any athlete not only golfers.
Departure II Duffel Bag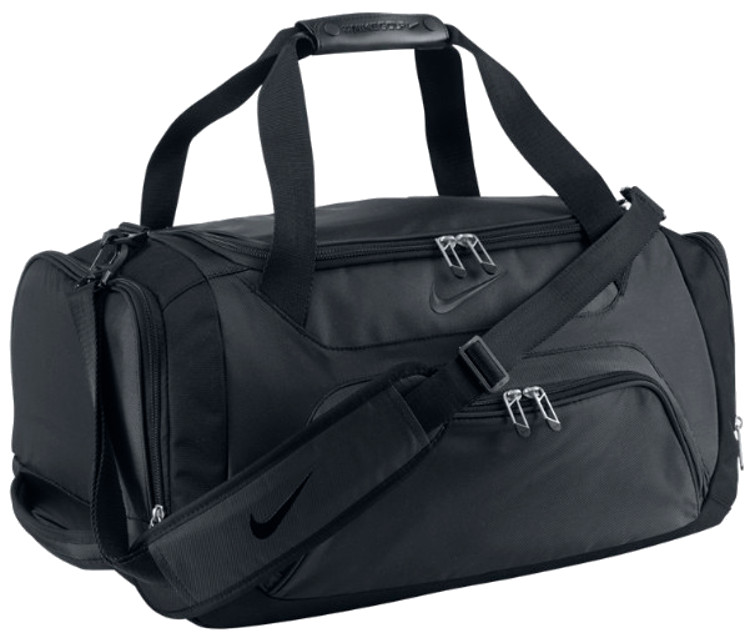 Equipped with a variety of specialized pockets to keep clothes, shoes and course valuables – Nike's Departure II Duffel makes it easy to transport and access all your golf gear.
Key Features:
Dual zip main compartment and multiple accessory zip pockets
Interior shoe compartment and fleece-lined valuables pocket
Adjustable padded shoulder strap and grip handle
Dimensions: 14″ W x 22″ H x 11″ D
Review Breakdown:
Comfort………….…..9
Design…………….….8
Durability……………10
Value……..………….9
Overall:  (36 out of 40) The Departure II is a great bag for just about anything you can throw at it, think gym pack or even an overnight bag. Throughout testing we used it exclusively toting around golf gear like – jackets, shoes, hats, balls and other miscellaneous gear you might need for a day on the links and it worked out great! Instead of jamming your golf bag with an extra 20 lbs of gear this duffel is easy to trow in your vehicle and carry all your gear. Best of all it's laid-out very well, making it quick and easy to locate what you need. If you're back and forth to the course often and don't necessarly travel light we highly recomend splurging on this duffel, you won't be sorry.
Tour Perforated Adjustable Golf Hat
Outfitted with Nike's lightweight Dri-FIT fabric and a six-panel design, the Tour Perforated Adjustable Golf Hat is designed for lasting comfort and classic style on and off the course.
Key Features:
Dri-FIT fabric to wick away sweat and help keep you dry and comfortable
Six-panel design for durability and structure
Authentic VRS and RZN tour detail for pride
Snagless back closure for a secure, personalized fit
Review Breakdown:
Comfort………….…..9.5
Design…………….….7.5
Durability……………8
Value……..………….9
Overall:  (34 out of 40) Looks like your ordinary ball cap right? Well good, because it's supposed to, but what you can't tell from just looking at it is that the Tour perforated hat is extremely light and hardly feels like you're wearing it at all. I'm not big on hats, but this one has me rethinking my golf attire.
If you've seen one polo you've seen them all… right? Well, you're wrong. Introducing the Nike Innovation Graphic Men's Golf Polo, which features stretchy Dri-FIT fabric and a mesh back panel for a comfortable fit that maintains optimal airflow for 18 hole and beyond.
Key Features:
Dri-FIT fabric to wick away sweat and help keep you dry and comfortable
Back mesh panel for enhanced breathability
Fold-over collar and button placket for classic polo styling
Open sleeves and vented hem for a comfortable fit
Graphic design for style
Review Breakdown:
Comfort………….…..9
Design…………….….8
Durability……………8
Value……..………….8
Overall:  (33 out of 40) Nike has great polos, we learned this last year in our "Best Golf Shirts of 2013" article -in which Nike was among the highest ranked. So when we had the chance to get our hands on yet another Nike polo gladly accepted! And yet again Nike didn't let us down. The Innovation Graphic polo is a great choice for the golf course – it's lightweight and feels great throughout your swing, not restrictive in the least. It's also quite breathable with the meshing in the back making it idea for hot and muggy days.
For more info, apparel and equipment from Nike Golf head on over to their Website, Twitter or Facebook. And keep hittin' em' straight out there!