My child-like joy was at all-time high last week as my advanced copy of EA Sports' newest release of NCAA Football 2014 arrived at my door.  I have been an avid player since it was called Bill Walsh College Football.  While the amount of time I have been able to play has gone down over the years, the NCAA Football franchise has been a staple in my video game rotation since I was a kid.  When NCAA 2014 arrived I put in the man hours down in the man cave to be able to put together a comprehensive review for the Busted Wallet readers, let me just say, it was my pleasure!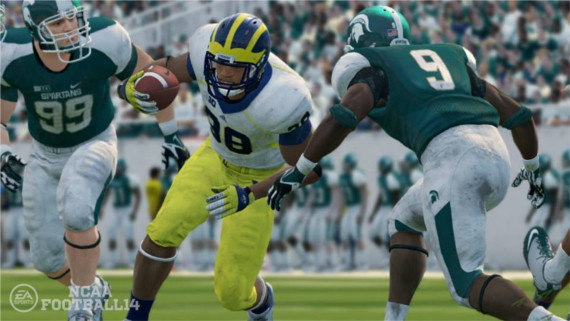 Photo Credit: EA Sports   For those of you new to the franchise EA Sports started the college football franchise which was released in 1993 on Super Nintendo and Sega consoles.  As a 10 year old boy this game was a mecca for me as that is when my gaming was really at peak levels.  Most people started to become familiar with the franchise with the release of NCAA Football 98 which was the first of the series to come out on the original PlayStation console.  This game was revolutionary for the franchise because it introduced a multi-season Dynasty Mode, allowing players to take control of a team for four seasons and recruit players to fill out roster vacancies at the completion of each season.  For avid players of the game the Dynasty mode is the bread and butter and also the best time suck we could imagine.  Since NCAA 98, the game has evolved each year with new updates and additions.  Now, let's get into the finer details of NCAA Football 2014!  
New & Key Features:
Infinity Engine- Previously used on the Madden series, finally makes it way to the NCAA franchise with new updates
 Stumble Recovery- Gain control and grab a few extra yards by staying on your feet
Option Offense- 20 new option plays that are more realistic than ever 
Ultimate Team Mode- Over 1,400 former college greats allow you to create a powerhouse team with all your favorites
Coach Skills- Experience points earned by achieving goals which let you develop your head coach and coordinators  
– NCAA Football 14 Review –
Gameplay: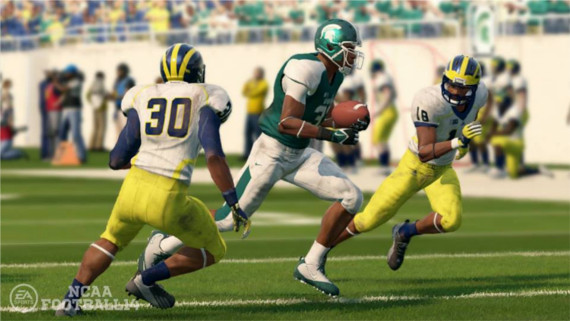 (8.5 out of 10) Once again EA Sports delivers a very fast paced and fun NCAA Football game.  For avid players of the game, the overall look and feel of the game will be very familiar.  The game is becoming extremely realistic in terms of identifying good and bad players.  In the old editions you could put a WR at QB and run the Hail Mary and then run around and pick up big plays.  Those days are long gone and the intelligence has been turned up.  If you have a bad QB you better hope you have a good running back because you are screwed.  I played a game against a friend using random mode where I got UConn and he got Maryland.  Needless to say the UConn QB was not very good.  To complete a pass the scenario had to be perfect; Feet set, WR open, no pass rush and the right amount of touch.  Anything else and I was throwing an in-completion or an interception.  On the flip side, great players dominate.  When I played Ohio State it didn't matter what defense I played, their QB ran and threw all over my Michigan State defense, which is one of the best in the game.  Added to increase realism this year is no matter who your QB is, if you make bad throws into coverage you are more than likely getting intercepted.  The frustration of defensive backs continuously dropping interceptions is over.  You will notice the speed burst stamina bar around your player.  Be careful to only use it when you need it because it runs out quick and also runs down your player faster.  Also, you will really notice the new Infinity Engine 2 in the running backs.  Their cuts and moves are definitely improved from previous years and they run like an actual running back would.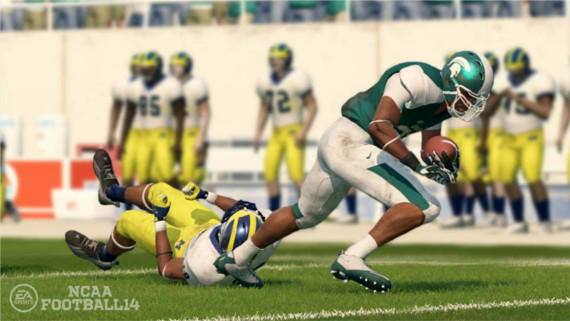 What I like about NCAA Football 2014 is also what I dislike about it.  Some of the features change but overall the look and feel of the game stay the same.  While the new option plays were added this year and are a nice touch most of the other plays stayed the same.  Someone who hasn't played the game in 2 or 3 years could pick this game up and be competitive.  Since I don't have as much time to play video games anymore, this is a nice for me.  However, I was able to use the same plays I did 3 years ago with pretty much the same success rate.     Gameplay Screenshots: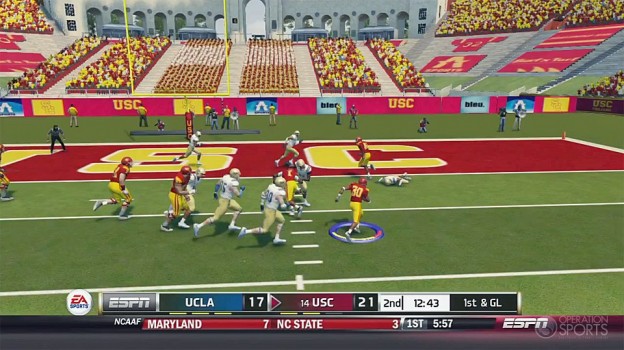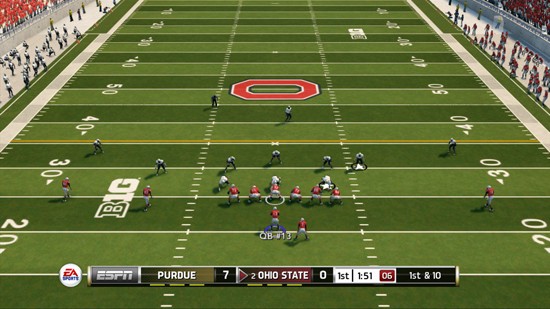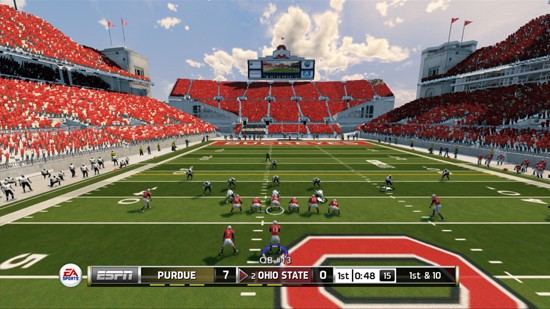 Dynasty Mode: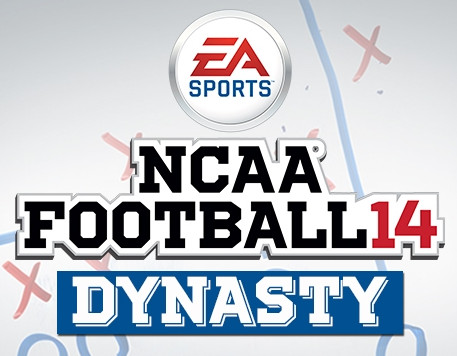 (9.0 out of 10) Needless to say this is a complete and total time suck.  Which is what I love about it! When I first got my copy I went down into the man cave and spent 6 uninterrupted hours building my dynasty.  With the new addition of Coach Skill points you get the option of starting at 1 point or as high as 20 points.  Coach skill points allow you to build your head coach's game management and recruiting skills.  You also build your offensive and defensive coordinators skills. I started out as a 4 and went with Western Michigan (I am an alumni) to build my dynasty from the ground up.  While getting coach skill points is not terribly hard, it does get harder as you accumulate as the amount of points needed to increase your skill level keeps getting higher and higher.  After putting in over 30 hours on the dynasty I am still only at a 30 for my coach.  You get points through game stats, career stats, accomplishments and recruiting.  You have the option to start your career as either an offensive or defensive coordinator, but I did not see much point in that.  I did not enjoy that you could start off at any school you wanted as a head coach and with up to 20 coach skill points.  To me, this takes out some of the work you needed to put in to achieve success.  If you want to go to a school like Alabama I think you should only be allowed to be a coordinator and then get head coaching opportunities from there.  Instead you can oust Nick Saban and take over the best team in the game.  Also, say you want to start from the bottom and work your way up, you can edit your rosters at any point to make your players 99's at their position.  Again, you are only cheating yourself if you do this but I thought it was more fun when you had to actually work your way up.  You also have the option to take your dynasty online and the team builder feature also returns this year.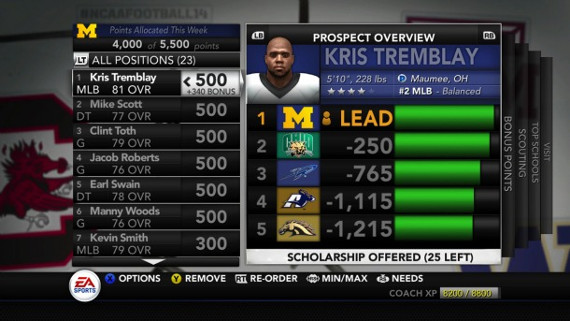 The recruiting portion in dynasty also saw some changes this year.  I think it has taken on a more simplistic approach by assigning points to recruits on how hard you will recruit them for that week.  You can see how many points you trail by and if you can make up the difference.  After 4 seasons at WMU and 3 BCS bowl victories and a National Championship, I still have trouble getting the SPARQ 100 top players to pay attention to me.  It took until my 4th year to be able to snag a 5 star recruit.  Recruits will not just fawn over your small school if you have one good year, which is a feature I liked.  Recruiting is a fun aspect of the game but I would like to see more of a story-telling mode to it.   
Online & Nike Skills Trainer: 
(9.0 out of 10) Online mode is not an area where I spend a lot of time due to the fact that I get creamed when I play.  However, with the online dynasty mode it was interesting to build up your program and compete against others.  If you are going to do the online dynasty mode I recommend you really spend some time in the Nike Skills Trainer section.  This is where you can really hone your craft skills on the minor details.  For example, they introduced the stumble recovery and here is where you can practice and learn how to do it perfectly.  When I tried to use the new option plays I wasn't able to pitch the ball as the controls had changed.  I went into the Nike Skills and was able to hone my craft and now am much more versed in the nuances of the option offense.  Nike Skills Trainer is the section to go to if you want to be the master of NCAA Football 2014 because of all the little things you can learn and then if you can apply them in game play will really make your dangerous.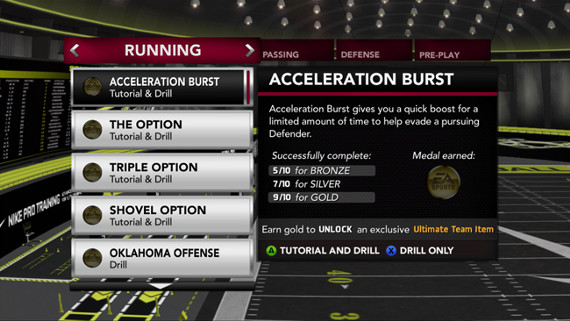 The Bottom Line:
NCAA Football from EA Sports has been a part of my life for over 20 years now.  I will continue to play the game year in and year out and the reasons are more than just I like college football.  The game play is great and anyone at any skill level can jump in and play.  As the years pass, I would like to see more of a story-telling mode.  There were basically no enhancements to the Road to Glory mode and that used to be one of my favorite parts.  The graphics are improving and so is the game play but I have still yet to see that revolutionary shift in game play.  Overall, I was extremely pleased with NCAA Football 2014 but I still want to be surprised one year.  I want to put the game on and be shocked at the differences.  I have enjoyed the changes and updates this year but am ready for the next step.  This is a fun game and will surely satisfy all you NCAA football fans out there.  Good Luck!   Buy Now: $59.99 or go to EASports.com   UPDATE: The NCAA has announced that it will not renew its contract with EA Sports. Rabid collegiate football fans fear not, EA Sports claims that the series will continue to live, just under a different name.