For us 'Masters Week' is the annual official sign that spring has sprung. It also kicks off the 1st of four golf majors for the year. All the action begins this Thursday and continues through Sunday evening. If you're anything like us you have a full time job, weekend plans, obligations, chores and simply LOVE The Masters! It can be difficult to fit everything into your busy schedule and still never miss a minute of the action.
Over the past several years we've turned to Masters.com to watch all the early round action LIVE and follow the digital leader board while we play on twitter and snapchat work diligently bringing you the finest product reviews on the internet. This works fine and dandy when you're in front for your laptop, but what about when you're on the run, grabbing groceries, mowing the lawn or attending that dreaded couples baby shower?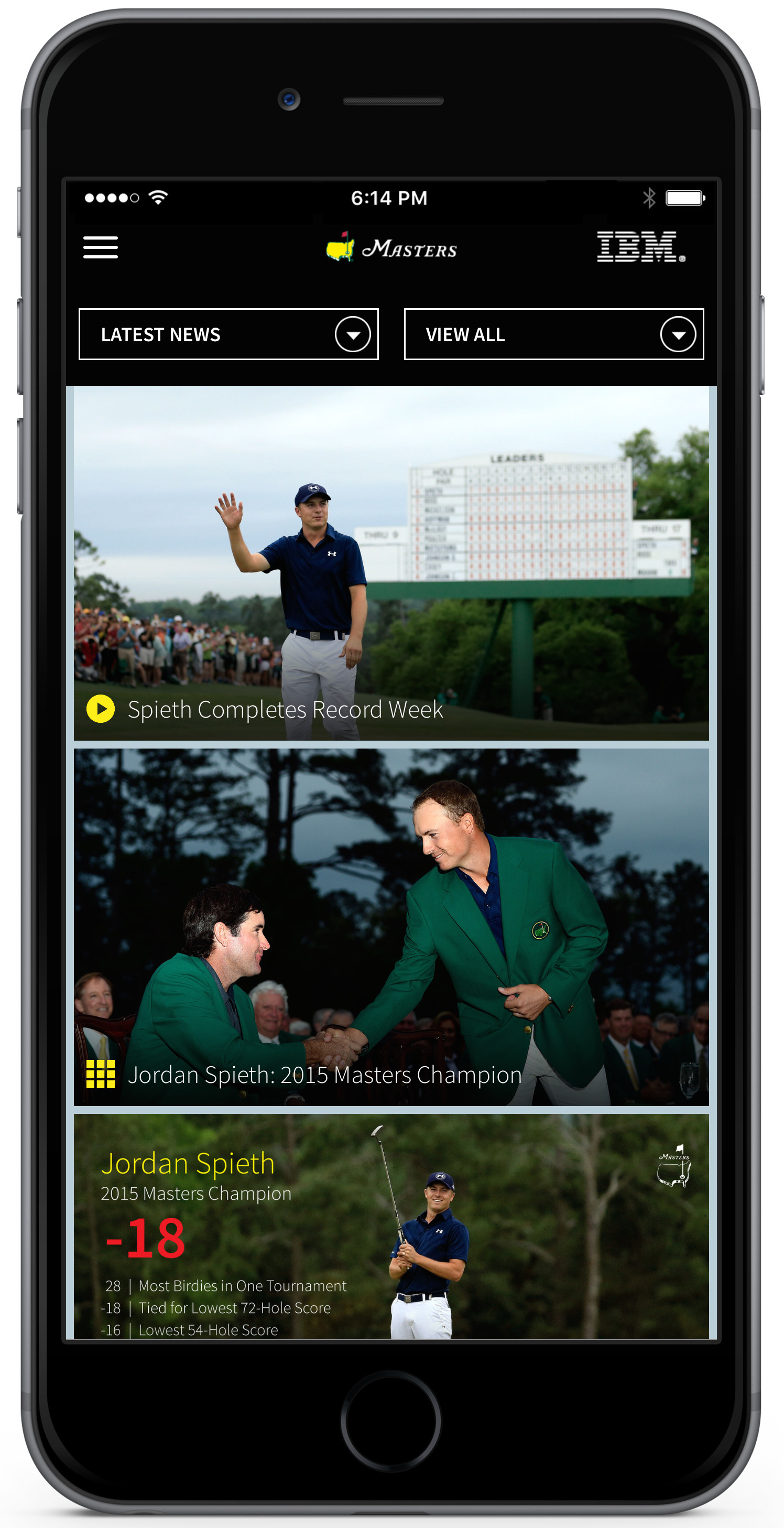 Well my friends, buckle-up! Because The Masters App developed by IBM is here and this year it is offering a slew of new features to keep you updated on everything happening at Augusta. As always the The Masters App allows you to stream action live from The Masters, scroll though the digital leader board, check out tee times and even discover detailed info about every hole on the course. Those are the features we've grown to know and love over the years, these are features we use the most, however this year IBM upped their game and developed some interesting new features that caught our eye…
New Features:
Smart watch compatibility (Apple Watch / Android Wear)
Real-time Track to follow shot distance and ball positioning
Virtual reality experience on Android devices
Universal favoriting to follow your favorite player on the course
Enhanced live stream video
If you've used The Masters App in the past you'll be very familiar with he user interface. It is simple to navigate and handsomely designed. As long as you have Wifi or a signal for 4G you'll be able to keep up with the action.
Make no mistake we'll still be watching our fair share of the tournament on TV, but the App is a truly wonderful companion for keeping tabs on players who don't necessarily get much airtime and even watch golfers warming up on the driving range. For most of the weekend we'll be glued to the digital leader board.
As we've been tinkering with the app during pre-round coverage it has been very useful getting us up to date on all the news surrounding the tournament. The App makes it easy to look up past highlights, current press conferences with your favorite golfers and find news on the weather conditions and hole locations.
As the action started on today we were finally able to see how powerful this App really is. One of our favorite features is real-time track, which allows you to to follow shot distance and ball positioning. Pro Tip: track Dustin Johnson, Jordan Spieth and Bubba Watson. Their drives and long irons will make you feel like a girly man.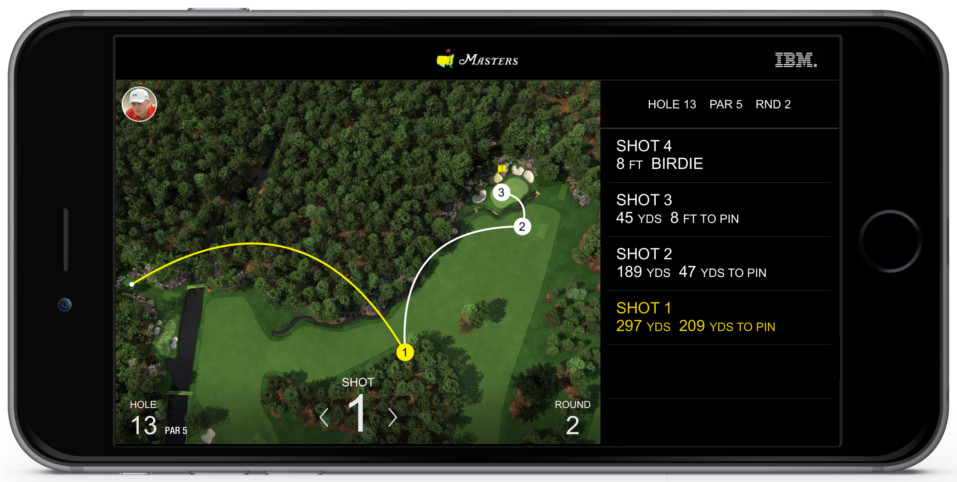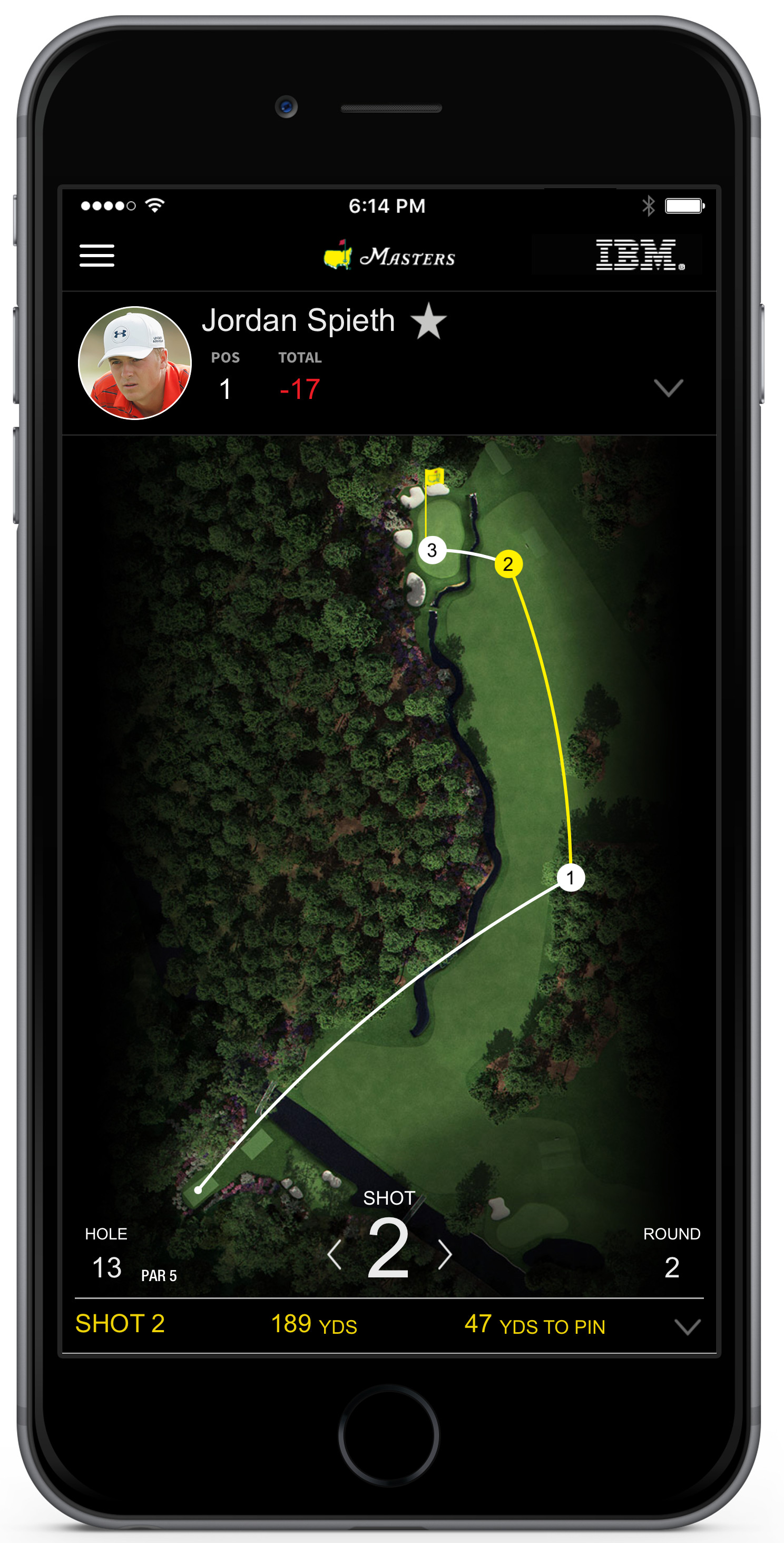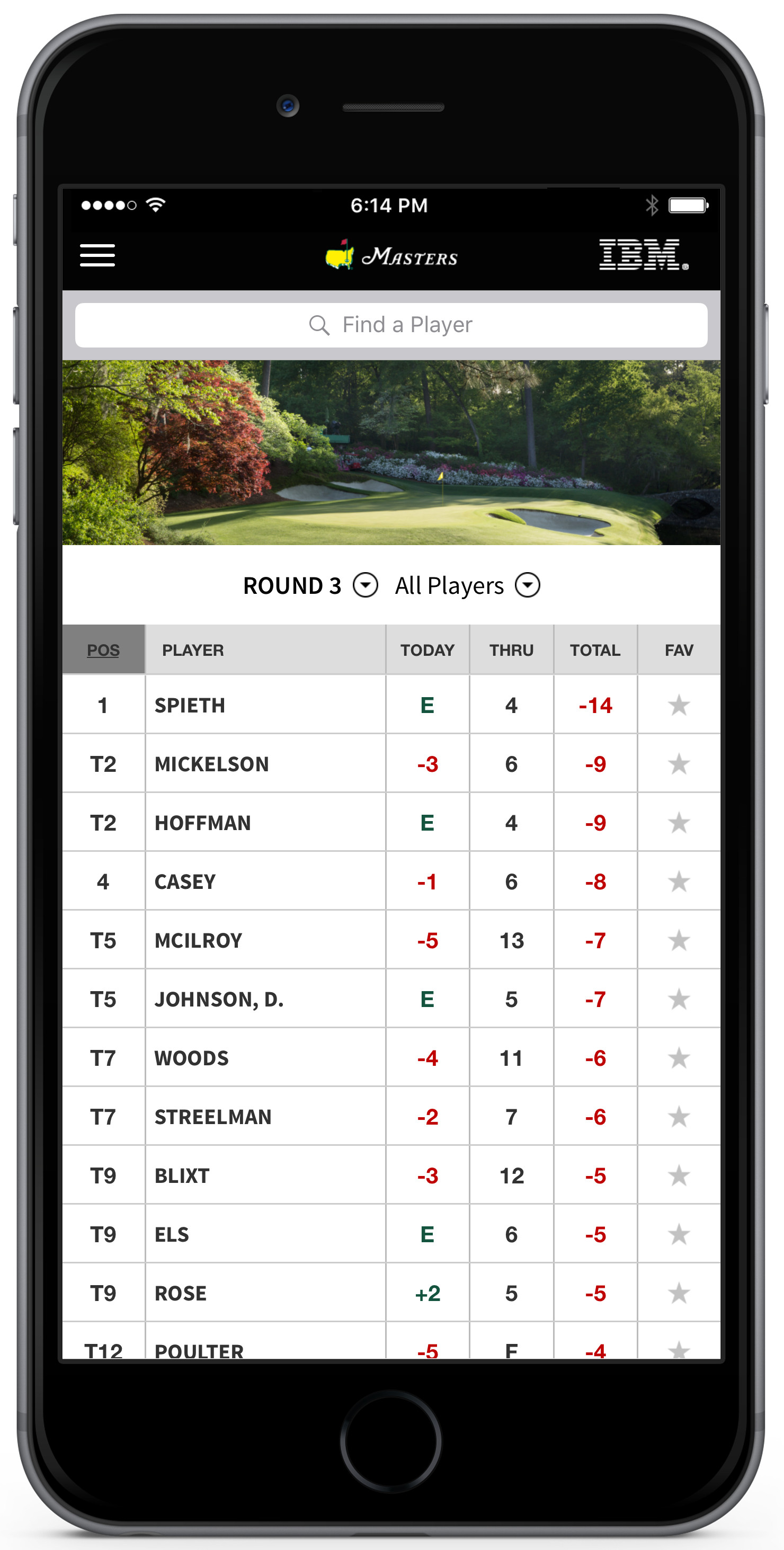 Another new feature that is really quite genius is the "favoriting system." Open the App and go into the "Player" section, and then choose your favorite golfers by selecting the star next to their name. Now whenever Ricky Fowler makes a birdie or Phil Mickelson drains a 20 footer for eagle you'll get a notification. Right now we've got a list of favorites that include Jordan Spieth, Phil Mickelson, Rory McIlroy, Bubba Watson, Tom Watson, Jason Day and Dustin Johnson. This feature is really nice if you're on a fantasy golf league and are keeping tabs on your players throughout the week.
Overall this is a really great App if you're serious about The Masters. We really enjoy the ability to stream the live feed from anywhere, quickly check the leader board indiscriminately and track our favorite players as they plot their way around amen corner.
If you're a busy person who wants to stay tuned in to absolutly eveything that is happening at this year's Masters we suggest your go to the app store and begin downloading now. Hell, Rory McIlroy tees off at 2:01 PM (EST) what are you waiting for?
Get it Now: (iPhone / Android)
The Masters App: Your Mobile Leader Board
Keeping up with every minute of the action at The Masters couldn't be easier. Whether you're in front of the TV or not, the Master App by IBM is the perfect tournament companion
The Good:
Quick loading
Excellent video quality
Tons of options and features
The Not so Good:
We didn't know about this app sooner!