Johnnie Walker Platinum - Drink of the Week
Introduced to the United States in August of 2013, Johnnie Walker Platinum, an 18-year-old blended Scotch whisky has stepped-in to fill the space left vacant by Johnnie Walker Gold Label, which said its goodbyes in early 2013 before quickly being replace by "Gold Reserve" a new non-age-specific blend. Platinum over Gold? That sounds like an easy choice if we're just talking about precious metals, but what's the idea behind replacing an 18 year old scotch (which gold label was) with another 18 year old scotch? Based on the bottle redesign, price hike and glamorous packaging of Johnnie Walker Platinum, I'd have to say marketing… but could that be all?
In the interest of sipping expensive scotch discovering what this new variation from Johnnie Walker has in store for scotch lovers we teamed up with our good friends from Scotland to properly taste and review Johnnie Walker Platinum in the comfort of the Busted Wallet tasting room. But before we get too far into the review – lets kick back with some facts and info about Platinum Label.
Touted by its makers for delivering both depth and complexity, Johnnie Walker Platinum is crafted from single malt and grain whiskies, each matured for a minimum of eighteen years. When asked to describe their newest label here's how they like to put it – "Johnnie Walker Platinum Label is a complex, delicate, smoky blend harboring deep layers of flavor that perfectly balance the diverse character of the distilleries from which it came and the wooden casks in which it has rested." Well, when you put it like that, this stuff sounds absolutely delicious!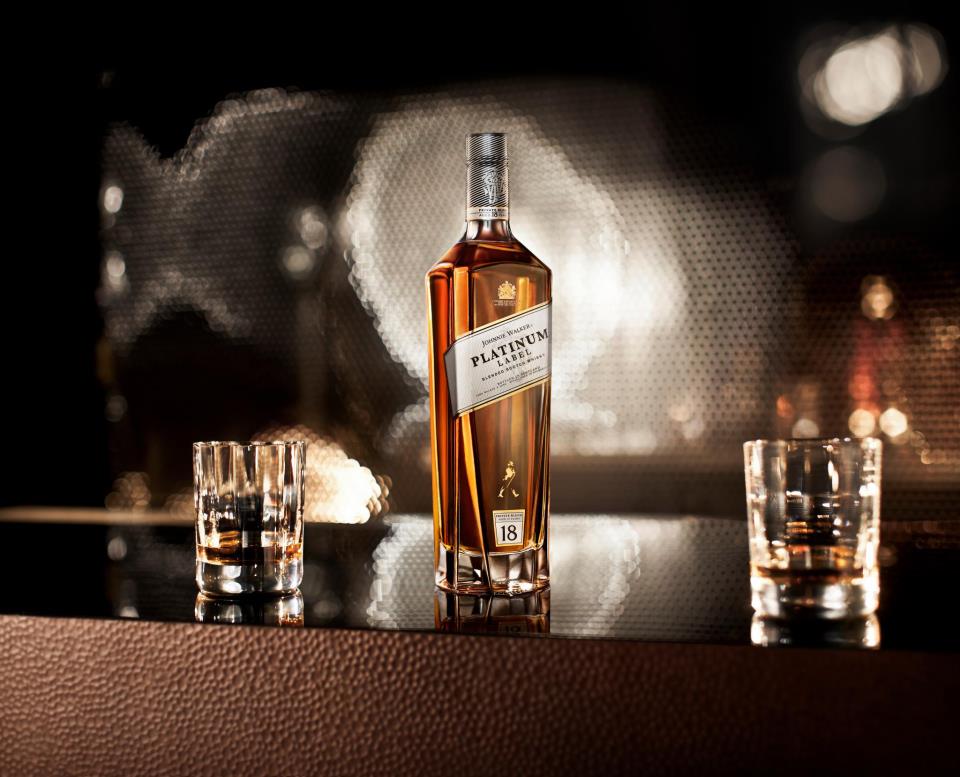 And if that's not enough to get your taste buds in a frenzy, you should also know that Johnnie Walker Platinum is drawn from a limited number of casks, carefully chosen and retained throughout their maturation because of their exceptional character.
Understanding that you can't go much higher than platinum, the folks at Johnnie Walker and their distributor Diageo are really excited about the possibilities for this new label.
"Johnnie Walker Platinum Label is the brand's biggest product launch since the introduction of Blue Label, It has been received extremely well globally.  The quality of the liquid and the flavor of the whisky will continue to bolster our position as the world's leading Scotch whisky brand." -Brian Radics, Director of Scotch Whisky, Diageo
Now that we've covered what it is, how it's made and why Platinum Label is such an important launch for Johnnie Walker, lets now get to the meat and potatoes of this review. By now you've got to be wondering what it tastes like and if it can live up to the hype of Platinum status. Well, I think we can answer that for you…
Johnnie Walker Platinum Review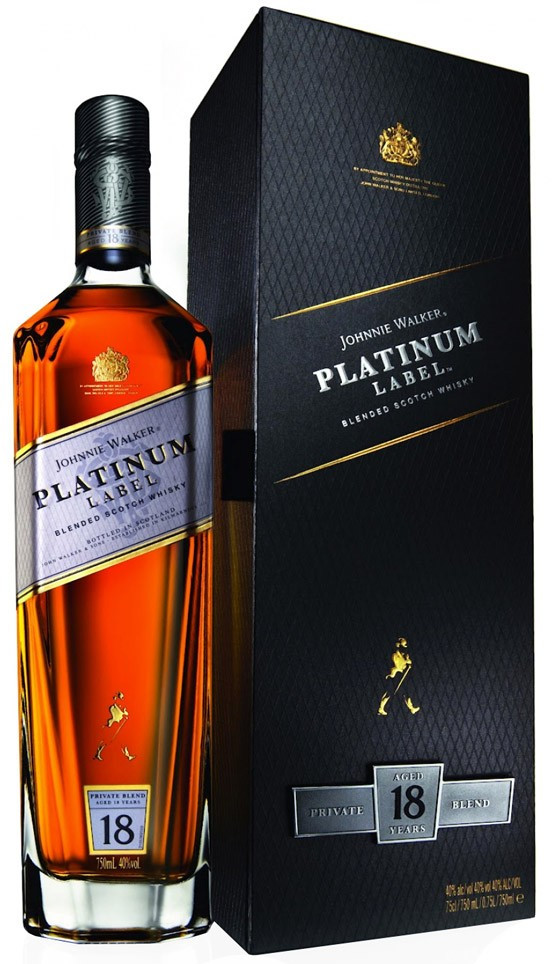 Proof: 80 (40% ABV)
Age: 18 years – Blended
Appearance: Amber
Nose: Citrus, dried fruit, light smokiness
Flavors: Caramel, sherry, smoke and fruity tones
Price: $110.00 USD (750ml.)
Scoring an 8.1 out of 10, Johnnie Walker Platinum is an absolute knock-out visually. Everything about the packaging screams DRINK ME!, but unfortunately at the end of the day, the scotch within lacked the complexities and punch we were hoping. If priced at $80 – $90, I think we'd be singing a slightly different tune. But as it is, we left the tasting table wishing for something more bold and rich from this 18 yr blend. Now don't get us wrong, overall we certainly still enjoyed Platinum for what it is… a rather light scotch with a sweet profile and very pleasant finish that lingers just right. We actually found it to be a very welcoming scotch overall – great for novices… with deep pockets. With Platinum you can expect a distinct scotch that is unmistakably Johnnie Walker top to bottom. Something fans of the brand can appreciate. We found it to be best served with a touch of water and best enjoyed with your feet kicked up by the fire.
MIX IT UP… "H2OMG"
Ingredients: 3 oz. Johnnie Walker Platinum, 1 oz. water (distilled or filtered, whichever you prefer)

Directions: Scotch + Water. The equation is simple!