Recently, the team at JBL Professional (a Harman company) announced the EON208P, a portable PA system that has been developed to make incredible sound accessible to small bands, solo artists, pubs, clubs, schools, meetings, and everything else under the sun.  The JBL EON208P builds on the legacy of its predecessor, the JBL EON206P, with Bluetooth streaming, 8" speakers, an integrated 8-channel mixer that is designed to give you top quality sound but with the versatility to put together a killer performance.  The EON208P was built with easy portability in mind as the lightweight system is contained in a durable suitcase-style enclosure. We recently received this bad boy at the Busted Wallet HQ and we handed it off to our musicians and our event staff to put the system through a variety of situations and tests to see how she performed.  Here's our full breakdown…
Tech Specs:
System Type Portable 2-way full-range loudspeakers with powered mixer
Maximum SPL Output 121 dB peak
AC Input 100-120 V, 220-240 V 50/60 Hz
Amp Design Class D
System Power Rating 300 W (2x 150 W stereo)
Phantom Power CH1 and CH2 have phantom power control and share the same selection switch
Hi-Z Selection CH3 has a Hi-Z selection switch used for guitar signal input
Subwoofer Out: 1/4″ balanced TRS jack
Treble/Bass EQ Per-channel high- and low-shelf filters; +/- 12dB cut and boost
System Limiter On-board DSP limiting
Speaker Grille Powder-coated perforated steel
Net Weight 38.8 lbs (17.6 kg)
JBL EON208P Portable Sound System Review Breakdown
Design:
This may be one of the toughest sections we have had to fill out because where do we begin?  The EON208P is designed to be a multi-functional unit that works for DJ's, musicians, events, and vocalists.  One of the great things about the JBL system is how portable it is and easy to get around. The twin 8" speakers and 8-channel mixer lock together to form the most compact, lightweight and portable PA in its class. You can easily carry it in one hand with a guitar slung over your shoulder to play coffee shops and medium-sized gigs. When all packed together the case weighs about 40 pounds. Behind the mixer, there is some nice storage for all the cords and microphone allowing you to easily store everything in the device itself.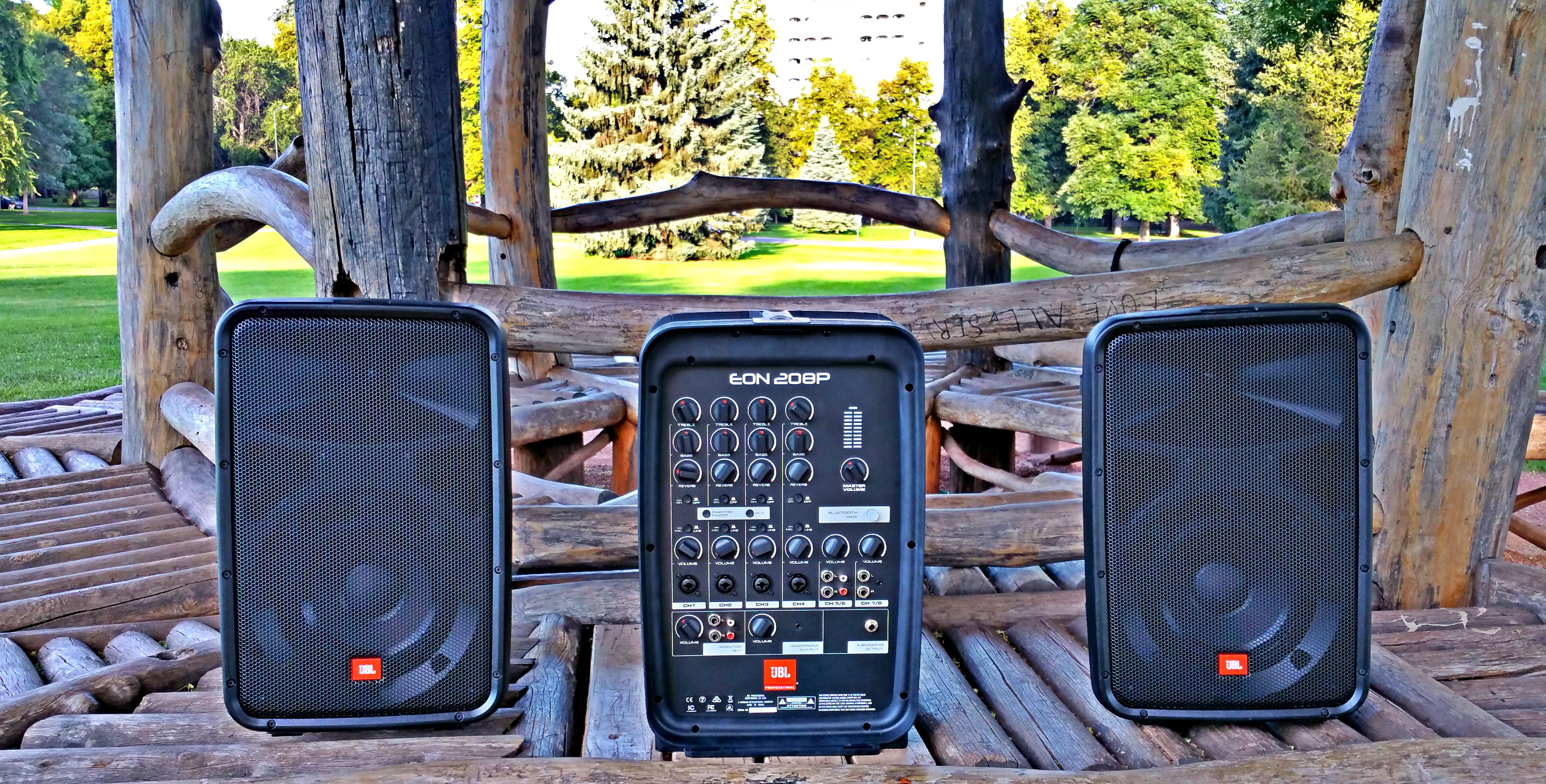 The EON208P comes Bluetooth enabled so it allows you to stream audio from your mobile devices. Now you can DJ a party right from the dance floor, or play pre-recorded material for your meeting, all via your Bluetooth enabled device.  The meat and potatoes from the EON208P comes from the 8-channel detachable mixer that gives you great flexibility in how you set up your gig or event. The 8-channel detachable mixer provides professional connections for mics, instruments and line-level sources which is designed to be easily set up so you can simply connect your mics, instruments, and other sound sources and start performing right away.  We have included a picture of the mixer (below) and control panel to show you the variety of options.  While it may look complex at first, the system can be easily tuned so that you find the right mix for the right space that you are working with.  Overall, this system is designed to deliver phenomenal audio quality and increased versatility.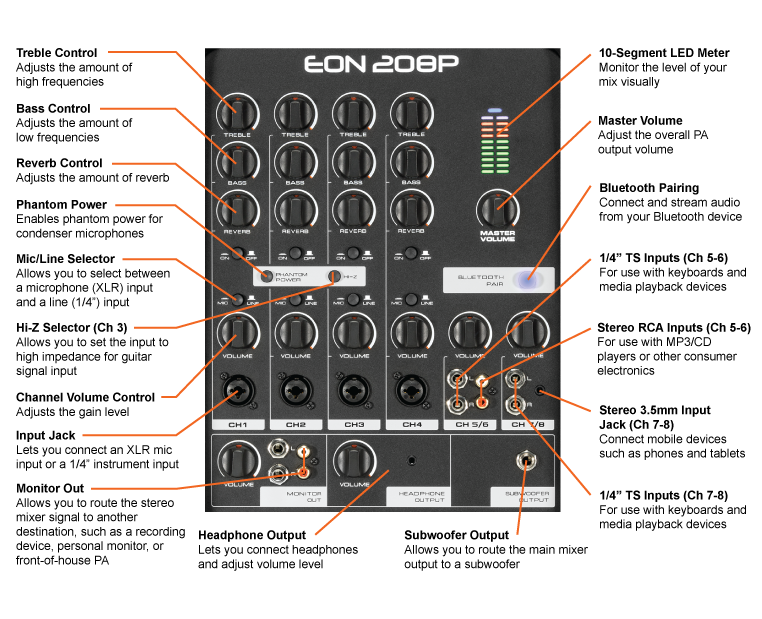 Sound Quality / Functionality:
Amazing. Ridiculous. Jaw-dropping.  If you take anything from this review, let those words resonate with you.  The sound quality is some of the best we have heard from any device we have reviewed. With 300 watts of power coming from the twin 8″ speakers you expect it to be loud but the crispness, crystal clear sound that follows is really quite impressive.  Just for fun we took this to a large park in the Denver metro area and turned it up as loud as it could go and we could hear music from across the park; longer than two football fields away.  So if you have any doubts about this system filling up your next gig, don't.  The system can get as high as 121 dB but you will rarely need to get that high.
For the mixer, channels 1-4 can accept either a ¼-inch instrument cable or an XLR cable—and feature volume, reverb, treble and bass controls—making them perfect for DJs, singers and instrumentalists, and presenters. Additionally, channels 1-3 allow for both phantom power and Hi-Z input, enabling you to directly connect guitars, as well as mics and other devices that require phantom power.  Channels 5 and 6 can accept either a stereo pair of ¼-inch TRS plugs or stereo RCA cables, making them ideal for keyboards and media playback devices. Channels 7 and 8 accept a stereo 3.5mm input for mobile devices such as phones and tablets. Lastly, users can connect  The JBL EON208P also offers a very accommodating output section, allowing separate channels to run monitors, headphones and a subwoofer channel simultaneously.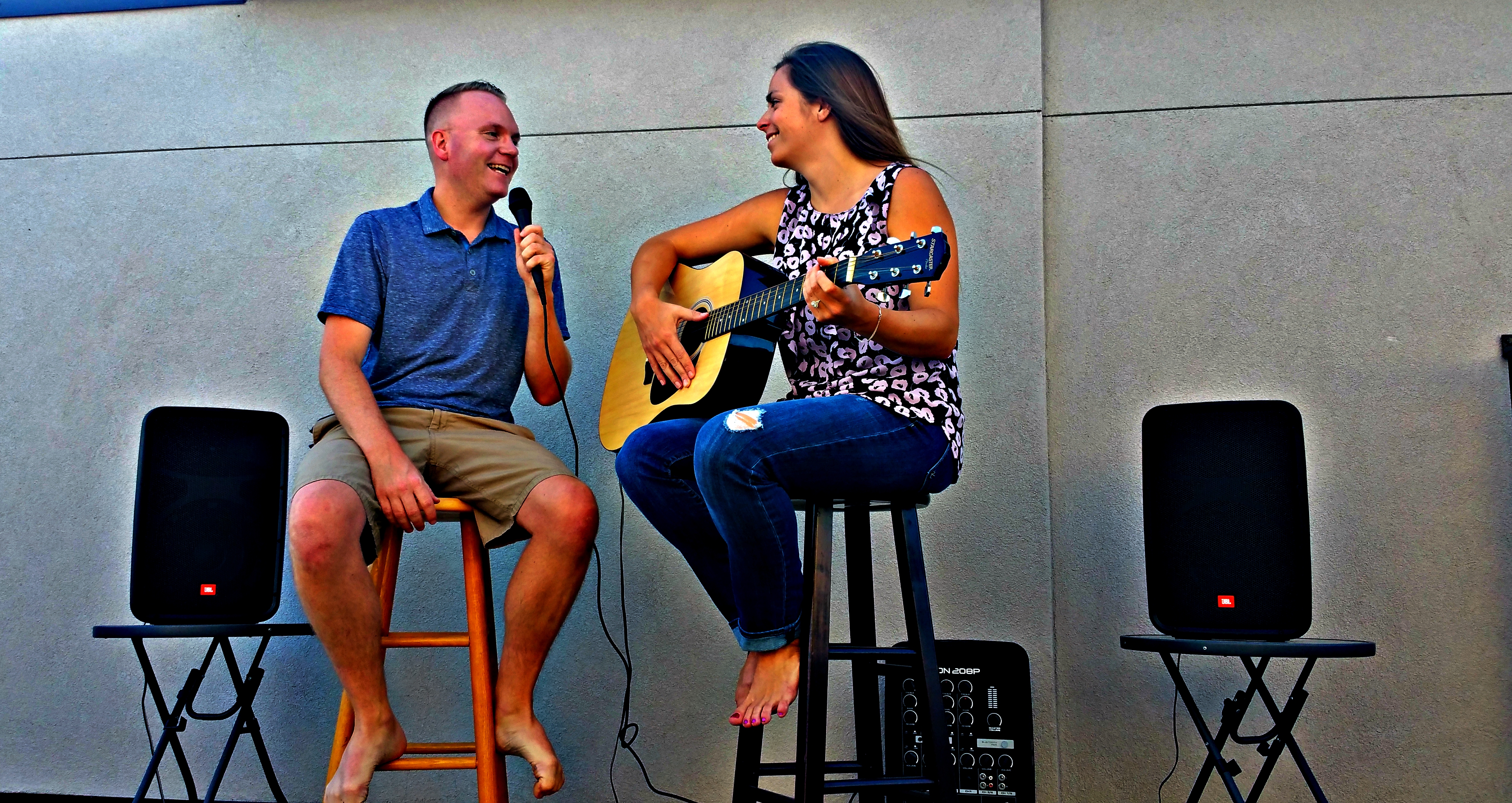 Bluetooth:
One of the surprising aspects of this setup was the ability to connect via Bluetooth.  While you can also connect your phone or tablet through the 3.5mm input, it was nice to have the ability to Bluetooth connect and control the music remotely.  For example, if you are working a gig and are taking a set break it is nice to not have to be glued to the stage and could change songs or volume levels remotely.  We got about 50-75ft on average for the Bluetooth range before things got spotty.  If you are throwing a karaoke event then the Bluetooth feature is a great feature to have.  It is very easy to connect to and get the music going as well.  Overall, it was a nice addition to an already impressive system.
Value:
Priced at $699 the JBL EON208P may be a bit a sticker shock to some, but if you are a small band or solo artist looking for a system to fill up your next gig then the system offers great value.  Additionally, if you are looking for a good PA system for church events, school meetings, club meetings or need a great sound system for your business then the system also offers a lot of value.  Simply put, the JBL EON208P can be used in a variety of ways.  We used the system for a wedding rehearsal dinner that was at a brewery warehouse with over 100 people in it.  The system filled the warehouse, offered crystal clear sound and allowed the group to do speeches and then get the party started with some great music after dinner.  Do you need this system for your next backyard bbq? No, but it would be really freaking awesome if you did.  Compared to other systems in its class, you can't go wrong with the EON208P.
Buy Now: $699 or to learn more go to: JBLPro.com
JBL EON208P Portable Sound System - Tech Review
JBL is a brand that has over 65 years of experience in audio and with the EON208P you can trust that your music is in good hands. With a robust design and the 8-channel mixer, you will have no problem finding perfect acoustics regardless of the event.
Sound Quality/Fuctionality
9.9
The Good
8- Channel mixer allows you to fine tune the sound and offers a variety of options
Sound quality is excellent- Loud, clear and has that extra Bass if you need it
Easy to carry system allowing you to go from show to show with ease
The Not so Good:
Price point will be high for some