Jameson Caskmates - Drink of the Week
Triple distilled and once "stouted," Jameson Caskmates was conceived in 2013 over drinks at a local neighborhood pub in County Cork, Ireland. The origins of this unique whiskey aren't shrouded in mystery nor kept secret from the public eye. No sir, Caskmates was crafted using a simple formula, one that was created by two longtime friends, Dave Quinn, Master of Whiskey Science at Jameson Distillery and Shane Long, Head Brewer at local Irish micro-brewery Franciscan Well.
As the story goes, Shane wanted to borrow Jameson barrels to see what aging could do for his stout. Dave agreed, and once the barrels were shipped back to Jameson Dave decided it would be worth a shot to age some whiskey in the same barrels. The experiment ended with surprisingly tasty results, and as you can tell, was worth bottling. Now Caskmates has made it's way to select liquor store shelves and (as luck would have it) to the Busted Wallet tasting table.
That's right, recently we assembled our tasting panel of whiskey fiends to taste, test and review this unique new offering from one of our favorite Irish distillers. How did it rank? Well, here's what we discovered…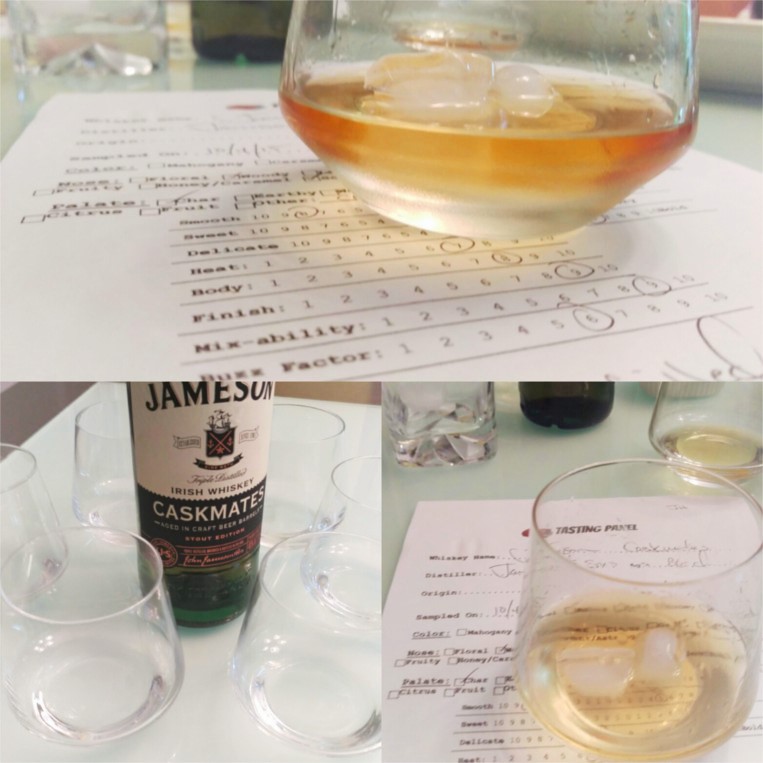 Jameson Caskmates Review Breakdown
Proof: 80 (40% ABV)
Age: Blended – rested in stout barrels for 5 months
Appearance: Golden/honey
Nose: Woody, Citrus, Smoke, Honey and Caramel
Flavors: Toffee, wood, char, caramel, hits of hopps
Price: $29.00 USD (750ml.)
We were really impressed with Jameson's "Stout Edition" Caskmates. Our tasting panel found it to be overwhelmingly smooth, delivering satisfyingly sweet overtones, light body and a medium amount of heat.
On the nose we enjoyed notes of wood, citrus and smoke as well as caramel and honey. I don't know exactly what we had expected, but the sniff test left us a little underwhelmed. To most of our tasting panel, this was just another Jameson Whiskey – nothing out of the ordinary. Don't get me wrong, that is by no means a bad thing, I guess we were just expecting more beer/stout/hop notes on the nose, but alas nothing really stood out that we don't normally expect from traditional Jameson Irish Whiskey.
When tasted neat, Caskmates is surprisingly welcoming. Not too bold and nothing close to delicate, the balance of this whiskey is really nice. While drinking it neat we didn't experience much of the stout barrel aging on the palate. It was only when we added ice to the whiskey that we really noticed the subtle complexities of this spirit.
On the rocks is by far the best way to enjoy Caskmates. When you add some ice or even whiskey stones the whiskey transforms. On ice the whiskey opens up and allows the stout and hop flavors to release.
Overall, we would highly recommend Caskmates to any Irish whiskey fan. It is not as abrasive as traditional Jameson and proved to be a smooth relaxing whiskey to sip.
Mix it up With… "Black & Gold"
Ingredients: 1.25 oz. Jameson Caskmates, 1 oz. Kahlua, 1 dash Angostura bitters.
Method: Build in a rocks glass over ice and stir gently. Garnish with a flamed orange twist. If you're flaming by hand, check for singed eyelashes
Buy Now: $29.99 or to learn more, go to: JamesonWhiskey.com