Built around an extreme passion for all things surfing, fishing and paddling – Howler Brothers apparel is crafted with functionality and attention to detail, while avoiding trendy or overly traditional ideas. Walking that fine line, Howler Bros. has come out with some fantastic products in the four short years since their launch. Not exactly familiar with Howler Bros, but know you've seen that logo somewhere before? It's probably because celebrities like Jimmy Kimmel and Will Ferrell are out and about quite often donning H-Bros. gear. And because that howler monkey logo is hard to mistake for anything else!
Recently we were given an opportunity to put together a collection of apparel to showcase from their Spring/Summer line. With a smorgasbord of apparel to pick and choose from we landed on 2 shirts, 2 shorts, a hat and a hoodie to round out our collection this summer.
Ok nerds, (yeah, i'm talkin' to you!) it's time you ditch the elastic band grandpa trunks and suit-up in something that feels good and actually looks good. Howler Bros. designed the Oracle to go anywhere and take on anything. Love to surf, swim, skim and build sand castles? Good, the Oracle's are built to handle it all… at the same time.
Known by many (or just me…) as the "Chuck Norris of boardshorts," the Oracle's are durable, handsome and deliver one hell of a roundhouse to anyone that steps out of line. In fact, when wearing the Oracle Boardshorts you can win a game of Connect Four in just three moves… yeah!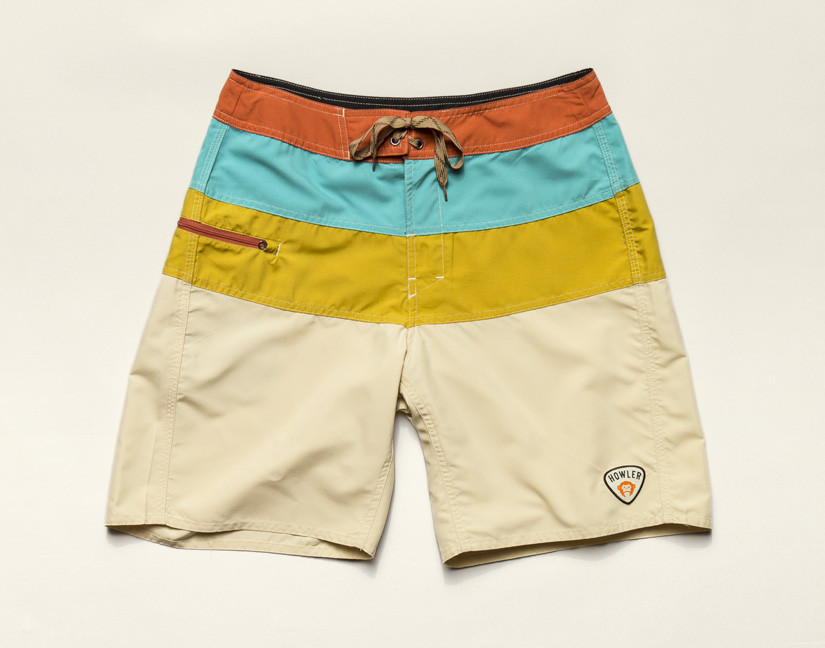 Key Features:
Drawstring closure
Quick drying polyester microfiber
Triple stitched side seams and rise
Velcro fly
Water resistant finish
Right leg zipper pocket 
Review Breakdown:
Comfort………….…..8
Design…………….….8.5
Durability……………9
Value……..………….8.5
Overall:  (34 out of 40) These board shorts are fantastic. They're lightweight and dry excessively fast. Not to mention, they look awesome in or out of the water. Now that Summer's ready to heat up i'm going to be living in these. The zippered side pocket is a great catchall for keys, phone, wallet etc… If you're in the market for some handsome boarshorts this summer you should really consider what Howler Bros. has to offer.
Howler Electric Mesh-Back Hat
Keeping your dome protected from the sun's beating rays or a bad hair day after some late night/early morning shenanigans is a must. If you're a pro like me, you always keep a trusty, yet fashionable hat near by for such occasions.
Introducing the Howler Electric Mesh-Back Hat designed to fit not too high and not too low, this fully adjustable cap is emblazoned with the Howler Bros. logo and some killer accent stitching. The vented back means your folicals can breath and you can stay cool and protected from the sun.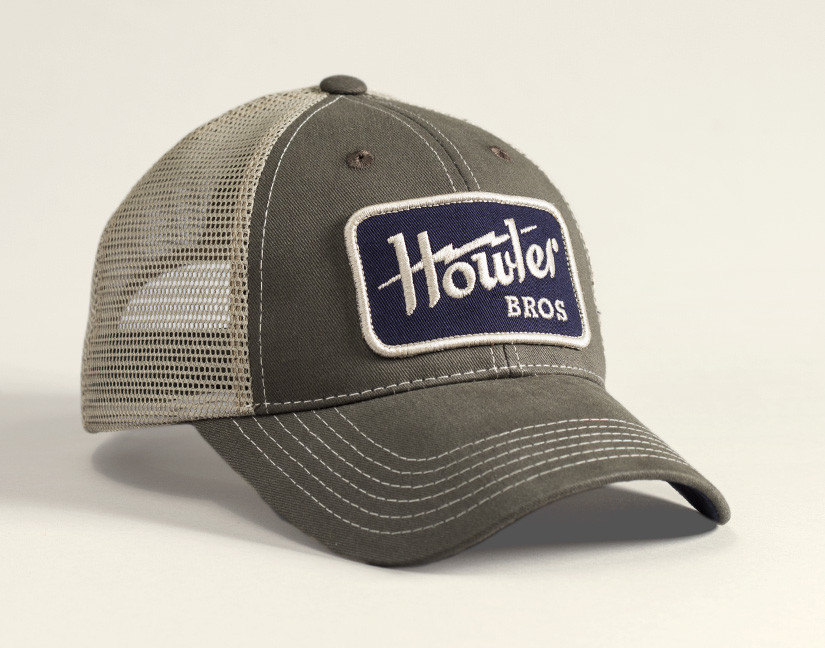 Key Features:
Fully adjustable hook and loop closure
Howler Electric Embroidered Patch
Howler Monkey icon tag at back left
Medium crown height
Navy under brim to reduce glare
Twill front panels
Review Breakdown:
Comfort………….…..9.5
Design…………….….9
Durability……………9.5
Value……..………….10
Overall:  (38 out of 40) Howler's hats are what you expect… solid stitching, durable materials and a fit that's plain comfy. If you're looking for a sturdy hat that will last and proudly show off your Howler Bros. pride, don't hesitate on this cap, we loved it!
Equipped with a handy welt pocket at left chest that is lined with sunglass cleaning microfiber, the Aransas short sleeve is prepared to handle nearly everything Summer can throw at it. It's poly-cotton blend is virtually wrinkle free and dries uber fast. Stylish details include colored stitching and embroidered howler monkey icon on the back center yoke.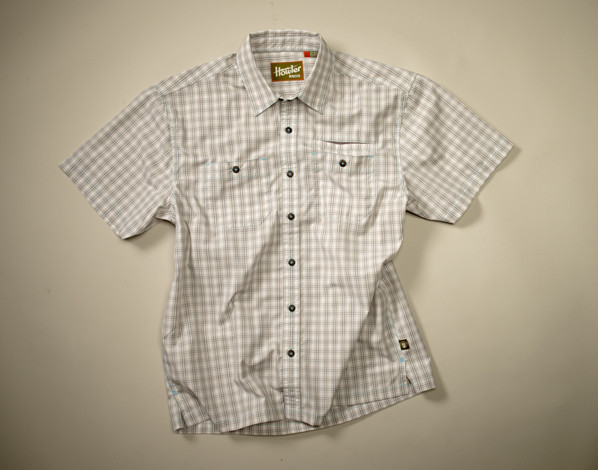 Key Features:
Button through pockets at chest
Coconut buttons
Contrast stitching
Howler monkey icon embroidery on back yoke
Monkey tag at side seam
Regular Fit
Sunglass-cleaning microfiber lined chest pocket
Woven polyester & cotton blend
Review Breakdown:
Comfort………….…..10
Design…………….….8
Durability……………9
Value……..………….8.5
Overall:  (35.5 out of 40) This is a great button-up for when you want to dress up without having to actually dress up at all. The build quality is great, with nice buttons, high quality stitching (a highlight of all Howler Bros. apparel) and a third pocket that's built for keeping your shades clean and protected. The Aransas is perfect on or off the beach. You can wear it just about anywhere, but from my experience functions best with a long island in-hand while saddled up to the bar at happy hour.
Also available in several other color patterns, including Twilight Check, Hill Country Plaid: Rocket, Green Hill Country Plaid, Hill Country Plaid: Manatee Gray, Privateer Blue, & Diplomat Tan.
If you've ever had to don school supplied gym clothes, this hoodie might look familiar (for better or for worse), but rest assured this one comes delivered free of sweat stains and terrible memories of dodge ball games that got a little to serious. The P.E. Hoodie from Howler Bros. is a instant classic.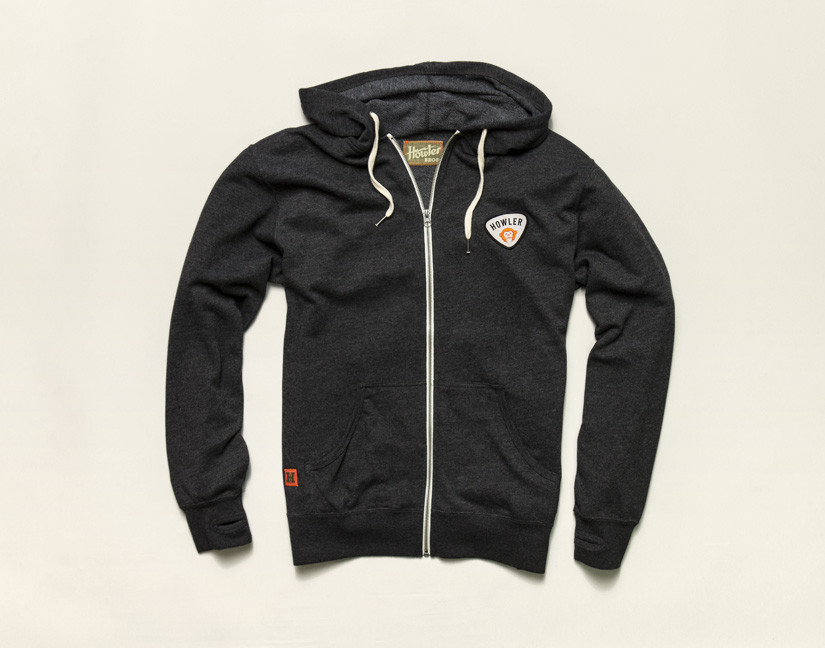 Key Features:
Contrast Zipper Tape
Cotton Polyester Blend
H-bolt patch at right pocket
Regular Fit
Thumbholes at cuffs
Twill Neck Tape
Review Breakdown:
Comfort………….…..9
Design…………….….8.5
Durability……………8
Value……..………….8
Overall:  (33.5 out of 40) I love me a good hoodie! And that's exactly what this is. The P.E. Hoodie is attractive and light weight. It's perfect for a cool Summer night on the beach. The zipper is heavy duty and the overall quality is what we've come to expect from Howler Bros.
I'm not going to say it's the best – most comfortable hoodie I've ever had, but that's just because I haven't even broken it in yet. And since i'm constantly wearing it, that won't take long to achieve.
Like the amphicar of the 60's, the Horizon Hybrid shorts are built for both land and water – walking the fine line between boardshorts and daily wear, they are the ideal Summer bottoms for anyone who spends their Summers around the lake, pool or beach.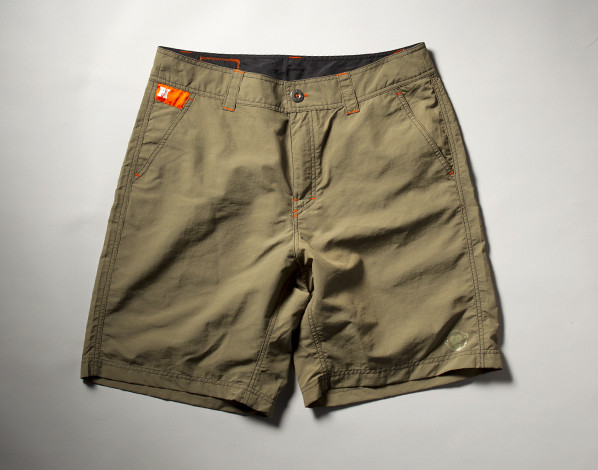 Key Features:
Button closure with zipper fly
Contoured self-lined waistband for optimal fit
Hem hits at knee
Howler classic label at back waistband
Monkey icon at lower left leg
Nylon mesh pocket bags at front for low drag in the water
Quick-drying nylon ripstop
Reinforced pliers pocket with drainage grommet
Zippered stash pocket at back right
Review Breakdown:
Comfort………….…..10
Design…………….….8
Durability……………9
Value……..………….8.5
Overall:  (35.5 out of 40) I fell in love with these shorts, you almost can't tell if they're boardshorts or regular shorts when you're wearing them. They absolutely feel like boardshorts because their light and airy, but you can easily wear them to the bar or restaurant without drawing attention. They also dry off surprisingly quick. So if you only have one pair of shorts and they happen to be the Horizon Hybrids and a pool party breaks out spontaneously – rest assured you'll be set!
Every summer collection deserves a comfy classic t-shirt and the Dual Howler fits the mold perfectly. With bold H-Bros logos covering the back and left chest, this tag-less tee fits the Summer lifestyle to a "T"… you see what I did there?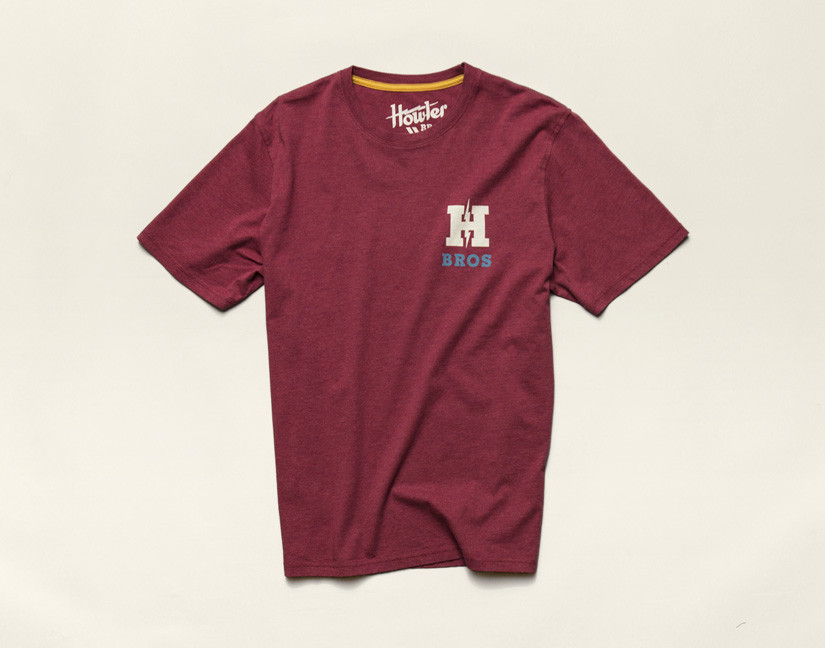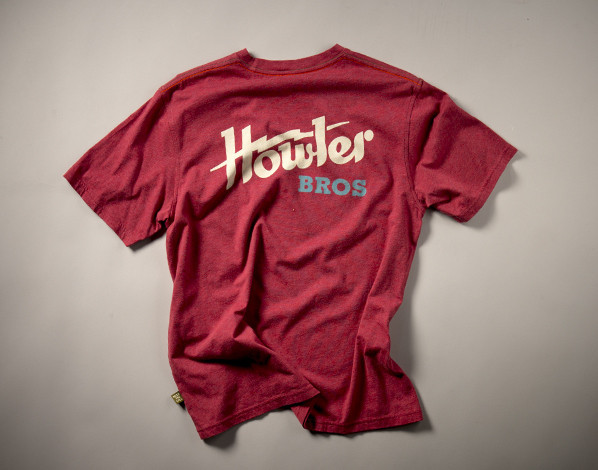 Key Features:
Contrast stitching at shoulder
Contrast taping
Monkey tag at side seam
Regular fit
Screen printed main label
Soft touch water-based screen print
Ultra soft ring spun cotton
Review Breakdown:
Comfort………….…..9
Design…………….….10
Durability……………8
Value……..………….8
Overall:  (35 out of 40) My last name starts with the letter "H" and I have a few brothers, so this shirt was a no brainier for me to pick out, but what I maybe didn't expect is how damn comfy this t-shirt really is. The soft ring spun cotton is awesome the first time you wear it and only gets softer as you break it in and wash it a few times. If you're into the Howler Bros. line and want to show some support this is a great t-shirt to grab some attention.