For too long I've needed a new gym bag – the one I was using was small, had only two storage compartments, and the pad on the shoulder strap had fallen off. Needless to say transitioning from that to the High Sierra Switch Blade was like transitioning from sleeping on a cement floor to a plush pillow top mattress! It is a medium sized bag that holds all I need for the gym (and then some), has a separate area for shoes (and is water resistant so will keep your other gear dry), four separate compartments, and is comfortable to carry. Whether you're going to the gym or heading to the mountain for a day of skiing/riding, this will carry what you need, keep it organized, and last.
Key Features:
Large top loading main compartment with U-shape zippered opening
Separate shoe compartment (can accommodate wet gear)
Separate compartment with headphone port
Mesh water bottle pocket
Vapel mesh handle wrap that wicks moisture
Adjustable shoulder strap with comfortable non-slip pad
Made of tough Grid-Weave Duralite, and 600-Denier Duralite Ripstop material
The bag comes in a ton of different colors and patterns, so it fits every taste – so as far as aesthetics go, this is a winner!
Additional color options: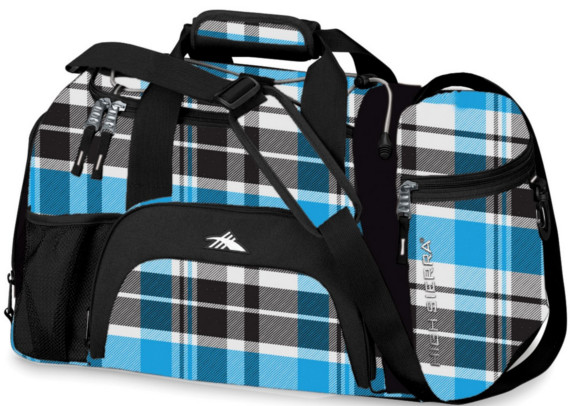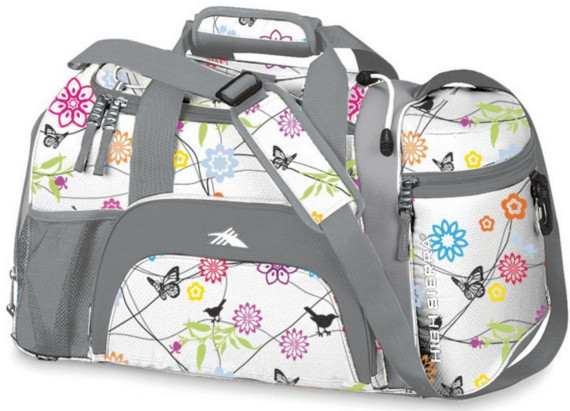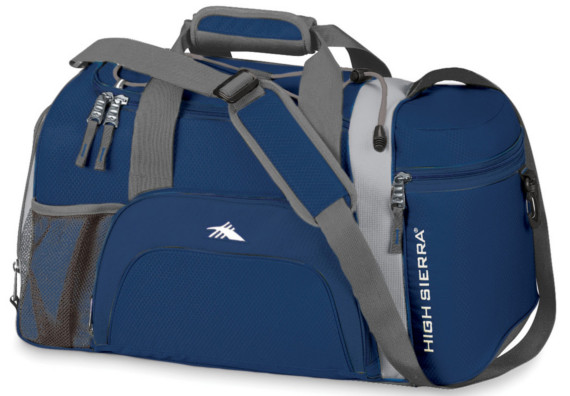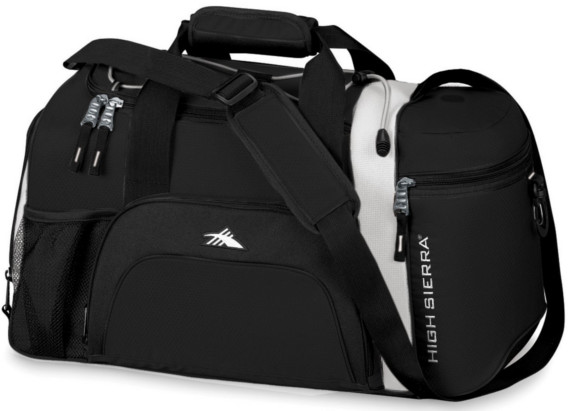 – Switch Blade Duffle Review –
Storage: 
(9 out of 10) The Switch Blade easily stores everything I need for daily gym use with room to spare. My daily gym gear consists of: gym shoes, two sets of workout clothes, towel, flip flops (no bare feet in the gym showers!), extra socks, long sleeve shirt, showering products, lotion, dry shampoo, MP3 player and wireless headphones, and printouts of a bunch of different workout plans. Once fully packed, the only compartment that is totally full is the end compartment with the MP3 pouch and headphone port – that is where I keep all of my shower and hair products. The main compartment could easily fit a LOT more than I have. There is also a shock cord on the top of the main compartment that can secure just about anything else that you may need – I personally found it to be a great spot to keep my wet gym towel, so that it's not against my clothes.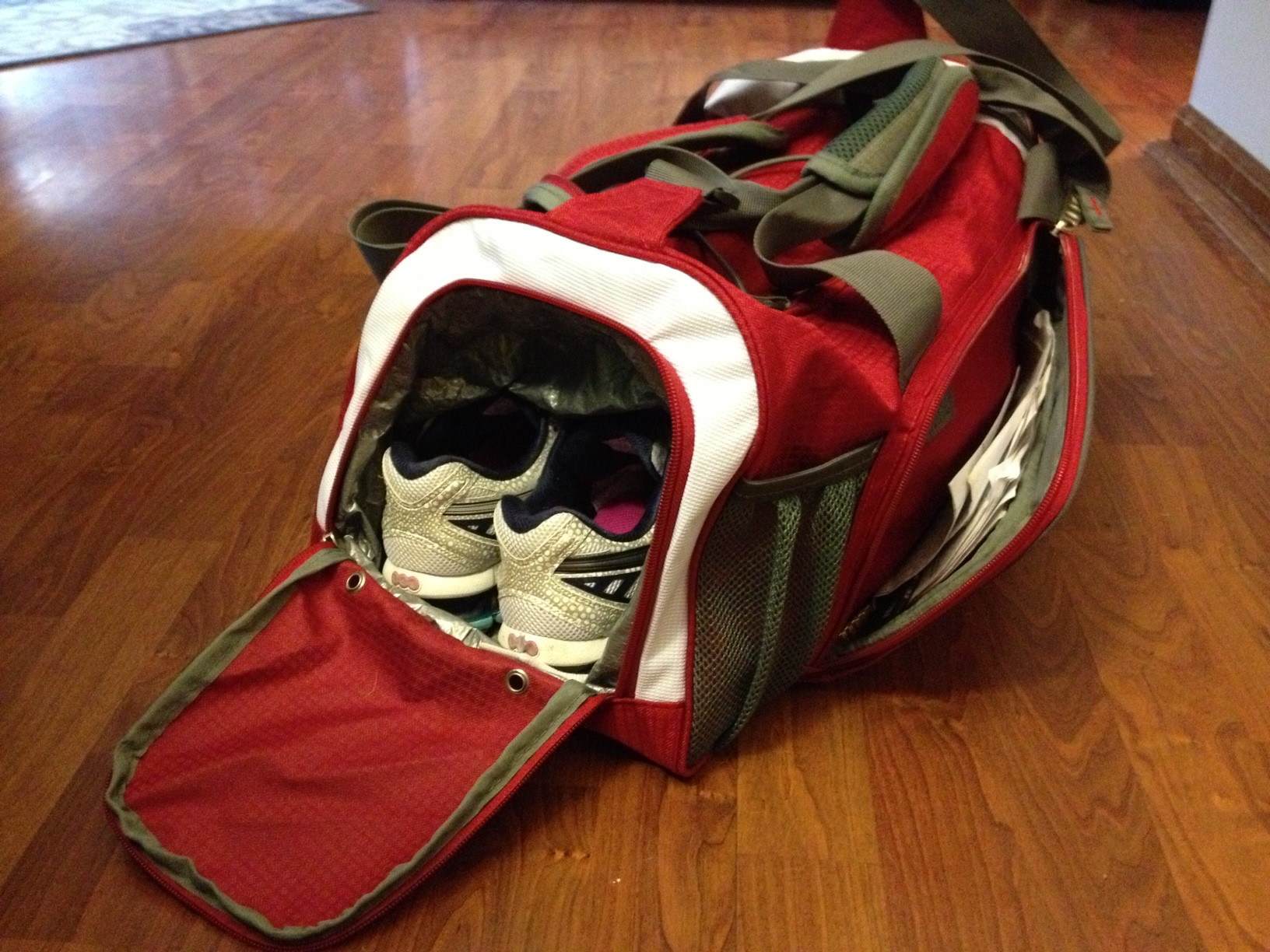 Comfort: 
(9 out of 10) The shoulder pad High Sierra outfitted the Switch Blade with is very comfortable and actually stays put on my shoulder. This is something I have traditionally had issues with, hands full and then the shoulder strap starts to slip – throughout testing this duffel I haven't had this issue at all. The main handle wrap is also equipped with a Vapel mesh wrap that wicks away hand moisture, and again has comfortable padding.  
Design: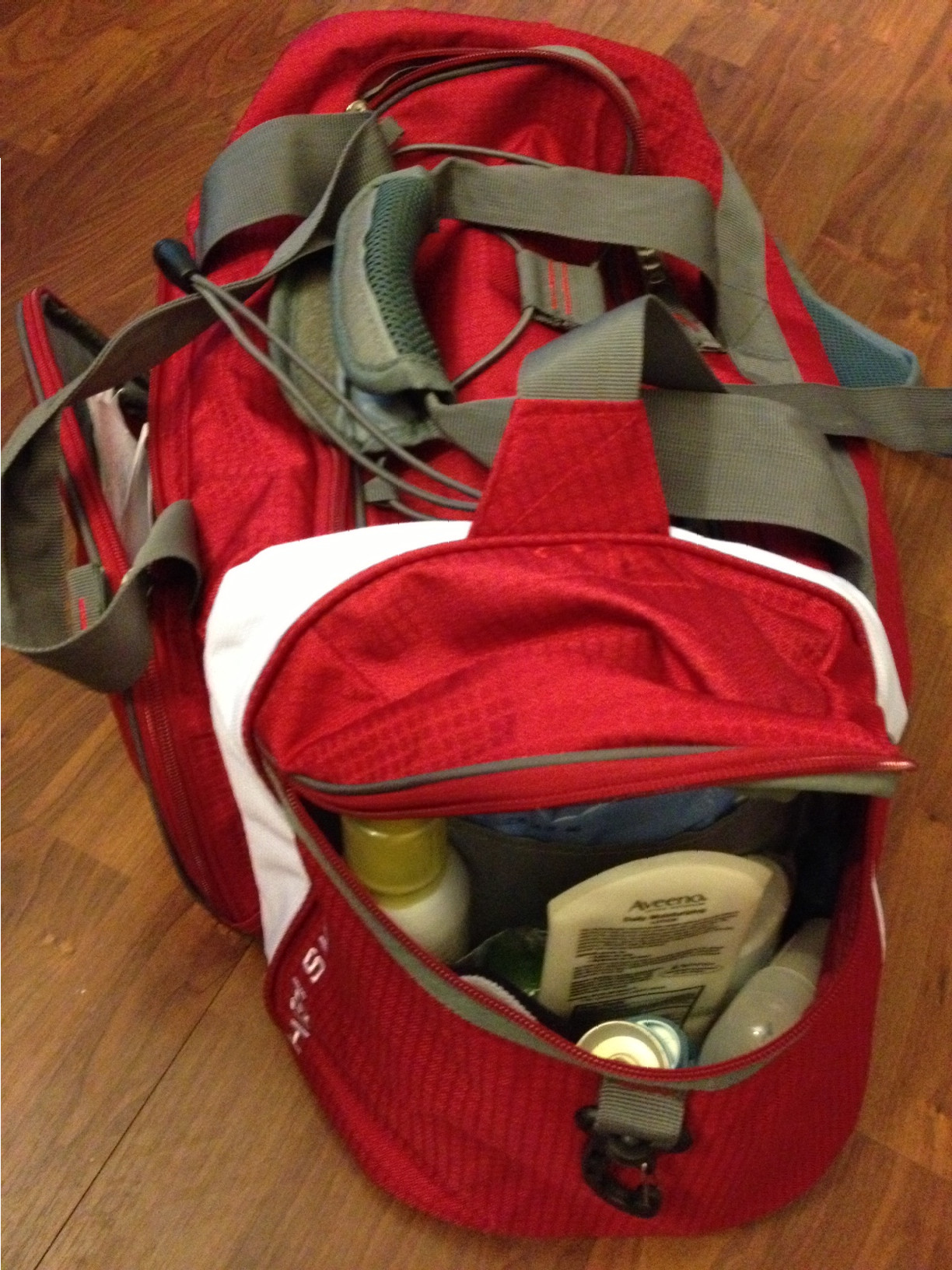 (8 out of 10) The main thing I looked for when scouting for gym bags to review was a separate storage area for my shoes. The shoe compartment on the Switch Blade Duffel is made of a material that is water resistant to keep the items in the main compartment dry. When not in use, it can be rolled up and secured to the side of the main compartment. The compartment on the opposite end has a separate storage area for a MP3 player with a headphone port and is deep enough to hold a bottle of dry shampoo (about the size of a medium can of hair spray). It did get a little bit cramped after I added all my shower stuff, hair stuff, lotion, etc., but I workout over lunch sometimes and require a lot of stuff so I can look presentable back at the office. The fourth compartment is a smaller, thin, zipper pocket on the side that I use to keep my printed out workout plans, and lock for a locker, and it's perfect for that use. The two improvements I would make in this is category would be to give a bit more room to the end "catch all" compartment, and give the MP3 pouch the same water resistant treatment as the shoe compartment.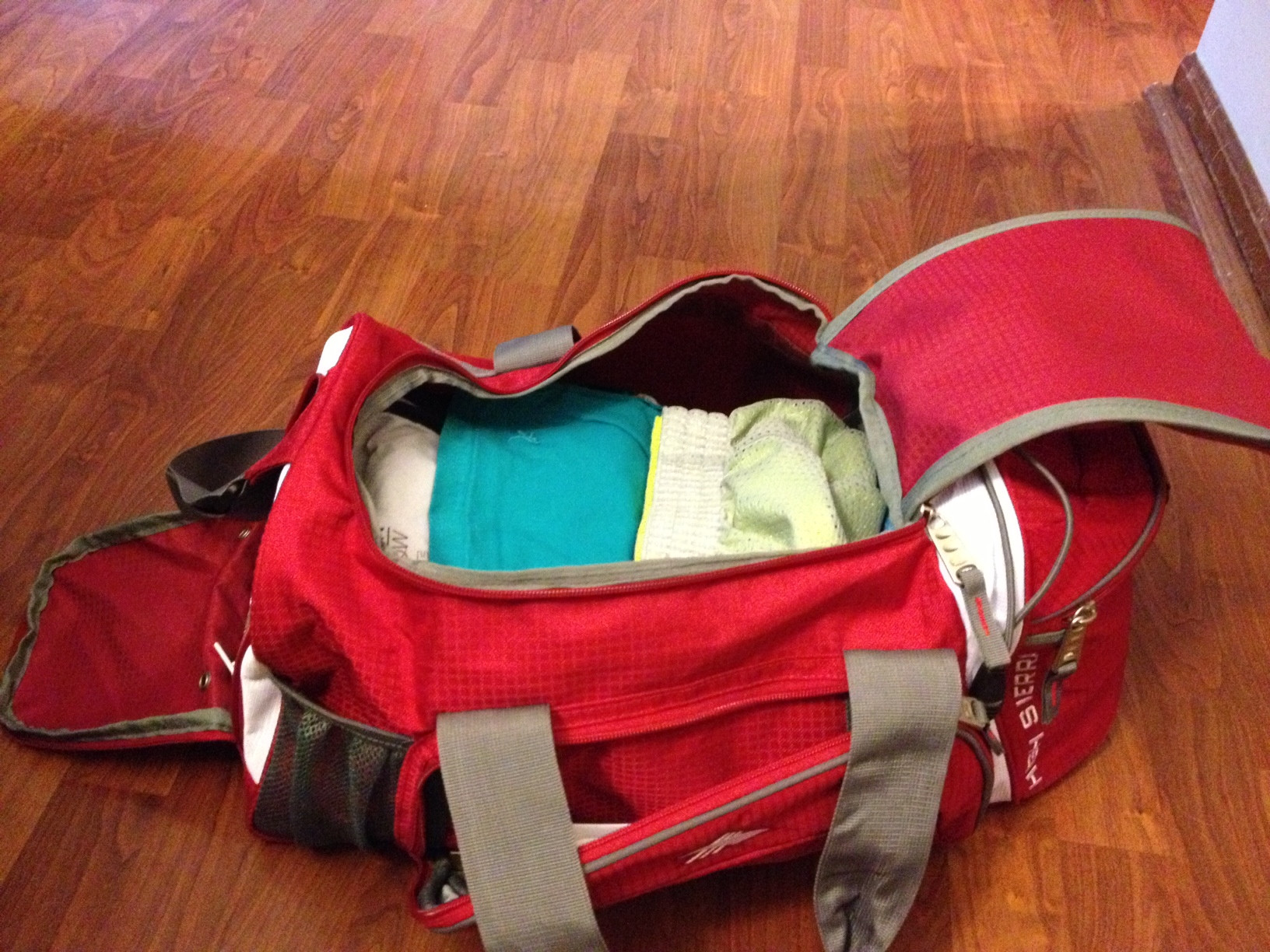 Accessibility: 
(10 out of 10) With this duffel you can listen to your MP3 player and easily grab your water bottle while on the go; the top U-shaped access to the main compartment is very user friendly. There is also a little clip on the outside end that I use to clip my car keys to – this is a very nice feature as I hate when I throw them in and then spend 10 minutes digging for them, and angrily throwing all my crap all over the gym only to find them my purse . . . !
Durability: 
(8 out of 10) The zippers seem very high quality and that they will stand the test of time. In addition, the material is 600-Denifer Duralite ripstop, so even if you do snag it on something it shouldn't completely unravel. The only part I am skeptical of, and this is something I really just can't test other than by use, is the shoulder strap and handle wrap – they are comfortable and have a honeycomb-like material. While these are comfortable, I have to wonder if over time they are going to rip, fray, or if the seams are going to come unraveled.
Value: 
(10 out of 10) I found prices online ranging from $25 – $70, and I would pay anywhere in that range – even the top end – for this bag. It's durable, has a sufficient amount of storage for use as a gym bag, and the multiple storage compartments serve my undiagnosed OCD very well.  
The Bottom Line

:
If you are looking for a way to store a bunch of gear in an organized fashion (or not – I'm not trying to tell you how to live), and look good while doing it, you need to check out the High Sierra Switch Blade. Perfect for daily gym use, or weekend trips, for the price this is a great buy!   Buy Now: $25.00 or go to: HighSierra.com