One of the worst parts about hitting the slopes is gearing up in uncomfortable goggles that continue to fog up and leave you constantly stopping to adjust and wipe your lens. If this describes your trips down the mountain the Blok Goggles by Giro could be the answer to your shredding woes. Engineered with a sleek retro-style design and triple foam technology, these goggles are comfortable and ventilated, to keep you going all day long.
Snow goggles are a familiar product for us here at Busted Wallet and we've tested a lot of them over the years! When Giro offered us the chance to test and review the Blok we jumped at the chance. As we did our research we leaned a few things that make these goggles unique. As we tested them on the slopes we learned even more. Now that we're in the heart of winter lets take a look at what these goggles have to offer…
Key Features:
Compatibility: Seamless Compatibility with all Giro helmets
Features: EXV – Expansion View Technology, Triple-layer face foam with micro-fleece facing, Anti-Fog coating
Fit: Large size adult EXV frame
Lens Type: Cylindrical Lenses by ZEISS
Giro Blok Goggles Review Break-down
Design/Style: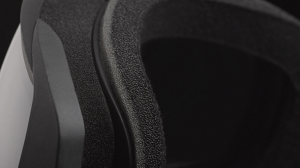 As you can see these are some awesome goggles that deliver some great features. The overall retro-style and shape make them a perfect fit with newer Giro Helmets. We tried them on with helmets from other brands, and they still worked well, but the best fit and design pairing is (of course) with a Giro Helmet. The all around triple face foam deign delivers some serious comfort and really contours to your face nicely. The sweet spot with these goggles is the new frame design, which gives them some of the best peripheral vision found in a goggle.
The lens features Giro's anti-fogging coating to ensure crystal clear vision and there was no disappointment there. We experienced minimal fogging compared to many goggles we have had in the past. Really the only time we noticed the lens fog up was after we finished a run and still had a face guard on. This is when we noticed minimal fogging at the bottom of the goggles. Other than that, it was crystal clear every run.  A really nice added feature is that the elastic strap is equipped with a grip strip to allow for maximum grip to your helmet preventing it from sliding off every time you lift your goggles off your eyes. Giro even offers 15 different color/style finishes.
Optics:
With lenses crafted by ZEISS you know you're getting high quality optics right out of the gate. The Blok definitely has a large selection of lenses to choose from (19 in-all) to suit your needs and style. From polarized lenses to full sun lenses to an overcast lens or even a lens suited for night riding. The one major downfall is that the Blok's lens is not easily interchangeable. Giro does offer a large selection of lenses that suit your needs though.  Even though it was designed for overcast conditions, we did find the lens that we tested (Grey Purple) to be fairly versatile with the changing conditions and found the optics to be good quality.

Ventilation:
Giro's triple face foam design delivers maximum ventilation and anti fogging. The super soft foam layer sandwiched in the middle not only allows for maximum contouring, but also is the key to excellent ventilation. You can feel the air pass through the ventilation as you are descending down the mountain. This is the same feature that also helps keep the goggles from fogging up. Pair the Blok with a Giro helmet and the front vents on the helmet line up with the top vents/foam on the goggles to make for even better ventilation.
Comfort:
Back to Giro's triple face foam one more time, this three-part system is the key to the comfort of these goggles. The plush foam outer-layer gives these goggles a super comfortable fit against your skin. The middle layer is soft and flexible so it provides the goggles an excellent contour to your face.

Value:
Bottom line… these goggles are great! They offer superior comfort, optimal ventilation and a huge field of view. As mentioned, the one downfall is that the goggle lens is difficult interchange. Giro does offer a wide selection of lenses and even though we tested one for overcast conditions, it worked well in both sun and at night. ZEISS knows what their doing and the lenses are pretty flexible in most conditions. In the end, we were very pleased with the performance, comfort, and style of these goggles.
Buy Now: $90 – $130 or to learn more, visit: Giro.com
Giro Blok Goggles - Gear Review
The Giro Blok is a trifecta of comfort, style, and technology. The triple face foam design provides optimal comfort. The anti-fog coating and impressive ventilation keeps these goggles crystal clear all day long. Not to mention these goggles deliver some of the best peripheral vision on the market.
The Good:
The triple face foam leaves these goggles contouring perfectly to your face while offering optimal comfort
The anti-fog coating keeps these lens clear all day long
EXV Expansion View Technology giving these goggles a maximum peripheral view possible
The not so Good:
The lens is difficult to swap out.
They are designed to be primarily compatible with the Giro Helmets the best and do not fit other helmets quite like the Giro helmets