Filth… A nemesis we've all had to face. Getting the best of it can be a grueling task with each ugly encounter, and no matter the strategy we choose there is no stopping it making more intrusions in our lives in the future. It doesn't have to be all that bad though! With the right tools, any job can be made faster and easier. We got ahold of the Dyson V8 Absolute cordless vacuum, and put up against some filthy projects of our own.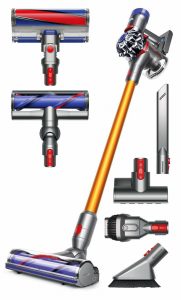 Key Features:
Cord-free. Hassle-free
Direct-drive cleaner head
Soft roller cleaner head
HEPA filtration
Powered by the Dyson digital motor V8
2 Tier Radial™ cyclones
Up to 40 minutes of powerful fade-free suction
Max power mode
Transforms to clean up high or to handheld
Hygienic dirt ejector
Convenient docking station
Specs:
Weight: 5.75 lbs
Max Suction Power: 115AW
Bin Volume: 0.14 gallons
Dimensions (HxWxD): 9.8 x 49 x 8.8 inches
Filtration: Washable lifetime filter
Dyson V8 Absolute Vacuum – Review Breakdown
Design:
First and foremost, the V8 Absolute is a cordless vacuum that runs on a re-chargable battery. The freedom of not being tethered to electrical outlets around the home combined with the simple conversion to a handheld unit makes this one of the most versatile and mobile vacuums on the market. However, with the good comes the bad, and without a cord to plug in during use, cleaning tasks are limited to up to 40 minutes before a re-charge is required. This vacuum is powered by the Dyson digital V8 motor, which is the largest and longest lasting of any of it's predecessors.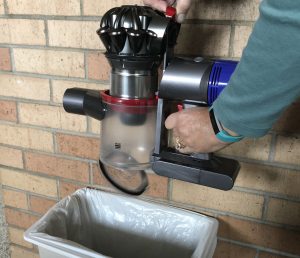 While that also has added a bit to the weight of the machine, we've found it to be quite well balanced and easy to manage. In addition, this is the quietest cordless vacuum Dyson has released yet, and with greater canister capacity.
The 2-tier radial cyclone motor provides all of the suction power and efficiency Dyson has become known for. The 15 cyclones within are arranged in a fashion to work in parallel, increasing the airflow that is required to pick up everything from heavy debris to fine dust.
Dyson has also improved the waste ejection system in this latest generation of vacuuming. With the simple pull of a tab accessible from the top of the unit, dirt is not only dropped, but it is forcefully jettisoned from the bottom of the canister directly into a trash container, leaving the canister clear to get right back into it's cleaning duties.
Clean:
The V8 Absolute comes with a slew of assorted attachments to optimize cleaning from one situation to the next. This includes one main direct drive cleaner head that works great on carpeted areas, a soft roller for hard floors, a mini-motorized tool to get into those tighter spaces or on furniture, a combination tool, crevice tool, and mini soft dusting brush.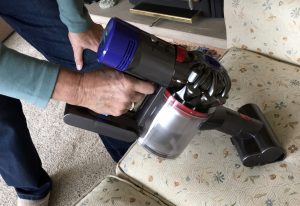 The extension tube can be removed or added with the click of a button to convert from a stand-up unit to hand-held in seconds. The roller tools also incorporate sectioned soft bristles designed to pick up all sizes of debris. All of this combined with one of Dyson's most efficient motors yet contributes to impeccable cleaning capabilities. As we've mentioned though, battery power is limited. Standard mode lasts a maximum of 40 minutes while using the non-motorized tools, and about 25 minutes with the motorized options. The home we've been testing in is pretty average in size, and we've been able to get through our usual cleaning tasks on a charge without too much of a problem.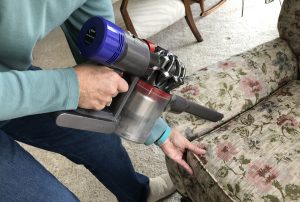 However, although the regular cleaning mode does more than a reasonable job, Dyson has set the V8 Absolute up with a Max power setting. This setting is beyond impressive, providing a substantial 115 air-watts of suction power, but you'll only get around a 7 minute battery life using it. We recommend playing it safe and keeping the Max power option in reserve if you have a lot of cleaning to get done.
On top of exemplary cleaning efficiency, there is a built in Hepa filtration unit that will keep the outgoing air even cleaner than nature intended. Trapping pet dander and mold spores inside rather than sending them back into the air, The V8 Absolute will not only keep your floors clean, it will make your breathing environment cleaner and healthier as well.
Stowing:
While not in use, the V8 Absolute will need time to re-charge. The total recharge time here is approximately 5 hours in total, so if you run out of juice in the middle of you cleaning tasks, be prepared for some waiting time to get back going. Regarding storage, there's a bit more to it here than just finding a reasonable closet space. The V8 Absolute comes with a docking station that works as a charger at the same time. The installation is incredibly easy, and only takes a few minutes with the electric drill.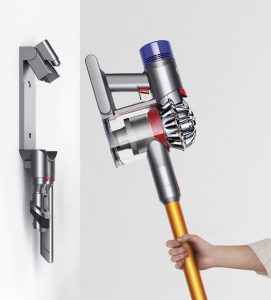 However, the space you choose will require 47.25″ of clearance below, wall studs for a bomb-proof installation, and access to a nearby outlet for charging. If your usual vacuum storage area doesn't have these things, you may need to re-think where you'll keep your V8 Absolute vacuum.
The docking station does have two small ports to keep some of the smaller attachments, but otherwise you'll need to find a place for the loose parts while charging, which can be a hassle. In addition, the V8 Absolute doesn't include any means to store the attachments while in use, so again, you might need to get creative. Luckily you're reading this article, because we came up with a life-hack that has solved all of these concerns during our cleaning experience…
BUSTED WALLET PRO TIP: Right alongside your docking station, install a coat hook where you can hang a backpack to hold all of the accessories. When it's time to start cleaning, grab the backpack and you'll have all of your cleaning gadgets readily available as they're needed along the way!
Portability:
As we've mentioned, the V8 Absolute vacuum can be converted into a handheld unit in seconds, and because it's a cordless system, it can go virtually anywhere with ease. We've been able to clean the house literally from top to bottom without the bother of finding outlets within reach of our cleaning areas. The V8 Absolute can get up into ceiling corners, under furniture, between the sofa cushions, and even out to the garage for some quick auto detailing if needed. It doesn't come with any sort of hose attachment though, so if you need to get into tight spaces where the canister/motor apparatus won't fit, you'll likely be a bit disapointed. Otherwise, when compared to the traditional standup home vacuum, this unit will clean just about everywhere you're used to and then some with remarkable ease!
Maintenance:
Because dirt and debris is stored in a canister, there are no bags that need to be purchased to keep the V8 Absolute vacuum operational. Dyson does recommend that both the dust filter and Hepa filter be cleaned once a month. Fortunately, both filters can be removed with easily in just a few seconds, and cleaning is as simple a running them under the tap and giving them a day to fully dry.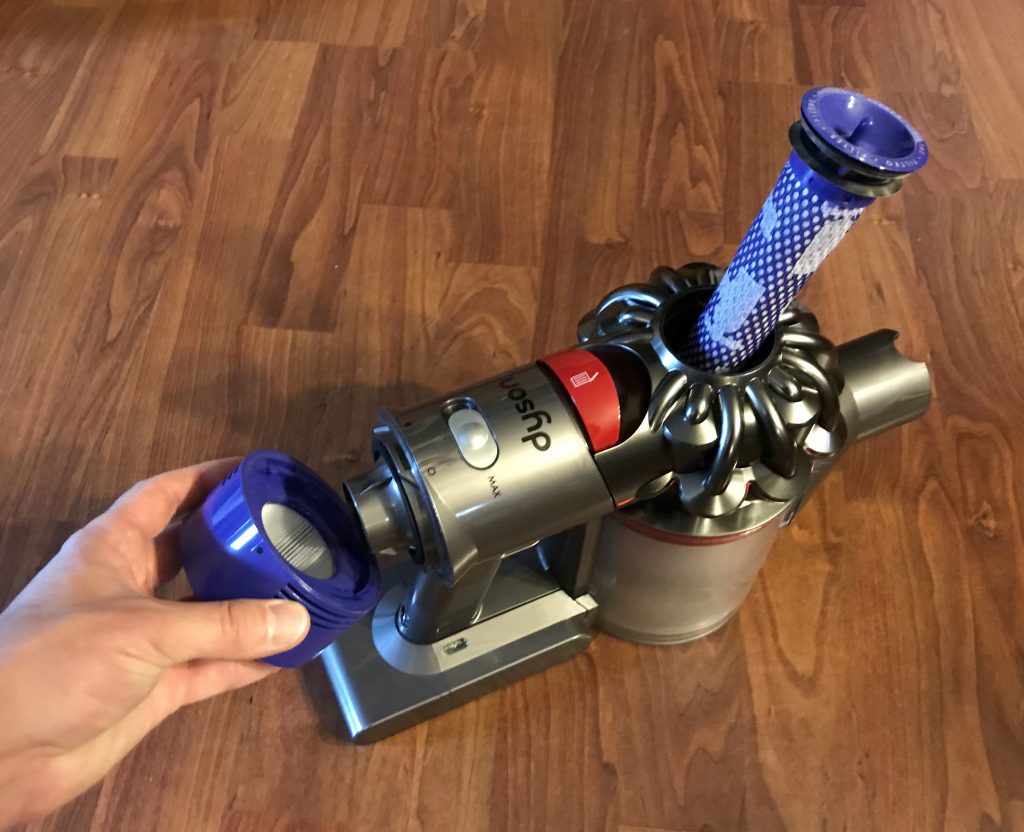 Should you find yourself in a predicament where there are long hairs wrapped around the soft rollers or fibers stuck within a cleaner head, these components are all engineered to be de-constructed with no need of special tools. Keeping this unit clean and working at its full potential is pretty much a no-brainer, no matter what issues you might stumble into.
Value:
While the asking price for the V8 Absolute vacuum is a bit more than one might typically expect for home cleaning unit, we could easily argue that it's abundance of practical features and incredible cleaning power make this one worth the bucks. After taking into account the 115 air-watt Max power mode, Hepa filtration for better air quality, the newly improved hygienic dirt release mechanism, and abundance of attachments for just about any cleaning scenario one might encounter, we really can't argue much with the cost of this product.
Buy Now: $599.99 or to learn more, check out: Dyson.com
Dyson V8 Absolute Vacuum - Tech Review
With its impressive cleaning power, excellent mobility, and range to clean just about any home surface with ease, we're thrilled to now be living in the cleanest of living environments we've ever experienced. The Dyson V8 Absolute cordless vacuum has certainly proven its worth to be one of our go-to solutions for home cleaning endeavors in the years to come!
The Good
Cordless Portability
Easy Assembly and Maintenance
Excellent Cleaning Power
The Not-So-Good
Limited Power / Long Charge Time
Storage May Be a Challenge