Utilizing a proprietary process that unlocks the long forgotten bourbon which has been trapped within their charred white oak barrels for 6 long years, Jim Beam is finally taking back what's theirs with a unique Kentucky straight bourbon whiskey they're calling Devil's Cut. Typically 30% of the 53 gallons that is aged in each barrel of Jim Beam bourbon is lost to evaporation or has simply soaked into the barrel walls themselves. In the industry this is called the "Angle's Share."  To create Jim Beam Devil's Cut, seventh-generation Master Distiller Fred Noe employs a "barrel sweating" technique to extract the lost bourbon from the barrel staves. The result is said to showcases notes of wood, oak and vanilla derived from the barrel wood.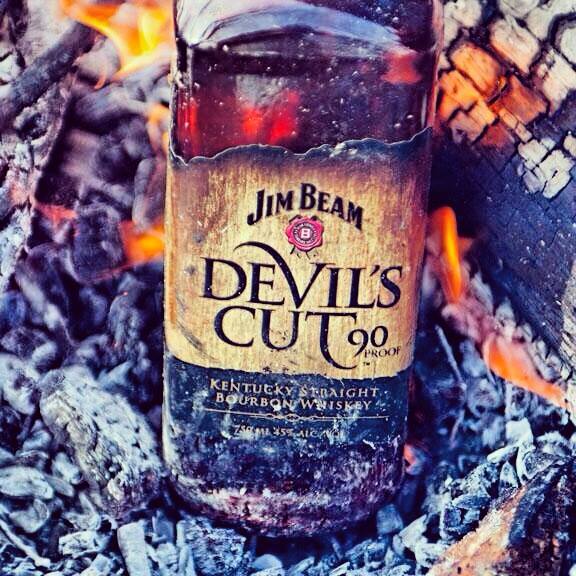 The barrel is the soul of any bourbon – it always has been, with Devil's Cut, we're breaking new ground by unleashing that trapped bourbon from the barrel and giving people a chance to really experience that bold flavor in a way that they never have before. -Fred Noe
Recently Fred and the boys at the Jim Beam distillery in Frankfort, Kentucky asked us to give their devilish new bourbon a whirl and share the results with you. Being the ridiculous avid whiskey addicts fans that we are we'd sell our souls to… well, you know who for such and opportunity, but decided getting together with a few complementary samples at the tasting table would probably be the smarter choice. So with out further adieu… here we go, hold on to your horns!
Jim Beam Devil's Cut Review Breadown

Proof: 90 (45% ABV)
Age: 6 years
Nose: Oak, vanilla, fruit, smoke
Flavors: Vanilla, caramel, oak
Taste: A- (Excellent)
Mix–ability: B+ (Very Good)
Buzz Factor: A- (Excellent)
Price: $23.99 USD (750ml)
Overall: We give Jim Beam Devil's Cut an A- (Highly Recommended) In a word… BOLD aptly describes this truly unique bourbon! It delivers an intense oak profile initially which quickly warms in your mouth and finishes with a touch of caramelized sweetness. While we certainly appreciate the bold complexities of Devil's Cut while neat, our tasting panel overwhelmingly enjoyed this Kentucky straight bourbon whiskey best when mixed or with a splash of water to help tone down its 90 proof kick. If you're a true bourbon fanatic looking for you next drink of choice we highly recommend you check out Devil's Cut for yourself, we think you'll fall in love with its sinful taste!
MIX IT UP WITH… "Diablo Martini"
Ingredients: 1.5 oz. Devil's Cut, 1.5  oz. sour apple schnapps, 1.5 oz. cranberry juice
Directions: Fill a drink shaker with ice, and pour in the sour apple schnapps, Devil's Cut, and cranberry juice. Shake well, then strain into a martini glass, garnish with a cherry and have yourself a devil of a good time!
Buy Now: $19.99 or go to: JimBeam.com/DevilsCut