We typically tend to agree with old saying "if it ain't broke, then don't try to fix it," and since there's absolutely noting wrong with Crown Royal's original (and oh so tasty) blend to begin with, we were shocked to see that one of our favorite Canadian vices recently joined the flavored whiskey circus with the newest addition to their ever-growing portfolio – Crown Royal Maple Finished. This new maple infused whisky from our pals in Manitoba is said to be exceptionally smooth and deliver the quality and class that you've come to expect from Crown Royal. Maple Finished achieves its unique maple profile through a proprietary maple toasted oak finishing process that is said to provide a genuine light maple-sweet flavor.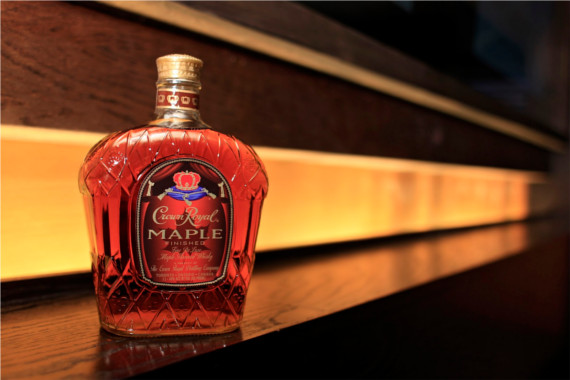 Photo Credit: Crown Royal

Because we've got mad connections and know how to use them, recently we hooked up with our buddies at Crown Royal for a tasting of their intriguing maple blended whisky. To be sure we fully understood what this unique whisky has to offer we made sure to consume it in a variety of ways (neat, mixed, on the rock, etc…) Until, of course, the bottle was empty. As you probably know by now, we're nothing if not thorough here at the Busted Wallet office.
Crown Royal is a brand that values innovation and always strives to exceed our consumers'  expectations. We are excited to release new Crown Royal Maple Finished. Authentic to the brand image and Canadian heritage, consumers can be confident that it will deliver Crown Royal's signature smoothness, steeped in the quality and class that has come to be expected from Crown Royal. -Yvonne Briese, VP of Whiskey, Diageo North America.
– Crown Royal Maple Finish Review –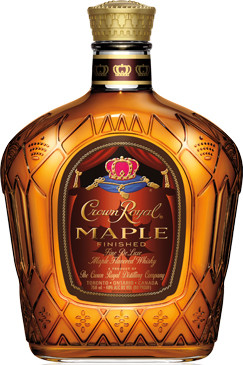 Proof: 80 (40% ABV)
Age: Blended
Nose: Maple syrup, caramel, vanilla with a hint of oak
Flavors: Oak, maple, vanilla and caramel
Taste: B+ (Very Good)
Mix–ability: B+ (Very Good)
Buzz Factor: B (Good)
Price: $25.00 USD (750ml)
  Overall: We give Crown Royal Maple Finished a B+ (Highly Recommended) We greatly enjoyed the distinct maple flavor this whisky supplies. It even has an room-filling aroma that rivals your grandmother's finest pancake/maple syrup breakfast, and goes down almost as smooth. While yes, we did enjoy Crown Royal Maple Finished and its sweet maple complexities while neat, in our opinion it's best served mixed or poured on the rocks. Unless you're looking for a way to stay warm this winter. If that's the case you'll want to start sipping now! If you're a fan of Crown Royal or Canadian Whisky in general do yourself a favor the next time you get the itch to try something new and reach for a bottle (or two) of Crown Royal Maple Finished, we think you'll love it!  
MIX IT UP WITH… "Carte Blanche"
Ingredients: 1.25 oz Crown Royal Maple Finished, 0.33 oz. Luxardo Maraschino Liqueur, 1 dash Angostura Bitters, 1 dash Orange Bitters.   Directions: Combine all ingredients into a cocktail mixer with ice. Stir and strain into a rocks glass. Garnish with a flamed orange twist. And enjoy!   Buy Now: $25 or go to: CrownRoyal.com