Carhartt is badass. There, I said it. And you guessed it, I'm a little biased. I've been wearing Carhartt clothing for years. I have a Carhartt work coat that I've worn for about 15 years and it's got some holes in it but it will last me another 15 for sure. Perhaps not the best business model by Carhartt making such long lasting work clothing but it's earned our loyalty.
Carhartt clothing and people that work in the trades are like peas and carrots. That's no secret. Busted Wallet has enjoyed working with Carhartt in the past. Two memories that come to mind were when we were able to check out their Brookville Jacket, and when we were invited out to the old ball game to try out their Full Swing line. So when Carhartt asked us to try out their new Force Extremes line of summer work clothes we said nah…. but then after an awkward silence we realized they thought we were serious and we then said yes. Recently we were able to get our mitts on six pieces from the Force Extremes collection. We tested them in a variety of conditions ranging from the golf course down in Florida, on a plane (no snakes), hiking, and a little gettin' down and dirty round the house. All right, let's see what the Force Extremes line is all about…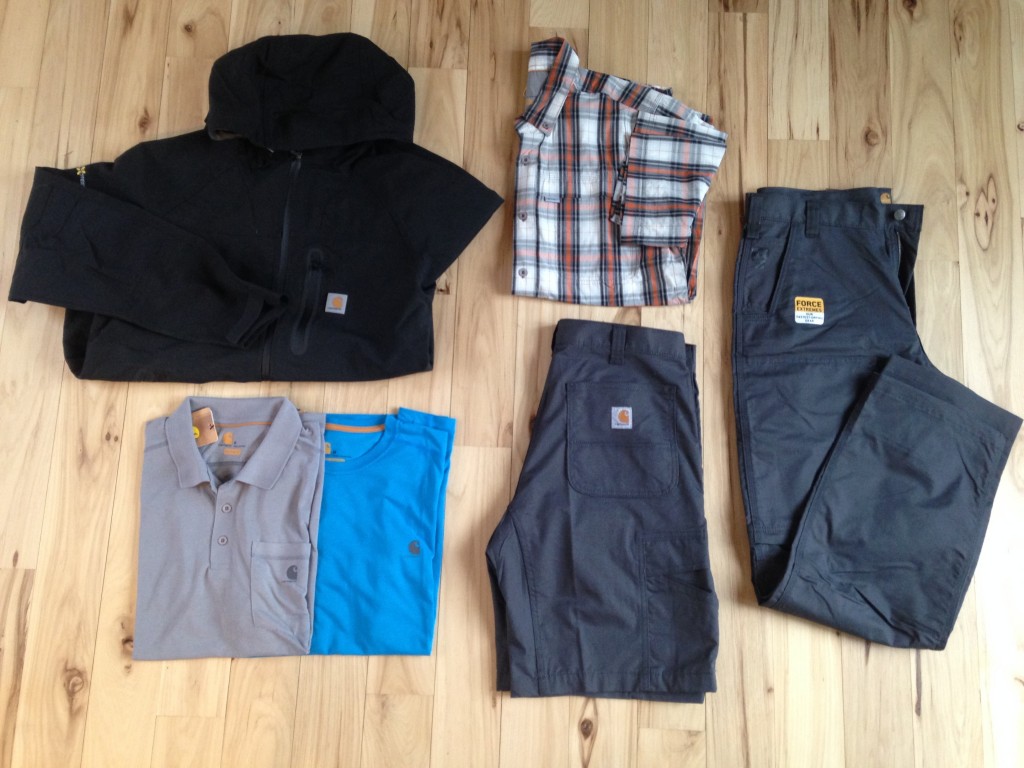 Force Extremes Short Sleeve T-Shirt
Key Features
Lightweight and durable, 4.7 ounce polyester
FastDry with 37.5 technology
Tagless neck label!
Rugged Flex stretch technology
This shirt was made to work in. Super soft, comfortable, and breathable on a hot work day is what you want and is what this short sleeve T-shirt delivers. The side gussets give you extra flexibility to move, groove, and get after it. The thing I love most about this shirt is the tagless label. Shirts with tags are annoying. The shirt comes in 2 bright work site friendly colors as well as 3 additional more subdued colors. Another great point to this shirt is the price point. At $24.99-27.99 I would invest in 3-4 of these shirts and put them in my regular work rotation.
Buy Now: $24.99-27.99 or to learn more, go to Carhartt.com
Force Extremes Pocket Polo
                                                                       Key Features
Lightweight and durable, 4.7 ounce polyester
FastDry with 37.5 Technology
Tagless neck label!
Rugged Flex Technology
This polo is made of the same material as the T-shirt above so it is also very comfy. Available in 4 colors to suit your preferred style. The Force Extremes Pocket Polo is well appointed for a casual beach cocktail afternoon or for making the work site a little more classy and civilized. I went golfing in the hot Florida sun in close to 90 degree heat and with the Pocket Polo on I never felt hot. It was warm, but not hot. I sweat a lot when I am hot. I did notice times where the shirt was wet in my typical sweat spots but within a couple minutes the shirt was again dry. The wicking action was working!! Since this gear has tags all over it claiming it's the fastest drying gear ever I decided to put it to the test. I jumped in the pool and walked around to see how long the Force Extremes Polo would take to dry. Unfortunately after walking around the Florida sun for over an hour and a half the shirt was somewhat dry in some spots but still wet in others. So I guess these clothes weren't meant for getting soaked with water and drying quickly. They do seem to wick away sweat quickly though.
Buy Now: $39.99 or to learn more, go to Carhartt.com
Carhartt Force Mandan Button Down Short Sleeve Shirt
Key Features
Strong Lightweight 3.25 ounce cotton / nylon blend
Fastdry Technology
Stain blocker
Mesh lined vent at center back
Two easy entry chest pockets
The Carhartt Force Mandan button down is another great spring / summer time offering from Carhartt. This is a shirt that you could wear to that jobsite meeting or out for a day on the lake. Really comfortable and great looking. Carhartt sent us one of their new Rust color for this shirt and we really like it! As a side note this shirt did seem a little tighter than the other shirts we tried out so keep that in mind when ordering. This shirt will definitely be in our work / play rotation this summer!
Buy Now: $49.99-54.99 or to learn more, go to Carhartt.com
Force Extremes Cargo Short
Key Features
Lightweight & durable 6 ounce cotton / poly blend
FastDry 37.5 technology
Rugged Flex technology
Side zipper pocket
The Force Extremes Cargo Short is a different material to the touch. It feels a lot like swim suit material which doesn't feel like work clothing to me. After wearing these shorts for a few weeks they are more rugged than I thought at first glance. The rugged flex technology really makes these comfortable when crouching or crawling around in those tight positions you get stuck in while working. We also felt the 37.5 technology wicking away sweat out on the hot golf course and hiking trail which was great. We did jump in the pool with the cargo shorts on as well and also after over an hour and a half of walking around left standing water on your hand after touching.
Buy Now: $49.99 or to learn more, go to Carhartt.com
Force Extremes Convertible Pant
Key Features
Lightweight and durable 6 ounce poly / cotton blend
FastDry 37.5 Technology
Rugged Flex Stretch Technology
Pockets Galore!
The Force Extremes Convertible Pant is the same material as the Cargo Short and it is a very comfortable material especially for spring / summer time working temperatures and conditions. Through the years I've always loved wearing Carhartt's Duck Double-Front work pants because they are so tough and long-lasting. Problem is when it's 80-90 degress out and you're up on a roof these pants can be quite hot. Well, the convertible pants solve this problem quite well. These pants seem like they would perform well in resisting getting snagged on nails and all those types of things you bump into on the job site and keep you much cooler. In flying from cold Michigan to warm Florida I utilized the convertible function perfectly. Going from 40 degrees to 80 upon touchdown I un-zipped the pant legs and was ready to enjoy the warmth. Thanks Carhartt!
Buy Now: $79.99 or to learn more, go to Carhartt.com
Key Features
Durable 6.3 ounce, 100% Nylon shell
Storm defender waterproof breathable membrane
Fully taped waterproof seams with zippered underarm vents
Full Swing Design with Rugged Flex Technnology
Fastdry with 37.5 Technology
I would describe the Men's Shoreline Vortex Jacket as the best rain jacket I have ever worn. This thing is so durable. The outside feels like the classic tough duck canvas of Carhartt and the inside feels like a rubbery rain jacket. Upon looking the jacket over for the first time I thought the jacket would be quite warm and make me sweaty as I tend to run hot. Other rain jackets I've worn have felt like wearing a sauna sweat suit so I was worried with good reason. I have worn this jacket several days in the car traveling from job site to job site on rainy days wearing it the entire day even while driving and was pleasantly surprised I did not sweat at all. This is without even opening the underarm vents too! The waterproof breathable membrane really works. The micro fleece lined cuffs and collar are quite comfy. All of the water proof features on this jacket make it water tight for sure. Did I mention this jacket just looks
awesome as well? Well it does. The quality construction of the jacket is apparent with the materials it is made of. The full swing design and rugged flex technology make this rain jacket ideal for the toughest of work site conditions. It's a little on the pricey side but if you need durability, comfort, and good looks this is the jacket for you!
Buy Now: $249.99 or to learn more, go to Carhartt.com
Carhartt Force Extremes Summer '16 Collection
All right, that's what we have to say about Carhartt's Force Extremes new offerings this year. Overall they are great addition to your work / summer wardrobe. Also, after several washings they have held up quite well with no color bleed or shrinkage! Yes you heard right, no shrinkage! We highly recommend the Force Extremes collection from Carhartt. Go check them out for yourself! A great collection for warm weather work, play, or both!
Shoreline Vortex Jacket
10
The Good
Breathable Clothing
Durable Clothing
Amazing Rain Jacket!
The Not so Good
Not so fast drying
Jacket zippers a little tricky