Some of us are born to be seekers. We wander the earth in search of that next big adventure, and fulfill a desire to truly make our lives worth the while. For some of us, it's as simple as a meaningful moment alongside the people we prefer to socialize with. For others, the briefest escape into the open wilderness is what gets the adrenaline going. Then there are those who continue to push their limits, and prefer the thrill of the challenge to break through those boundaries at every opportunity. And of course, there are the hardcore seekers that are scratching their heads, begging the question "How do I fulfill my sense of adventure that craves all these things?". Well, we took to the mountainous trails of Utah this fall riding the Can-Am Maverick Trail DPS 1000 with epic adventure in mind, and we may have found exactly that!
Key Features:
75hp Rotax V-Twin
Selectable 2WD-4WD with Visco-Lok QE auto-locking front differential with lockable rear differential
EBS
EHDC
Sport and ECO modes
Dynamic Power Steering (DPS)
12-in. (30.5 cm) aluminum wheels
Ergoprint seats with gray stitching
Integrated front bumper
Injection full skid plate
Full half doors
Can-Am Signature LED lights
Painted color options (Can-Am Red / Sunburst Yellow / Mossy Oak Break-Up Country Camo)
Can-Am Maverick Trail DPS 1000 Review Breakdown
Design:
From an aesthetic standpoint, the Maverick Trail family has a look all it's own. From conceptual napkin sketches to the physical product, the Can-Am design team has put great care to introduce a product that exudes a recognizable strength and attitude from one vehicle to the next. For those looking for a customized look, the Maverick DPS models have painted color options of Can-Am Red, Sunburst Yellow, and Mossy Oak Break-Up Country Camo.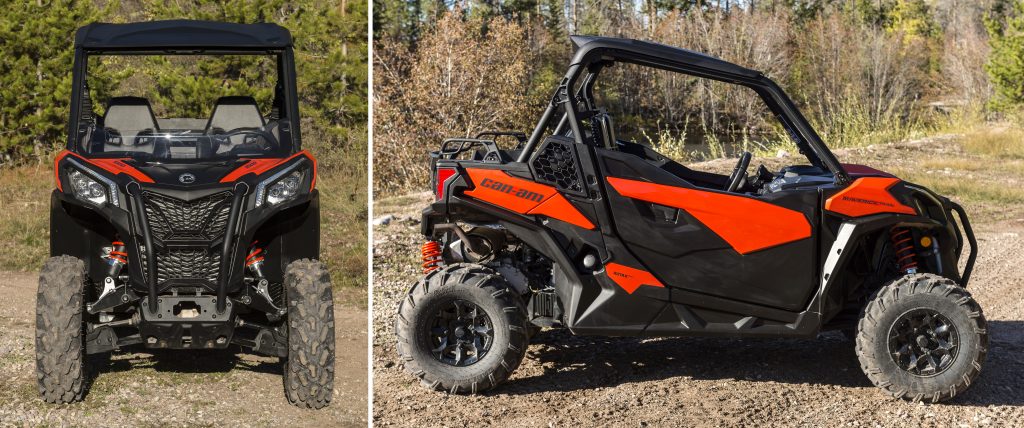 Keeping preparations in mind for those full-day outings, Can-Am has you covered by providing 5.3 gallons of onboard storage. This includes a glove box and two additional areas on the vehicle's dash. When we started reaching those higher altitudes, We can't express how glad we were to have those extra gloves and layers available right there inside the dash. In addition, the high-grade multi-function cargo box is rated to stow up to 300 lbs of extra cargo. Whether you're looking to do some light chores or going out on a serious adventure, carrying what you need shouldn't be an issue.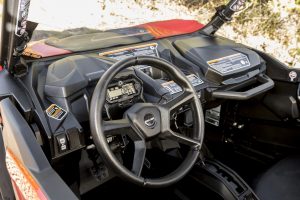 The cargo box is made from heavy-duty polyethylene and includes 8 LinQ quick-attach locations, four anchor hooks, and integrated drain holes. We'd also like to mention the 2″ hitch receiver with 1,500 lb towing capacity, lighter type DC outlet (we all need to charge a gadget from time to time), easy access in-cab controls, and strategically placed on-board cup holders for your beverage of choice. In the days we spent out with the Can-Am Maverick Trail, we had no issue bringing along all of the gear our hearts desired…and if that were a problem, we imagine that the more than 100 available accessories would provide the options we might require.
Performance:
Having done a bit of preliminary research, and aware of the strong and capable Rotax V-Twin engines paired with the stout CVT quick response transmission, we'll admit that going straight to the aggressive trails of Utah's mountains might be a bit intimidating. We took things a little easy at first, and the dual 220 mm ventilated disc brakes held strong, whether we were stopping on steep terrain, or attempting to ease back on the speed during tighter situations. Crossing deeper ruts or going over larger rocks had us second guessing our speeds initially, but thanks to the 90.6″ wheelbase and 10″ ground clearance we quickly learned that picking the right line with the Maverick Trail DPS is more about preparing for the next turn rather than avoiding obstacles along the way. When it did come time to take those corners at faster speeds, we found our comfort zone rather quickly thanks to a 42% front / 58% rear weight distribution alongside the auto-locking front differential and lockable rear differential.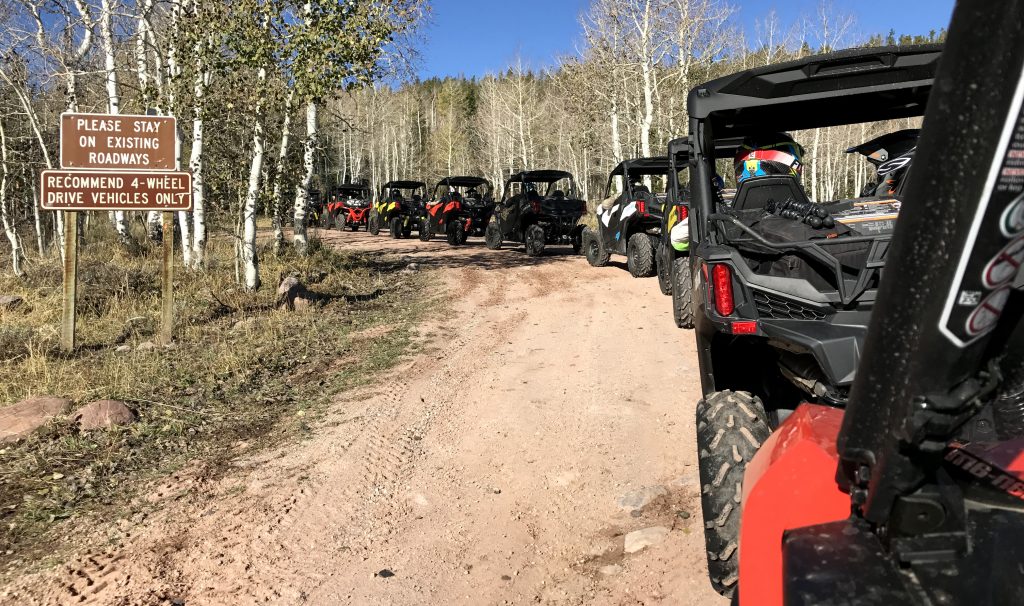 Before we knew it, we were completely relaxed behind the wheel. It was time to take it up a notch. We spent the afternoon in search of new trails, testing the limitations of the Maverick Trail DPS as well as our own driving capabilities. There were some white knuckle moments for sure as we crossed flowing streams we estimate to be at least a foot deep, plowed through deep snow-covered terrain, and maneuvered trails that were only 50″ wide at times.
The next morning we went on a mission to climb above 10,000 ft in altitude. Now that our comfort zones were easing into more of a matter of instinct, and despite the fast dropping temperatures, there was no sign of hesitation in our group. We sped up the trail aggressively, at times witnessing loose boulders flung off the trail by the power of the the Maverick Trail DPS in front of us. We discovered thick mud due to a previous melt, heavy snow drifts, and deep puddles covered with an inch of ice, and we pushed through it all with little concern or caution. We reached the summit thanks to the aggressive power and ease of maneuverability the Maverick Trail DPS has to offer!

Comfort:
We obviously found ourselves in a variety of harsh conditions in no time, and optimal comfort is a cornerstone when seeking the best experiences life has to offer. Outfitted with a range of features and adjustments that make up their Ergo-Lok cockpits, every vehicle in the Can-Am Maverick Trail side-by-side family has enhanced comfort for just about anyone. The ergoprint seats are designed similar to what you'd find in a sports car, providing ridiculous comfort and impressive shock absorption, and they adjust forward and backward up to 5″. Combined with up to 25 degrees of adjustment in the tilt steering wheel, the operator can customize to their size and personal driving style. Two optimally positioned footrests for the passenger and one angled footrest on the driver's side of the Maverick Trail vehicle supplies enhanced comfort as well, all combined providing some of the best comfort available in any off-road vehicle.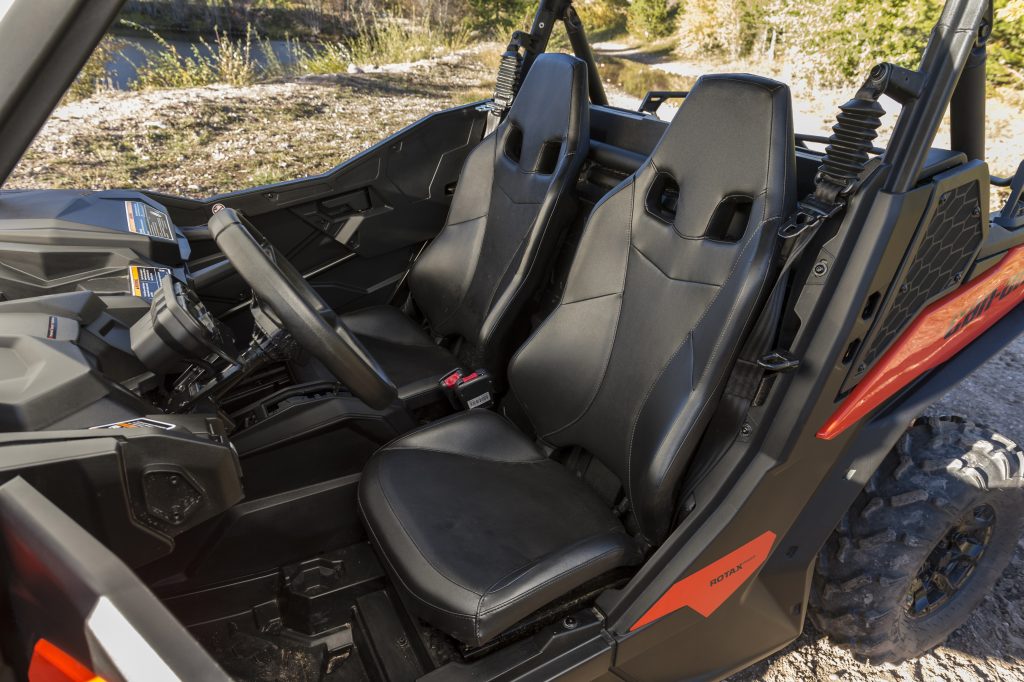 Thanks to a fixed gauge in the steering wheel, and easy access controls on the center dash, we never found ourselves fumbling around the cockpit for what we needed. Everything that may absolutely require access in a pinch is right there and comfortably available, letting us drive with ease and able to concentrate on the trail.
If temperature is a concern, we should mention the integrated fluid dynamic front deflector system built into the design of the Maverick Trail. This ensures the cockpit remains cool on warmer days and warm on the cooler ones by deflecting the airflow away from the occupant, even when the trail conditions are demanding. We will say, while our core temperatures did remain comfortable as we reached those colder temperatures at the higher altitude, the left hand did catch quite a draft making it significantly cold and a bit numb. warm gloves are recommended even if you don't think you'll need them.
PRO TIP: for cold hands Can-Am offers a heated steering wheel, heated seat and heated passenger grab handle as add-on accessories. Also, full windshields (hard coated even for more scratch resistance) are optional as well.
Maintenance:
There's really not a lot to say here, because fortunately the Can-Am Maverick trail doesn't require a lot of maintenance. The large 10 gallon fuel tank took us everywhere we needed for the duration of a long day's ride, and we feel confident we can focus more on riding and less on refueling. When it comes to regular cleaning, the Maverick trail is built for the elements and can basically just be hosed down. The driver and passenger seats also feature removable seat cushions and backrests to simplify a more thorough cleaning.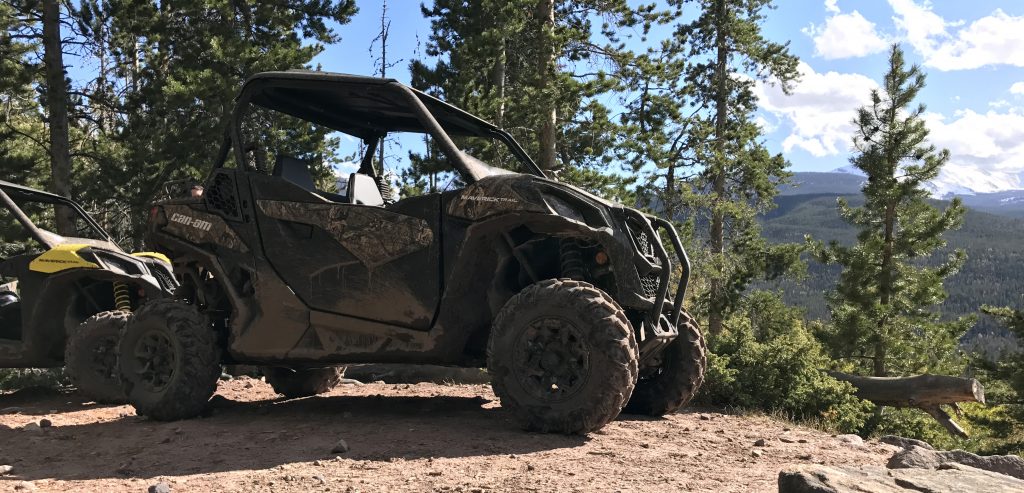 With regards to mechanical concerns, the airbox, radiator, oil, CVT, engine, battery and other essential maintenance components are easy to reach for added convenience. To top it off, for the first 1,800 miles the Maverick Trail side-by-side vehicles are designed to be maintenance free and no break-in maintenance is required. With all of this considered, you can put your mind at ease that you'll be spending more time finding adventure, and less time tinkering in the garage.
Value:
The experience we had in the mountains of Utah made this a no-brainer. Not only did we have the opportunity to pick Can-Am's design and engineer team's brains on build and performance, but we had the privilege of riding alongside a crew of other gents with riding experience across the board from novice to seasoned racers, and no one seemed disappointed. We observed the conversation of other first-time riders of this model that last day, and heard plenty of discussion, such as… "I'm really impressed how they've improved on (fill in the blank)", "The thing that had me most freaked out was how fast I was able to get it going!", and "The competition better start stepping up their game!".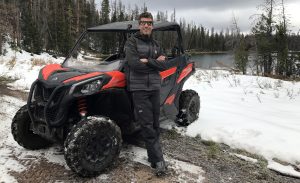 Here, we looked most thoroughly at the Can-Am Maverick Trail DPS 1000 because its the strongest of the Maverick Trail Family, but if your looking for a bit of a break in cost the standard Maverick Trail will perform spectacularly as well for a few grand less on the asking price. And if you're interested in something even more intense, Can-Am has other options in their lineup that may be more up your alley.
Can-Am's staple initiative is to bring agility, adventure, and confidence to the ride, and they've pulled it off with tremendous success with the Maverick Trail DPS 1000. We had some amazing times with a terrific group, found corners of the earth we never would have had the pleasure of experiencing otherwise, and we tested our grit time and again in just a few short days. Here's to a successful journey, wherever the trail might take us!
Starting Retail: $12,999 or to learn more, go to: can-am.brp.com
Can-Am Maverick Trail DPS 1000 - Trail Review
Agile, Adventurous, and Confident. These are the pillar objectives Can-Am set out to achieve with the Maverick Trail DPS 1000, and they've succeeded! Whether your spending time with your buds, getting close to nature, looking for a personal challenge, or all of the above, if you can find a way to be disappointed in what the Can-Am Maverick Trail family has to offer, you're doing something wrong.
The Good:
Aggressive Power for Any Skill Level
Insanely Comfortable
Tons of Available Accessories
The Not So Good:
Hands Can Catch Harsh Drafts