Yet again, nature has called, and we find ourselves on the move and far away from the comforts of modern civilization. Whether we're skiing the big mountains, making our way to a backwoods bonfire, or just enjoying a simple hike to get away from it all, there are times when packing light with just the necessities will make or break the best times life has to offer. This winter we took to the outdoors with the CamelBak SnoBlast Pack in search of those unique experiences.
Specs:
Hydration Capacity: 70 oz / 2 L
Total Capacity: Closed: 15L (900 cu in) + 2L Reservoir Open: 21L (1275 cu in) + 2L Reservoir
Total Weight: 1 lb 8 oz / .69 kg (pack only)
Dimensions: 21 x 10 x 6.5 in / 53 x 25 x 17 cm
Torso Length: 18 in / 45 cm
Fabric: 300 HD Velocity Twill, Double Diamond, 210D Nylon w DWR & 400 mm PU coating
Empty Reservoir Dimensions: Snowshed™: Molded back panel with moisture-wicking DWR finish for snow-shed capability.
Full Reservoir Dimensions: Removable 25 mm/1″ stability
Materials: Therminator™: Closed-cell foam insulation shelters tube and reservoir against extreme temperatures.
CamelBak SnoBlast Pack Review Breakdown
Design:
Sleek and stylish, the CamelBak SnoBlast Pack delivers both in aesthetics and functionality. As far as looks go, the SnoBlast is available in three different colors…Astral Aura, Silver, and Charcoal. This means that finding a compliment to your regular winter ensemble is made easier. The buckles, straps, and zippers are off color from the outer fabric, giving the pack a stronger sense of structure, and a more refined appearance.
With regards to functionality, we couldn't be more happy with the SnoBlast Pack. The main point of carrying a CamelBak product is to keep hydrated on your journeys, and with a 2 Liter capacity in its reservoir, we were able to keep hydrated for an entire day outing on the mountain and trail. The bladder is impressively simple to remove, refill, and replace, so while we were on the move we found little or no problems getting it done. This pack is also designed for winter usage, and the insulated PureFlow™ tube provides an exceptional barrier against the elements to avoid any freezing of the water supply access. The patented Big Bite™ Valve is easily accessible from the right shoulder strap, and it comes equipped with a locking mechanism to prevent any accidental flow of water at the wrong time. When the day is done, detaching and removing the water reservoir is a cinch. It comes equipped with an easy-to-clean wide-mouth opening, and dryer arms to prevent any mildew build-up between adventures.
We did discover that when we detached the water reservoir with water still inside the drinking tube, there can be quite a bit of spillage inside the pocket it resides in. This can be avoided to a certain degree if you're careful about it, but be prepared to mop up some spilled water in the event you need to remove a bladder that isn't entirely empty.
Storage:
We were exceptionally pleased with the carrying capacity of the CamelBak SnoBlast Pack. The water reservoir spans almost the entire width and height of the pack, so even when filled to the brim, it is only approximately 1″ thick, giving plenty of room for all the things you might need to carry throughout the day. The Snoblast works just as well as a day pack as it does as a hydration system, and with the additional expansion panel, it can carry up to a 15 Liter volume while fully loaded with water.
One of the worst parts about carrying a conventional day pack is having to rifle through to the
bottom in search of that one piece of gear. However, CamelBak took the liberty of providing a tri-zip access in the SnoBlast Pack. One of our favorite, and most innovative features of this pack, this zipper system gives full access to the interior while the pack is laid down, and finding what you need in a hurry is made incredibly easy.
The SnoBlast Pack is also equipped with both external and internal storage areas on the top, so keeping track of smaller items you might need access to during the day's outing is pretty simple. External loops are also available for clipping in any larger items such as snowshoes or snowboards.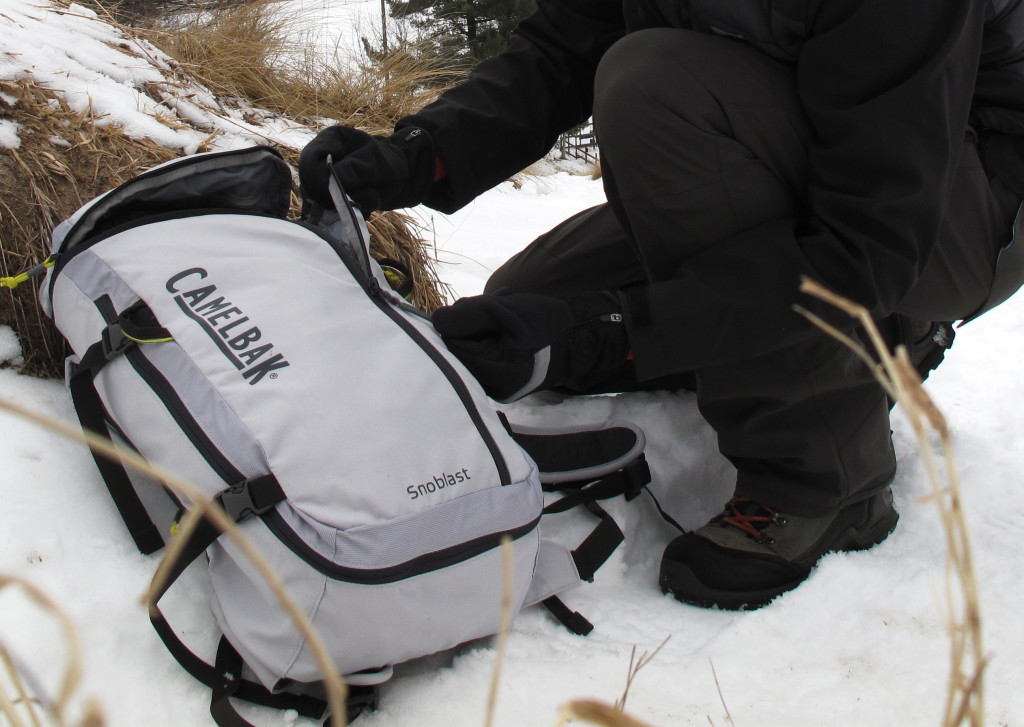 Comfort:
One might think that a pack of this size, with a zipped in water bladder against the wearer's back, and a built-in water tube running through one shoulder strap would cause issues of discomfort, However, we're pleased to report that we haven't found any cause for concern with the SnoBlast Pack. The shoulder straps are actually remarkably forgiving, and the adjustment straps are ample in length to adjust to pretty much any body size, whether wearing a heavy winter jacket or layered down on the sunnier days. The SnoBlast also has adjustable waist and chest straps, designed with minimal materials to keep the pack lean as well as functional. As an Extra bonus, CamelBak added velcro and elastic bands to hold any excess straps that would otherwise be flopping around in the wind while you're cruising down the runs.
Durability:
In acknowledgement that it was built to withstand the elements, we strapped into the Camelbak Snowblast Pack during the most brutal months the year has to offer. Understandably, the key features of this pack depend on an array of zippers and clips, and all of these materials have stood up well to our testing. We've also inspected the stitching throughout the SnoBlast Pack, and everything seams up to snuff to deliver many more winters worth of use.
The only complaint we have here is that the locking mechanism on the water valve can easily be removed, and possibly by accident. Should that occur, and the lock is lost, the hydration system would be rendered useless until the piece is replaced.
Value:
Not only does the CamelBak SnoBlast Pack provide a source of hydration for the day's activities, it carries just about everything you'll need and withstand the harshest elements. Comfortable and reliable for the most essential of its wearer's needs, this is a pack that'll go the distance for many seasons to come. Yes, absolutely this pack is well worth the retail asking price!
Buy Now: $90.00 or to learn more, go to: CamelBak.com
CamelBak SnoBlast Pack - Gear Review
When you're on the move during winter, staying hydrated and carrying all your gear is made simple with the CamelBak SnoBlast Pack. There's a reason CamelBak continues to be a forerunner in keeping us watered along the way, and they've taken their trade to the next level in just about every way with this generation of backpacks.
The Good
Holds An Impressive Amount of Gear and Water
Built to Withstand Winter Elements
Tri-Zip Feature is Very Handy
The Not So Good
Can Leak Inside itself During Bladder Detachment
Lock Mechanism on Valve Comes Off Too Easily