For over 65 years Bushnell has been the industry leader in high-performance sports optics. Bushnell's product lines range from golf, spectator sports, nature study, hunting, fishing and birding to stargazing.  The folks at Bushnell live by a guiding principle to provide the highest quality, most reliable and affordable sports optics products on the market. Recently our friends (best friends now) at Bushnell sent us their latest creation, the Bushnell Tour X Laser Range Finder.  Bushnell places a constant emphasis on product innovation and the Tour X is the result of that continuous effort to push the boundaries of technology.  The Tour X features some unbelievable technology, which we will break down in detail.  When the Tour X arrived at the Busted Wallet Headquarters, our golf reviewers were chomping at the bit to get first dibs on it.
Key Features:
Exchange Technology – Slope Technology when you want it, tournament legal when you need it
Dual Display Technology (DDT) for all lighting conditions
E.S.P. 2 (Extreme. Speed. Precision.)
PinSeeker with JOLT Technology to zero in on the flag
Slope Technology provides compensated distances for elevation changes
6x Magnification with HD Optics (objects appear 6x closer)
5 yards-1,300 yards ranging performance (450+ yards to a flag)
Posi-Thread™ battery door
Rainproof
CR2 battery and premium carry case included
Bushnell Tour X Laser Range Finder
Design:
The question when talking about the design and technology of the Bushnell Tour X is where should we begin?! The first major component is the Exchange Technology that allows you to use Bushnell's patented slope technology.  Slope technology measures elevation and distance to make sure all factors are considered when providing the distance.  Slope technology is illegal for use in USGA events or any rounds that are used to calculate a USGA handicap. The Tour X allows you to toggle back and forth if you want to use the Slope Technology. Simply install the red faceplate and if you need it USGA conforming just install the black faceplate.  While it is great to know the angle of the slope you are facing the Tour X takes it up another level by being able to provide a compensated distance based on the hole's incline/decline which really makes this range finder your new best friend on the course.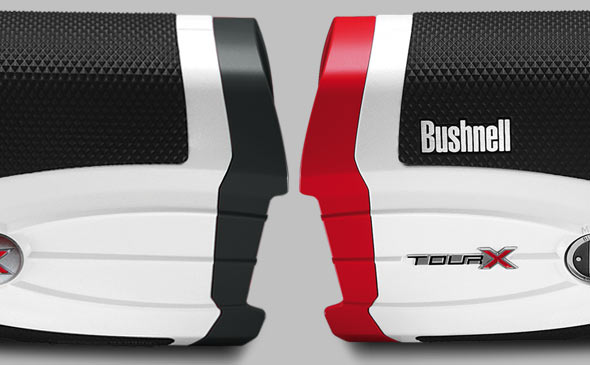 Also exclusive to the Tour X is the Dual Display Technology (DDT) allows you to easily toggle between a bright red vivid display or sharp black display based on lighting conditions or personal preference. This is great for people who have issues picking up certain colors or if the weather conditions change and it becomes harder to see the black or red, simply toggle the button up front.  Another favorite technology that is included with the Tour X is the pin seeker technology that gives you short vibrating pulses to give a tactile confirmation that the laser has locked onto the flag. Once you feel that JOLT you know that are have the right reading and can make your club selection with confidence. Finally, the Tour X weighs in at about 8 0z and comes in a nice pack that allows you to easily clip it on your bag for safe keeping and stays out of the way.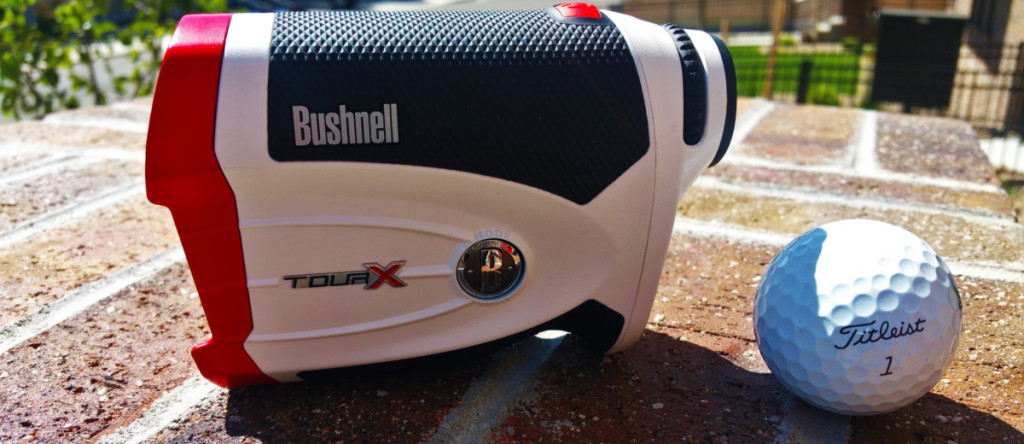 Ease of Use:
It's as simple as pointing and pressing a button and then the Tour X does everything else.  From taking it out of the box to getting your first reading is one of the most simple things you will do.  Changing out the faceplates takes just a couple of seconds.  In addition to being easy to use, it is also easy to read the display.  As we previously mentioned with the DDT, you can change the display color to fit your needs and also toggle the focus switch to find your perfect sight.  Finally, the display readings are extremely fast so you will not spend a lot of time waiting for a reading and you can quickly check multiple spots on the course to find where you want to hit your next shot.
And if you're worried about battery life, don't be. After 10 rounds we're still showing full battery life on our range finder. Though if you want to come to the course prepared, put a couple CR2 batteries on standby in your golf bag. They can be hard to find, so do like we did and stock up on Amazon or somewhere else so you'll never be left guessing your yardage.
Accuracy:
Bushnell touts the Tour X to be within a half yard of accuracy and nothing in our extensive testing gave us any indication to question that assertion.  Where the benefit really shows here is on those shots that that you would normally take your reading from the sprinkler head and swing away without considering the slope.  With the Tour X, it allows you to confidently pull the right club out of the bag and swing away.  After testing for over a month our team felt extremely confident with the Tour X's readings. If the Tour X was reading 150 yards to the pin while compensating for slope angle our shots seemed to back those readings up far more often than not.
Value:
Priced at $499, the Bushnell Tour X is at the top of the line when it comes to range finders.  It is an all-in-one option that gives the best technology of anything you could ever ask for in a range finder.  The flexability of being able to change out the faceplates to conform with USGA events makes ideal for golfers of all skill levels as it fits everyones needs.  At $499 you can count on the Tour X to give you one the most accurate readings you will get with any range finder out on the market.  However, do not buy the Tour X and expect an immediate improvement in your game just because you have an accurate reading, after all you still have to hit the shot.  The value really comes in confidence in knowing that you are selecting the right club.  You may also find out that you don't hit clubs the distances you think you do.  The Tour X will help you discover things on the course but also within your own golf game.  The value the Tour X brings to the course can't be measured in monetary form.  Enjoy!
Buy Now: $499 or visit: BushnellGolf.com for more information.
Bushnell Tour X Range Finder - Range Review
If you are in the market for a range finder you will be hard pressed to find anything better than the Bushnell Tour X. Featuring top of the line technology with incredible ease of use and amazining accuracy, there simply are not many competitors. While it does come with a hefty price tag you will soon find the Tour X to be your own personal caddy on the course.
The Good
Impressive Accuracy
Amazing technology
Very easy to use and gathers measurements at rapid speed
The Not-So-Good
Top of the line technology comes with a top of the line price tag
Your friends will become very jealous