Welp, the audiophiles over at Braven are at it again… and this time with a larger, more powerful and tech-packed bluetooth speaker system to get you drooling over. They're calling it the BRV-X and it's their latest installment in the rugged BRV line of speakers. You may recall last year when we reviewed the BRV-1 – the BRV-X's more compact sibling which wow'd us at the time. Well, now almost a year has gone by and a lot (and I mean A LOT!) of new wireless speakers have hit the market. Some good, some bad and some we probably haven't even heard of yet. Never the less, when we got the call that Braven was putting out a new bluetooth speaker we wanted to be among the first to fully test and review it. And as luck would have it they were thinking the same thing!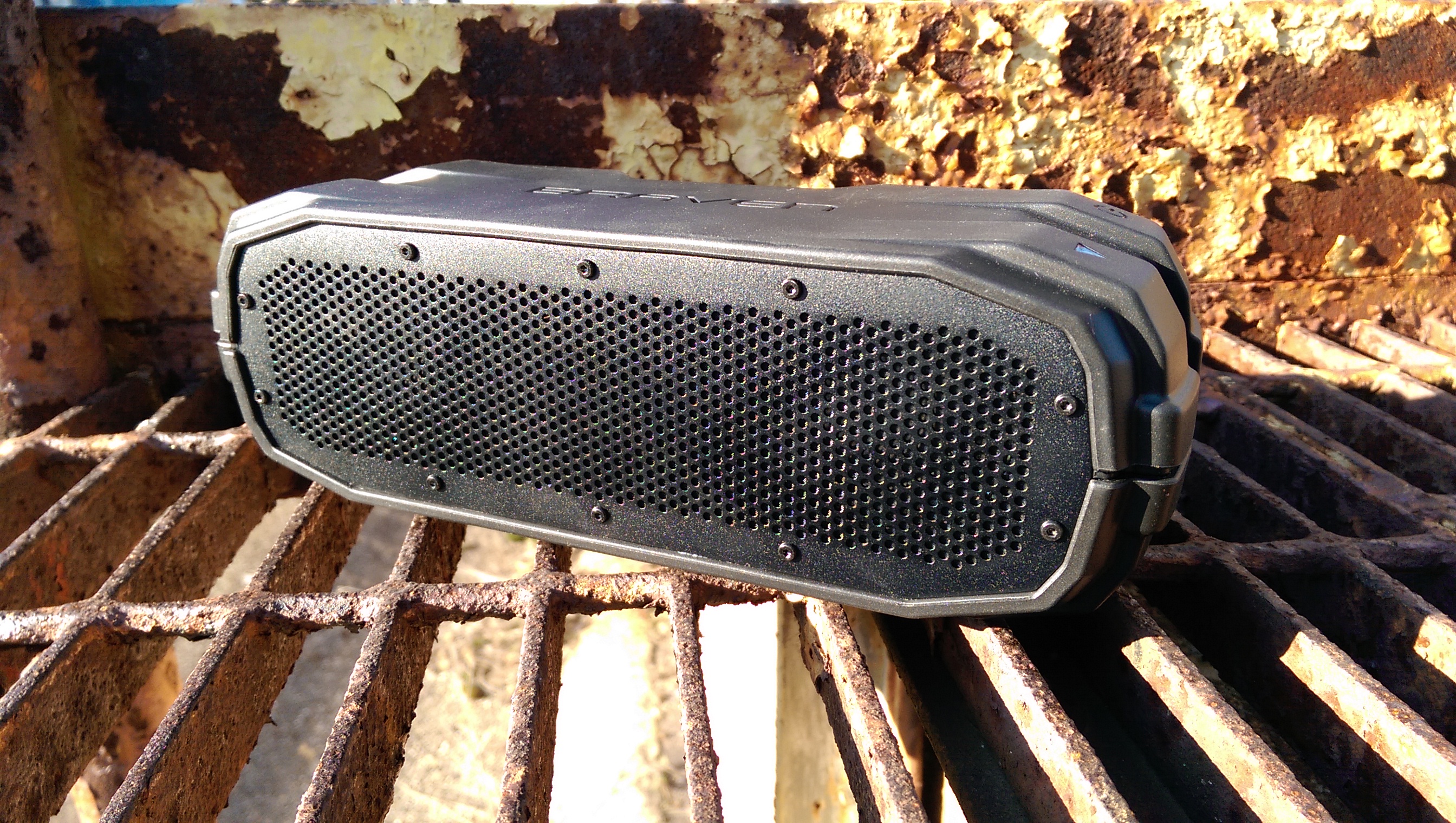 As the product description reads – the BRV-X is designed for outdoor enthusiasts and is equipped to deliver booming audio for up to 12 hours at a time no matter where life takes you, including (but not limited to) rocky canyons, powdered slopes, raging rapids, sandy dunes or even backyard barbecues. The BRV-X is designed with an IPX5 certified water resistant, shock absorbent, portable body and features a powerful 5200mAh power bank to charge external devices. The BRV-X even provideds a customizeable listening experience for any environment by choosing indoor or outdoor mode. For an immersive left and right stereo experience, you can even pair two Braven BRV-X speakers together using the new TrueWireless technology.
"The BRV-X is the next step in the evolution of the rugged wireless speaker and the big brother of the highly acclaimed BRAVEN BRV-1, the BRV-X is the tank of mobile speakers with the durability to withstand any adventure, the sound technology to adapt to any environment, and the clarity and volume to blast all your favorite music in HD." -Andy Fathollahi, Chief Executive
So now that you have a little background on this truly impressive looking device, let get down to business! After several weeks of testing in a slew of different environments we've come to our conclusions. We've picked this speaker apart to find it's flaws and strengths. In the end here's what we discovered…
Braven BRV-X Review Breakdown
Design: 
Scaled-up to almost double the size of last year's impressively powerful/portable model (the BRV-1), the new BRV-X, much like the Braven BRV-1 is built to be completely rugged, durable and resistant to water. While it's still not a completely submersible unit like we had wished for, this bluetooth speaker is a beast! Its rubberized (shock-proof) exterior and IPX5 rating make it impervious to dust, most impacts, and casual splashes of water –  a great option for camping, entertaining by the pool or rocking out at the beach. Some key features that really caught our attention throughout our testing sessions were the new indoor/outdoor modes, which with the flick of a switch can create a more full and rich listening experience for indoor settings and a louder, high-end heavy (less bass more treble) experience which is great for outdoors especially windy days.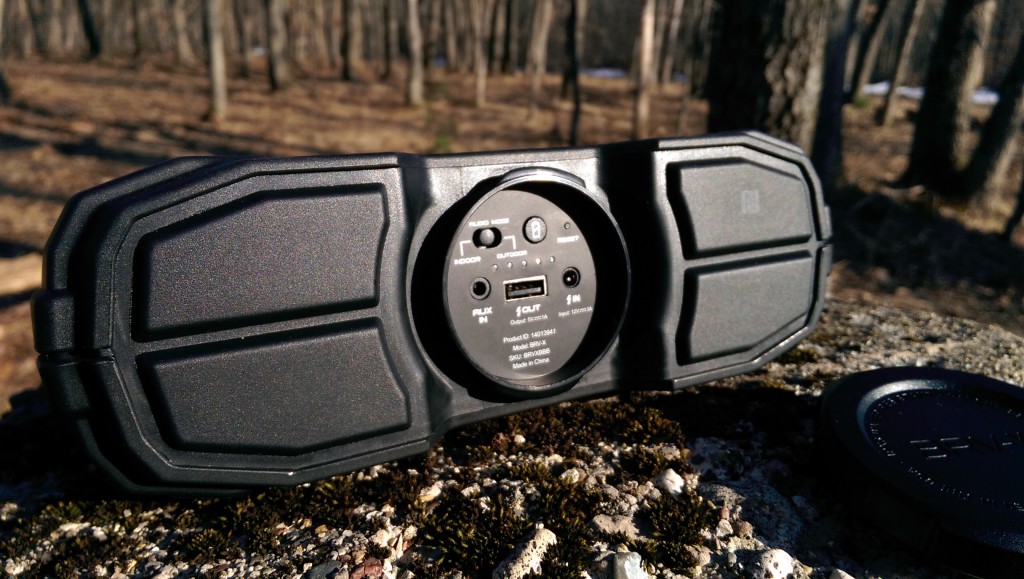 We also continue to love the integrated output charging port that allows you to charge your devices (phone, tablet etc…) with the use of a USB cord. Finally, we really liked the small touches as well, like the battery life indicator, NFC connectivity and included tie-down strap. All-in-all the BRV-X looks the part and comes outfitted with a lot to be happy about. It might be a little large (9.06″ x 3.63″ x 2.94″ and 1.5 lbs), but with that size comes some impressive power as well.
Audio Quality: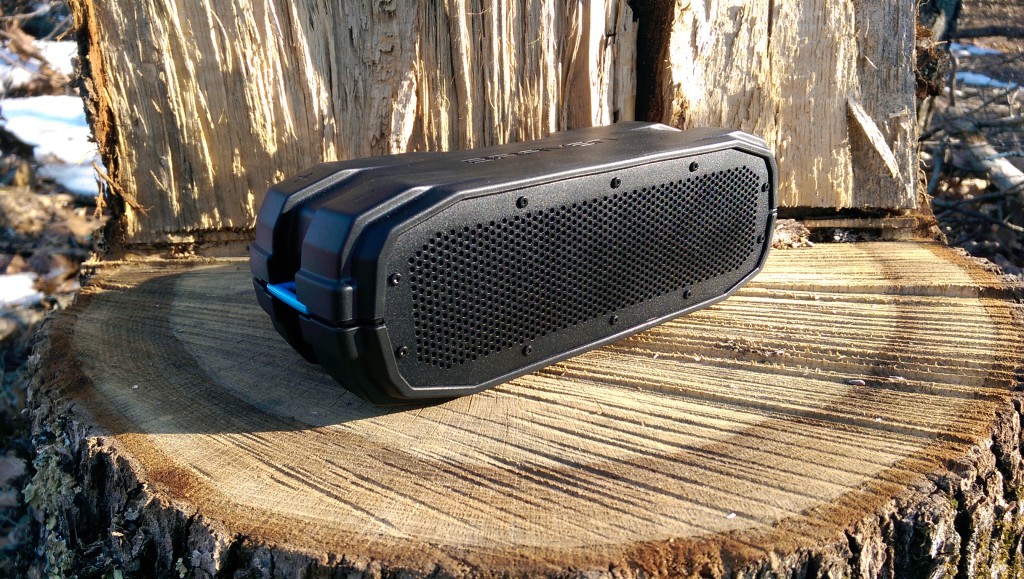 With two front firing drivers and a passive woofer located in the underside of the housing, the BRV-X is acoustically impressive through and through. We were especially impressed with the quality of sound produced through Bluetooth connection – for some speaker manufactures connecting over bluetooth generates a woefully underwhelming listening experience, but Braven has it on lock-down with their BRV line of speakers.
Indoor Mode: in this mode the BRV-X is powerful and rich. Overall, we found the listening experience to be room-filling and full of range – not too low, not too high with a nice mid-level balance that is great for pop, rock, hip-hop and even country music.
Outdoor Mode: for outdoor settings Braven has given us a little more power to fight ambient noise and wind. By switching the speaker to "outdoor" the unit instantly loses almost every ounce of it's low-end bass and at the same time tranfers that power to the mid and high-end giving the speaker a more clear and powerful projection. Overall, we found the outdoor mode to be effective for the most part, but the least sonically impressive of the two modes.
Truewireless Mode: newly added for the BRV-X, Truewireless enables easy wireless pairing with a second BRV-X for left and right stereo sound using two BRV-X speakers. Unfortunately we were only afforded one BRV-X for testing so we can't comment on the effectiveness this mode.
Paring:
Connecting over Bluetooth couldn't be easier these days. And once you've connected your phone and the BRV-X they will remember each other. Now, instead of walking you through the setup process which is actually quick and easy I'd rather have you check out the product video embedded below, where Kristen with Braven will show you the ins and outs of the BRV-X…
Functionality: 
Braven didn't miss a thing when it comes to functionality with the BRV-X in our estimation. We've tested a lot wireless speakers over the years and were happy to see Braven has done it right! In fact lets run down all the functions it's ready to do.
Pause/Play
Skip Track (forward & back)
Volume +/-
Power On/Off (press and hold for 3 seconds!)
Battery Life
Reset
Input/Outputs:
Modes:
Bluetooth + NFC connectivity
Indoor
Outdoor
Truewireless paring
Hands-free speakerphone
Add it all up and you're looking at one very well equipped wireless speaker system – in our opinion one of the very best in it's class!
Waterproofing: 
The IPX5 rating which the BRV-X touts protects it from dust, water and impacts. While the unit is not submersible like the ECOROX we tested from ECOXGEAR last year – the BRV-X is perfectly fine getting a little water splashed on it. In fact during testing we once dropped the unit into a 2″ deep puddle accidentally and purposefully left it out during a rain storm and in both instances the BRV-X kept on pumping the tunes without missing a beat.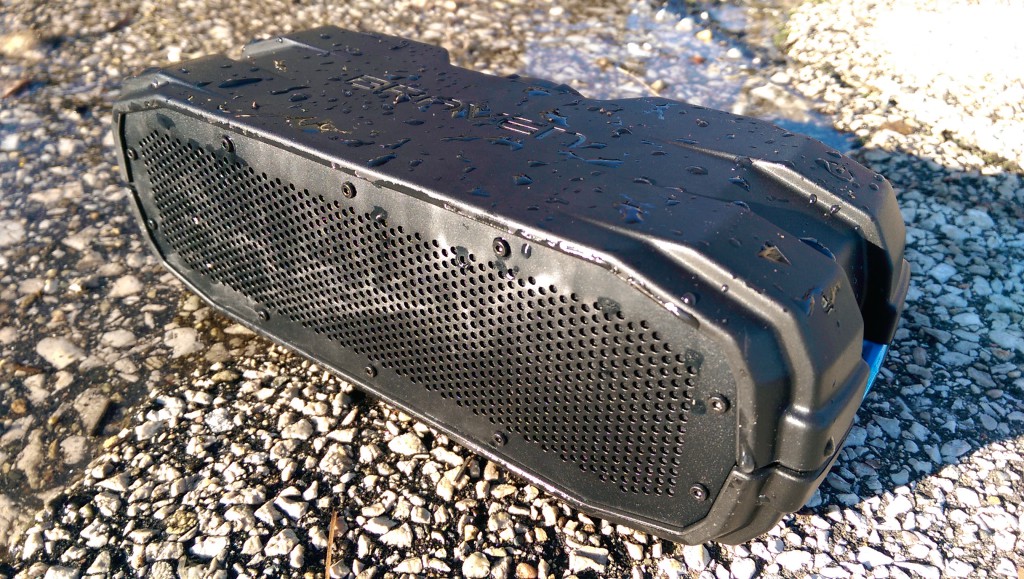 Durability: 
While we didn't go to extreme lengths to test the durability of the BRV-X we can tell you that it's constructed very much in the same way the BRV-1 (only bigger) and we've had that handy speaker for about a year now. Beyond a few surface scratches and blemishes the BRV-1 has stood the test of time and taken some use and abuse very well. If the BRV-1's durability over the past year is any indication of how well the BRV-X will stand up to rugged use we are happy to give it our stamp of approval.
Value: 
With one of the steepest price tags in its class, the BRV-X isn't going to be an easy impulse buy for the average tech geek, but if you're looking for quality acoustics, impressive build quality and the rugged physique that is sure to impress anyone who gets a look at it the BRV-X is a very good value in our opinion.
Braven BRV-X Bluetooth Speaker - Tech Review
Overall, the Braven BRV-X has to be one of the most well equipped portable Bluetooth speakers we've ever tested. Not only does it look ruggedly handsome, but it also performs, both acoustically and technically. With more buttons and functions than you can shake a stick at the BRV-X does it all - plain and simple! If you're looking for a wireless speaker system rugged enough to go camping with, yet stylish enough to use in your home the BRV-X is an excellent choice.
The Good:
Extremely Rugged Build Quality
Comes Outfitted with all the bells and whistles
That output charging port comes in very handy!
The Not so Good:
IPX5 waterproofing is good, but we'd like to see a fully submersible Braven product sometime soon!
Somewhat large - not our first choice for backpacking