Recently a new roommate moved into our house and it is turning out to best one we have ever had. Black & Decker's new Lithium Robotic Vacuum with LED and SMARTECH made his appearance a few weeks ago and we couldn't be more delighted with his presence. This robotic vacuum automatically cleans up the things your family drops. It keeps your floors clean while you do the things you want to do. Weather you manually control it or set up a schedule via the smart phone app you can rest easy knowing that the robotic vacuum will clean up after you and the family. How did the vacuum perform? Read on for the full review.
Key Features:
Extra-large dustbin
Extra wide beater bar cleans for more cleaning area per pass
Lithium Ion battery optimizes performance with up to 90 minutes of runtime
LED top cover flashes troubleshooting alerts to display the source of errors or maintenance needs
Program a cleaning schedule and control your vacuum with the BLACK+DECKER smart phone app
AUTOSENSE™ automatically adjusts suction power from hard floors to carpet
Select from three cleaning modes to fit your needs: Spot Clean, Quick and Auto or choose manual drive for full control of the cleaning area
Personalize the illuminated LED cover to match your color style
Automatically docks and recharges, so it's ready for the next cleaning
Sensors detect stairs and other drop-offs
(2) Side sweepers clean dust and debris along edges and in corners
Beater bar snaps in and out for easy maintenance
Black & Decker Robotic Vacuum Review Breakdown
Design:
Black & Decker sought to make home cleaning easier so you can focus your attention where it needs to be. The Lithium robot features an extra-large dustbin that is designed to hold 2X more debris than the competition so you can clean more between empties.  The vacuum also has an extra-wide cleaning path and is designed to get 90 minutes of runtime. The robotic vacuum keeps crumbs, allergens and dirt under control.  You can control and schedule your vacuum with the Black & Decker smart phone app. One of the coolest features we liked was the ability to manually control the vacuum. It allows you to focus on any area immediately and taking the guess-work out of the robot. It also is fun to chase the dog around the house.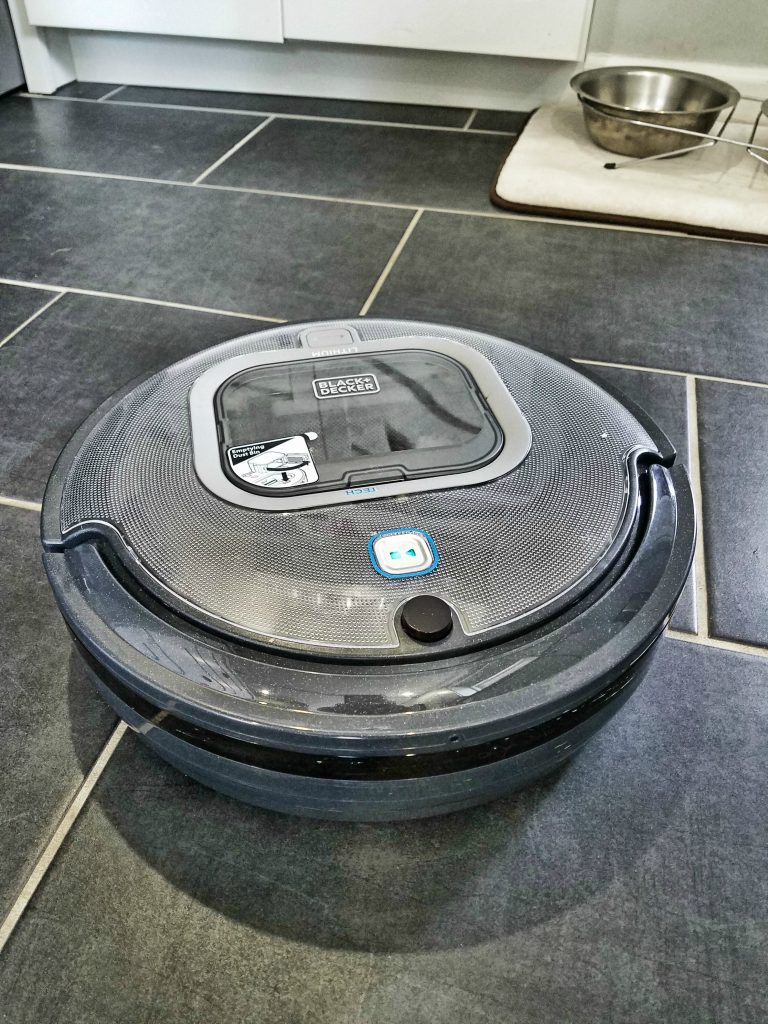 The robot features Black & Decker's AUTOSENSE technology which automatically adjusts suction power from hard floors to carpet, so you get more power when you need it. you may remember our previous review of Black & Decker's stick vacuum which we discussed the AUTOSENSE technology. By being able to let the robot adjust the power level needed automatically, it allows your battery to last longer, which is always a plus.
Another cool feature is the LED flashing lights built into the top cover of the vacuum. The colors determine what is going on with your robot. For example, our vacuum started blinking red which meant it was stuck and needed to be adjusted. It takes the guesswork out of figuring out what is wrong with the robot. You can program the colors to fit your style as well.
The robot will also automatically dock itself so that it auto recharges and is always ready for the next cleaning. What amazed us about the robot was how it can detect stairs and other hazards. It rarely ever hit a wall as it can detect them. It also never fell down the stairs or off a ledge. Overall, we were very impressed by the design of this robotic vacuum.
Setup:
The Black & Decker lithium robot vacuum is very easy to use and set up. There are a few brush bars and accessories you need to install before you get rolling, but overall it is simple. There is a play/pause button on top of the robot that allows you to get going right away. Simply press the button and watch the little guy go. To make your life easier though, we do recommend downloading the Black & Decker smart phone app (Apple / Android). This will allow you to schedule your robot to clean while you are away. You can also use the app to manually drive the robot for quick clean up and spills. The LED lights will keep you informed on the status of your robot so you don't have to guess.
Getting Around:
Overall, we were very impressed with getting how well the robot gets around the house. The one thing we recommend is do not question the path that the robot chooses to take. It definitely does not operate how a human would clean. The robot moves around well and keeps out-of-the-way of objects. It is very good in the kitchen in getting underneath cabinets and not getting itself stuck. It does love to bump into table chairs though while it mostly can avoid larger objects. The one thing we noticed is that it does not like long carpet. It does well on regular carpet but if you have a long shag rug or carpeting it will get stuck. This can be incredibly frustrating because if you schedule to clean and you come home and find it stuck you have no idea how much it has done.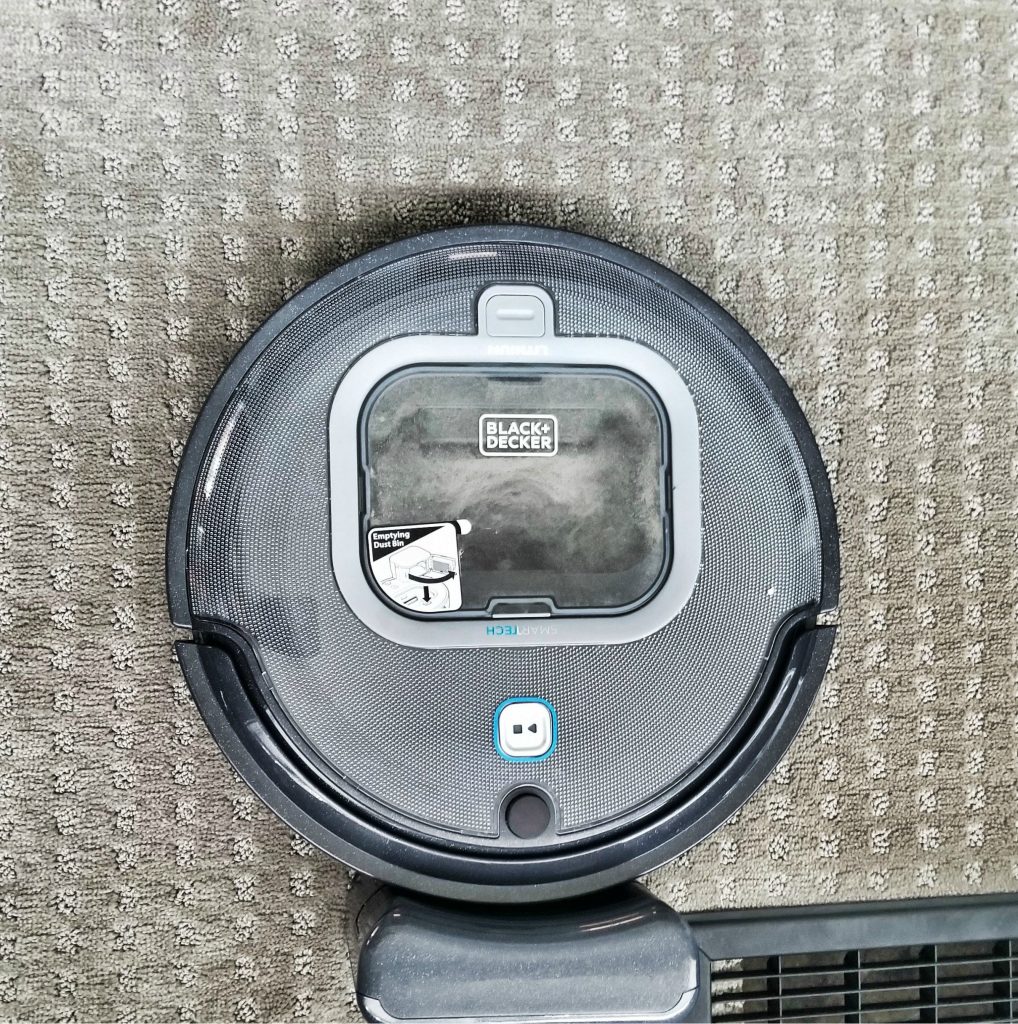 If you small ledges from one room to another the robot does a good job being able to go over the ledges and down to the next level. however, it does struggle with getting back up the ledge. For example, our kitchen has a small drop to the dining room, maybe 2 inches. The robot can navigate the drop from the kitchen to the dining room. However, when it tries to go back to the kitchen it can't get up an over. This makes it tough because the robot might not have cleaned the whole kitchen yet. So you need to pick it up and put it back where you need it. Overall, the robot does a good job getting in and out of tight spots and avoiding collisions.
Cleaning Ability:
If you have a pets like we do you will be amazed what this robot will pick up and how much of it. We put him in the bedroom a day after vacuum the carpeting and the Black & Decker robot came out with a full dust bin of dirt, hair, and other crap. It really makes you question your own cleaning ability when this guy comes and finds all the crap throughout your house. I love being able to put the robot upstairs and just let him work for a while. We have a home gym that attracts a lot of dust and dirt and the robot does an excellent job in the room. It's ability to get stuck on long carpet is frustrating so I recommend being home if you want to clean near that area. This will allow you to pick him up and move back to save ground should he get stuck.
Battery Life:
Black & Decker touts the lithium robot to get 90 minutes of run-time and we are in no position to argue. Depending on how hard the unit needs to run based on the SMARTSENSE technology will determine if you achieve 90 minutes. Most of the time we had no problem getting at least 75-85 minutes on difficult runs. We did experience one instance where the robot died while he was looking for home base. Truly tragic.  Overall, we love the run time on the robot.
Value:
Currently on sale for $299.99, we like the value that the Black & Decker Lithium SMARTTECH Robotic Vacuum brings to the table. It is in the middle of the market for price point in the robotic vacuum game but you will get great performance. Depending on your carpet and the layout of the house the Black & Decker may not be the best choice for you so make sure you do your homework. Overall, we love our newest roommate as he has proven to be the cleanest family member of all.
Buy Now: $299 or visit BlackAndDecker.com for more information
Black & Decker Robotic Vacuum - Tech Review
If you need a little extra cleaning help around the house then you should consider the Black & Decker Lithium Robotic Vacuum with LED and SMARTECH. The vacuum is a welcome addition to your home and will help you keep the house looking great, while you relax on the couch.
The good
Avoids walls and objects
Great battery life
Sucks up dust and hair you didn't know was there
The Not-So-Good
Gets stuck on longer carpets
Has trouble getting up and over small inclines