In December our friends at Beachbody launched their newest workout program; Core De Force.  Core De Force features trainers Joel Freeman and Jericho McMatthews, who offer participants a 30 day program of mixed martial arts-inspired workouts designed to slash inches off your waist, blast belly fat, and sculpt total-body definition.   Core De Force is designed to give you knockout results in 30 days without lifting a single weight as no equipment is required, other than your body! Joel and Jericho brought in exhilarating Boxing, Kickboxing, and Muay Thai combinations and mixed them with fat-blasting cardio and body weight moves that are designed to help you attack that belly fat and get full-body definition.  We gave this latest Beachbody program to our testers and they got in the gym for the full 30 day program, and here the results…
Core De Force Fitness Review Breakdown
Workouts:
Core De Force is designed to work you through 3-minute "rounds" in which you'll alternate between various fighting combinations with body weight moves and cardio spikes to kick your calorie burn into overdrive. No matter what your fitness level, you can punch, kick, and sweat at your own pace.  As we mentioned before there's no equipment required as you will use your body to fight hard through all of the workouts.  A nice feature of the program is that offer intro guides for all the workouts to help you learn the moves.  Since most people are not used to MMA punches, kicks, etc. This is a great tool to make sure you can learn the maneuvers and complete them safely.  The program also features a modifier if you need to start out with some extra help.
MMA Speed (27 minutes):
MMA Speed is the shortest of workouts in the program but don't think that makes it the easiest.  This is an upper body and core-focused workout.  It is a boxing-influenced workout and you will drop some sweat.  The workout moves very quickly as the 3 minute rounds make it seem like it flies by.  A general theme with all the workouts is that even though you are not doing sit ups you will definitely feel your core working in every single workout. The format for speed is a combo move for 1 minute, followed by a 30 second "spike" – a calorie-burning move to get your heart rate up. Then you repeat that again to complete each 3 minute round, and there is a 30 second rest in between rounds.  You definitely work hard for the full 27 minutes in this very fun and tough workout.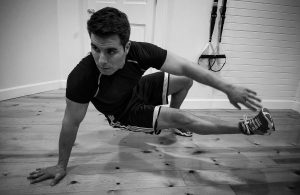 MMA Shred (36 minutes):
MMA Shred is a Muay Thai-inspired  workout that features a lot of elbow moves and kicks that is designed to help get more lean.  This workout starts to add in kicks which will increase your heart rate and also will make you feel the burn a bit more than MMA Speed.  By adding in the kicks you will you will have a lot more motion going on.  It is important to slow down and learn the moves so you are not blowing through the workout with bad form. You need to stop and focus on your form.  This one was definitely a crowd pleaser as it is keeps you moving, you work hard, and at 36 minutes you can get a solid work out in a short amount of time.
MMA Power (47 minutes):
The best way we can describe MMA Power is that you complete it through blood, sweat, and tears.  MMA Power uses explosive and defensive-style movements that is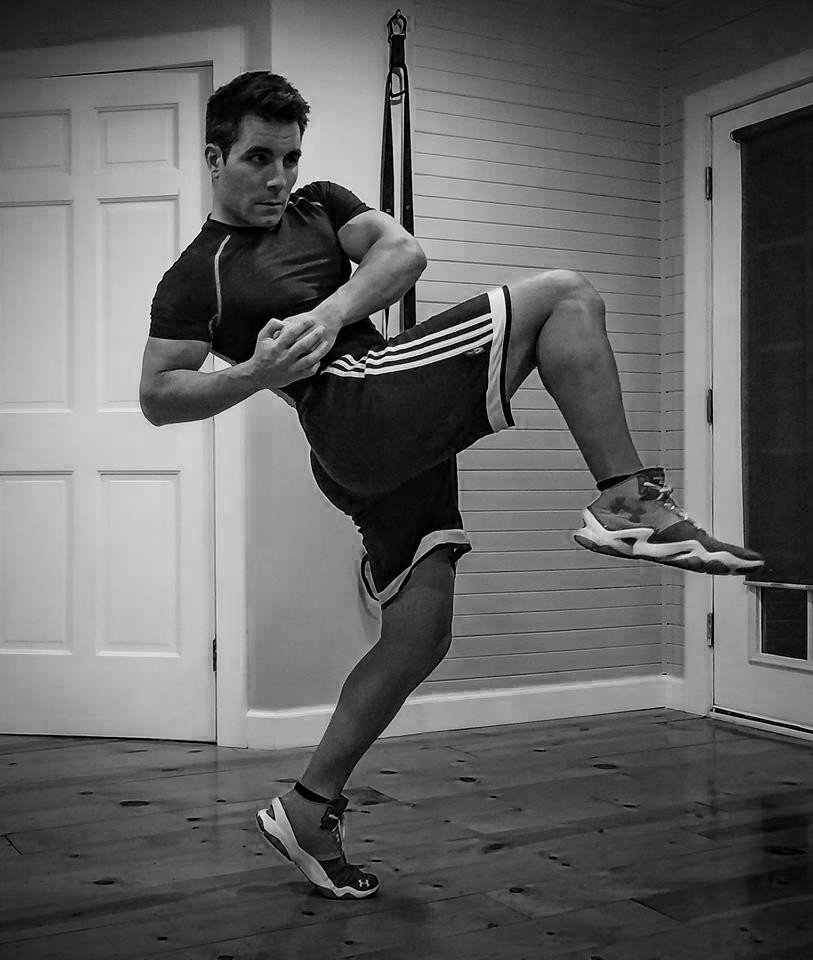 a fast paced cardio workout that will keeping you moving through all 47 grueling minutes.  The workout features spiderman climbers in the 2nd round that might be the toughest routine in the workout.   In this move, you go to a plank position and then jump and bring one foot forward to the outside of your hand while the other one is back, and switch. You get your heart rate up high early in this workout and keep there for the duration so you will definitely shred some calories.
MMA Plyo (47 minutes):
MMA Plyo is a combination workout of Boxing, Muay Thai, and plyometrics. The workout is designed to give you a total-body shred through 12 rounds of action.  MMA Plyo is the probably the most intense workout of the program. It's 12 rounds, which is the same length as MMA Power, but this one incorporates some jumping moves.  MMA plyo features the same format as Speed and shred with the combo move for a minute and the "spike" for 30 seconds.
If you follow the workout guide you won't actually do this workout until the 3rd week of the program which is a smart design.  This workout is the culmination of your work in the previous few weeks and you should have a solid foundation and understanding of the moves.  Plyo at 47 minutes started to feel long towards the end.  You definitely work hard but I would preferred to do without some rounds as I think you could accomplish the same workout in about 40 minutes.
Power Sculpt (37 minutes):
Power sculpt is designed to be a total-body burner that uses explosive power and interval training to help sculpt lean muscle and build next-level endurance.  This program features strength training using bodyweight movements with a focus on your core, stability, and balance.  Each round has some sort of push up, leg work and then and core workout with some balance work mixed in.  The moves can be tricky so definitely try out the learning video first or follow the modifier if you have some issues getting it the first time through.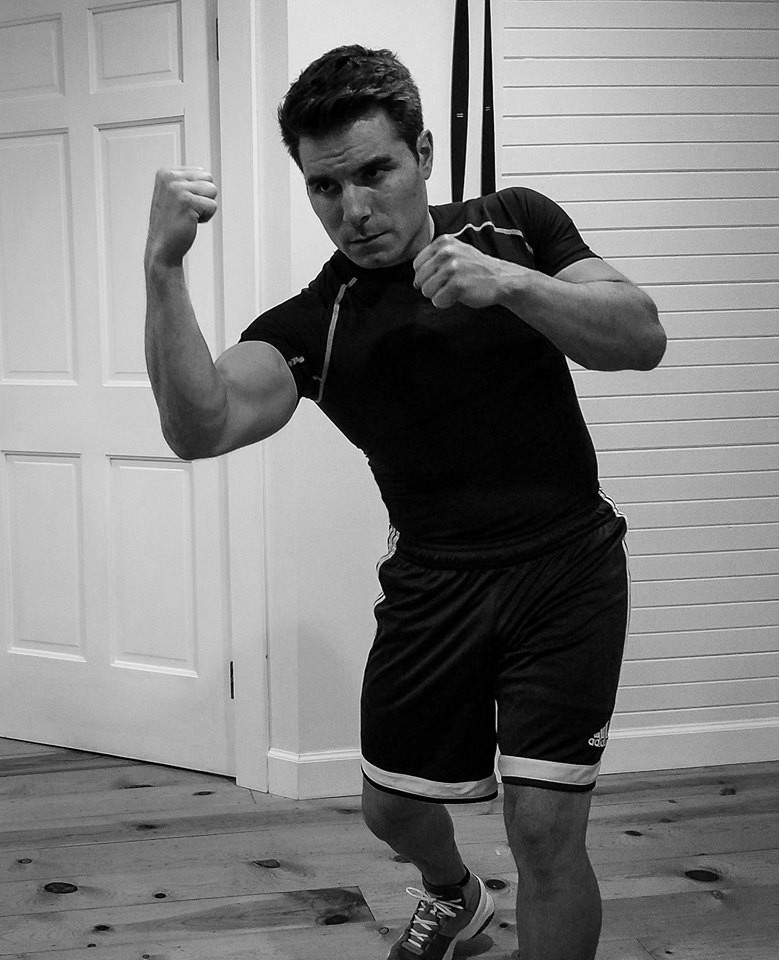 Dynamic Strength (47 minutes):
This work out has been lovingly nicknamed push-up hell by our team.  If you struggle with push-ups then this workout will help you fight through those struggles and finally get you enough strength to master the push-up.  This workout is long and it is tough.  The workout features 12 rounds where you repeat rounds 1 through 6 for rounds 7 through 12 but with a little bit more advanced movements in rounds 7 through 12.  One of our concerns with Core De Force was there were no weights in the program but with Dynamic Strength you get that strength training work out that you are craving.  Hope you love push-ups!
Core De Force Relief (5 minutes):
Just a quick 5 stretch that the trainers recommend doing before bed to help relieve tight and tired muscles. Nothing too hard about this work out and fairly simple.
5 Min Core On the Floor (5 minutes):
A great little workout that is nice a supplement to the workouts. Typically you would add this on to an already completed full workout for an extra push.  The entire workout is on the floor in plank position with different combos to work your core and back.  You will get the heart rate up, you will sweat and you will plank!
Core Kinetics (16 minutes):
This workout is your thank you present at the end of your hard week of work.  A very quick 16-minute workout that is designed to strengthen your body with unique MMA inspired moves. The moves are designed to help carve flat abs and tight obliques.  A very unique workout with a focus on core isolation with controlled movements.  You might be looking for a rest day but you will work in your 16 minutes. The workout isn't too rigorous so your body won't be too tired to start the next week of workouts.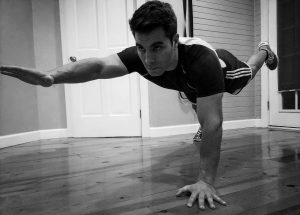 Summary:
Overall the workouts are a nice change of pace from your typical Beachbody workouts.  Core De Force introduce a lot of new movements and workouts that are fun and interesting.  A key to good fitness it keep your workouts evolving so you don't get stuck in the same workout. It is good for the body to not know what is coming next.  Core De Force has a learning curve to it but it is fun to jump, kick and punch.  If you had a hard day at work doing the MMA style workouts is a great stress relief.  Joel and Jericho are currently our new favorite trainers.  They have great chemistry and never get too annoying.  You know the feeling when you have memorized the trainers bad jokes in every routine. Joel and Jericho manage to always keep it fresh and fun without being annoying.
Nutrition Plan:
One of our favorite things about any Beachbody program is how well they have dialed in the nutrition programs. The Core de Force meal plan is a portion control clean-eating meal plan, just like the 21 Day Fix, 21 Day Fix Extreme, Hammer & Chisel, and many other Beachbody workout programs. The nutrition plan uses color-coded portion control containers to measure out the amounts of foods you'll eat each day. What we like about the nutrition plan is it is not a one size fits all program. You can customize it your recommended calorie intake plan.  This allows you to not feel like you are starving yourself.  If you follow the container system and plan out your meals, the program works.  It really is that simple.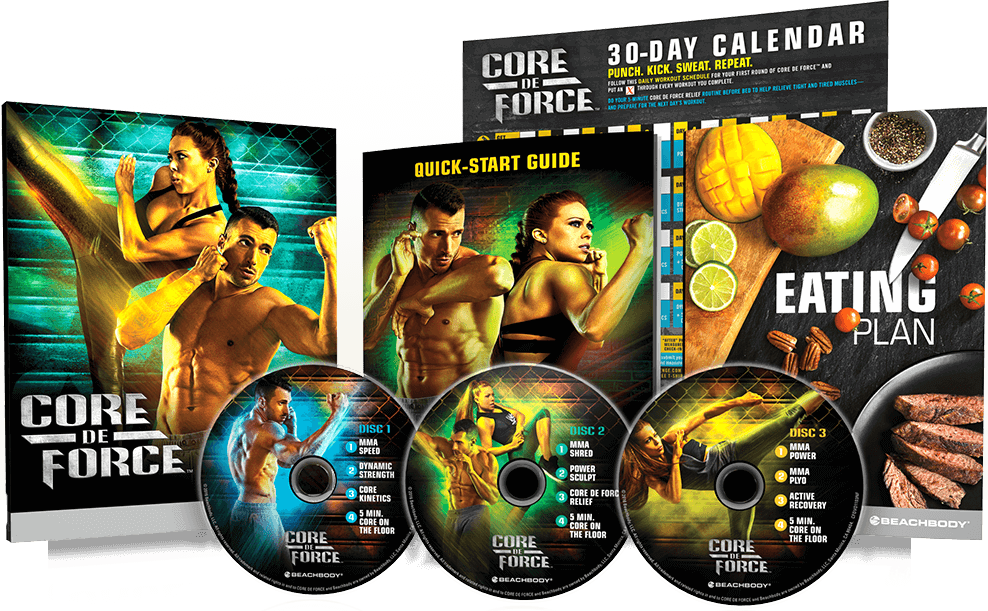 Results:
If you are looking for Core results then you need to invest yourself in this program.  The nutrition program needs to be your starting block. One of the critiques we have from the 21 Day programs was the lack of consistent core workouts. With Core De Force you no longer have to worry about your core.  This program rocks your core.  If you stick to the meal plan and you do the workouts you will get see results.  Our testers were not looking to cut weight but wanted better definition and overall the results were accomplished.  One participant actually gained weight but added solid muscle and had better definition than before.  The results are there, you just have to do the work.
Value:
Priced at 59.85 the Core De Force program offers tremendous value.  With this total body workout you can skip those hefty gym memberships and workout from your living room.  The best value of this program is that it does not require any equipment.  With the simple meal plan and the total body workouts, you will get results.
Buy now for $59.85 or visit www.BeachBody.com for more information
BeachBody's Core De Force - Fitness Review
Beachbody's Core De Force is an action packed training program that allows you to step in to the MMA world. The workouts vary in length but they set up the routines allows you blow through the workouts while shredding calories. If you are looking for a fun, new workout then check out Core De Force
The Good
The trainers have great chemistry and work you hard
Great core workouts
Great value for what you get
The Not-So-Good
Moves can be difficult to learn
Some workouts are too long