When it comes to building a smart home, what better place to start than right at the front door?  Thanks to the August Smart Lock, you can do just that.  The August Smart Lock allows you to control your front door deadbolt right from your phone.  Using their iOS or Android apps, you can also invite anyone you know to access your door and when its time for them to go, you can simply take it away knowing your house is secure once again.
Key Features:
Lock and unlock your house using your phone
Invite others to control your lock
Revoke access of who can access your locks
Runs off 4 AA batteries
Auto-Unlock & Everlock™ automatically locks and unlocks door
Connect using Bluetooth Low Energy or WiFi
Integration with Nest & Logitech Harmony remote
Dimensions: 3.25″ in diameter by 2.25″ tall
August Smart Lock Review Breakdown
Installation:
The August Smart Lock comes with a well-documented paper manual of instructions that easily walks you through installation.  The process is easily completed by even the most novice of DIY-ers.  But if you find yourself not up to a DIY task or you just want to make sure it's done right the first time, August also provides a good list of local installers who will come to your house to install for you.
The only tool you'll need to provide for the install is a simple Phillips head screwdriver.  The rest is provided right in the box.  Including a strip of tape to make the install a breeze!

The instructions assume that you will be installing on an existing deadbolt.  If you are planning on installing August in a new door or one without a deadbolt, you will want to install a regular style deadbolt and make sure it works properly first.  It's important to point this out because the August Smart Lock is not a stand-alone lock, but actually more like high tech door hardware that is installed on the inside part of an existing deadbolt, replacing the thumb-latch.

After reviewing the diagrams of compatible deadbolts, remove the inside portion of the deadbolt hardware.  This is where the provided tape comes in handy to hold the hardware in place from the outside while you work.  The tape seems like it's actually just a high quality blue masking tape with good stick, but no danger in leaving any residue or causing damage to your door.
In the box is a series of adapters to allow the Smart Lock to fit all major brands of locks.  Another provided chart helps you pick just the right one, but if you happen to not have one on the list, a phone number is also provided.  The adapter then fits right onto a back plate and a handy tool-less design secures the Smart Lock to the door.  Install the app, answer a few questions and you are ready to lock and unlock your house using your phone!
Design: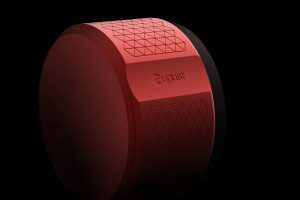 The design of the Smart Lock is fantastically modern and August really made sure that the whole product has a feel that each part was thought out and designed.  Packaging, documentation, even the internal parts of the lock show thought in design.  If you have a modern feel inside your home, this lock will really step up the design of your door.
The Smart Lock comes in 4 different colors to match, highlight or enhance a wide range of decors with colors designed to either blend in with black or silver options, or stand out with the champagne and red.  No matter which color you choose, a series of LEDs  glows through the front face indicating locking and unlocking status.  When the lock sits idle, through some kind of seemingly magical plastic, there is no indication that LEDs are sitting underneath.  This results in a nice clean face that doesn't leave it looking like a piece of technology.
While I mention the black and silver options could be used to blend in, I do use that term loosely because there is no real way of concealing the fact that this is a large device when compared to a traditional thumb latch.  Even with a subtle color choice, the lock is large in both diameter and depth and will be noticed on your door.  You should plan on this being a product that is installed in a home setting with the intent to be noticed.  Overall though, if you are installing this into a smart home, you probably are not trying to find period styles for your Victorian home and it will not be out of place with the rest of your smart gadgets!
Usage:
One of the great features of adding the August Smart Lock to your door is that you will lose no existing functionality of your current deadbolt.  You can still operate from the outside with your existing key and you can still operate from the inside by hand.
To operate using your phone, the August Smart Lock is powered by AA batteries and implements a connection using Bluetooth which means that it runs independently from your home Wifi and even the power grid.  So if your power goes out or you lose your internet connection while you are out, you can still unlock your door.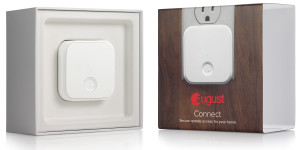 With the addition of the August Connect module, the August becomes more of an internet connected device and you can remotely lock, unlock or just check the status of your door from anywhere.  Those functionalities do however depend on the power grid and internet connectivity but because it is an addition to the base device, you can still operate over Bluetooth when you get home.
App: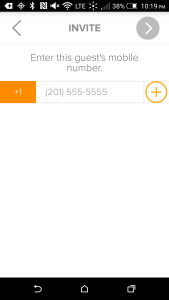 The app is where the brains of the August Smart Lock really lives.  Through the app, you can not only control your lock but you have the ability to invite others to control your lock as well.  To me, this is the greatest benefit of the August Smart Lock.  If you need to give temporary access to a houseguest, contractor or even a unexpected family member, it's as easy as sending them an invitation.  You can automatically set the invitation to expire after a certain amount of time or you can manually revoke access at any time you want.
Once your guest receives the invite, they install the app and create an account to start accessing your lock.  This does take a little bit of time so I found the August Connect to be perfect for those unexpected visitors who show up at your door while you are not home.  You can simply switch the app to connect remotely and unlock the door from wherever you are to quickly let them in and get their access set up later.
This system of controlling access is infinitely better than a traditional system of lending out a key because you never know what could be stopping that "trusted"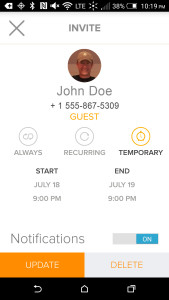 contractor you found on Angie's List from going straight to the hardware store and making copies of your key.  Plus you will get a notification on your phone any time someone accesses your lock so you always know who has accessed your home.  Once the job is done or its time for the in-laws to leave, simply remove access and you know that your door will remain secure.
The app also has great features for the owner to make day to day use easier by implementing an Auto-Unlock feature that will automatically unlock your door for you as you approach and also an EverLock™ feature that will automatically lock the door behind you.
To appease the truly connected smart homes, there is also a Nest thermostat integration that will automatically set your thermostat to Home or Away based on the status of the lock.
At the time of the writing this article, it should be pointed out that to really have the best August experience, I would recommend using an iOS device.  It seems the Android app is lagging a bit behind in development and features like Auto-Unlock are reserved only for iOS devices.  An android is sufficient for basic operation of the lock now but once the Android app is updated with the latest feature sets, it should become a pretty level playing field for all mobile devices.
Value:
The August Smart Lock comes at a price of $249.99 for the lock and $49.99 additional for the Connect module which admittedly is teetering a bit on the high side at first glance just to unlock your door with your phone.  However looking at the situations when a traditional key cannot do the job of the August Smart Lock and considering the added security of allowing guests into your home, there is a certain flexibility to justify the cost.  For less than $300, you find yourself better protected and better prepared for those odd scenarios.  When the afternoon comes where a contractor is going to arrive at your house sometime between 10am and 4pm, you no longer have to waste a vacation day from work while you sit at home just to unlock a door.  That is a price most of us would be willing to pay!
Buy Now: $249.99 directly from August.com or also available at Amazon.com.  You can also buy in store at Apple Stores and Best Buy.
August Smart Lock - Tech Review
At first glance, the August Smart Lock may be seem to be priced a bit high especially when compared to traditional lock hardware but for scenarios when it can be used, that price is easily justified. Thanks to its intuitive interfaces and great design, its a good piece of tech to add to your home that wont leave you wading through pages of a user manual or troubleshooting guides.
The Good
Give anyone access to your lock and revoke it whenever you want
Check if your door is locked remotely
Runs off AA batteries & Bluetooth so it's self-sufficient
The Not So Good
Quite a bit larger than an average thumb latch
iOS app is more functional than the Android version
Expensive if you plan to outfit more than 1 door