Earlier this Fall, Mitsubishi came knocking on BW's door inviting our editors to take a road trip across Michigan in a 2018 Mitsubishi Eclipse Cross. Never one to turn down a good time or a road trip for that matter we took them up on the offer and hit some back roads through towns we never knew existed on our journey to have some fun and test the limits of this compact CUV.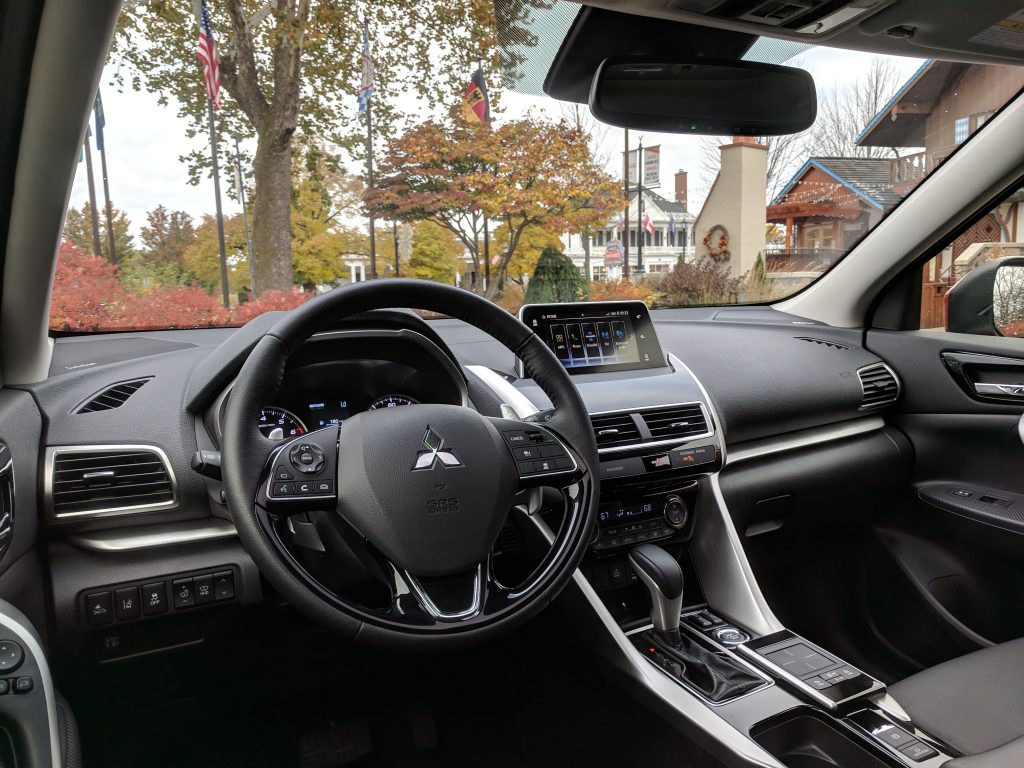 The Friday our trip was slated to kickoff a 2018 Mitsubishi Eclipse Cross with the SEL S-AWC trim package was delivered to our office. On first impressions – this crossover looked sleek and had some pretty nice safety and comfort features. Speaking of features, let's take a look at the some of the goodies the 2018 Eclipse Cross has to offer…
Key Features & Specs:
1.5-liter direct-injection turbo engine
710-watt 9-speaker Rockford-Fosgate premium sound system w/ Android Auto & Apple Carplay
Adaptive Cruise Control (ACC)
Blind Spot Warning (BSW) with RearCross Traffic Alert (RCTA) and Lane Change Assist (LCA)
Auto-dimming rearview mirror with Homelink
Multi-view camera system
Dual pane power panoramic sunroof
Forward Collision Mitigation (FCM)
Heated seats (front/rear) and steering wheel
Lane Departure Warning (LDW)
(For all the options, specs & features check out Eclipse Cross website. )
After getting comfortable with the vehicle and features we packed up our road trippin' gear, rolled down the windows, hit shuffle on the playlist, popped open the sunroof and got on our way!
Outfitted Super All-Wheel Control (S-AWC), 18″ alloy rims, 8.5″ of ground clearance and a 1.5-liter direct-injection turbo engine putting out 153 hp and 184 lb-ft of torque, the Eclipse Cross is a fun little car on paper. However, we've been doing this long enough to know that specs and features alone don't tell the whole story… you need to get behind the wheel.
Instead of highway driving we chose to take this road trip to the back roads. This proved to be a great test for the Eclipse Cross. Encountering winding roads nearly the entire trip we were impressed with the handling of this CUV. The center of gravity is fairly low, so no pitching around tight corners like you might experience in a larger SUV. The steering is responsive and feels nicely connected with the road no matter if we were on pavement or dirt road. We didn't venture far off-road on this trip, and I wouldn't recommend it with this vehicle. The Eclipse Cross will handle dirt roads and groomed trails fine, but going off-road and blazing your own trails could get dicey quick – especially with only 8.5″ of clearance and stock road tires. Don't get me wrong, the S-AWC works great on wet and snow covered roads, however, sand, large rocks and deep mud would put this crossover in its place rather quickly.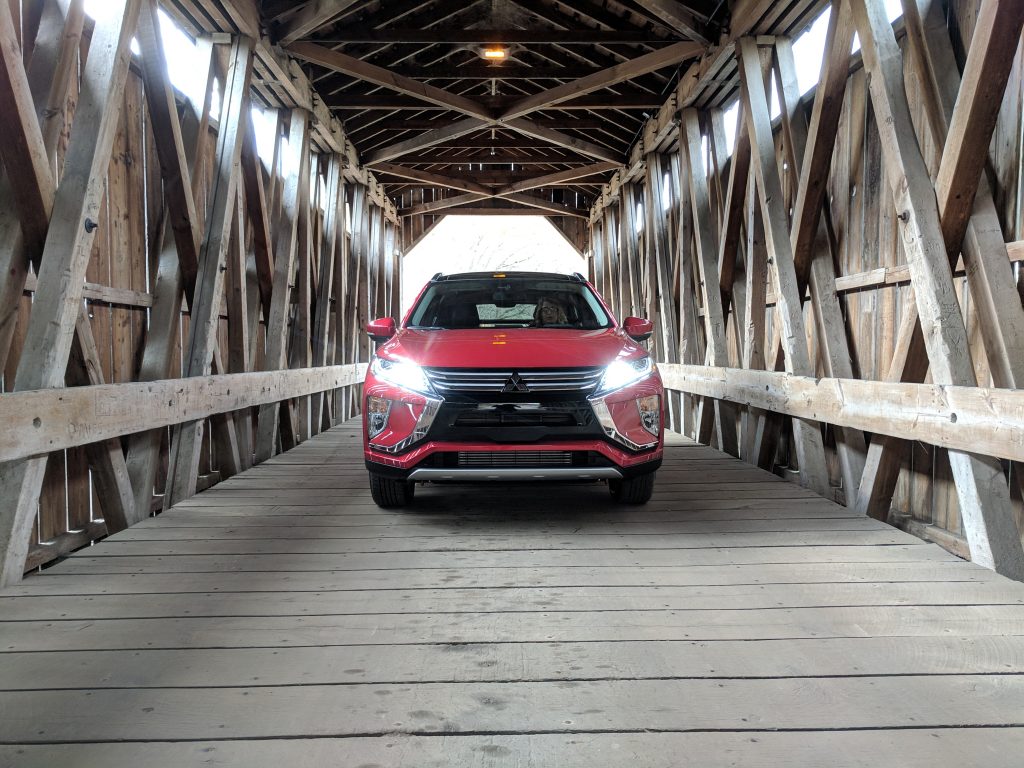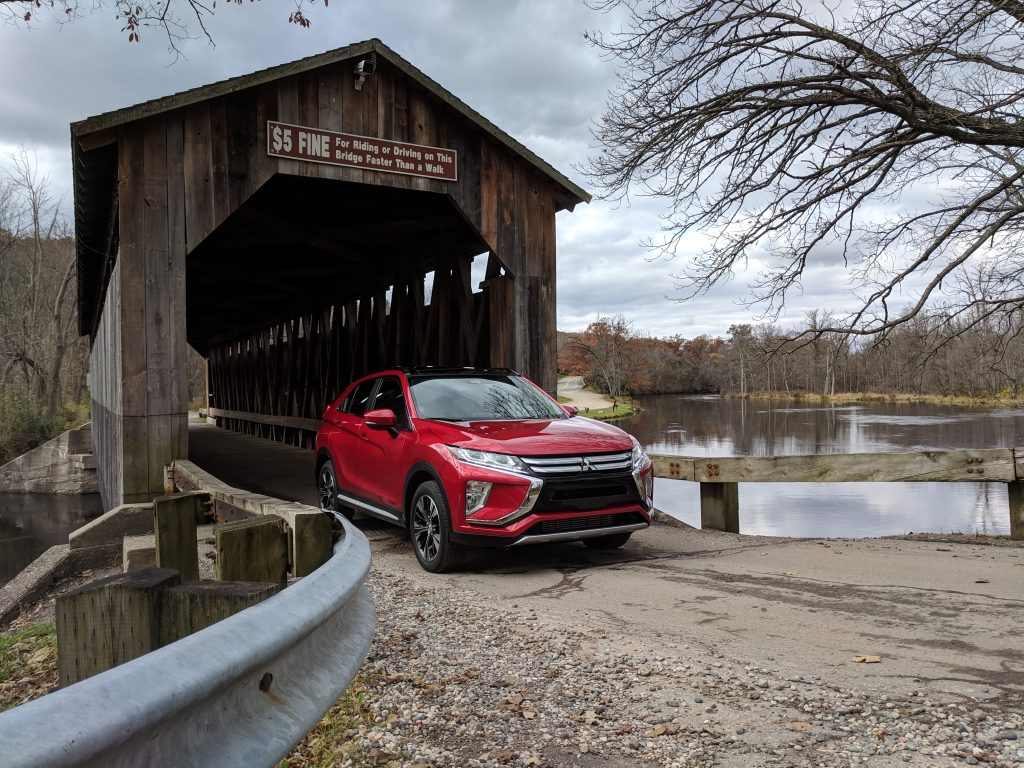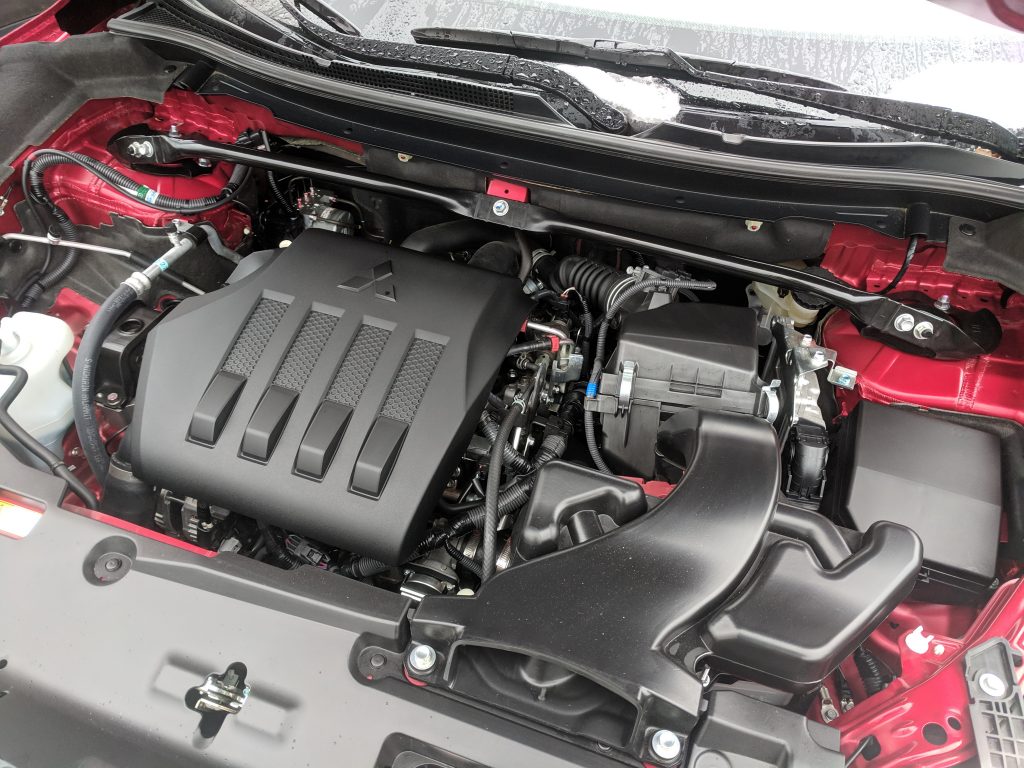 Under the hood there really isn't much to write home about. The 153 hp and 184 lb-ft of torque won't give you whiplash, and the 8-speed Continuously Variable Transmission lacks excitement. And if you are seriously interested in buying this car, you're probably not in it for the horsepower. However, if you're looking for a smooth shifting transmission married to a 1.5-liter turbo engine that gets roughly 25MPG on average it is a nice ride. Sport mode will give you a little more pep off the line, but don't expect to be setting any track records or burning rubber.
As we finish up talking about performance, let's move on to design. I happen to like the looks of this crossover. It is rather sleek and compact, which I like in a CUV. I w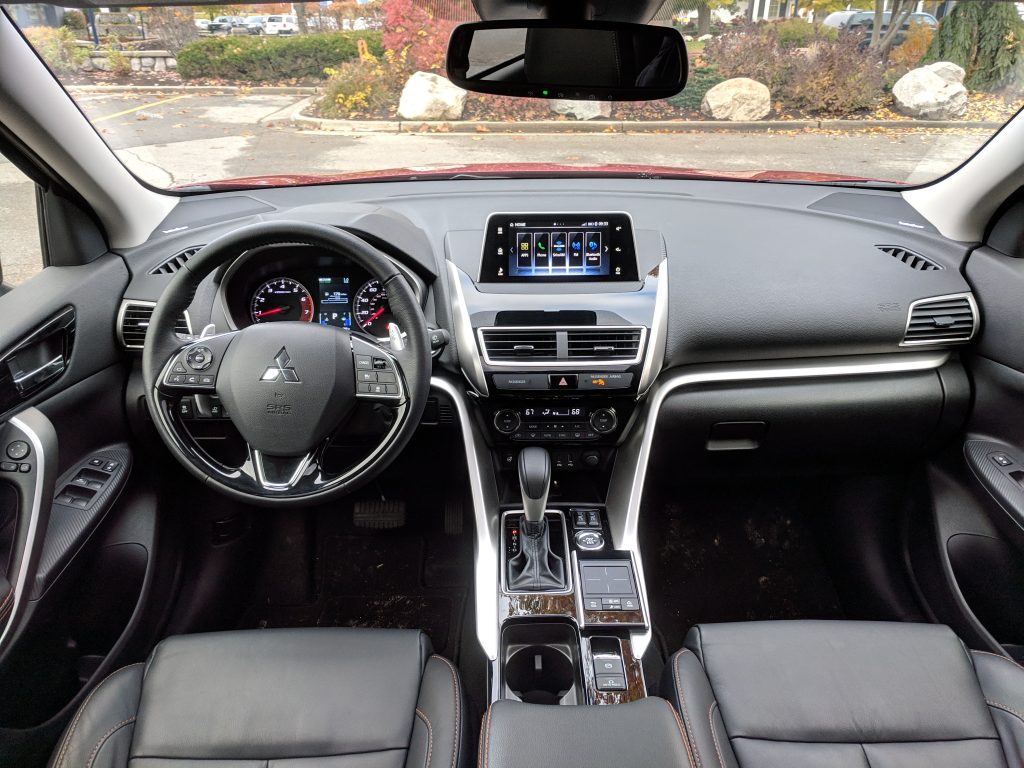 ouldn't call it sporty, but damn if it isn't close. The diamond red paint job looks nice and didn't show much dirt. I mainly like the looks of the vehicle from the front. The rear on the other hand… well, it scary to say, but it almost reminds me of the Pontiac Aztek. You be the judge. Another slight knock on the design would be the side rear view mirrors. They seem unnecessarily larger. I mean, you are able to see a lot in them and the blind spot warning system really pops, but sheesh, they are a big.
The interior of this vehicle is where we really felt at home. The front and back seats were comfortable enough road tripping for several hours. The back seat has decent leg room too. The leather seats were a nice touch and delivered nice support for long trips. Integration of Android Auto and Apple CarPlay is on-point and the center mounted LCD screen was easy to navigate and well thought out. We ran Android Auto to pull up Google Maps and and keep our Spotify playlists running the whole trip and it worked flawlessly. Oh, and I have to mention the Rockford Fosgate sound system was wonderful, delivering balanced acoustics to the whole cabin.
Most of the interior features beyond the seating, heat / ac, audio and that huge sunroof were related to safety. Driving this CUV just feels safe. From the lane departure warning to the adaptive cruise control to the blind spot warning, everything works as you would expect it to. With most of the controls for anything you need laid out on the steering wheel so it is easy to make changes to almost anything without taking your attention off the road in front of you.
Cargo space is always a question and the Eclipse Cross proved to have ample space for our weekend two person road trip. If you plan on inviting friends or packing heavy with your gear, you should probably invest in cross bars for the roof and a cargo box. As a just daily driver, it has plenty of space.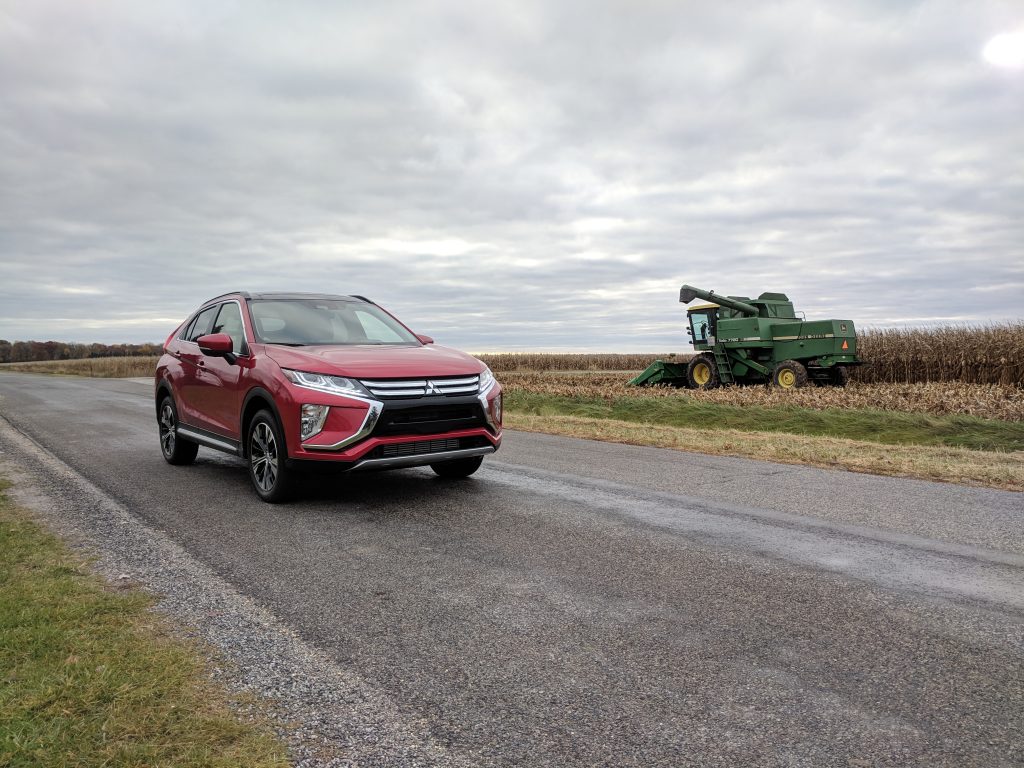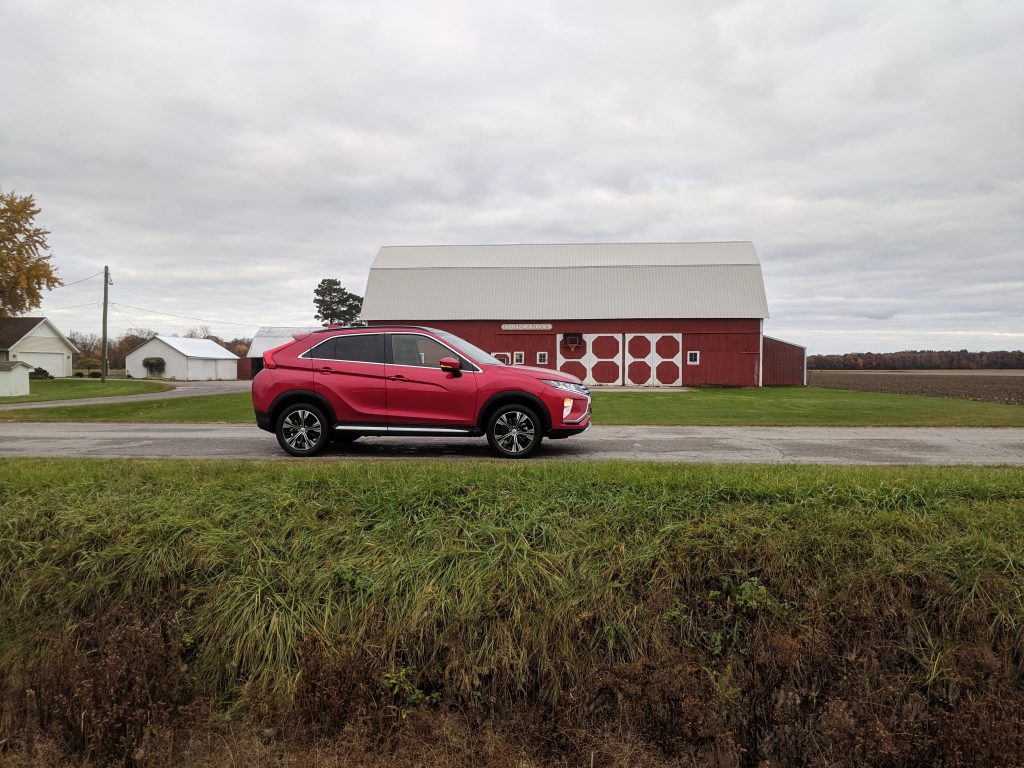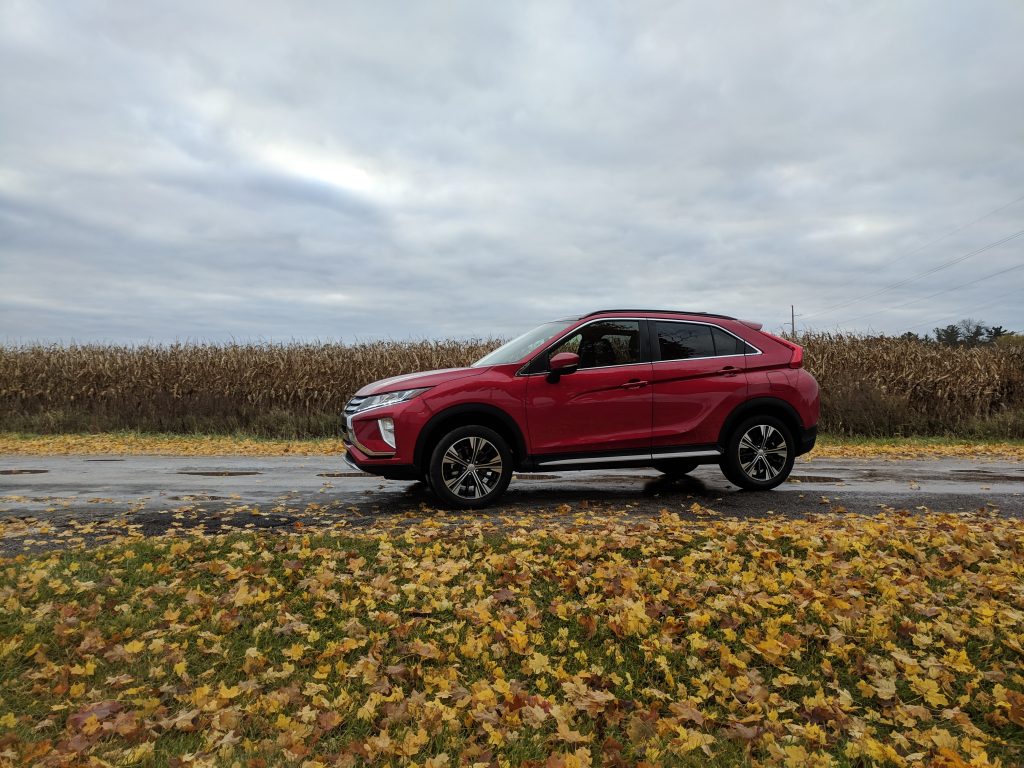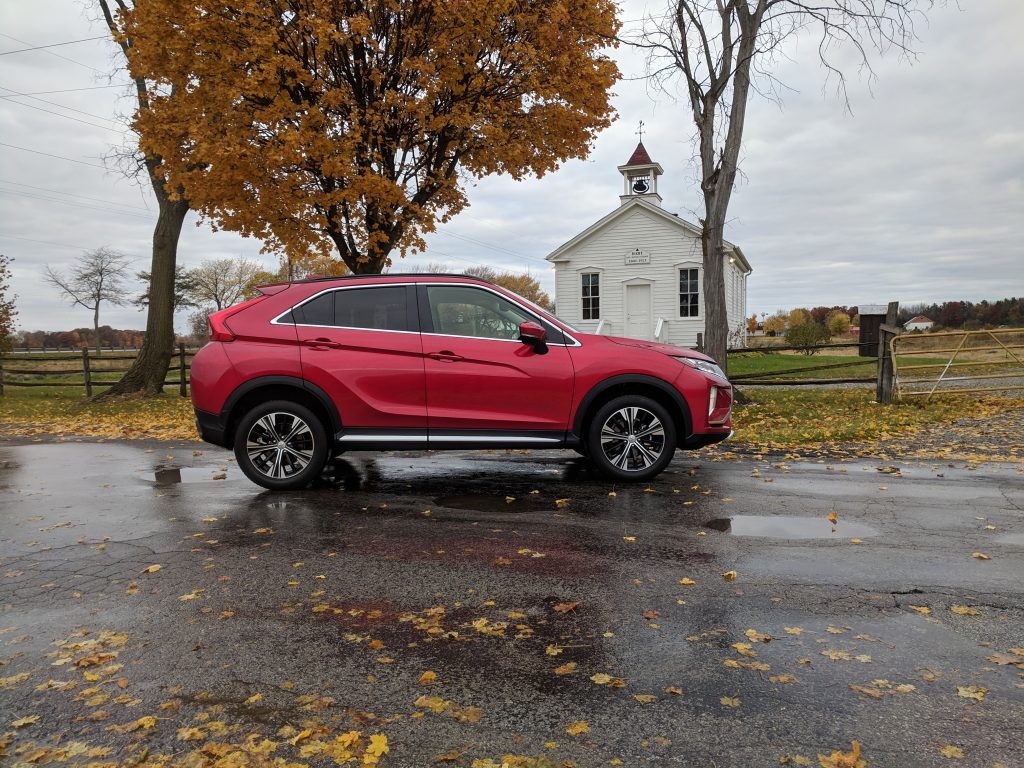 Starting at $23,895, the 2018 Mitsubishi Eclipse Cross is an impressive CUV with a lot of features you expect to find in higher-end vehicles. As a road trip machine it proved its merit. It may not have incredible horsepower or cargo space for days, but what it lacks in those departments we feel it more than makes up for in comfort, safety and smart design. Not to mention that sunroof!
This would be an ideal vehicle for commuters and adventurers young and old who want the safety features of a high-end vehicle, but don't want to break the bank. If you're in the market for a crossover I highly recommend you get behind the wheel yourself and give the 2018 Mitsubishi Eclipse Cross a test drive.
Behind the Wheel - '18 Mitsubishi Eclipse Cross
This compact CUV has a lot to offer in a small package.
The Good:
Excellent safety features
Comfortable and well thought outInterior
Nice gas mileage
The Not So Good:
Underwhelming power
Plastic-y dash and door trim
Oversized side rear view mirrors